Summer Handicap 2018/19
Result of June Event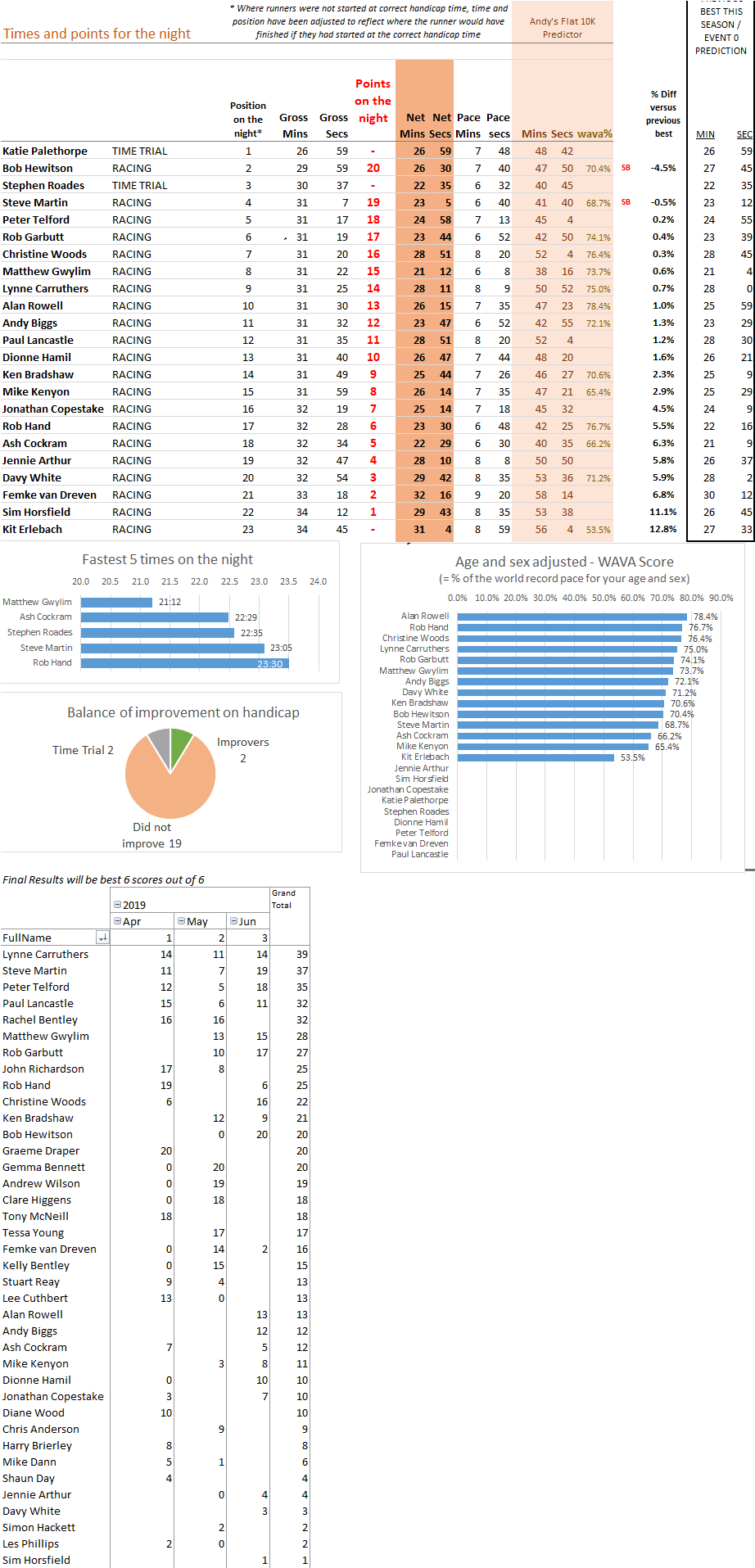 Results of May event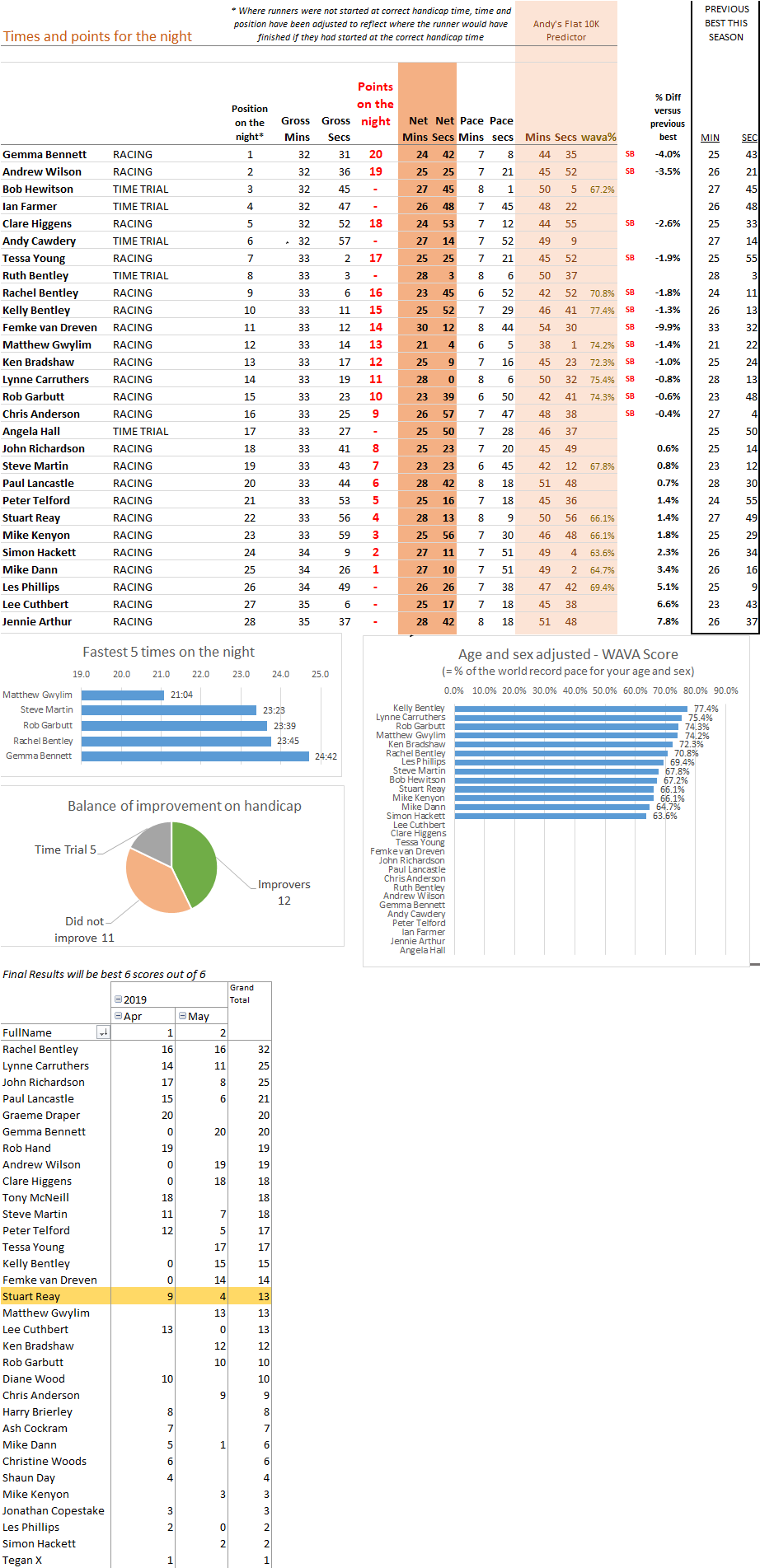 Results of April Event (wow – so many runners!)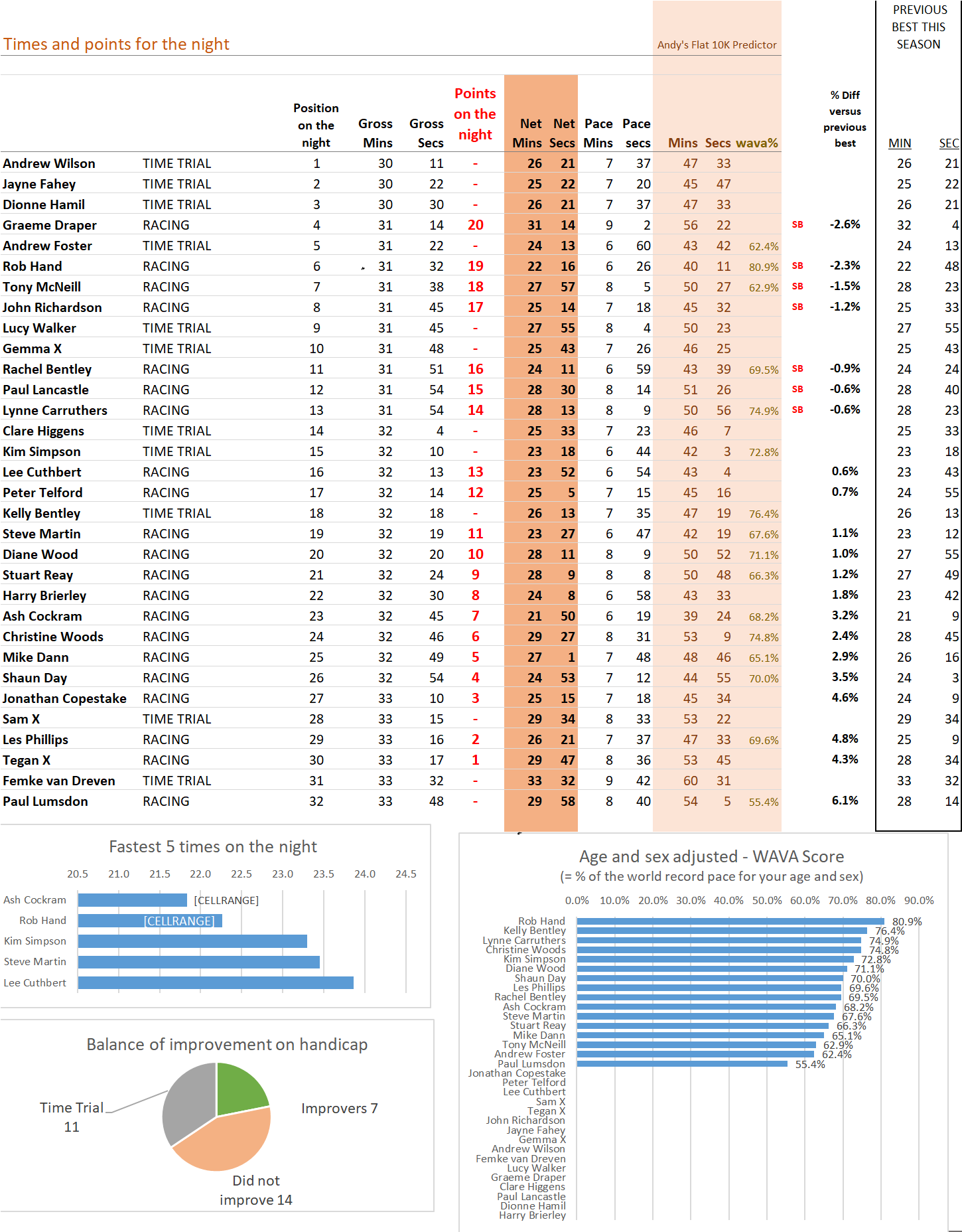 Winter Handicap 2018/19
March 2019 Results (Held 2 April) and Final Series Leaderboard:
Congratulations to Stuart Reay, who wins by one point from Steve Martin, on the pre-published "Best 5 scores from 6 events" rule.  In the end, the entire series was decided by a few seconds in the final event. Joining them on the virtual podium are Lynne Carruthers and Christine Woods, who tied for third place. Well done to everyone who ran and volunteered!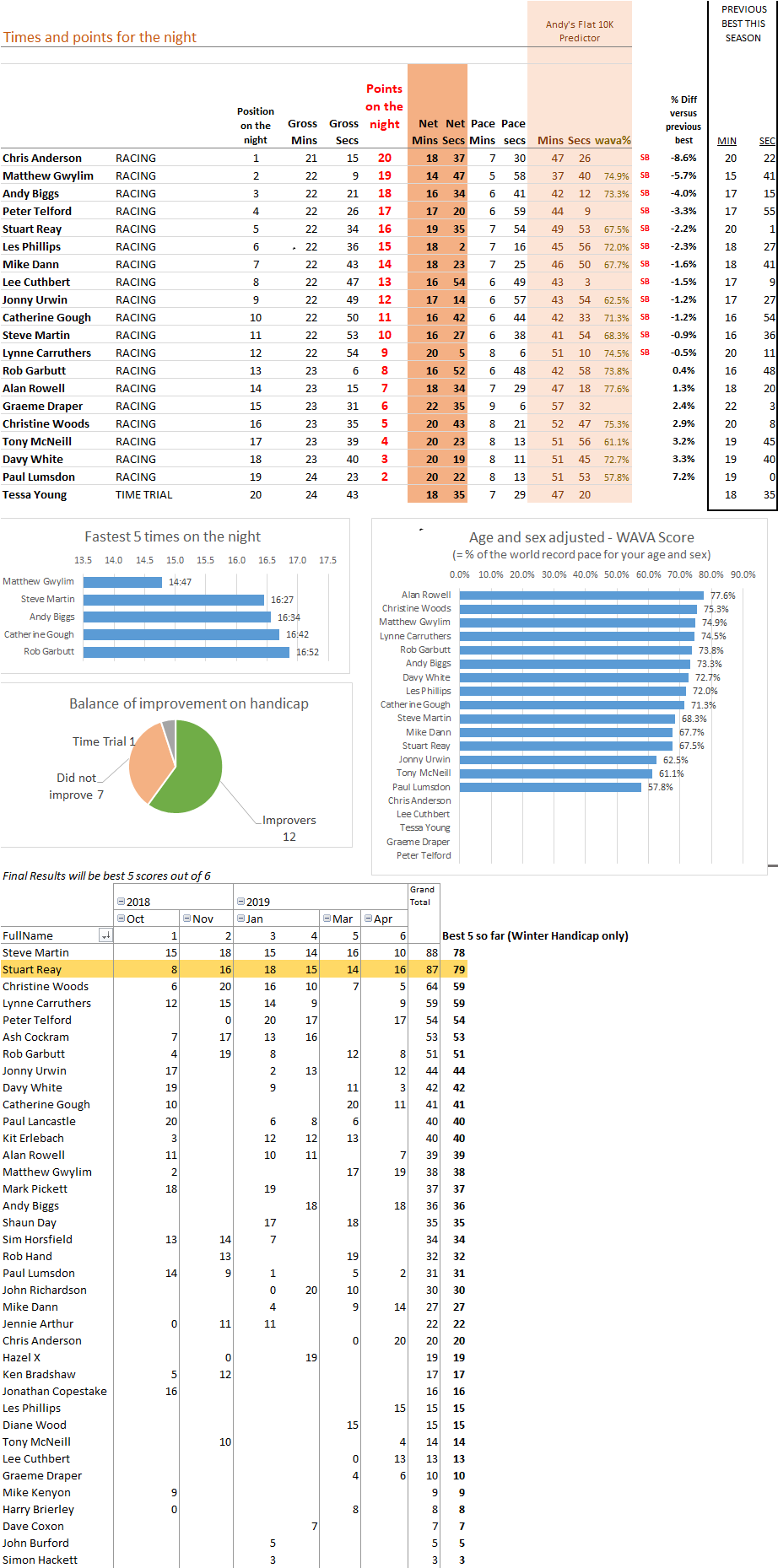 February 2019 (held 5 March)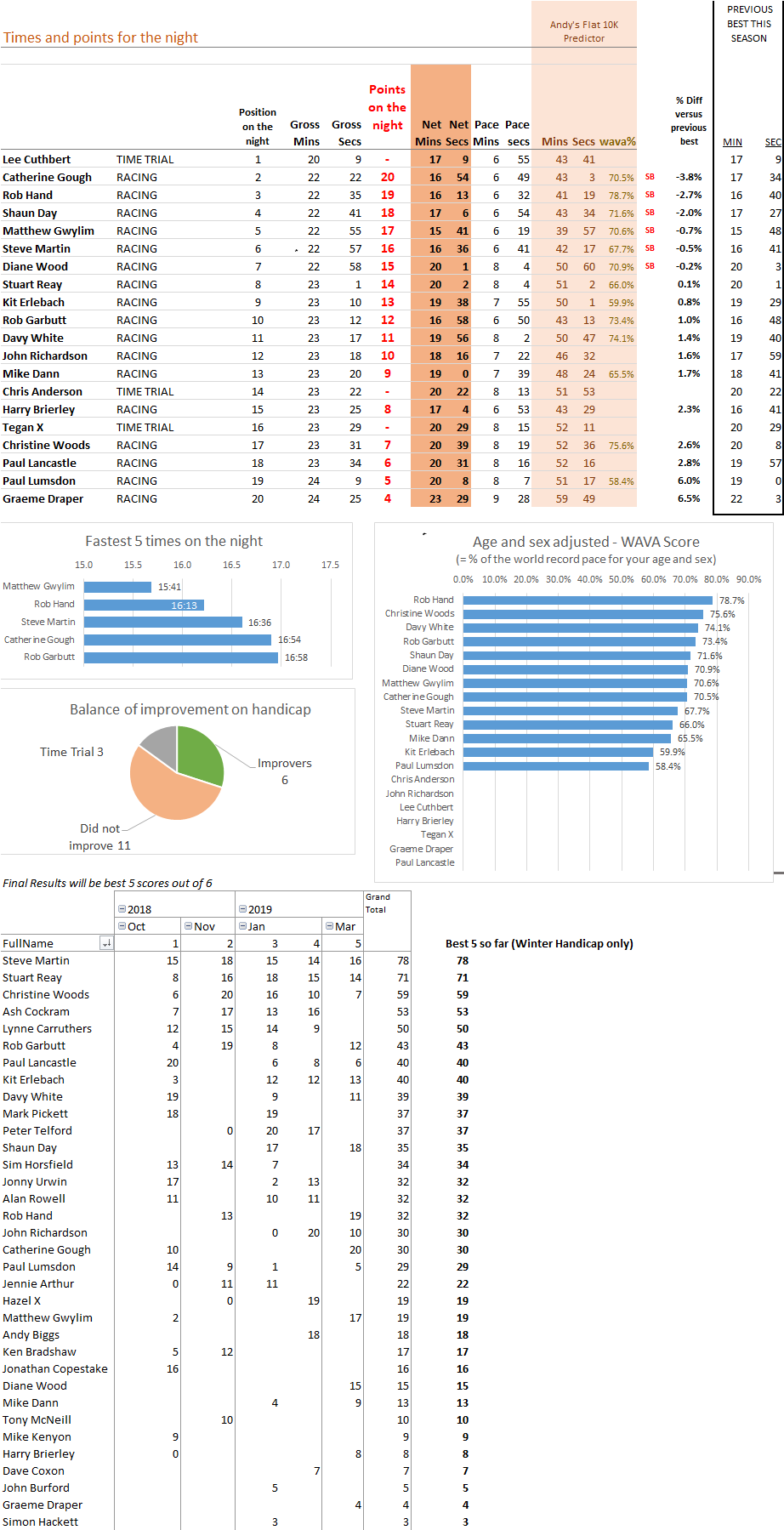 January 2019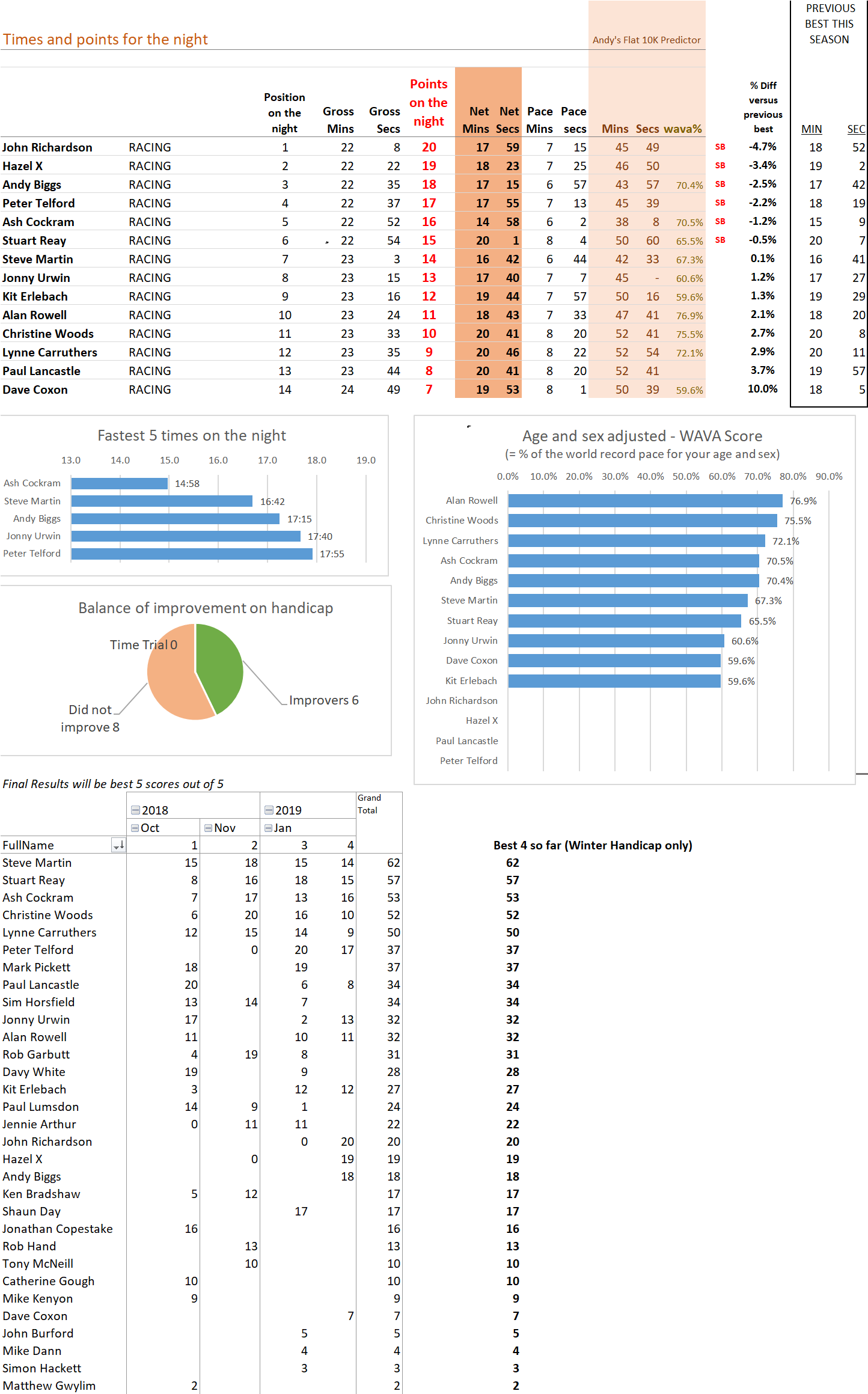 December 2018 (held 8 January 2019)
I've had to correct a couple of athletes' finishing positions (Chris Woods / John Burford) because they were started at the incorrect handicap – i.e. I've reinstated where they would have finished if they had started at the correct handicap time and ran the net time they ran.
November 2018
Results from November event are below.  Alas a couple of athletes (Rob H and Tony McN) who would have been eligible to have a handicap (because they ran in the Summer series) did not have handicaps on the sheet I published (mea culpa – Andy), so they were started at 3 mins alongside other time trial athletes.  I have therefore made them eligible for points, but restated their gross time / position as if they had run from the correct but unpublished) handicap.  The above handicaps therefore include all athletes who ran in the summer series, based upon my 'calculated' winter handicap time for them.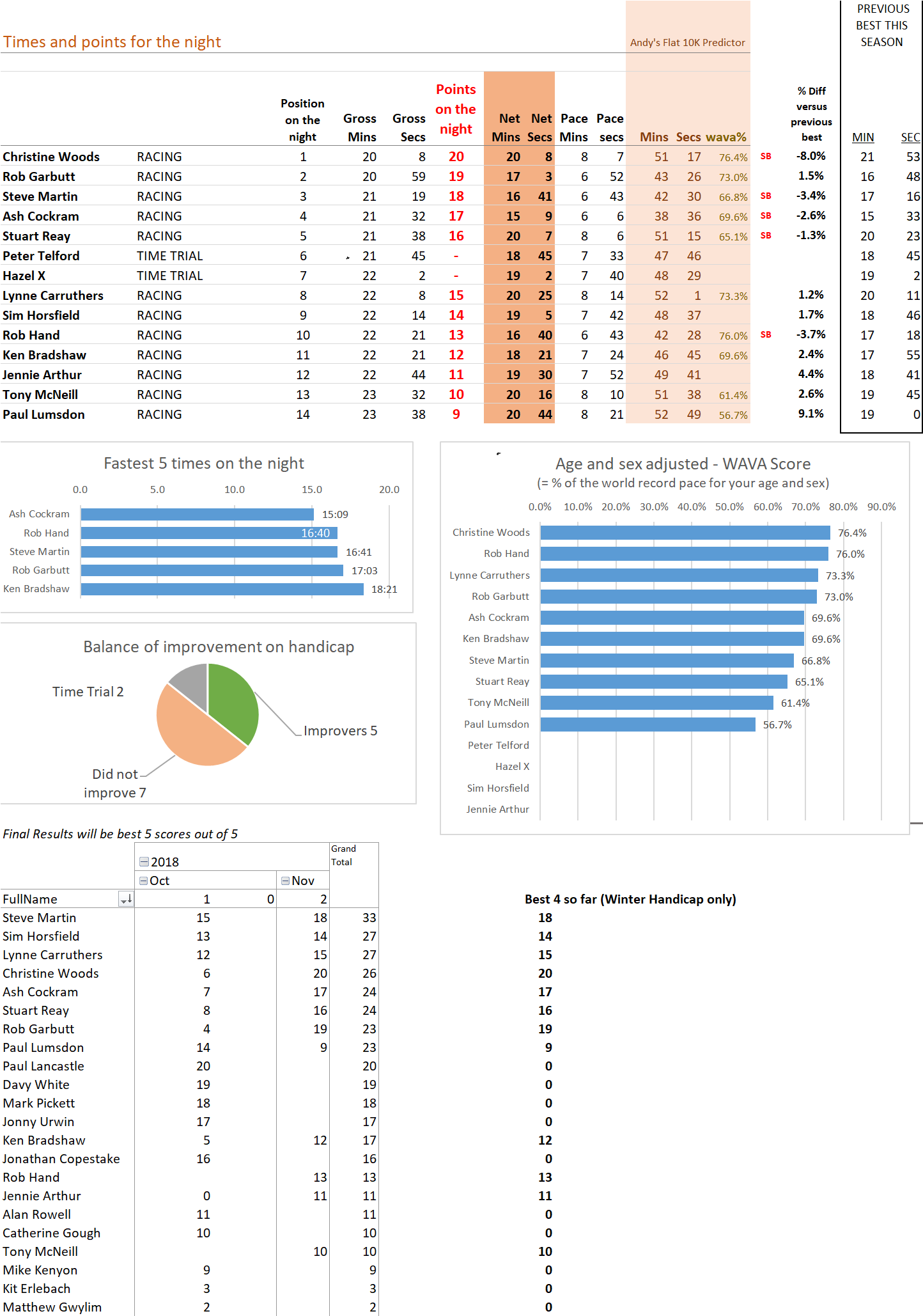 And results from the first October event are below.  Note that because we now have increased participants we have increased to points to a max of 20 for first place, 19 for second etc.
Summer Handicap 2018
We have noted that the route on the events page is out of date.  Until this is fixed, please have a look at the visualisation on this link
Results for the final event, held on Tuesday 4th Sept are below.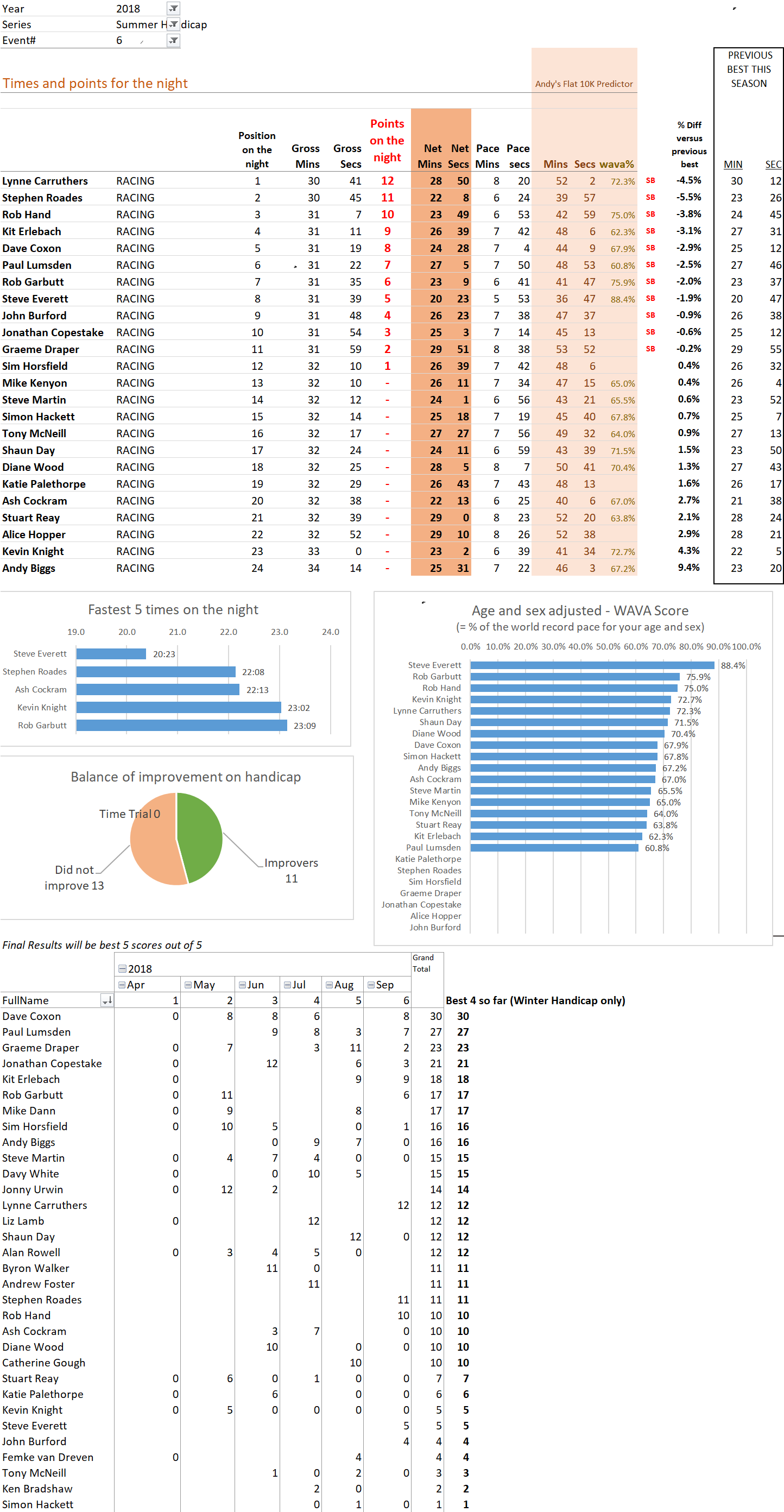 August 2018
Results for August, including series Leaderboard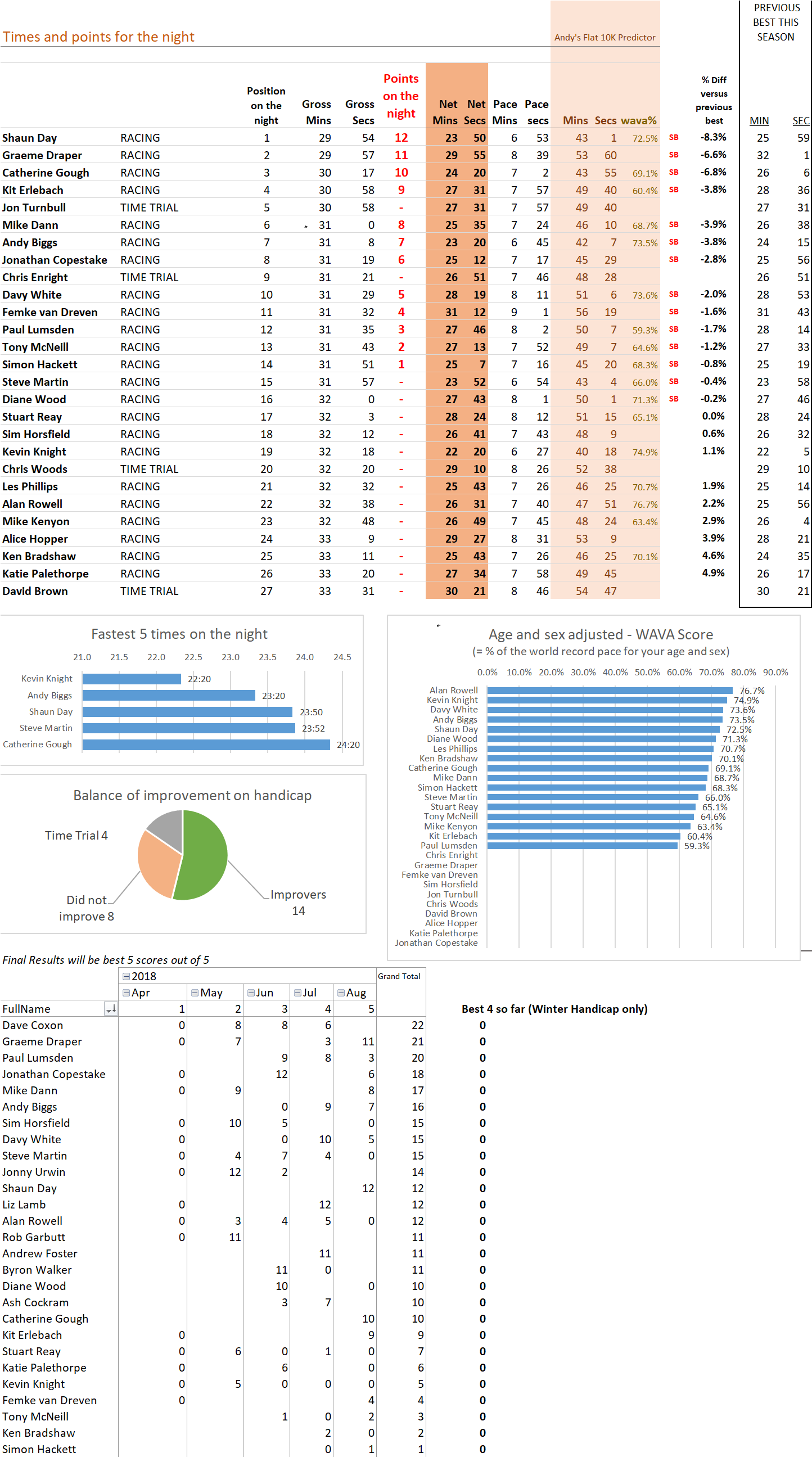 July 2018
The handicaps for the August event and the July results are below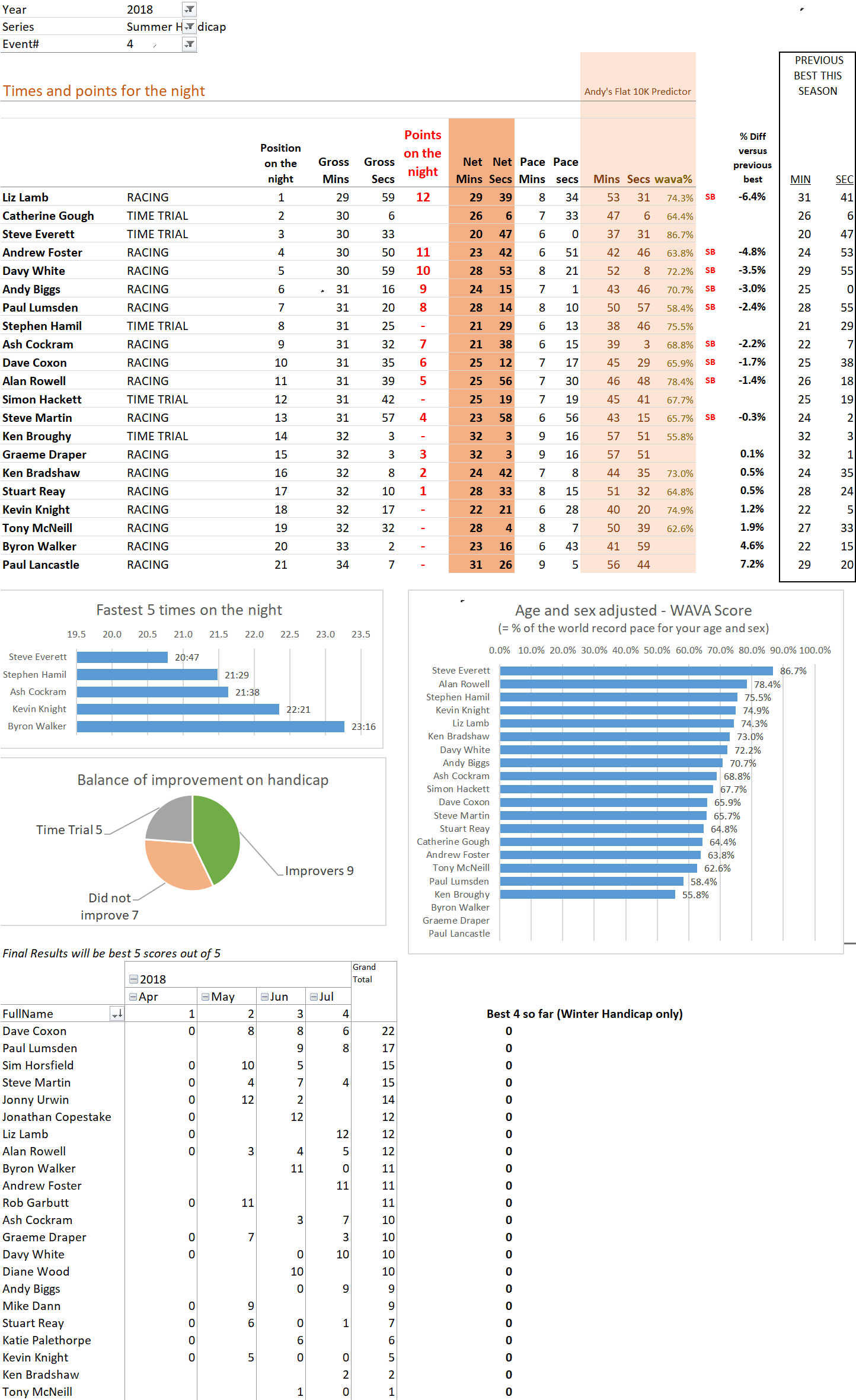 June 2018
The results for June are below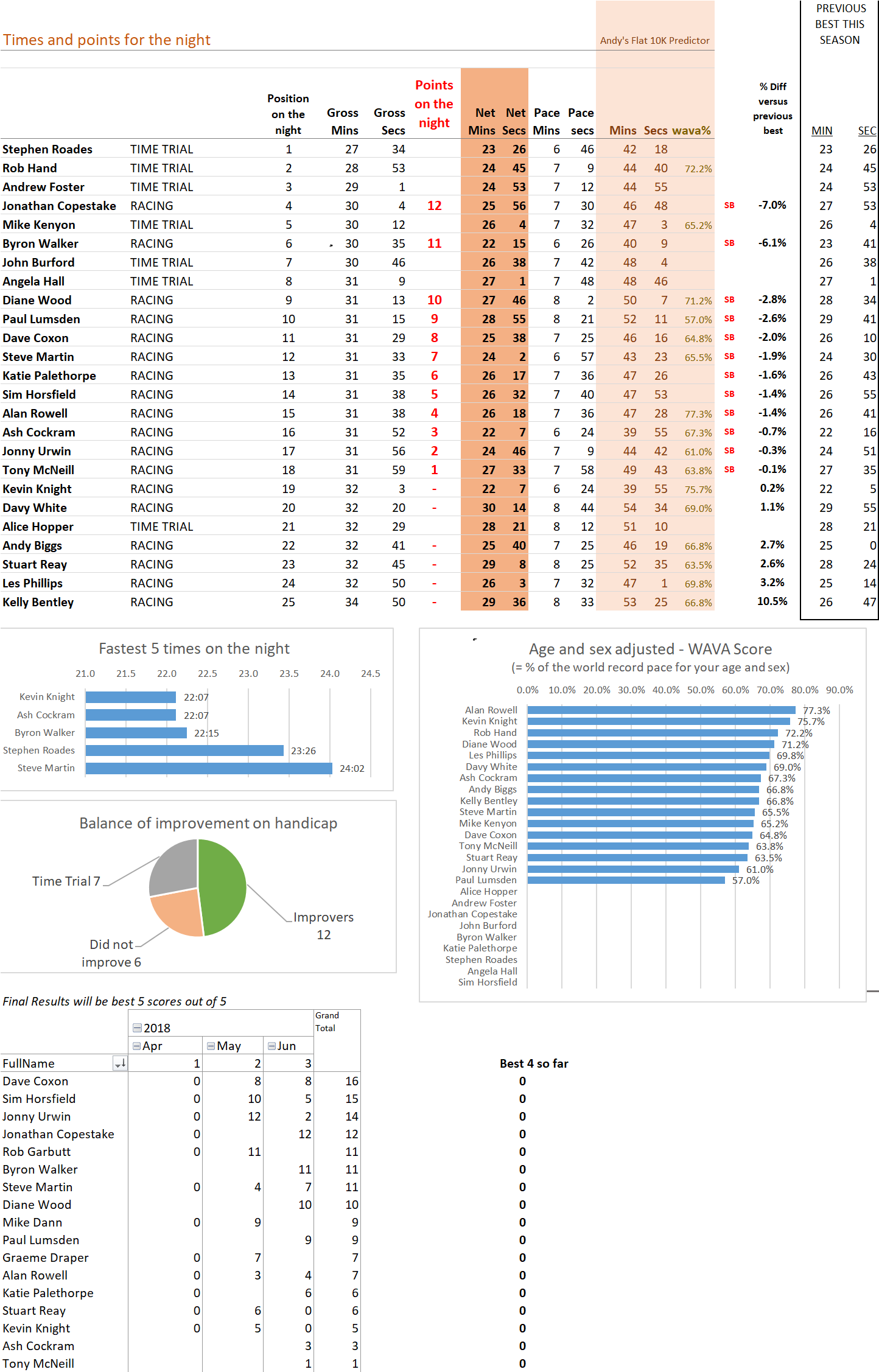 May 2018
The results for May are below – A Great turnout!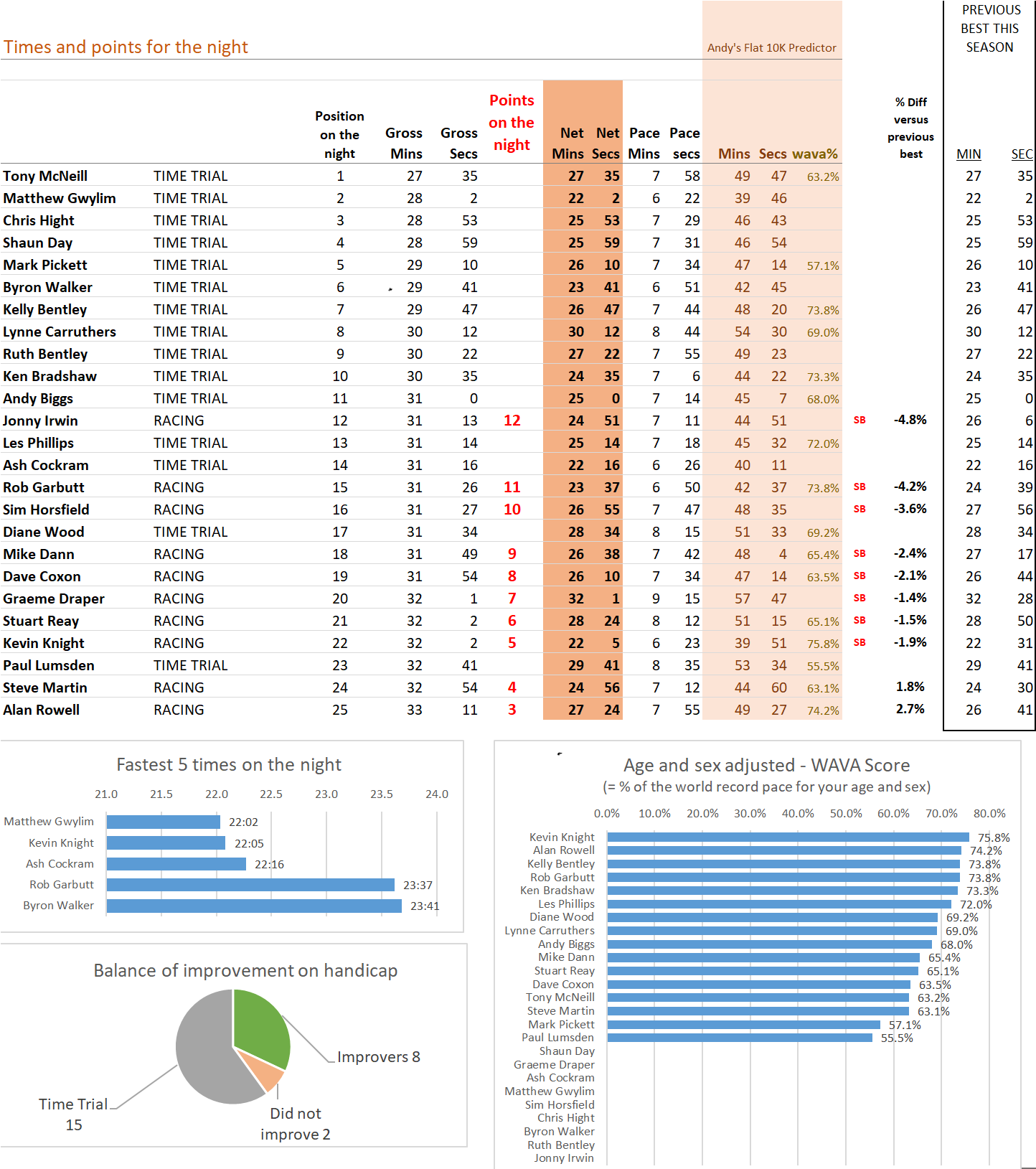 April 2018
the results of the April Time trial are as follows: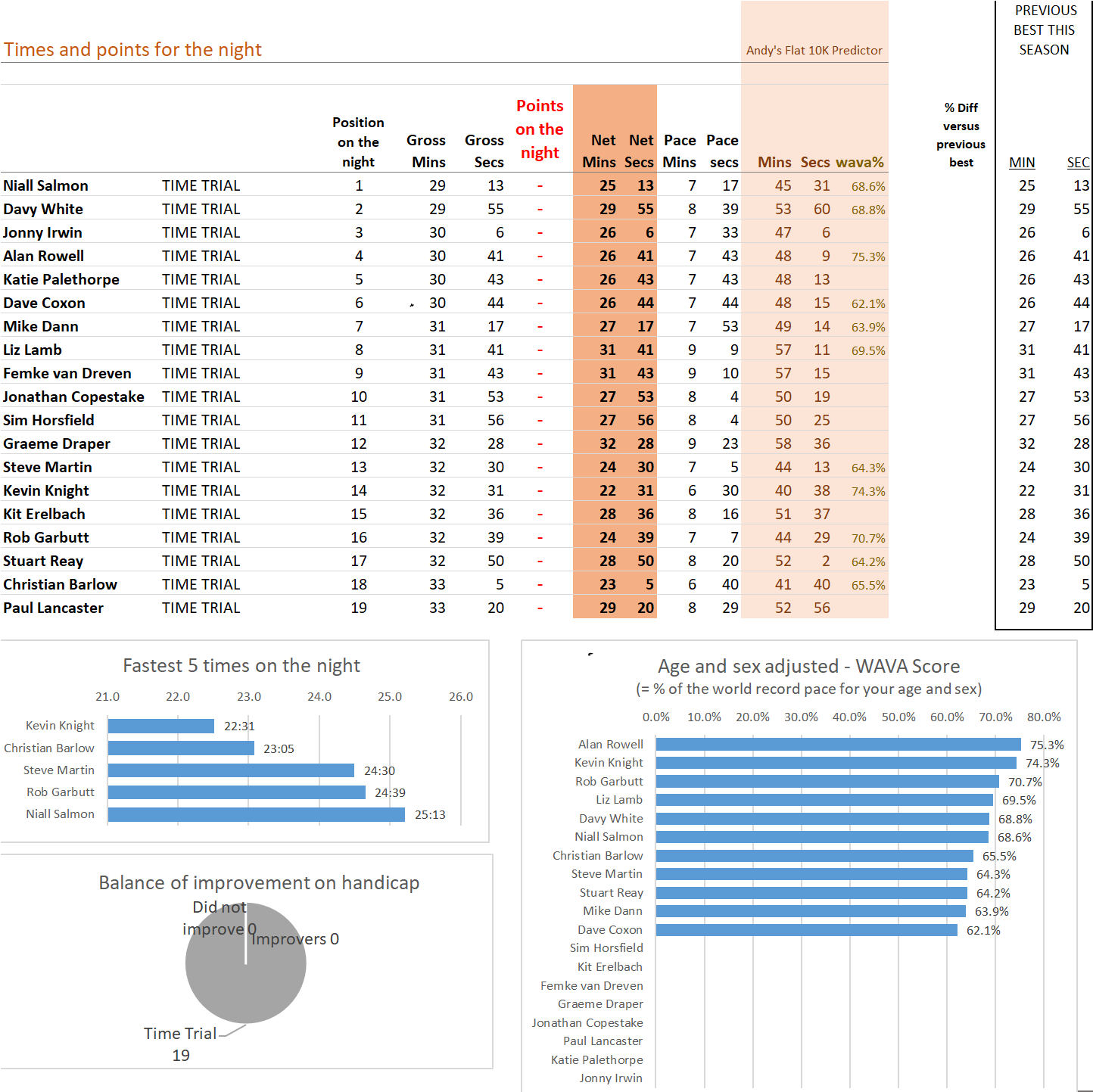 Please note – if you want to have a WAVA score, please supply your date of birth to Andy Biggs, who will hold it confidentially for the sole purpose of calculating your WAVA score for handicap events.  He will not use it for any other purpose, in accordance with GDPR.  Don't therefore expect birthday cards or presents, or any other congratulatory messages from him on the anniversary of your birth! 🙂
Winter Handicap 2017-18
Final results for the series are as follows – Congratulations to Sim on a consistently improving set of results which wins him the prestigious accolade of Winter Handicap Champion 2017-18!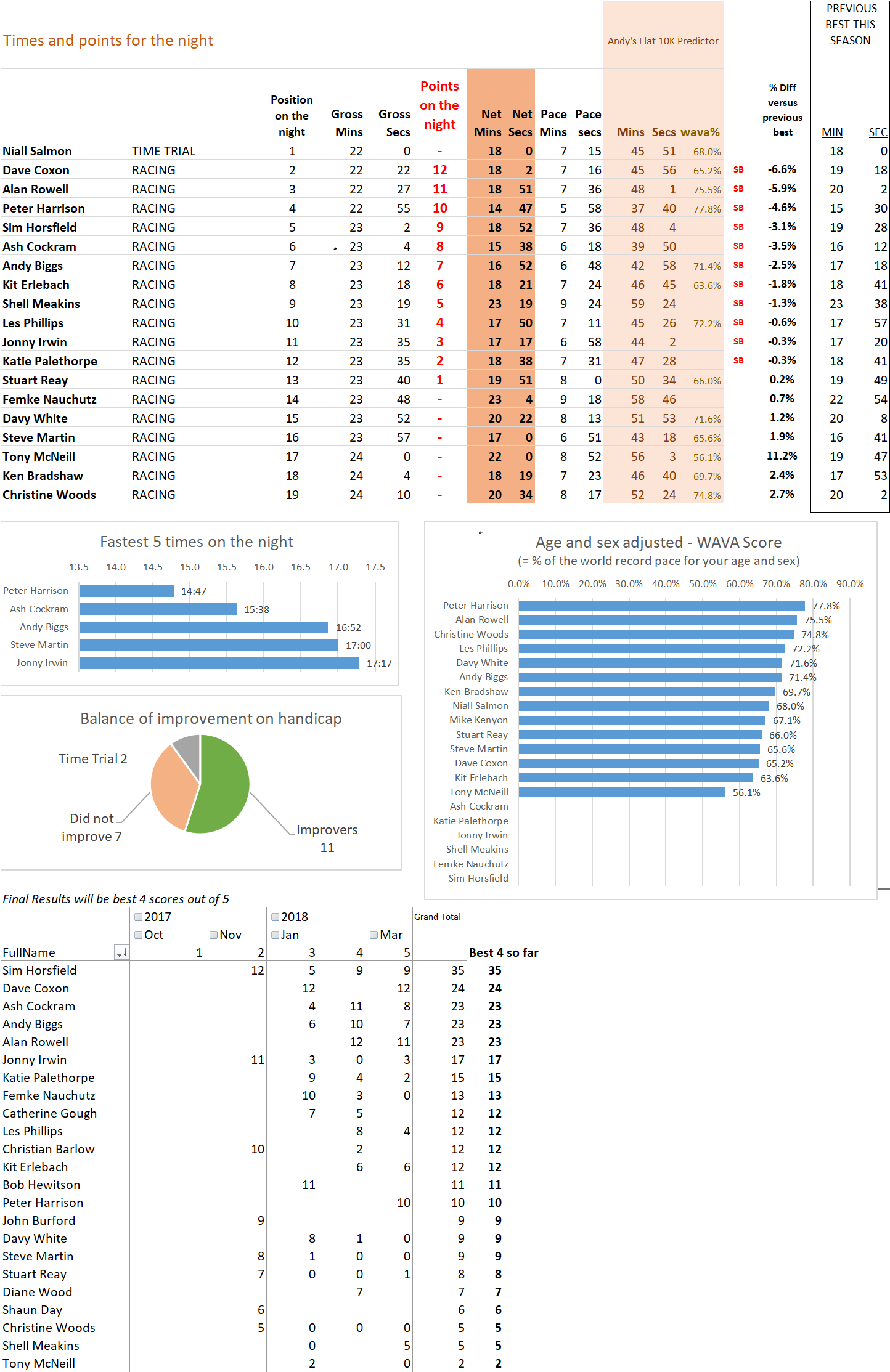 The final results for November are below.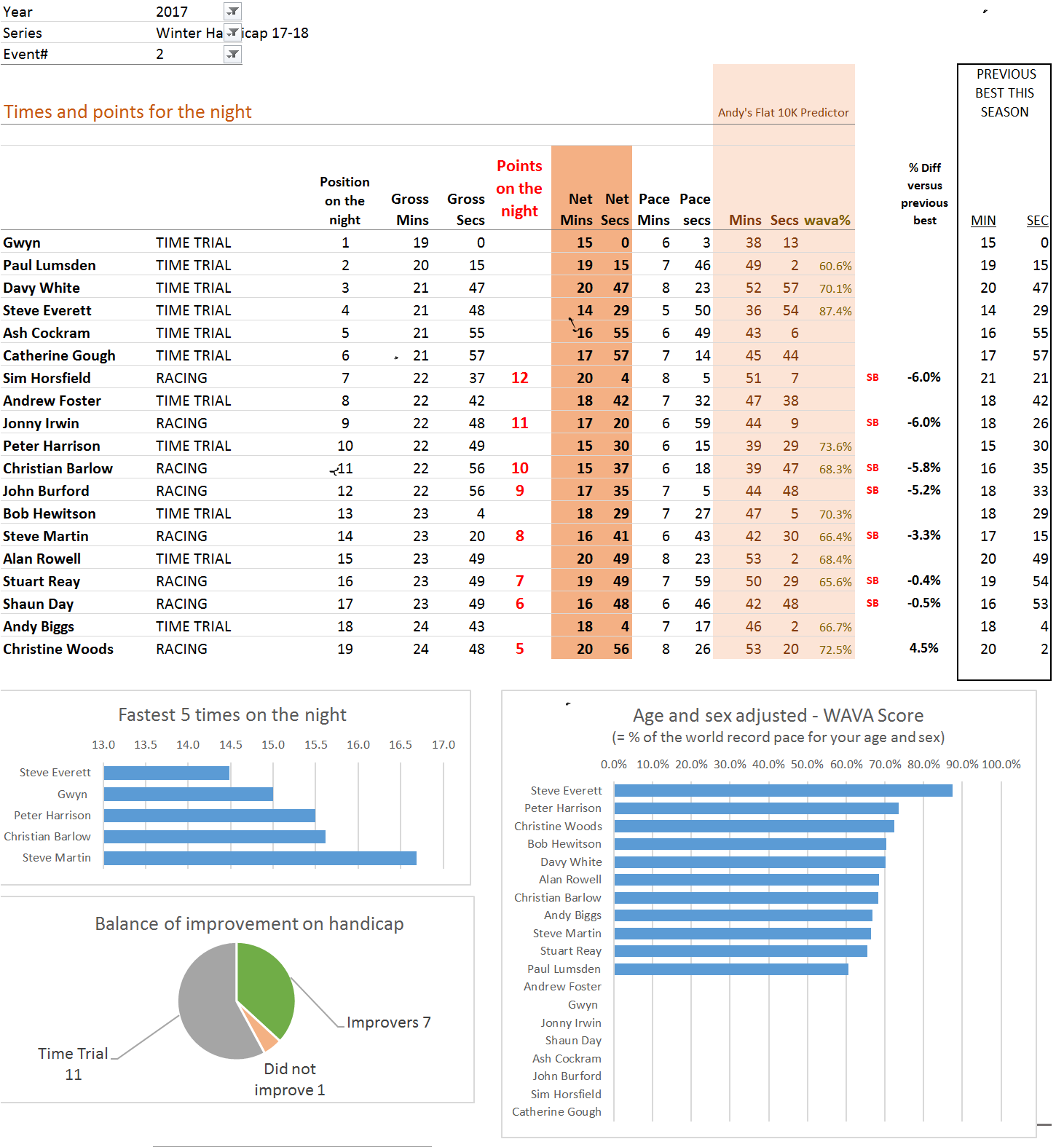 Summer Handicap 2017
Results for the September event are below.  Congratulations to Mark Pickett for winning the series overall!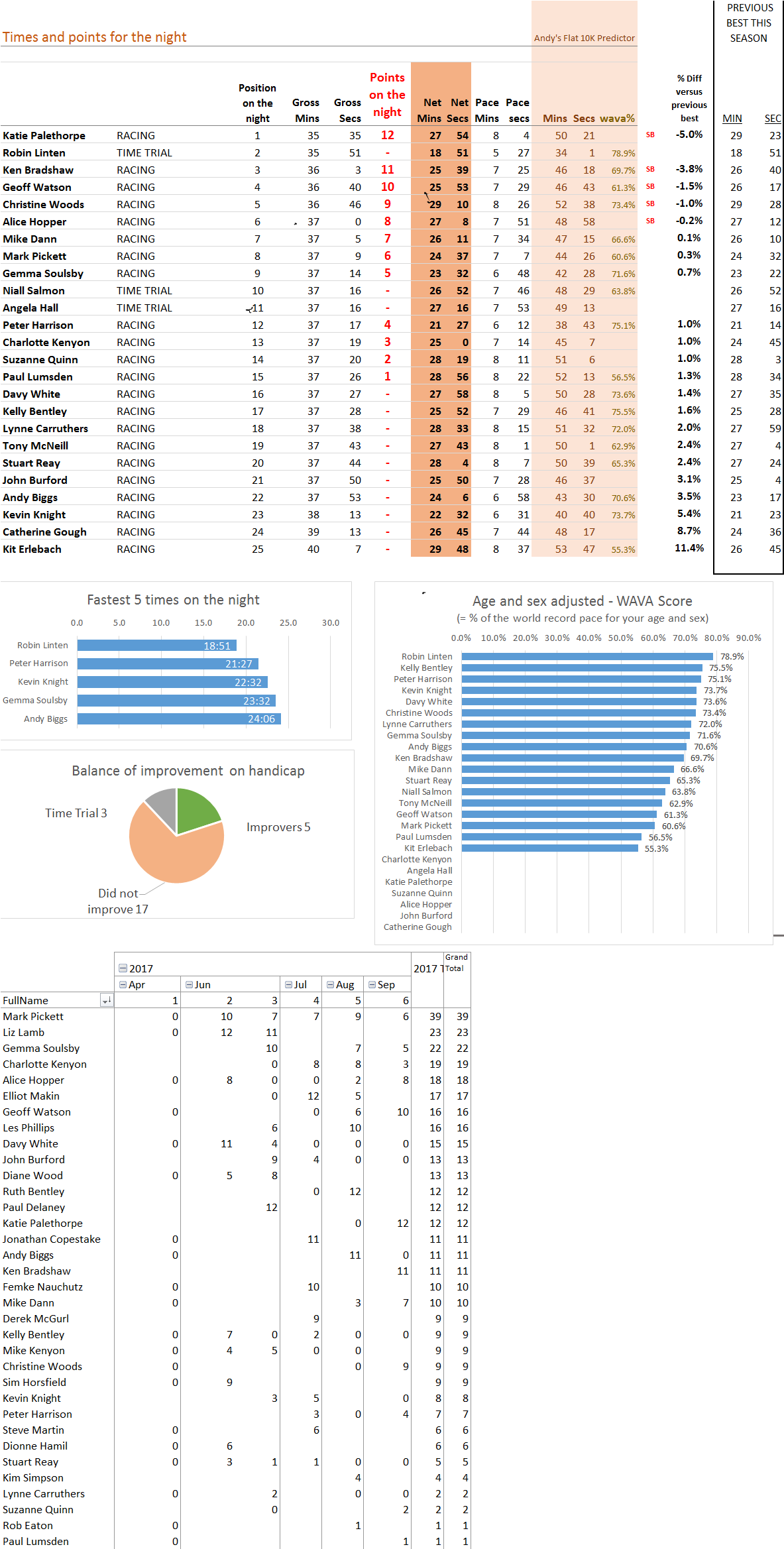 August 2017
Results are below – series leader board going into the final event next week is at the bottom.  Note, that after scrutinising, I realise that I had one athlete on 27 June down as time trialling, when in fact he was racing.  Therefore, I've had to insert him into points allocation and have adjusted others accordingly.  Nevertheless, Mark Pickett is out front with a comfortable margin – can anyone catch him next week?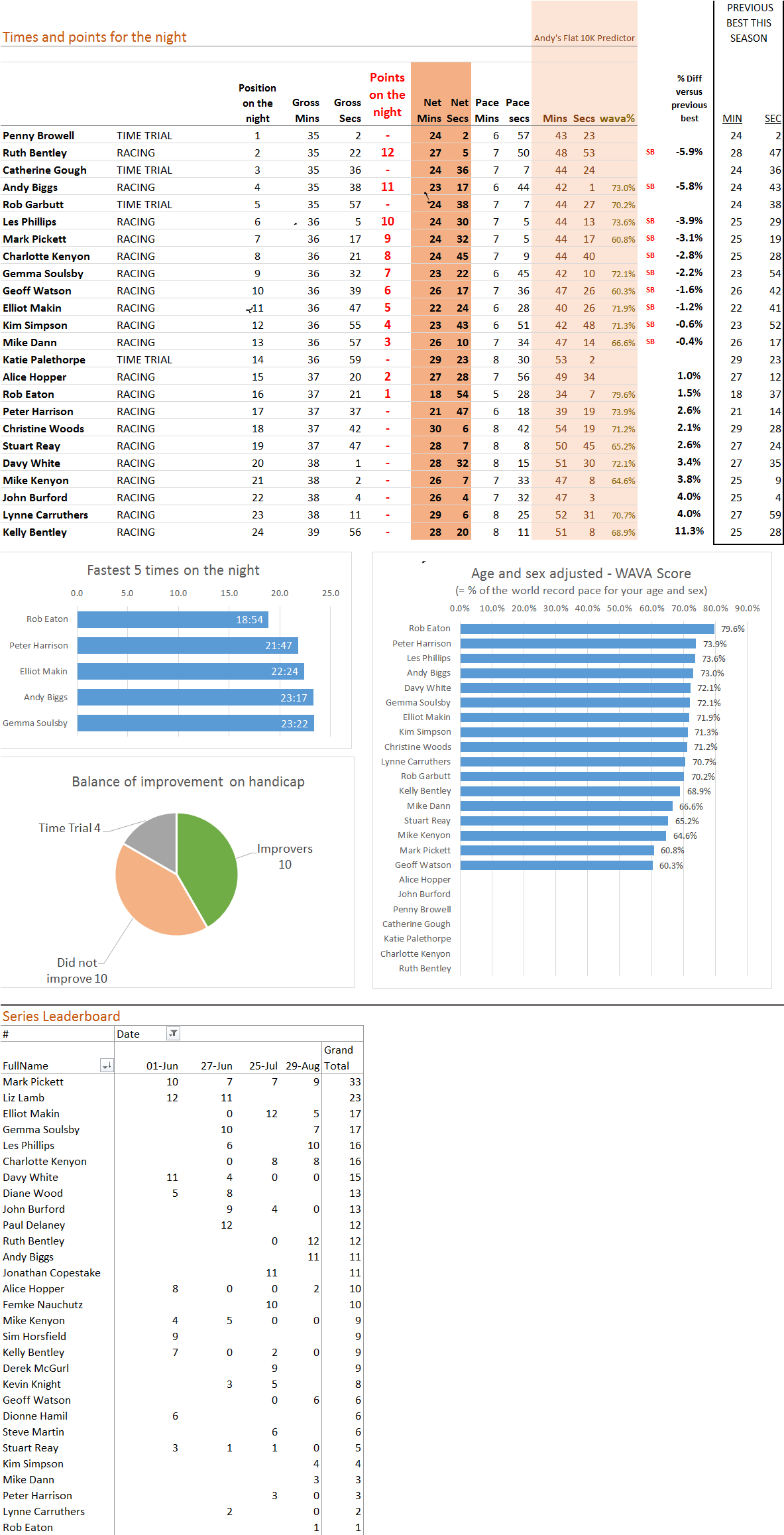 July 2017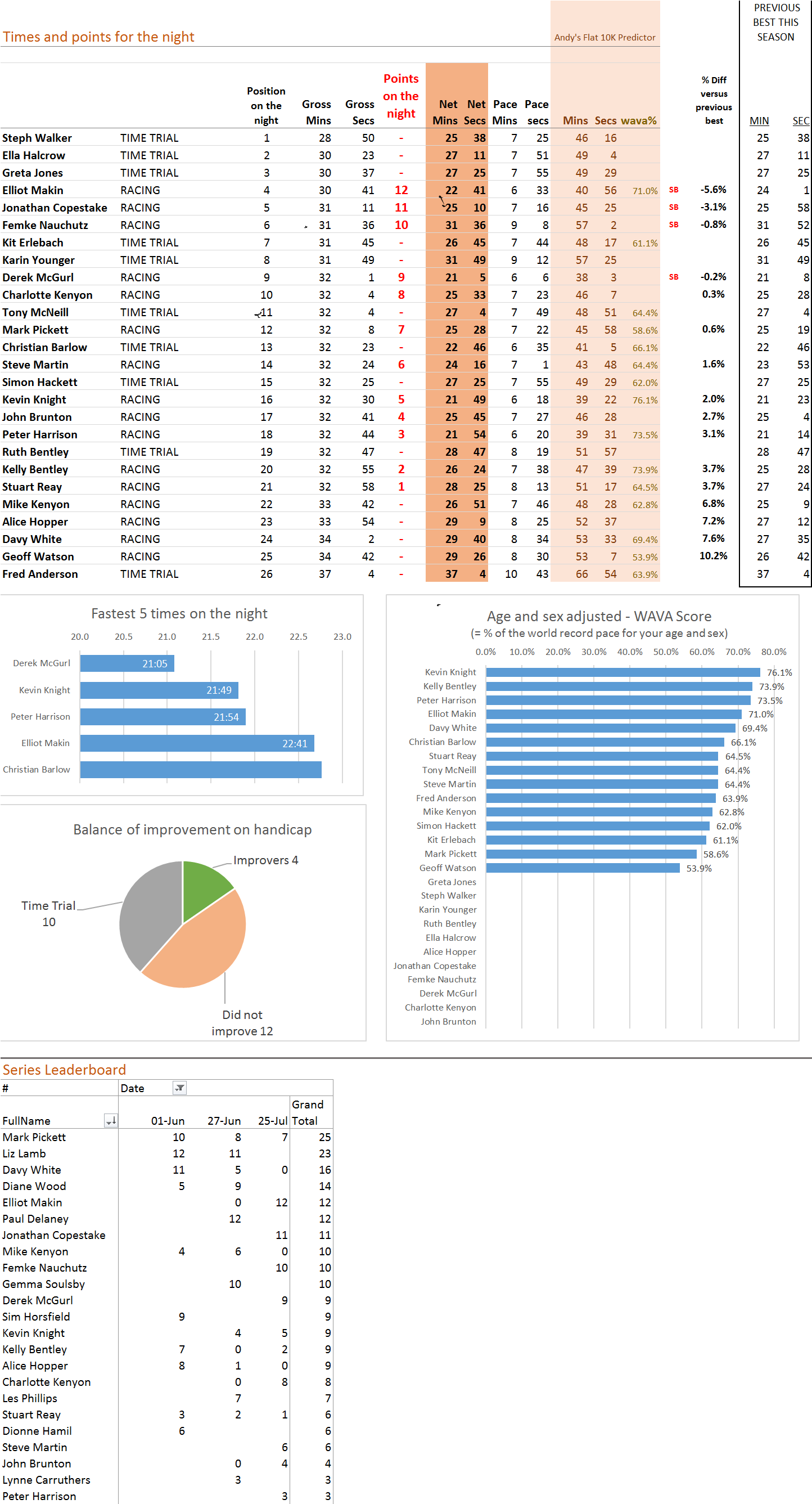 June 2017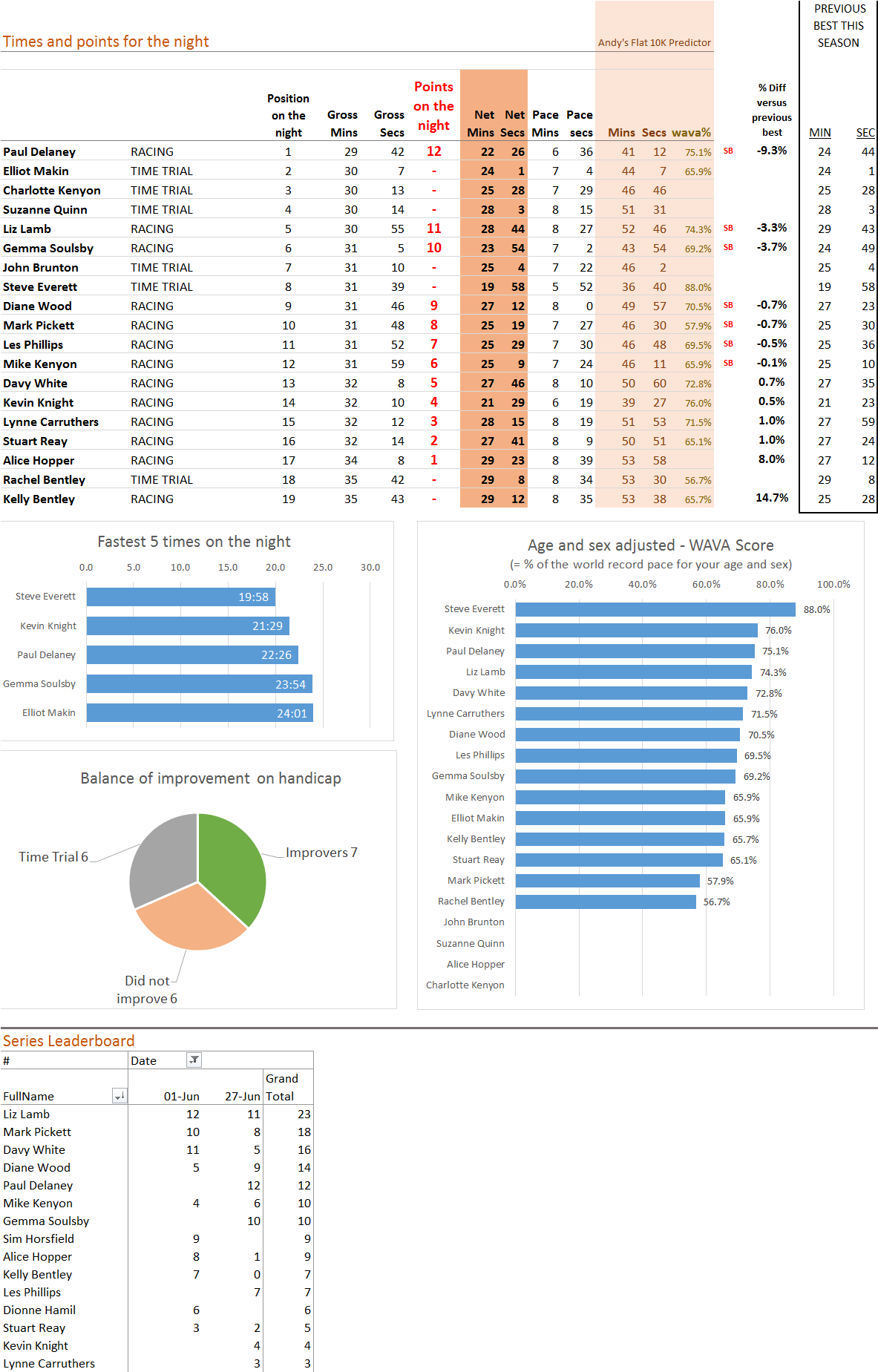 May 2017
The May event was held on 1 June, with a tremendous turnout, including several new people – welcome!  New people are always welcome., but please note that the WAVA scores are calculated from date of birth from our membership records, and eligibility for prizes will only apply once a person joins the club (hint, hint!).  If you have joined the club and we've missed your date of birth, please remind us / make sure the timekeepers have it next time.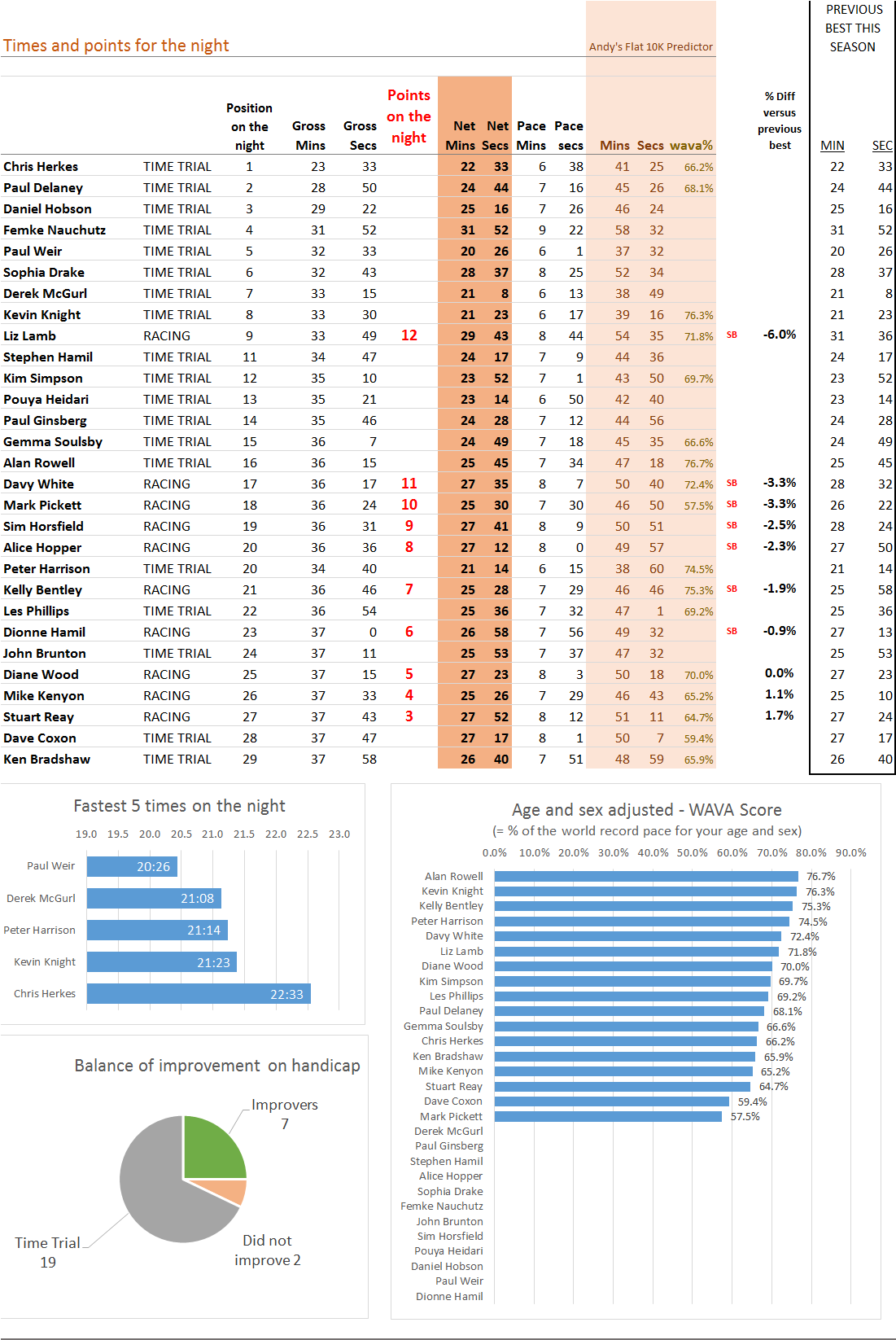 April 2017
It was hardly summer weather, but the time trial for the 2017 series was held on 25th April.  A full results list for the time trial is below: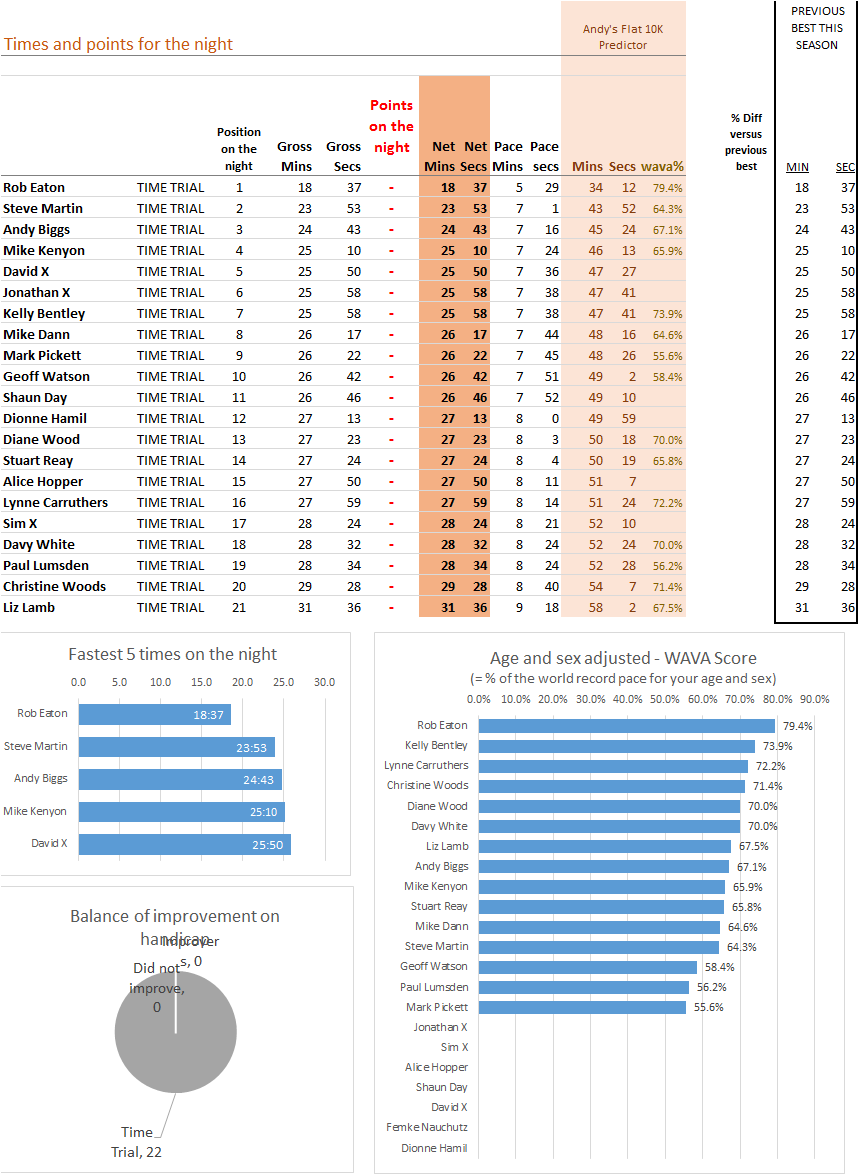 Summer Handicap 2016
The final event of the summer – results below, but PAUL DELANEY has been crowned as king of the summer handicap. Although he failed to score tonight, he had built a lead that no-one managed to overcome.  Well done to Alan Rowell for coming up on the rails and sneaking onto the (non-existent) podium!
August 2016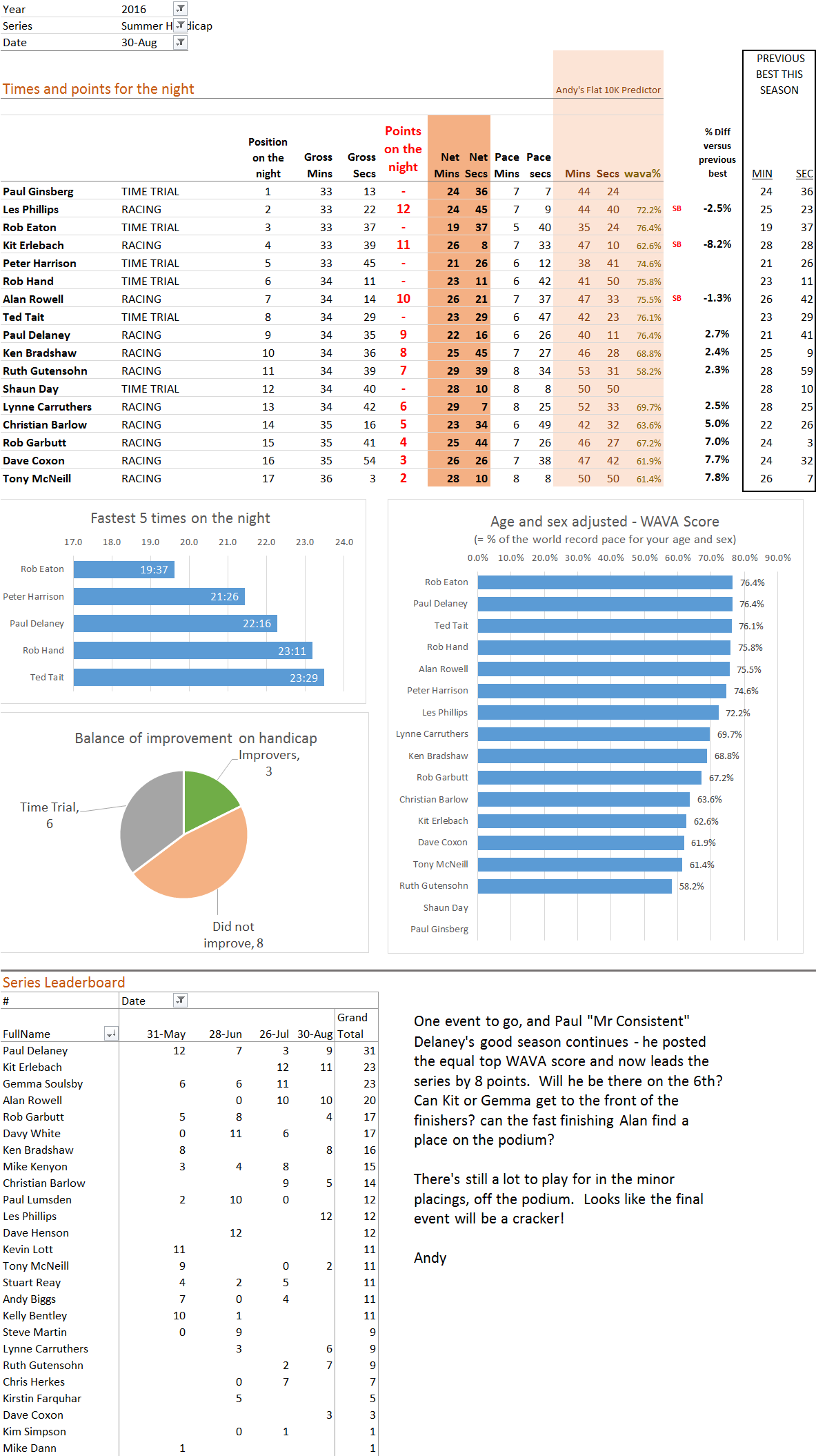 July 2016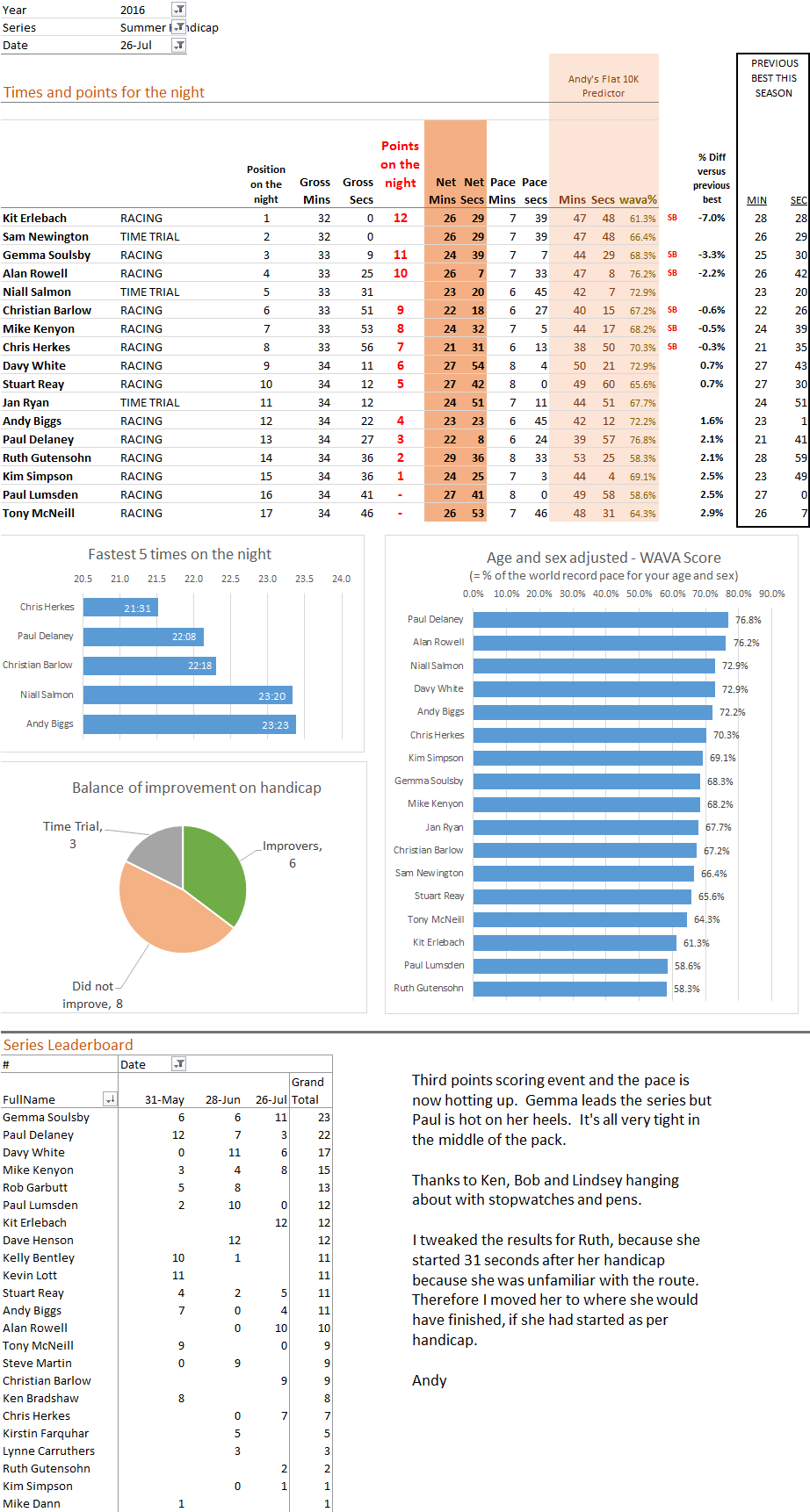 June 2016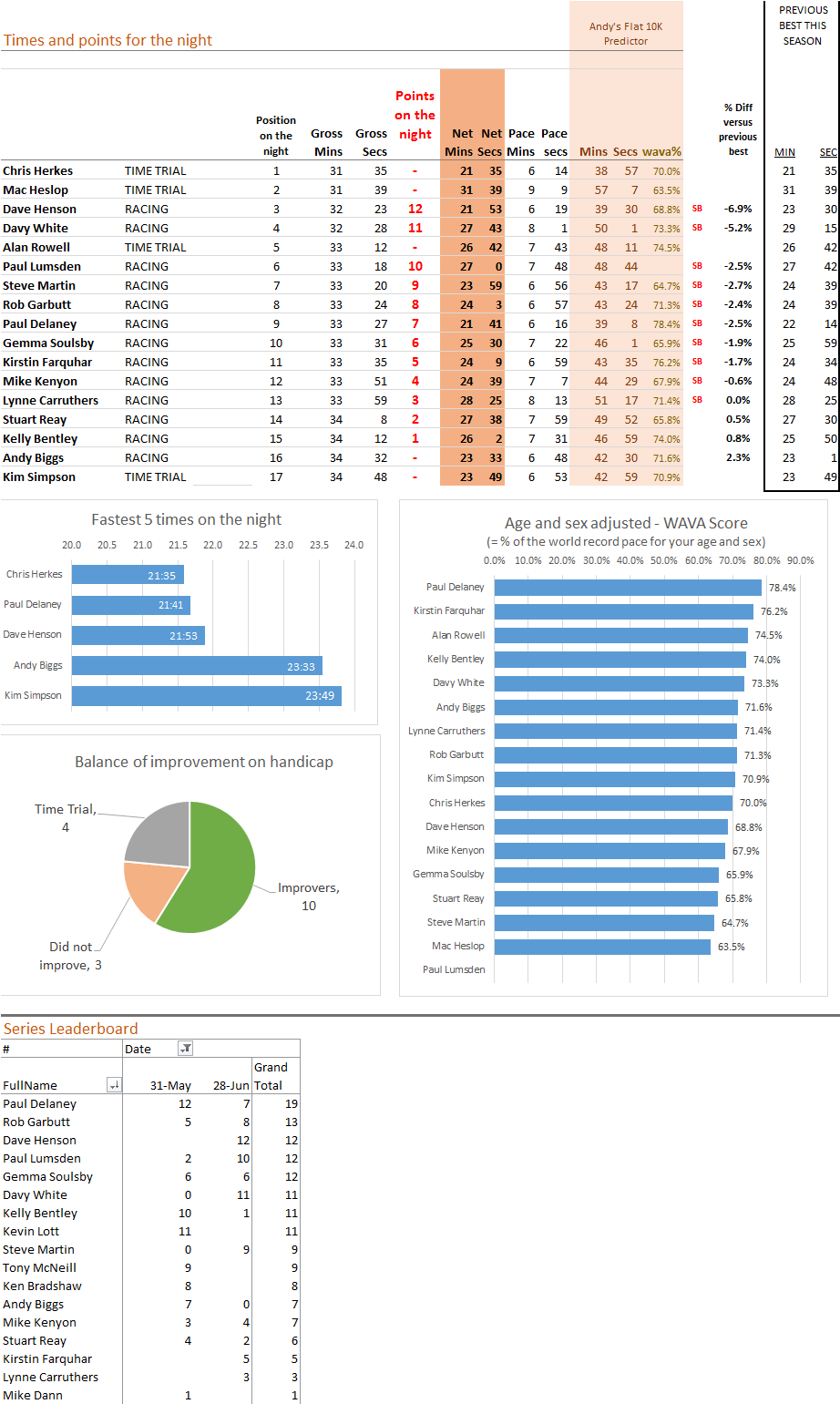 May 2016
More unseasonal weather and a good turnout, considering that a few people were absent watching the cycling.  Results are below.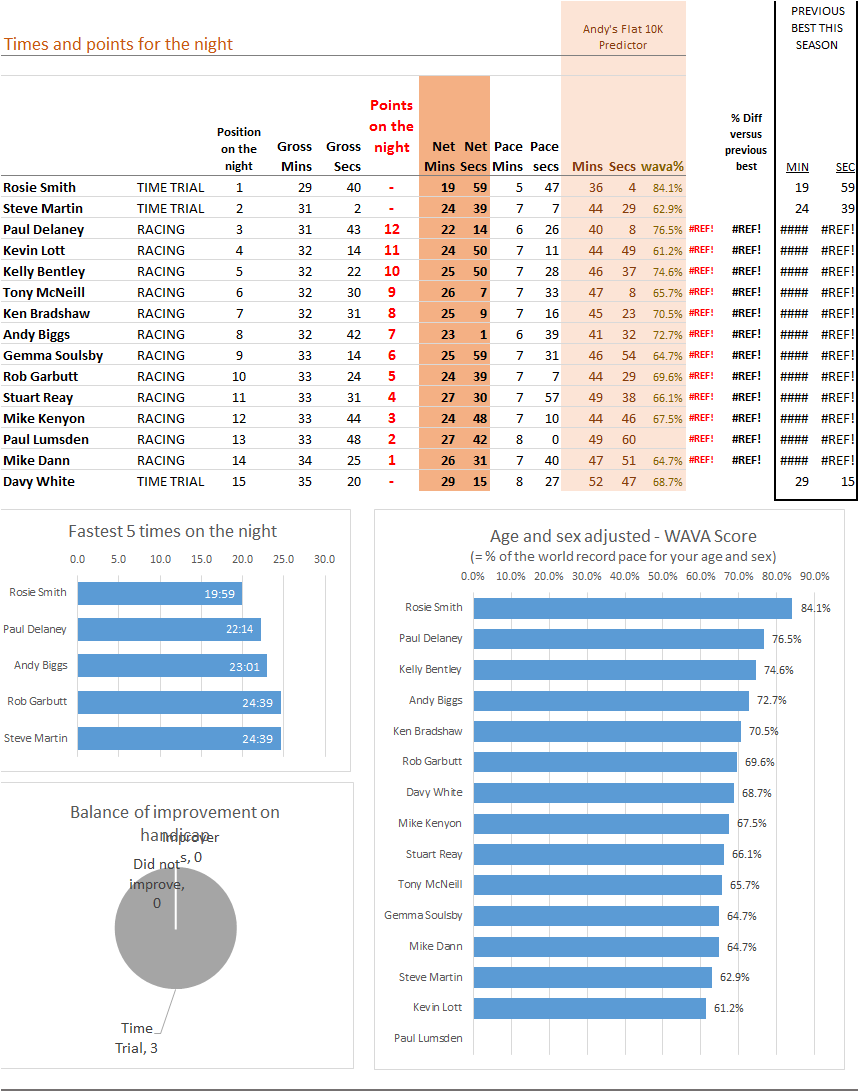 April 2016
Amazing turnout on such an awful night at the end. More like the winter handicap! Well done to all runners. Course was about 3.26 miles. Thanks to Peter and Alan for the support and great to see so many old and new faces turning out.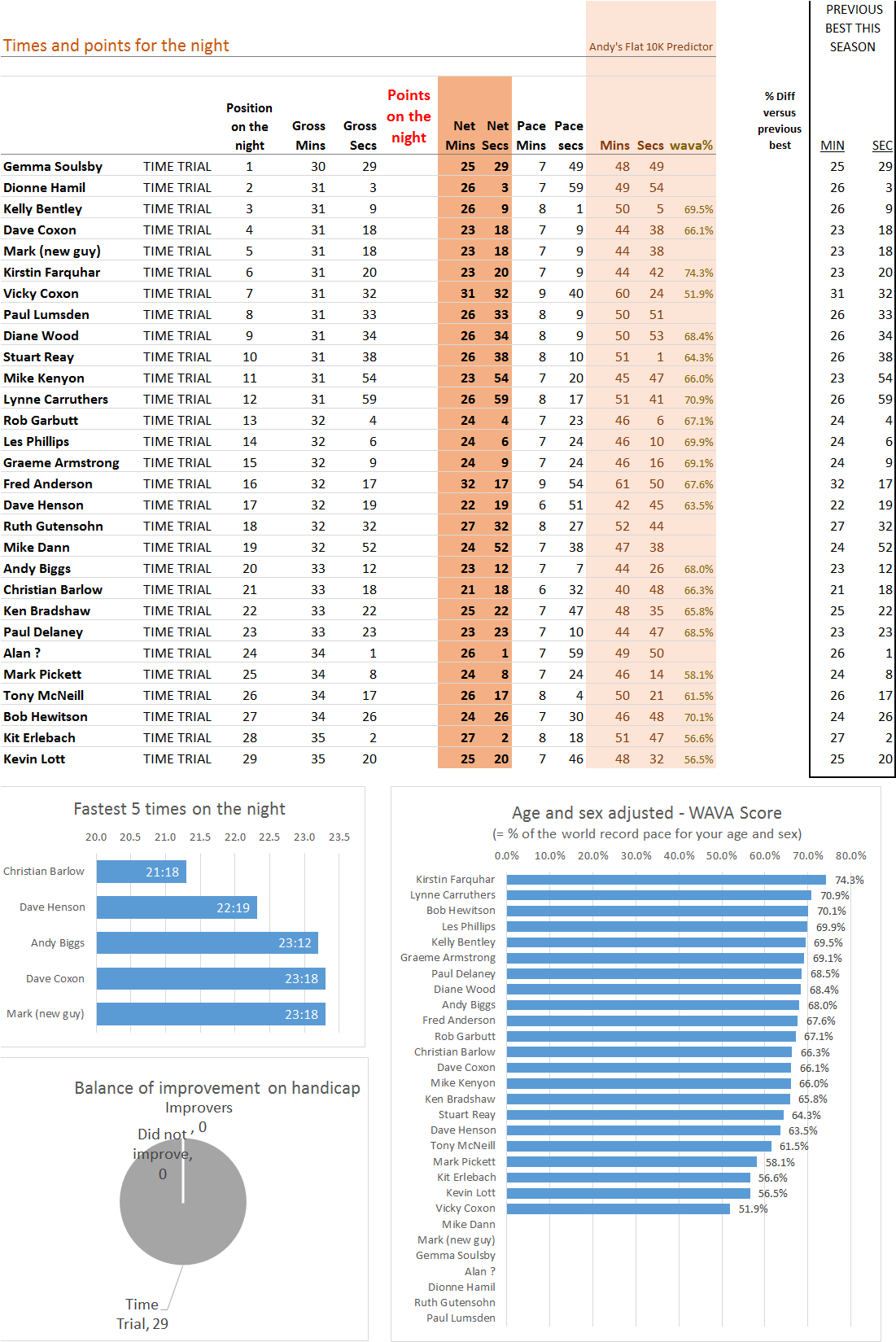 Winter Handicap 2015/16
March 2016 and series results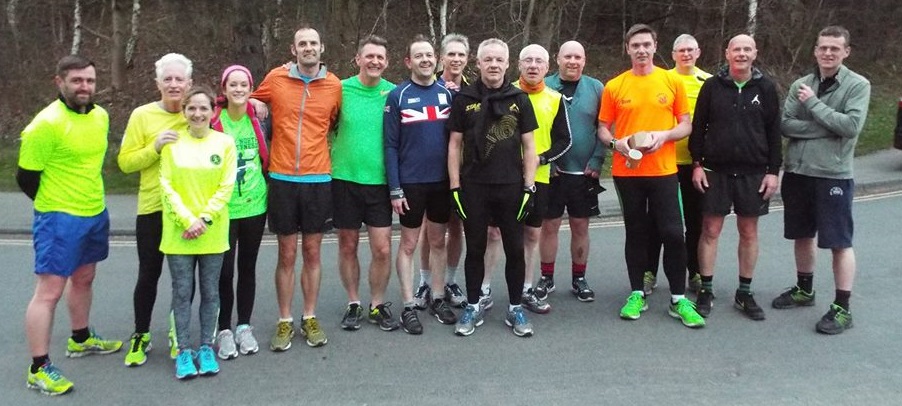 Firstly congratulations to Dave Coxon on winning the Winter Handicap 2015/16 this evening. A special mention to Kirstin who pushed him close the whole series and ran all the events. A big thanks to Stuart who also ran all five and thanks to the 38 different runners who have turned out over the winter. Thank you to Rob, Gary and Paul Bentley for their help over the winter with the timing. Last but not least thanks to Andy Biggs for the numbers which always makes interesting reading for us couch handicap setters.
Bring on the Summer Handicap!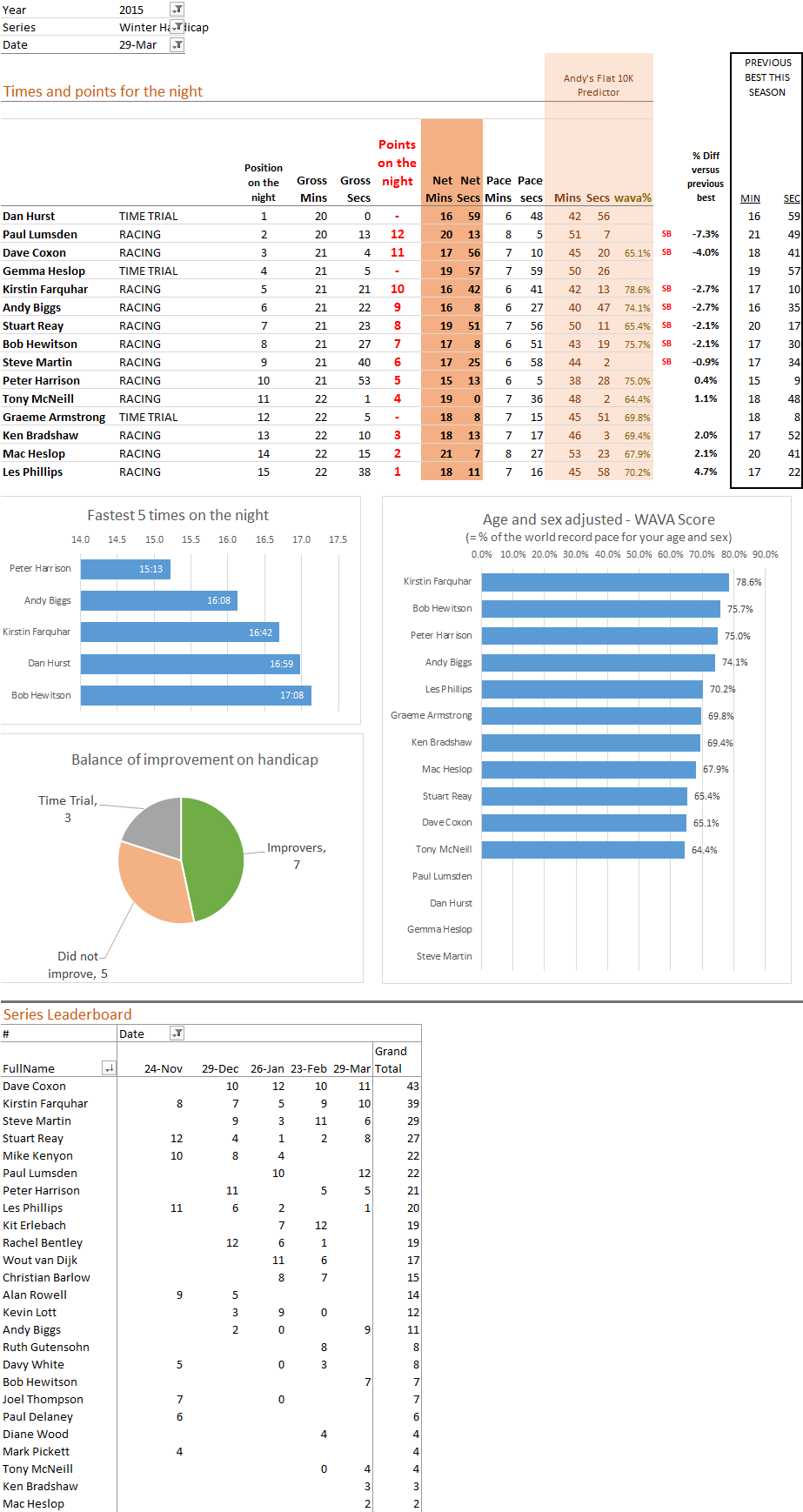 February 2016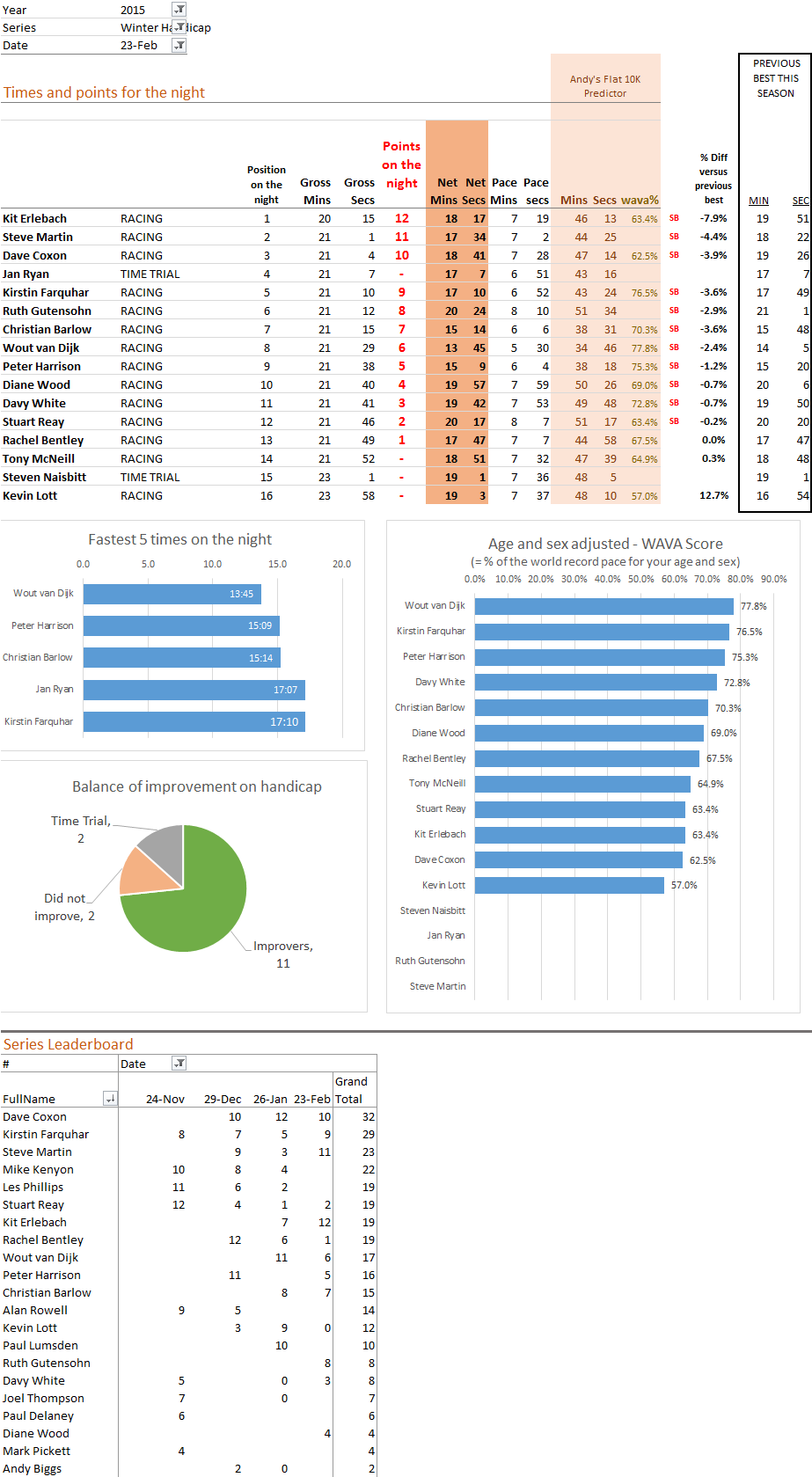 January 2016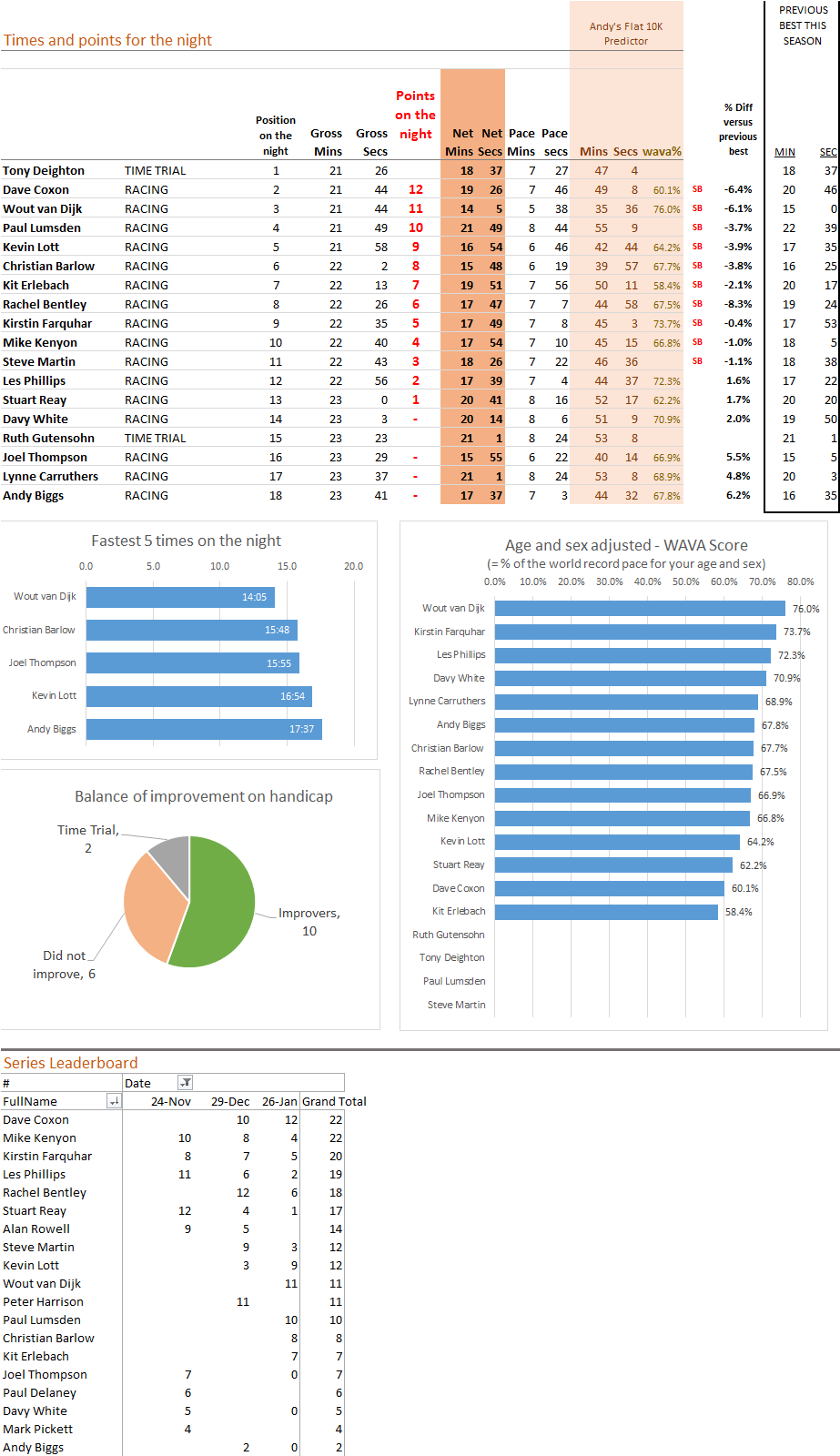 December 2015
It was a warm night (for December) and shorts were in evidence,  as was a general attitude that atonement for turkey and mince pies was in order. Rachel did her usual winter handicap trick of improving and came in first. Peter Harrison clearly had no mince pies at all over the festive period and stormed to new personal best over the winter course, nearly overtaking the whole field.  I did the reverse –  just to make sure I didn't get close enough to give anyone my cold…
If anyone is interested, I have WAVA score histories across the past two years.  Contrast Peter's (improving) and my (decreasing) fortunes against Mr Consistent – Alan Rowell, who not only outscored everyone on WAVA% in the December event, he has kept his % within a narrow band: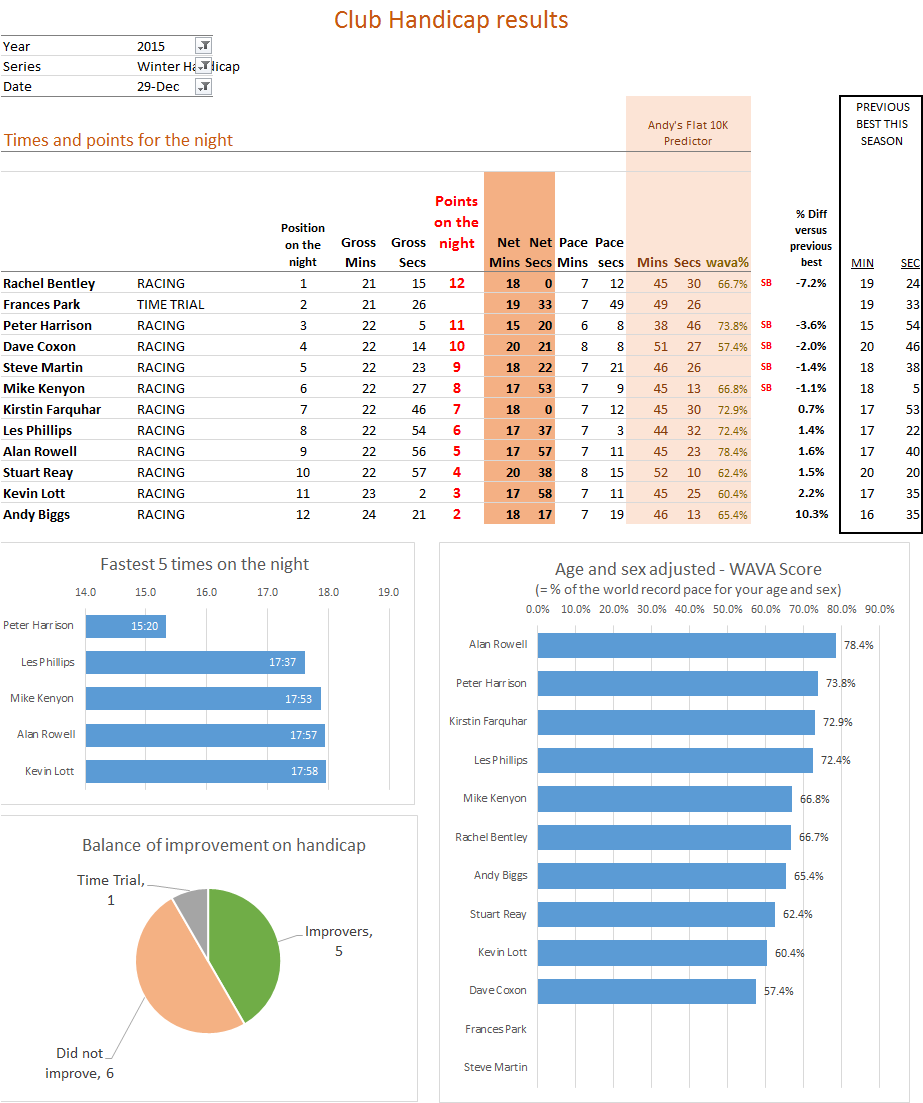 November 2015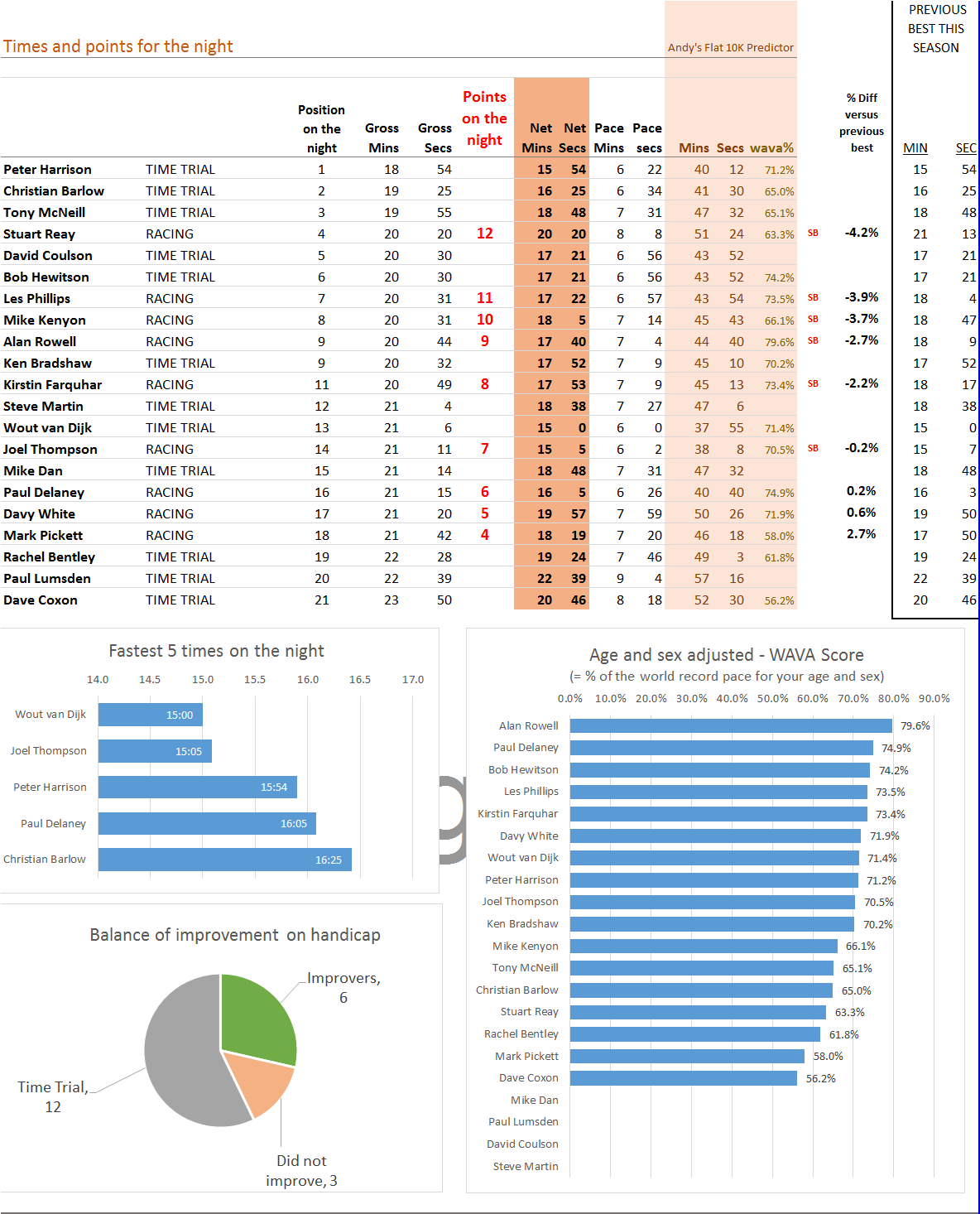 October 2015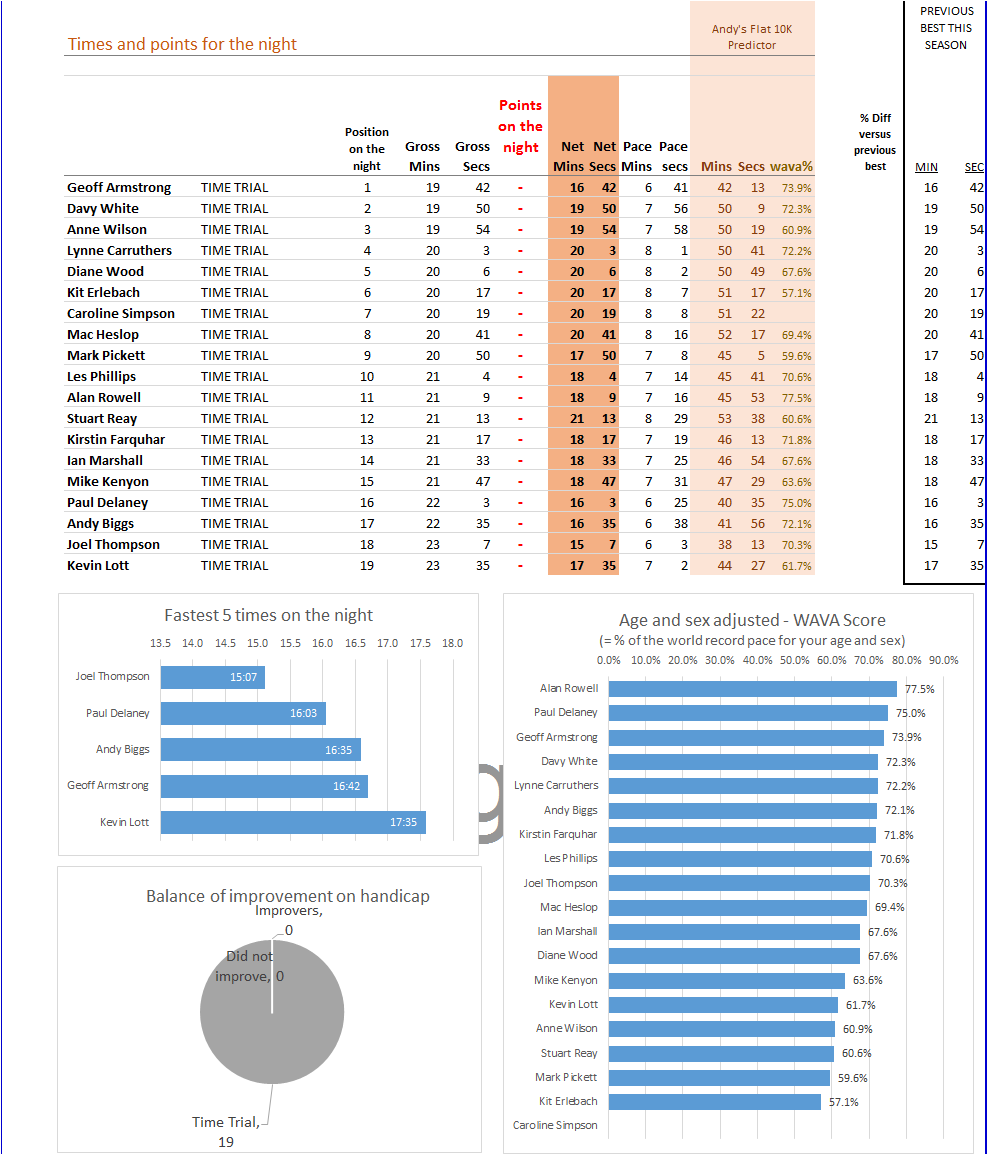 Summer Handicap 2015
September and Final series results
Congratulations to Joel Thompson on being the overall series winner by a clear margin have run all the events!   Kevin Lott was 2nd and Fred Anderson 3rd.  An honourable mention also to Kelly Bentley who also ran all the events.  Full details are below: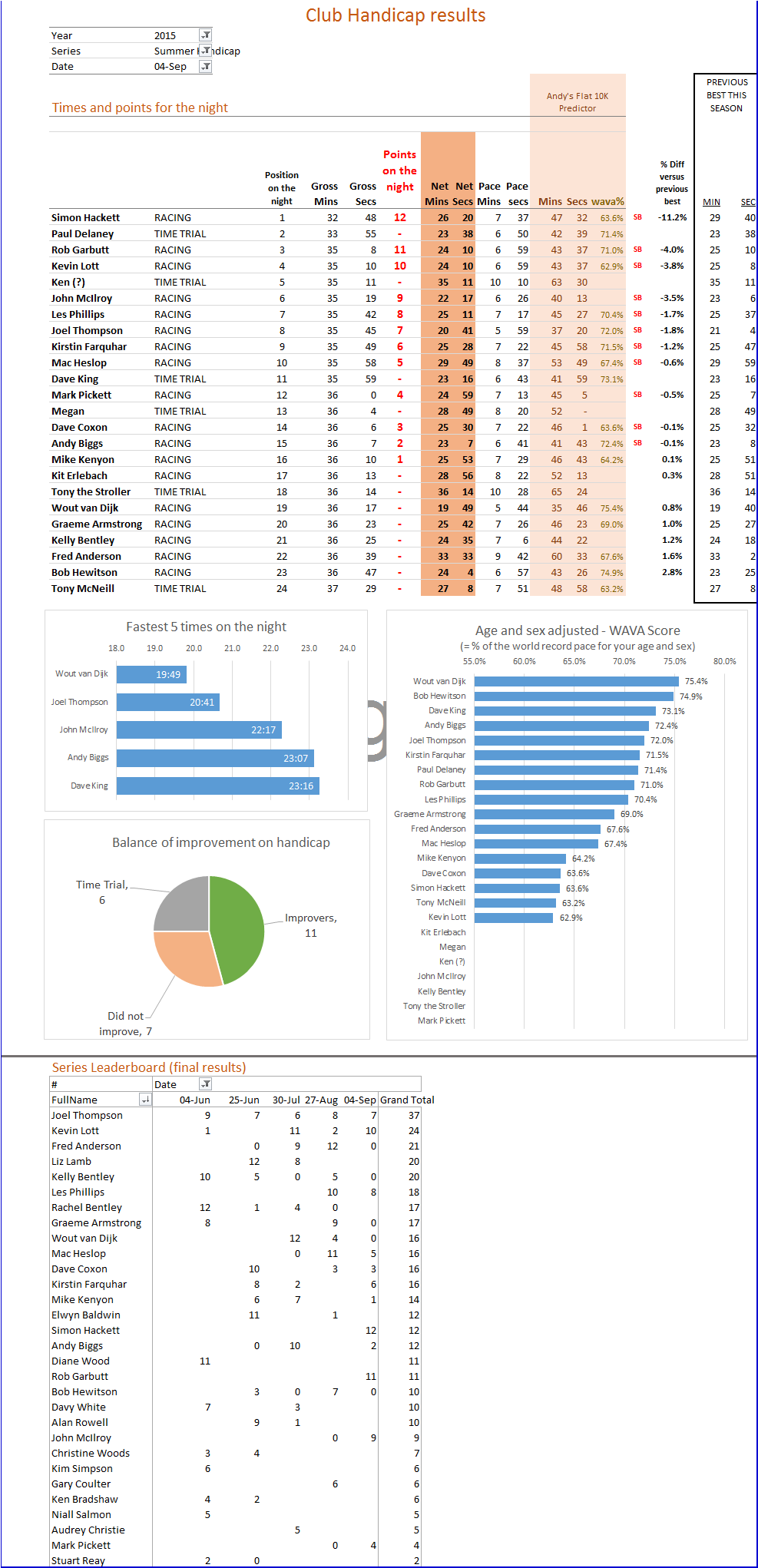 August Event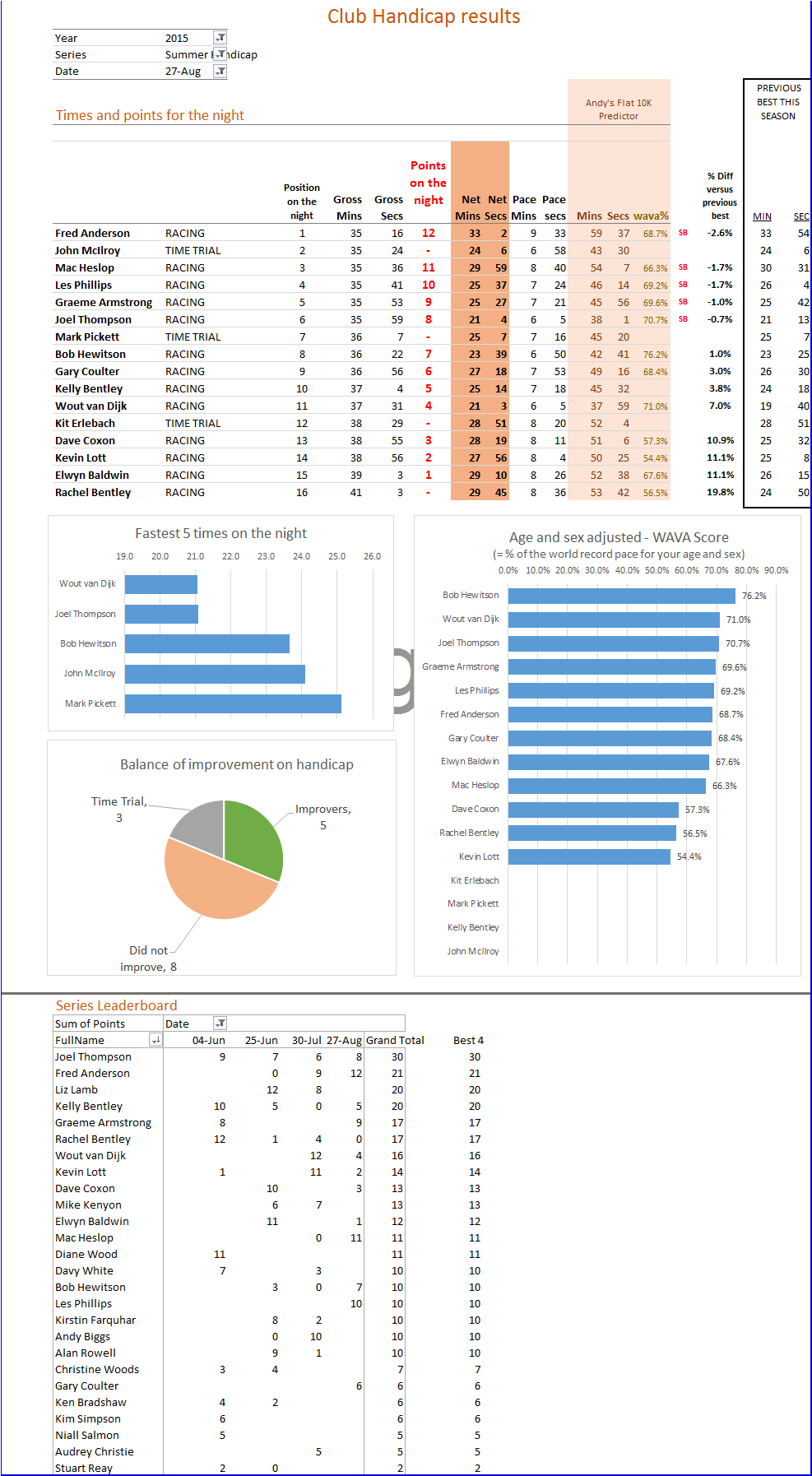 July Event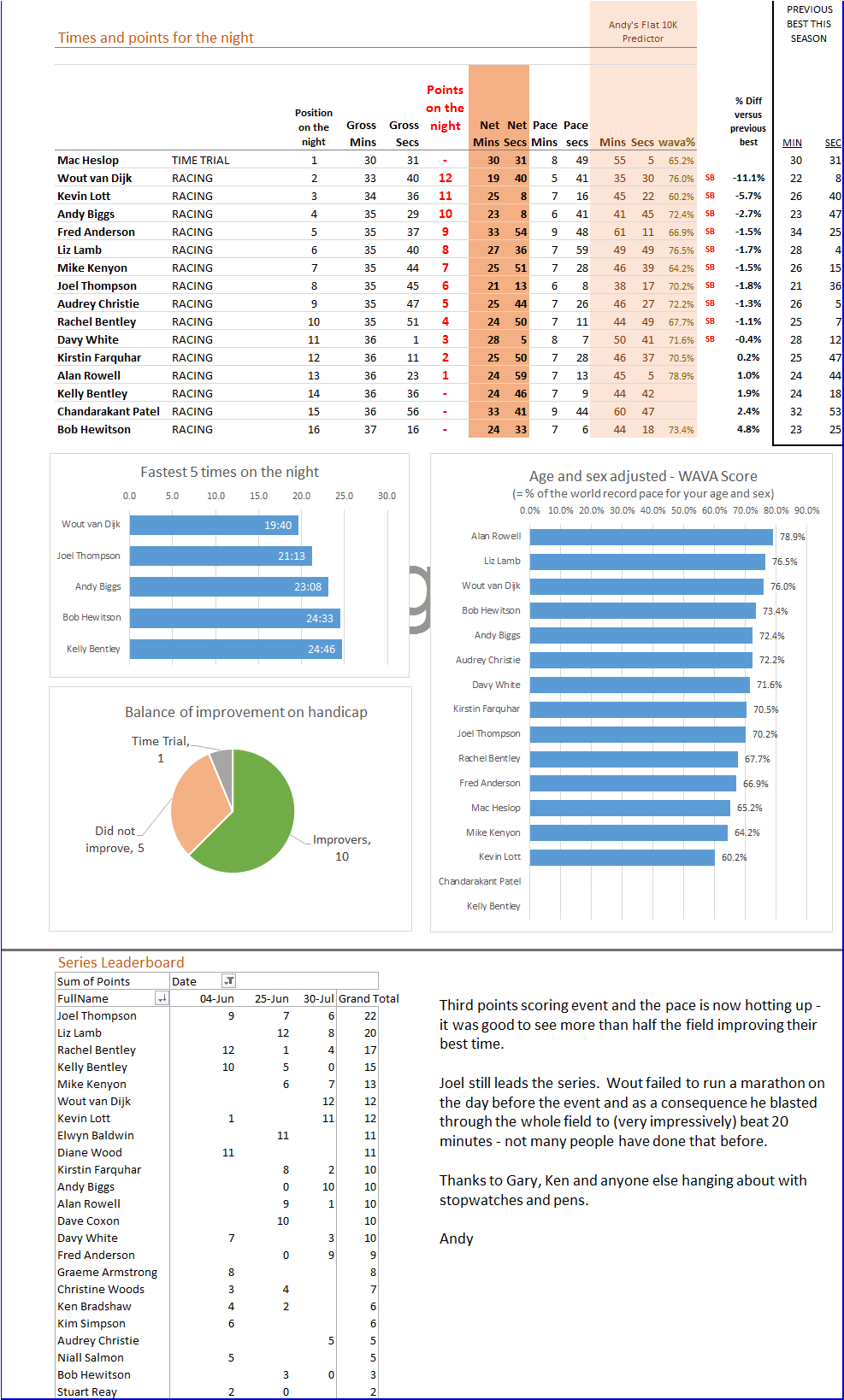 June 25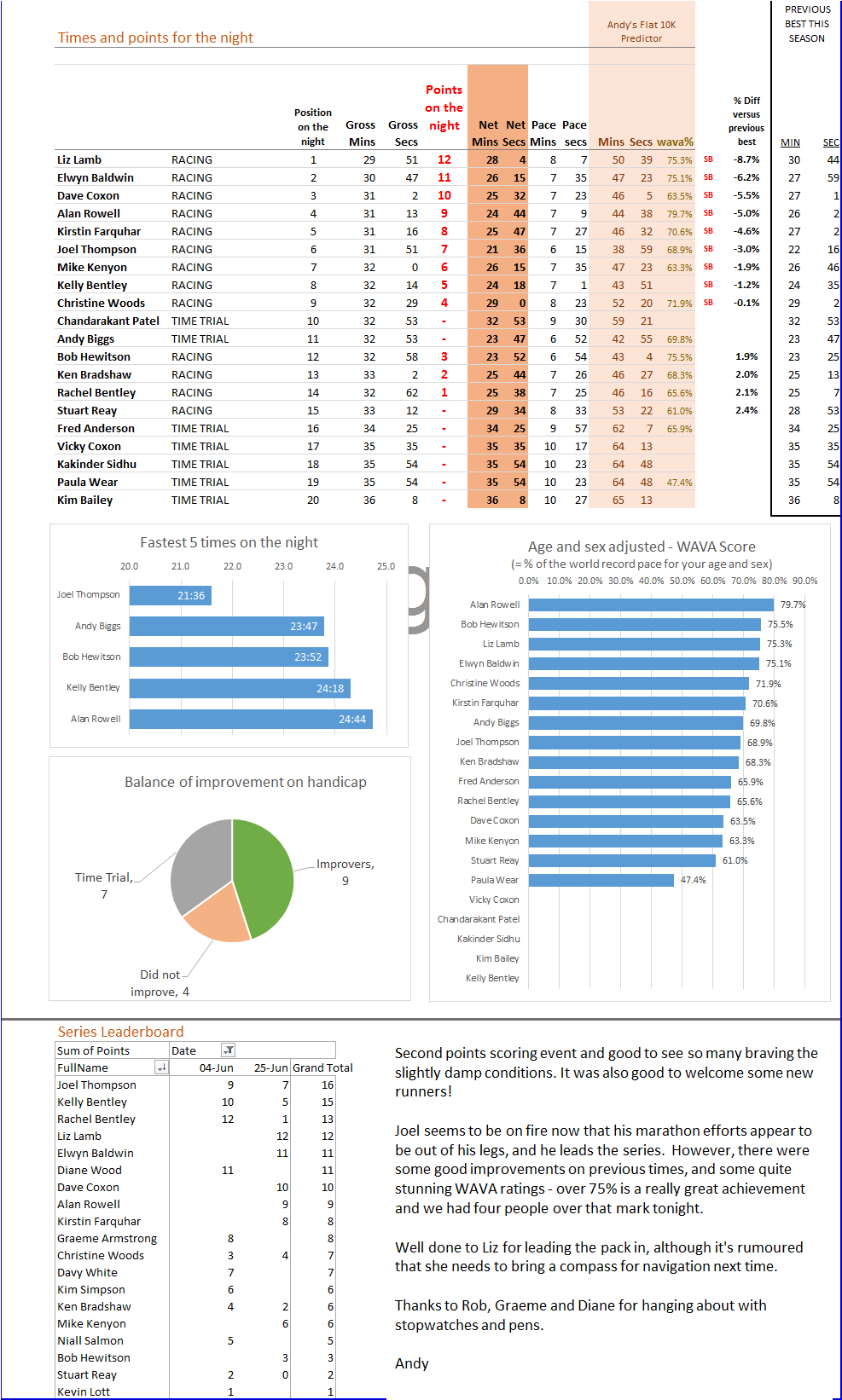 June 4 (delayed May event)
A good turnout again, and some pretty consistent running so far as WAVA score go.  First points go on the board and Rachel gets the max 12!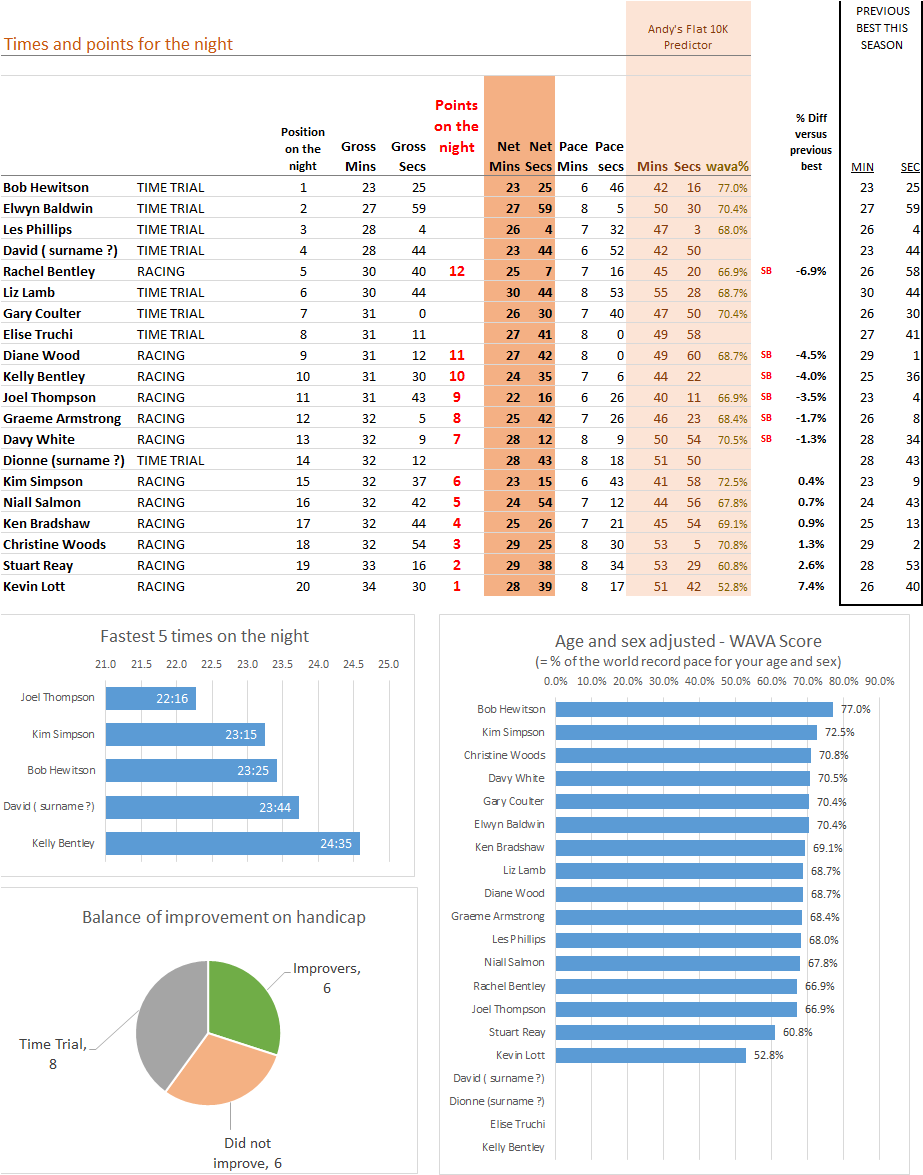 April
Kicking off with a well attended time trial.  There's no detailed commentary on these results- but we can expect a hot series this summer – with so many runners  Results and handicaps for the next event are below: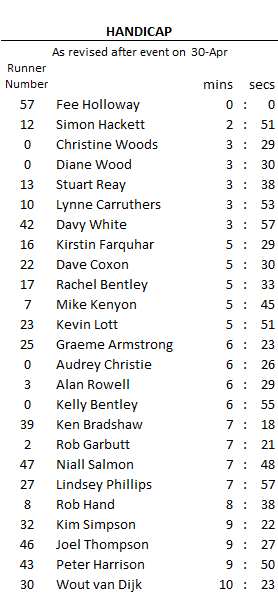 Winter Handicap 2014/15
March 2015 – and Season Finale!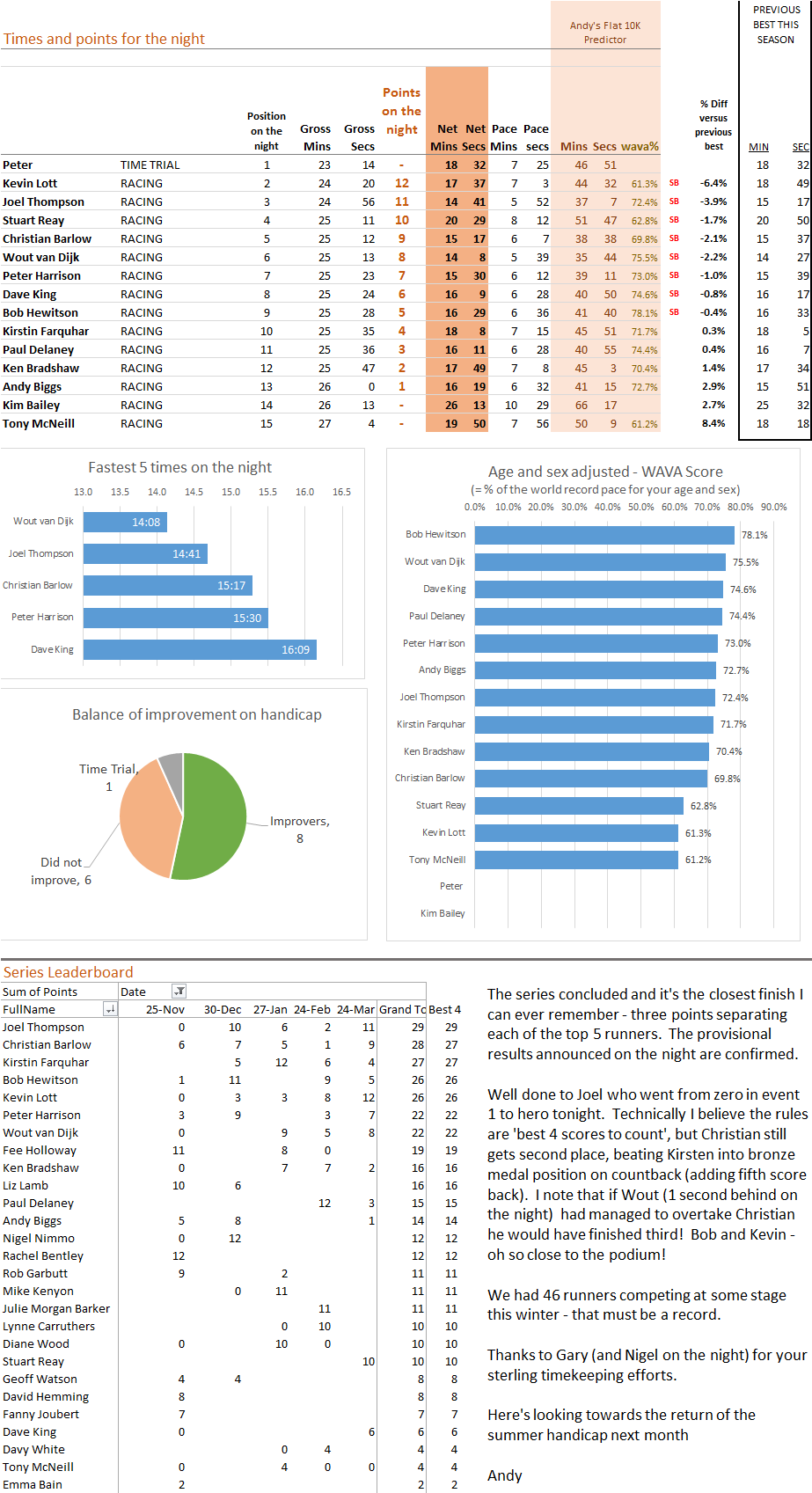 February 2015
Whilst it would appear that my running is getting slower, it's not as slow as my results publishing (sorry everyone….!).  February's result evened up the series leaderboard and it's getting very exciting for the finale (which is scheduled for 24 March).  The link to the handicaps for March is here:  Handicap Times Web.
A quick reminder to those who wonder how I get the 10K equivalent / WAVA scores – I use the Runners World race time predictor (http://www.runnersworld.co.uk/general/rws-race-time-predictor/1681.html#no ) to scale your time for the 2.5 winter course to 10K.  For the summer course I do the same, but add a factor to allow for the hill – the wineter handicap is flat so there is no adjustment.  You get a WAVA score when you become a member of the club (hint, hint!) I use your date of birth to compare against the published WAVA stats (world record for your age over a given distance), to give you a percentage of the pace that would be a 'world record' over 10K.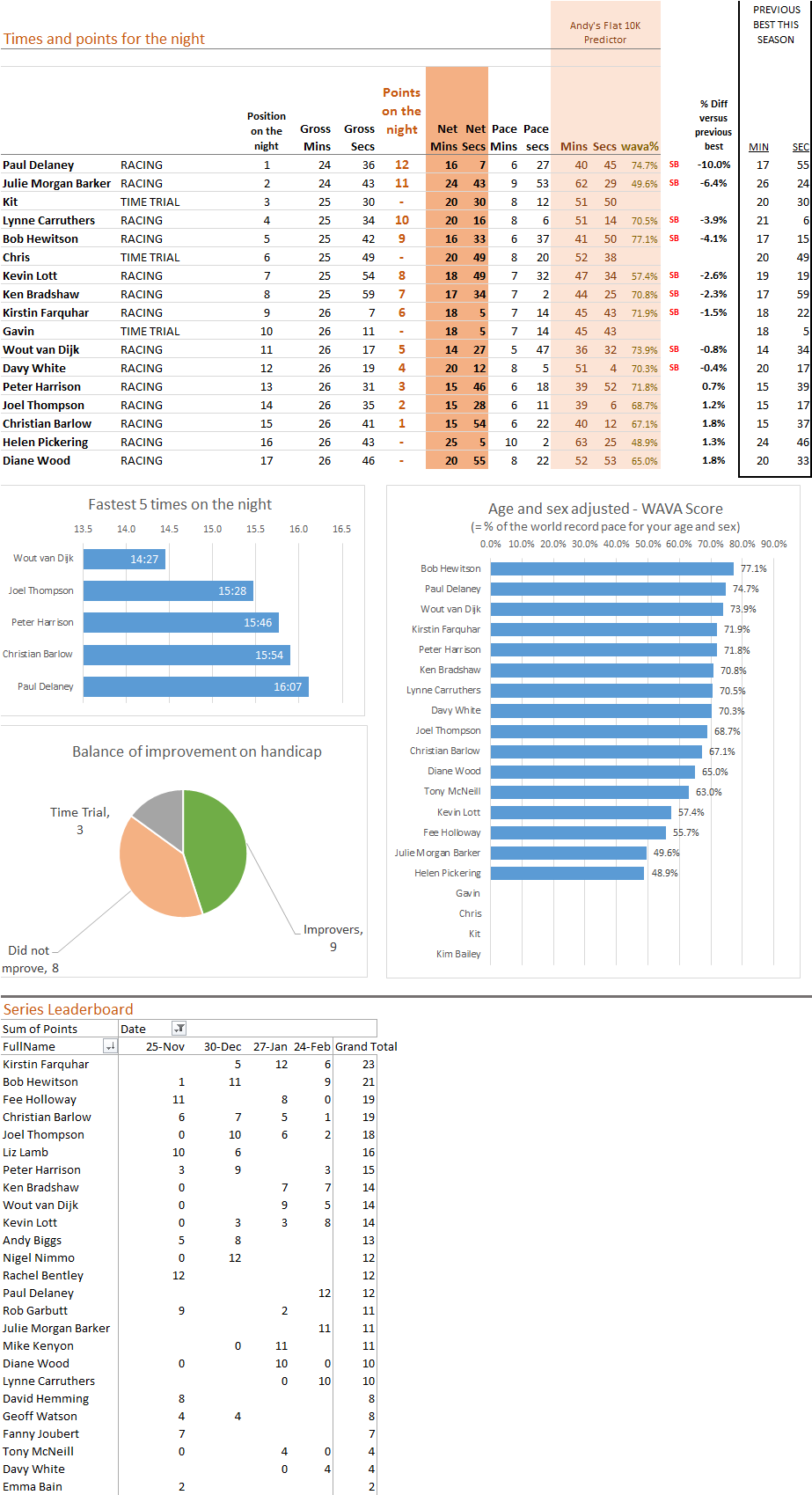 As an additional data bonus, I note that I can now create individual WAVA trend charts across multiple club handicap series.  I've only (currently) got data in for 2014 (and 2008!), but it makes for some interesting reading and shows you how your relative performance changes (or goes down in my case…!).  I'm therefore making it available as a spreadsheet (you'll need Excel 2013 to use this) – link below.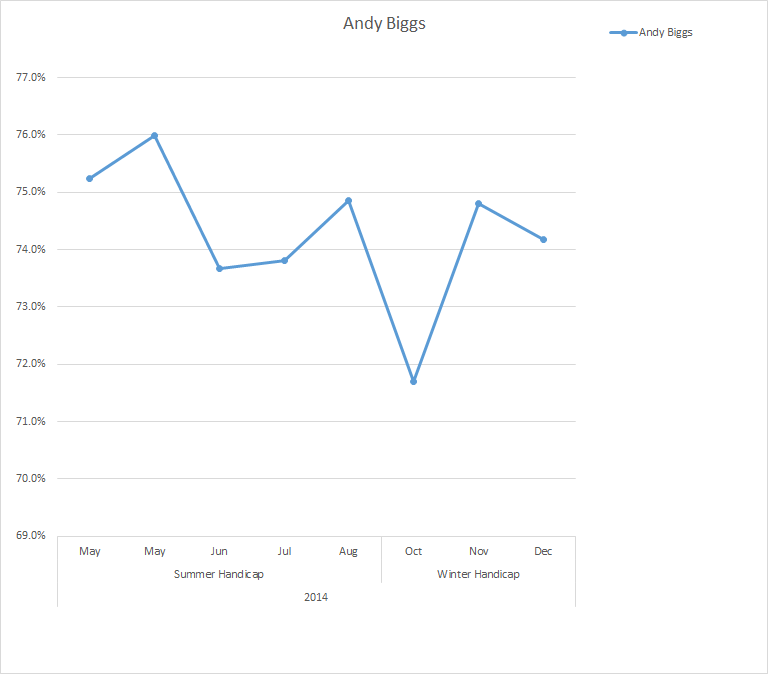 Andy Biggs
January 2015
No expansive words in the write up from Andy this month (absent due to being somewhere else).  Let the numbers speak for themselves – Fee is now leading the series, but it's hotting up to be really close!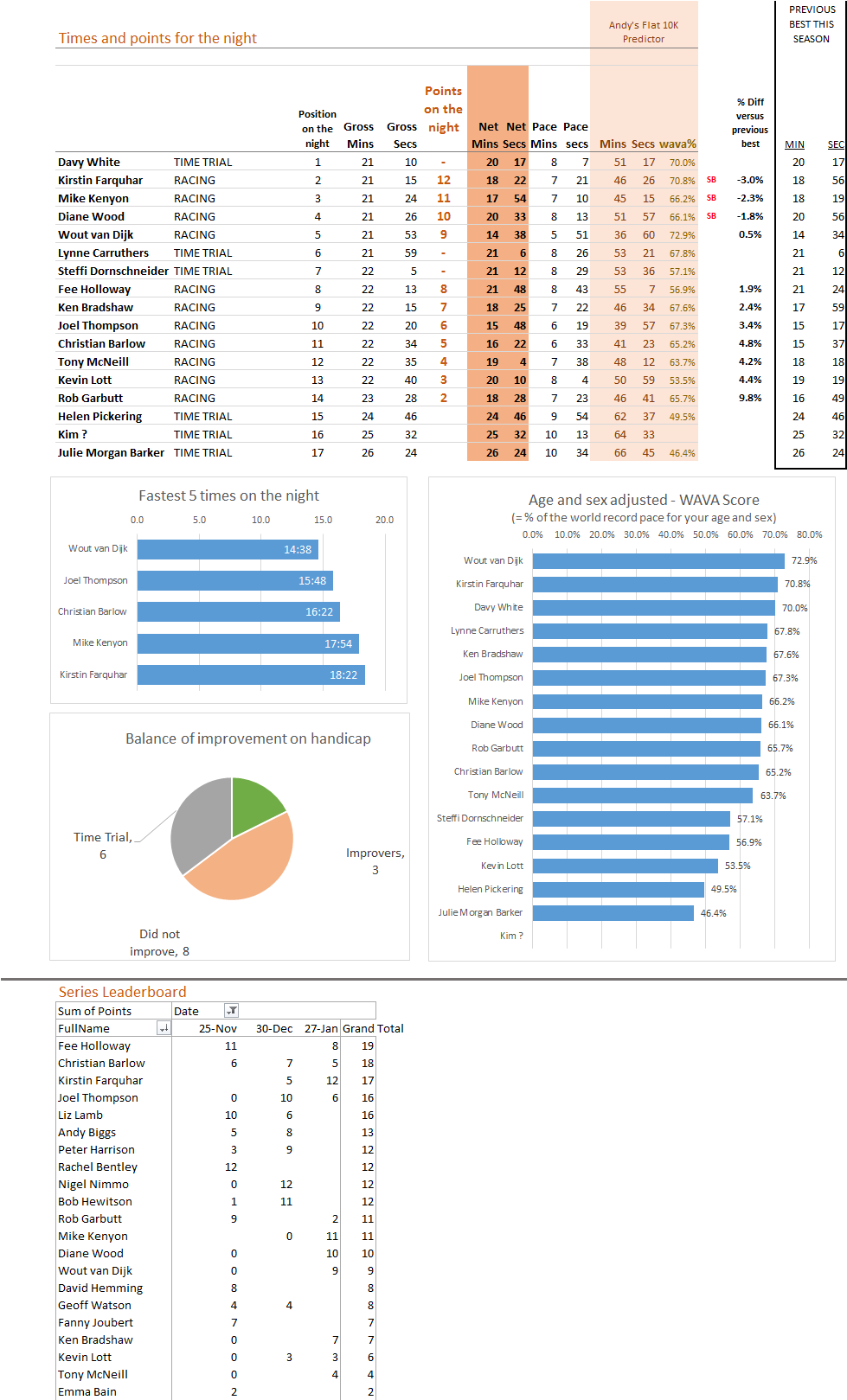 December 2014
Only a hearty few put aside their mince pies and leftover turkey and tackled the icy wilderness that was the last club handicap of 2014.  Points were therefore available for all racers, and it was also good to see a few time trialers also.  Nigel knocked a whopping 6.1% off his time as was first racer on the night. Bob wasn't far behind on -4.1% and Joel won the battle of the late starters, posting the fastest time on the night. Andy managed to pip Bob to the highest WAVA score on the night.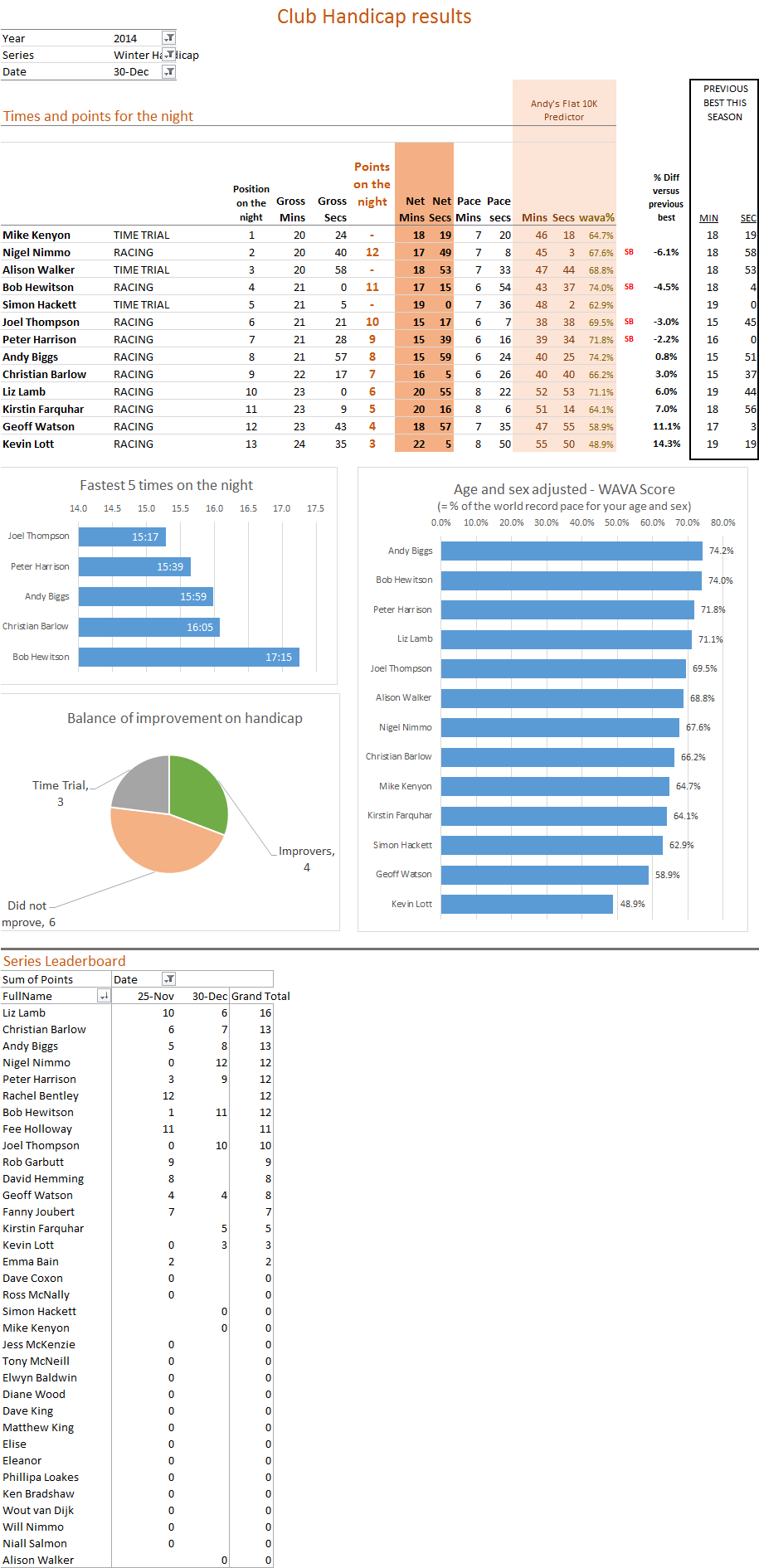 November 2014
Wow – what a lot of runners!  Well done to Stuart for bravely wielding a stopwatch and pencil and thanks to Wout for running so quickly to finish first and help him.
This was the first real competitive session of the winter and normal service appears to have resumed with Rachel Bentley showing her form as winter handicap specialist and being first racing finisher. Fee and Liz followed on with some big percentage improvements in times.
Further down the list, I took an executive decision to make a few subtle amendments to results – The number of starters made the briefing a little chaotic and so I've put Emma back in where she would have been if she had started according to her handicap.   I also swapped points with Christian, since his handicap should have been lower (based upon October's time trial) and by rights he should have finished ahead of me.
Andy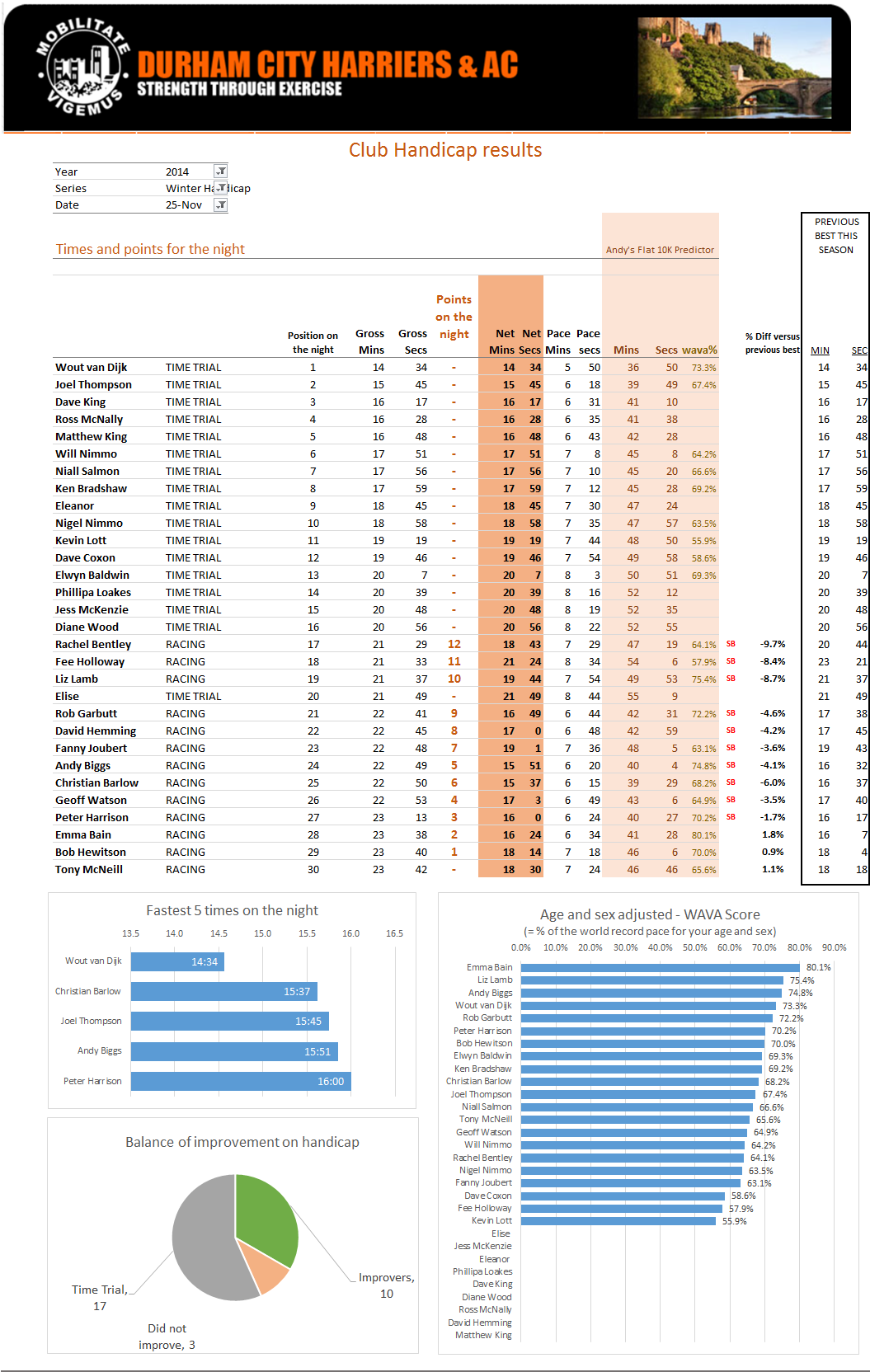 October 2014 – A great turnout for the time trial!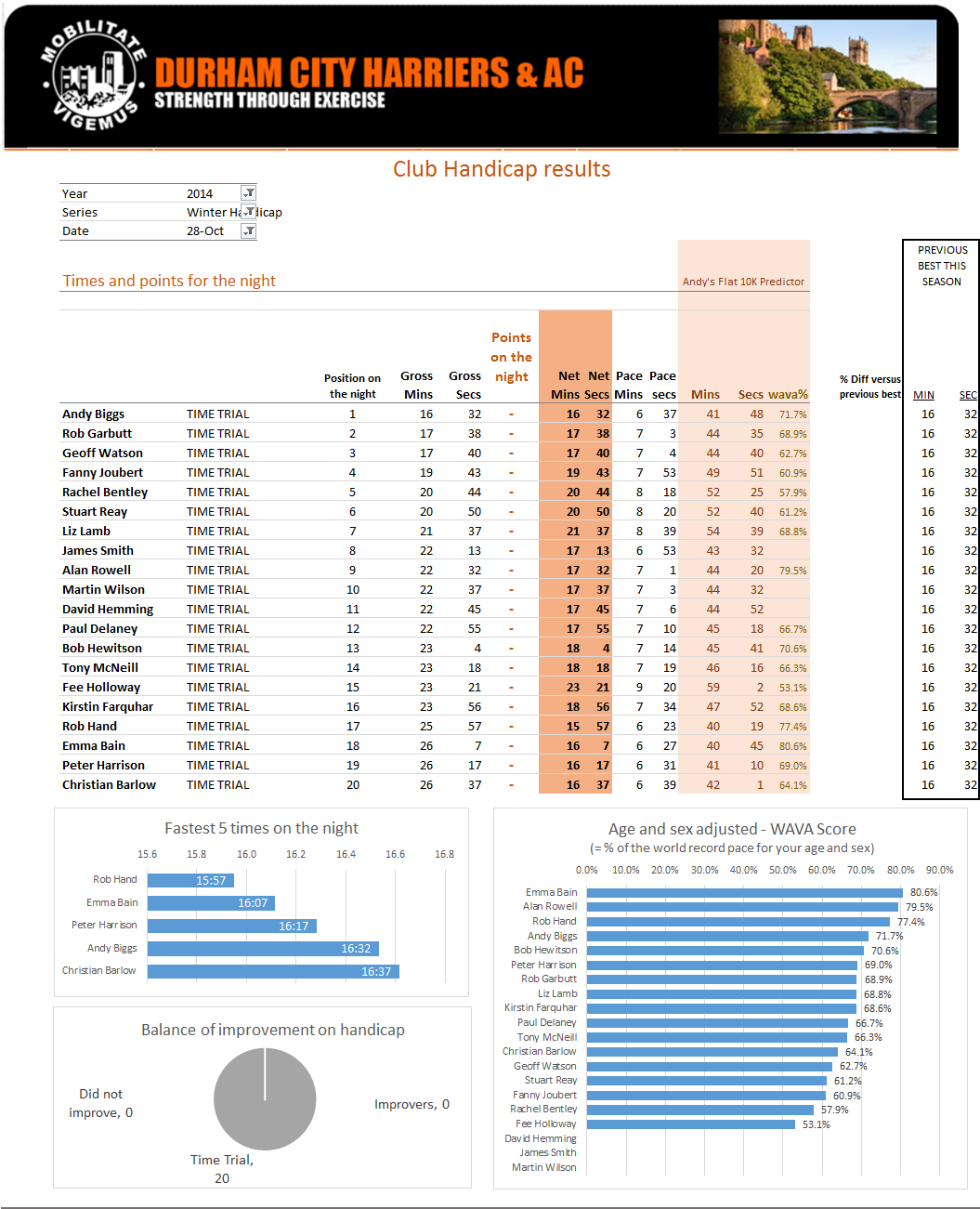 Summer Handicap 2014
September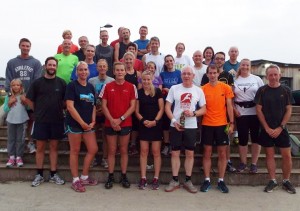 Well done to series winner Kevin Lott!  Results on the night an final series results are as follows: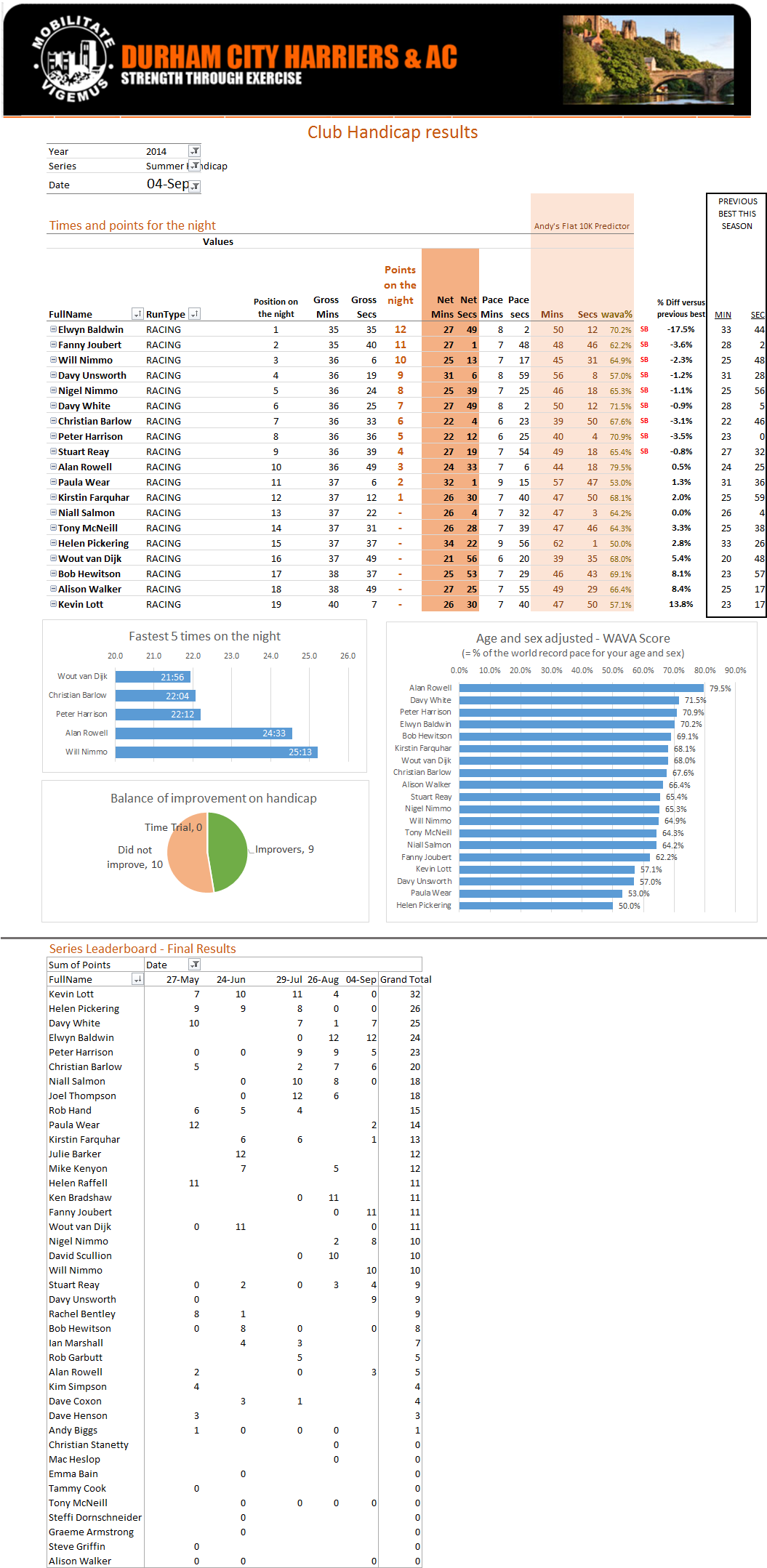 August
With one race to go it's looking like a two horse (pardon the analogy) race for the trophy.  Kevin Lott sneaked a few points in to extend his lead at the top of the leaderboard, whilst Helen Pickering failed to score, with it requiring a time better than your handicap to score serious points tonight.  It's good to see the majority of runners improving their times!
Kevin is now mathematically assured of second place.  A top 7 finish from him next month will guarantee a win – can Helen pull it back? Behind those two it's a real scrap for third, with only 6 points separating third from sixteenth!
I (Andy Biggs) made sure that no-one felt bad for finishing last, only just posting the fastest time on the night and the highest WAVA score.  It was a good effort from Peter and Davy to get over 70%.
Thanks to all the time keepers, apprentice time keepers, and experimental electronic time keepers.  We managed to prove that good old pencil and paper works best!
Here's looking towards the grand finale next month!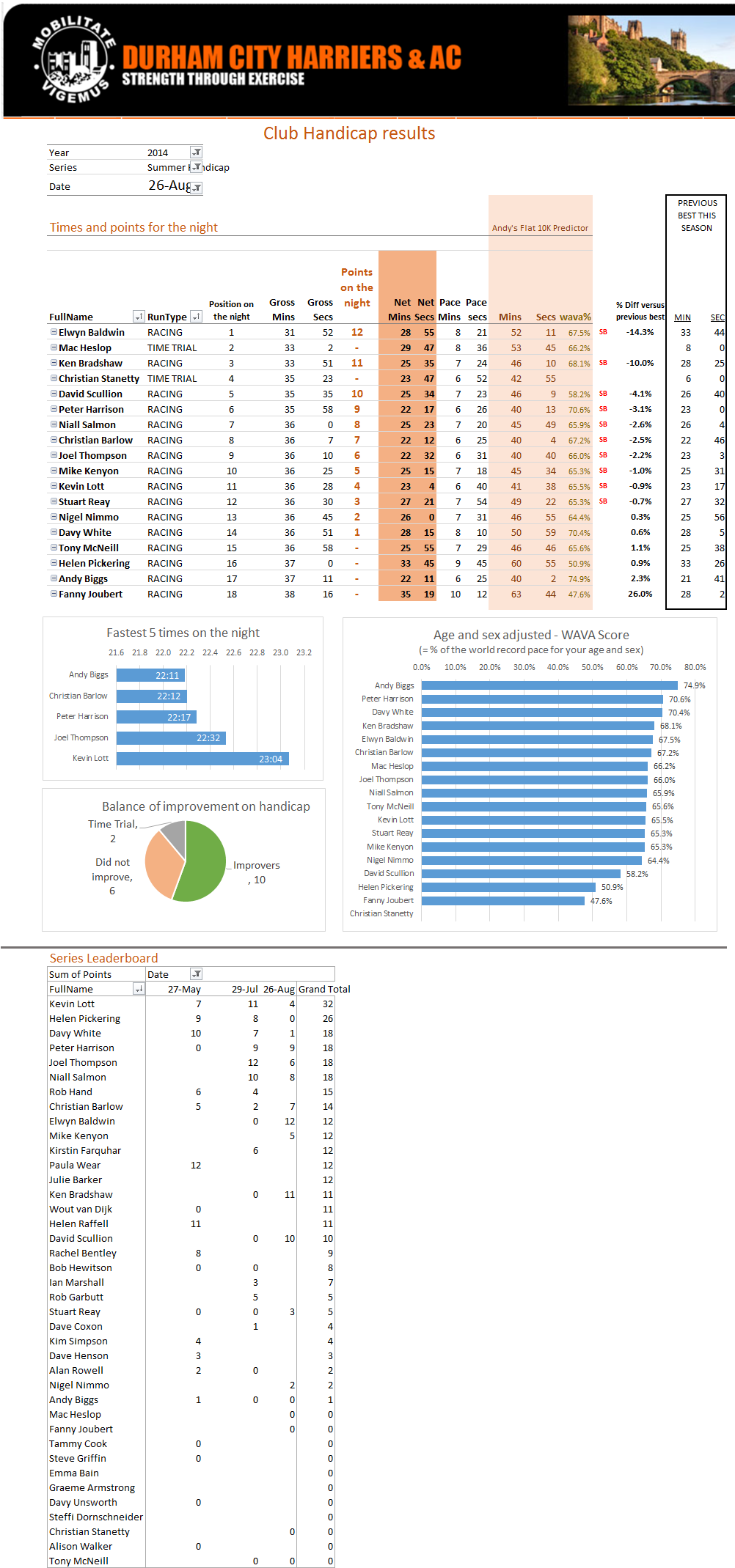 Andy
July
It's mid season and the pace is hotting up on the leader-board.  Newcomer Joel (can't find you in the members database yet!) worked out where the course went and hammered out a significant improvement on his time trial last month to come across the line first.  Kevin Lott showed that marriage is suiting him by showing a return to the form that saw him post the fifth fastest time of the day and second across the line.  Niall Salmon also improved significantly.
Kevin now leads the points competition, but Helen Pickering continued her consistent scoring and is only two points behind, with two events still to run.   Davy White is a further 9 points back, but it's all still there for anyone in the top half of the table to win.
Rob Hand makes a regular habit of arriving late but then overtaking half the field and has also climbed the leader-board, again posting a phenomenal WAVA score.  Alan Rowell may have been near the back of the field, but his WAVA score shows a great achievement (but I bet he'll complain about being below 80%!)
Ken Bradshaw would have finished further up, had he not got slightly lost on the field and done and extra 500m.  Ironman Tony started with a soft handicap, given that he's still recovering from his efforts in Bolton.  The results (for points purposes) have been adjusted to place him where he would have finished had he run to his correct handicap.
Andy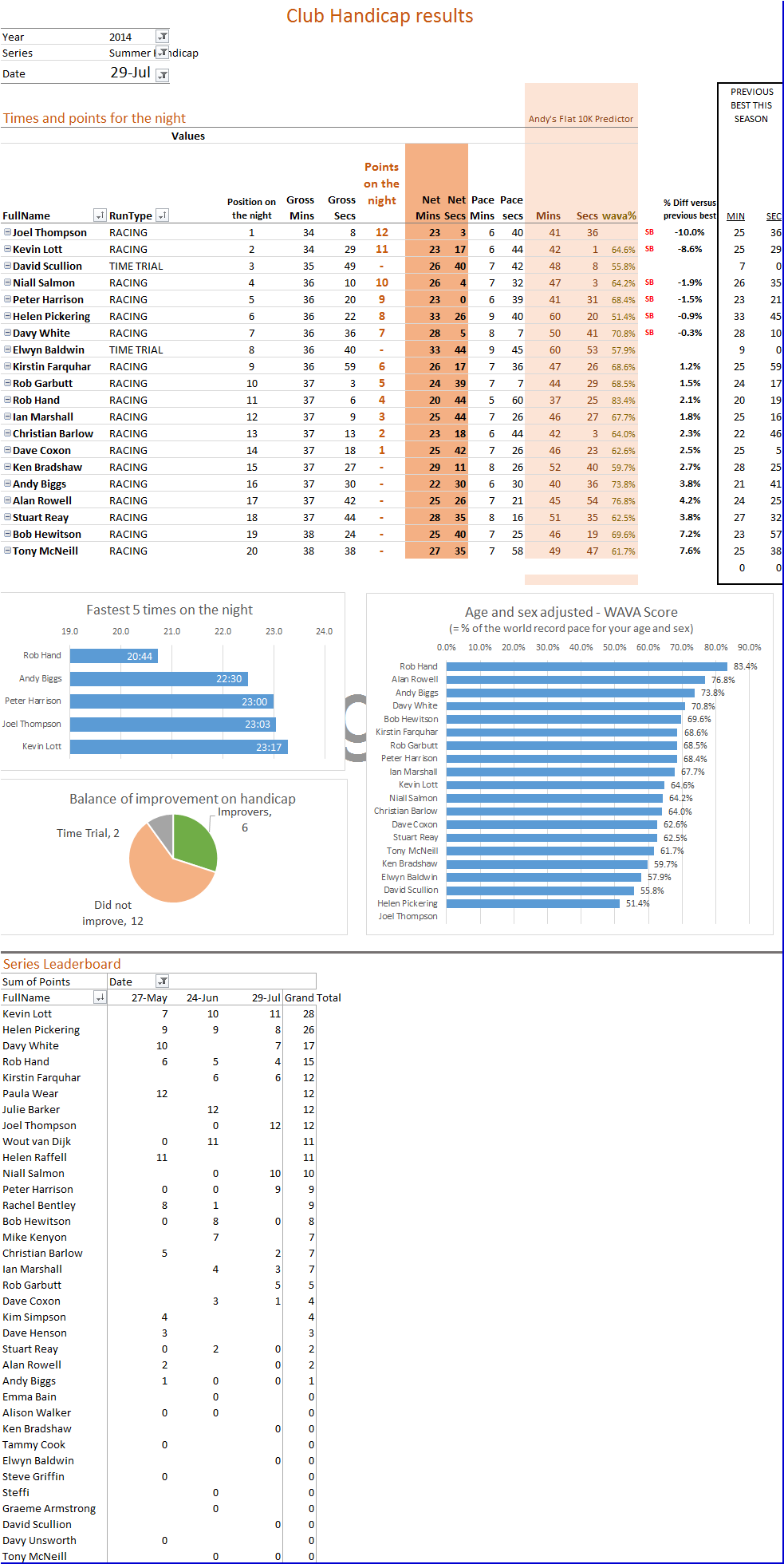 June
Another good turnout tonight.   Thanks to Liz, Lynne and Gary for doing the timing / encouragement.  I think using the numbers helps and we were able to transcribe the results with a minimum of fuss.
It was unfortunate that the course had to be shortened for completely legitimate safety reasons.  As a result, whilst the finish order at the shortened finish line determined the points, I scaled up everyone's gross time (except the first two finishers, who ran the normal course) to reflect the 0.02 miles missed out, which means somewhere between 7 and 12 seconds added (based upon extrapoloating each person's average speed).  This was necessary to avoid creating false 'better' handicaps for future events.
As I noted last month, the series win will go to someone who turns out consistently and improves month on month.  This is normally someone new to the club or returning from injury.  Therefore, top spot on the series leaderboard goes to Helen Pickering, who improved her time by 2.1% tonight.  On the night, Julie Barker improved her time trial result by a whopping 9.4%.  Well done intro group ladies!
It was all quite tight in the middle of the pack, but Wout clearly ran to his potential, finishing second – one suspects that he was legitmately holding back on the last event because of upcoming racing commitments. Kevin Lott also showed good improvement (3.4%) to be the third racer in.
Nearer the back of the finishing order, there were some great WAVA scores (from my 10k predictor).  Rob Hand wound his way from starting last to clock an impressive 85%.  Emma Bain and Bob Hewitson clocked close to 75%, which is a great achievement.  I can only work these out if I have your date of birth, which I can only access once people have joined the club.  I've still n ot had the chance to import previous years' results, but a comparison on WAVA scores is still of interest so watch this space.
It was good to see more people (9) getting faster than not (8).  I'm sure those of us who ran slower have good excuse – I know I do!
Andy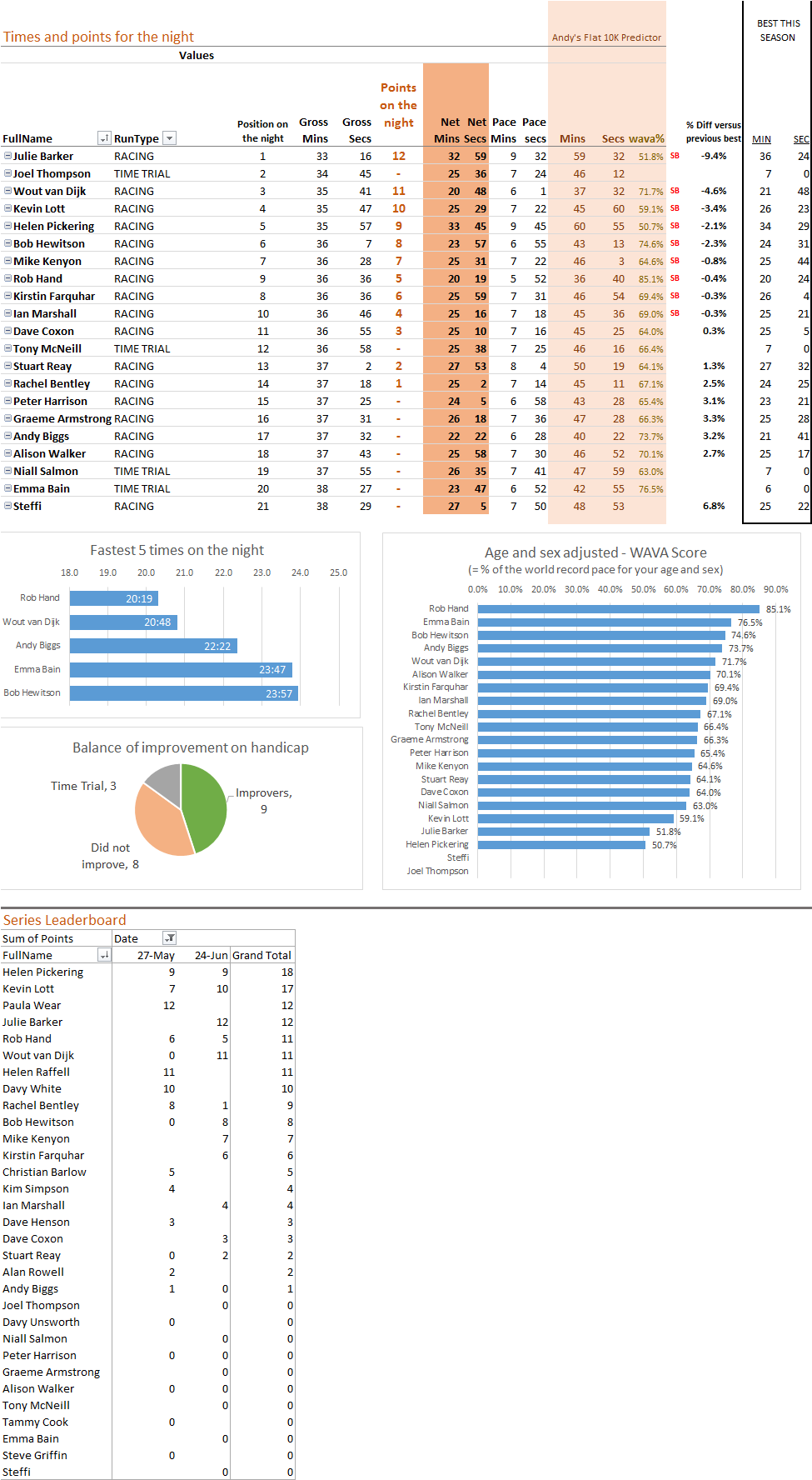 May
After the time trial on 6th May, we kicked off for real on 27th May
A good turnout on the night, although I suspect there were a few who were out in Durham watching the cycling who may return next month.  Thanks to Rob, and Liz for doing the timing.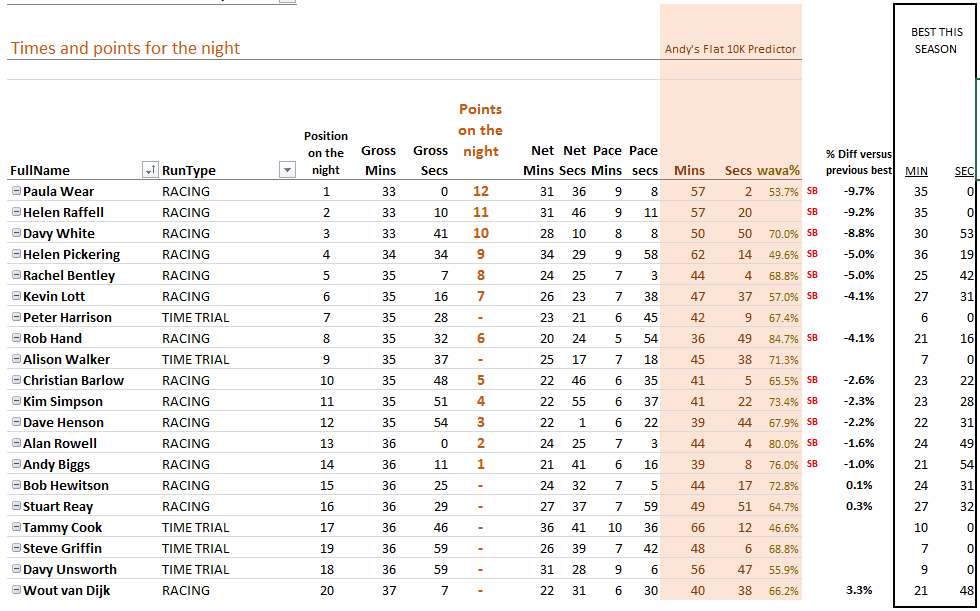 Click the link to the right for the full pdf results and full charts >>> May 27 Results and June handicaps
A few pointers as to how to interpret the data in the pdf .  Points are scored for the first 12 finishers on the night.  Clearly, at this stage it goes to those who improved the most from the time trial event on 6th May.  It was very pleasing to see most of the field improving  or (Bob and Stuart) being very close.  Wout has an excuse since he was taking it easy ahead of racing 15km this weekend.  Congrats to Rob Hand for the fastest time of the night and for Paula for finishing first – I bet finishing first in a race was not in your sights when you joined the club!  Everyone needs to note that the Summer Handicap is often won by someone relatively new to the club, who makes great improvement – everyone has something aim for!
The Flat 10k predictor / WAVA score is something new.  Those who do parkrun will be familiar with the percent score – it represents the % of the world record pace for a given distance based upon your age and sex.  Therefore, it is one table when men, women and those of different ages can be compared.  Assuming I manage to get a little time during the summer, I'll be trying to add times from previous years (2008 onwards).  We can then all have an idea of whether we are improving i.e not slowing down as fast as the WAVA would indicate we should.  The predictor is a mix of the Runner's world time predictor formula (scaling up the 3.46 mies of the handicap course to 6.22 miles) and a fixed (Andy-determined) factor to allow for the fact that this course has a hill that inevitably slows the pace versus a flat course.  I might tweak the factor a little over time, but it currently seems to work for where my 10k pace should be (I ran badly last week at Clive Cookson, but clocked 39:10 8 weeks ago, which compares with the 39:10 that tonight's run predicts!
Winter Handicap 2013-14
March
Well at the end it was a runaway victory for Dave Coxon who set a high standard of points accumulation. Three runs and 34 points can't be bad. A real pity that at the end so many of the leaders were struck down with injury or were unable to give Dave a run for his money. Particularly Alison, Fanny and Dave Henson. Is this the first time that a Handicap winner has successfully defended his trophy? Well done to Dave. Also to everyone who has run or helped to do the timing on the night. The turnout has been great this winter and augers well for this coming summer. Somewhere around 30 have competed in total and a glance at the times shows that many have significantly improved their pace over the months. The fastest time run was by Rob Eaton in the final run with a time of 13.39. And the fastest female time was run by Alison in 17.07. Well done also to Christian Harmer and James who came down for the first time. See you October 29th.
Full results are here – LINK NOT WORKING (GARY MAY HAVE THE ORIGINAL)
[divider]
February
Another lovely evening. Mild and dry. Maybe we can get through the whole of this winter without the usual frost and snow.
A great turn out again with some 19 runners – the place to be on the last night Tuesday. On the night Bob came thundering through to win in fine style, the marathon training paying off. Not too far behind was Paul who had a great run despite the 23miles run on Sunday! Les was third and that was a fine run on the back of not a lot of racing. In terms of the overall points table it's anybodys guess who is going to win this one! Check out the overall points table and try and work it out. Once again to remind people it's the best four results which count. The last Handicap of this series will be on Tuesday March 25th and we'll have a prizegiving at the end so hope to see you all there. Many thanks to Dave for the timekeeping.
[divider]
January 2014
Well that was one of the hardest nights when it comes to getting the results down. Cloudburst just at the wrong minute and sheets soaking wet. Apologies if any problems but well done to all runners and a tremendous turnout. Great to see Les and Peter back and running. Welcome to the first timers and glad to have you along. In terms of results it's getting very tight at the top but Fanny still leads but Alison and Dave C are moving ever closer. Don't forget that the overall winner is the best 4 runs so it may not become obvious till after the last run. Also there is a separate prize for the highest scoring runner who does all five races – and this can't be won by the other prizewinner. Not many can win this latter prize but I think it's between Fanny, Dave H, Alison, Kevin and Christian.
Many thanks to Stuart for helping with the results. A real shame he had to miss this his first Handicap in 3 years. Also thanks to Bob for being the bollard, holding the umbrella and calling out finishers.
[divider]
December
A tremendous turnout tonight with 22 runners and also a photographer! (thanks Nigel). It's really great that so many support this monthly event which in many ways is a pretty tough event, mentally as well as physically. Don't forget that when you look at the results that as well as the main prize which is based on the best four races by an individual there is also a prize for the highest points score from someone who does all five races, and currently there are only a handful who can compete for that. Also don't write off your chances just because you're not at the top of the leaderboard. Lots can happen over the next three months, but Fanny is building up a pretty decent points total. The next run will be crucial. And to all the newcomers who came along for the first time tonight well done and we hope to see you back again next month.
Once again thanks to Peter for the timing.
Results are here
Happy Christmas
[divider]
November
A pretty near perfect November evening. No wind and nice and mild. Another great turn out with 18 runners and it was also great to see Les down again and we all hope that he's soon running again. Also good to see that we're getting the 'old stagers' out along with the newer members. Well this first scoring event saw Fanny as the runaway winner with a brilliant run to come in by a mile. All that faster training is obviously paying off. Kevin Lott and Alison (Alison just recovered from the xc and cake!) came next to get 11 and 10 points respectively, then Stuart with 9 (he's always there….) and then David 8, Alan 7 and Fred 6. Lots of time triallists inbetween these runners so there were plenty of points not taken up on the night. Remember that the main prize and trophy goes to the best 4 runs so all the time triallists tonight can still win. However there's also a prize mug to the runner with the best 5 runs so only those who have scored tonight are in with a shout of that.
The December Handicap date is yet to be fixed so watch this space. It'll be before Christmas so not long to wait.
A huge thanks to Peter for helping with the timekeeping on the night.
[divider]
October
You know that winter cannot be far away when the last Tuesday of the month sees the Senior Endurance runners congregating at the Business School for the start of the Winter Series. On a lovely calm evening 15 runners set off on the loop up to the Cock of the North and back on a very accurately measured 2.5miles/4k course. Once again it was great to see so many new members in the group and you can be certain that times will tumble over the coming months. Also great to see John amazingly fresh from running the Dublin Marathon on the previous day!! Also Peter who recently completed the Amsterdam Marathon. Well done to the pair of them. The November Handicap which is the first that scores points will be on the 26th. Hope to see you there.
Thanks to Kirstin for helping.
[divider]
Summer Handicap 2013
September
A couple of weeks late the last Summer Handicap was finally run, thanks to the police opening up the paths around the river. A lovely evening with a really good turn out saw Bob Hewitson maintain his lead despite a very strong finish from Paul Delaney. So Bob gets the coveted mug and eventually the shield. A worthy winner. The event went from strength to strength under the watchful eye of Dave and it was really great to see so many taking part over this glorious summer. Once again thoughts will now be turning to the Winter Series, a series of races not for the faint hearted as the darkness and winds sweep over the route to the Cock of the North. October 29th is the date for the time trial. Be there.
Final Summer results are here
[divider]
August
What a perfect evening, we'll look back on this glorious summer when the cold winds of winter swirl around the Cock of the North course….
A flying round from Elwin means that it's not all sewn up for Bob just yet with both Paul and Tony in the running, it's all to play for on 10th September. 
Results are here
Don't forget that the September Handicap will be early to get the necessary light- Tuesday September 10th

[divider]
July
Another great turn out with 13 runners going for points and another 8 time trialling. Another cracking run by Bob who looks bound for glory in a couple of months time unless something goes badly wrong. His lead is huge. Still, anything can happen.
Results are here
[divider]
June
The near perfect conditions this evening ensured a good turnout this evening with 11 people on racing runs and 2 going for a time trial.
Jane Hornsby came storming through, having identified the correct route this month, well ahead of the main group for her first racing time, taking 12 points. Bob came across the line to take 11 points and secure the top scoring place to date with 23 points.
Quickest time of the night goes to Les who dashed round in 22:28, so John McElroy's time of 20:10 at April's time trial remains the time to beat.
Bob's decision to celebrate by rolling in the grass transpired to be a pretty poor decision as he's been eaten alive by wee beasties.
Results are here
[divider]
May
Congratulations to all on the first scoring event of 2013. Great to see two first timers getting home in the first wave of runners.
Full results are here
[divider]
April
Great turn out on the first run of the Summer Series with some 20 runners on the start line. Fastest and first home was John recovering quickly from his London and Sunderland adventures. Good to see Paul and Bob back from injury as well as Kelvin and Lizzie, both new starters.
Results are here
[divider]
Winter Handicap 2013
March 2013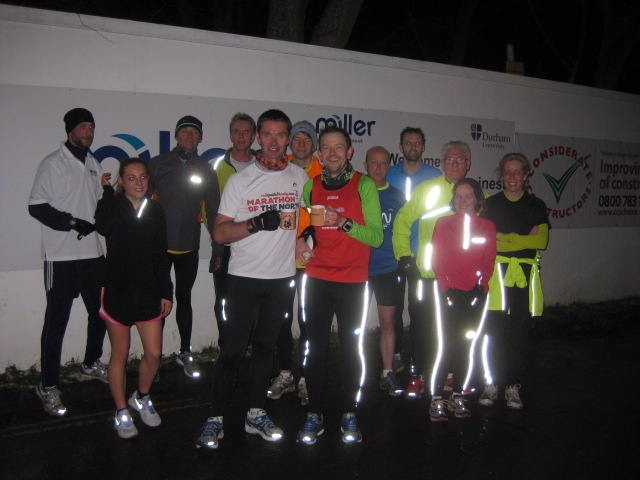 As it turned out Dave was a runaway winner of the 2013 Winter Handicap Series. Sadly Rachel was unable to attempt the last race through injury so it was really Dave's to lose. He didn't.  A kidnapping on the warm up might have stopped him but a run just under his handicap time secured him victory with Rachel coming second overall and Stuart third. Highest points total over 5 races went to Andy who has impressed over the last couple of events. Bring on the London Marathon. On the evening Peter stormed to a first place finish winning by more than a couple of minutes.
Over the six months just short of 30 members have taken part in this event and many have run in 3,4 or 5 races which is really impressive considering the winter we've had (still having!). Well done to all of you. Particularly well done to Rachel,Dave,Andy and Stuart who managed 4 races with Andy and Stuart running all 5. Stuart hasn't missed a single handicap summer or winter I think. Amazing.
Many many thanks to the helpers on the evening. It'd be a cold and lonely task otherwise. Rob,Jon,Chris,Kirstin,Paul have all lent a hand sometimes more than once. Real enthusiasm.
Thoughts now turn to the Summer Series and those long hot sultry evenings across the river. It'll make a change. Dave has very kindly taken over the baton from Rob.
See you October 29th!
Gary
February 2013
Another lovely evening (for February) saw 15 runners turn up for the penultimate race in the 2012-13 Series. First home on the night in fine style was Kevin Lott, closely followed by Dave Coxon who is having a storming series and then Andy clearly reaping the rewards for his marathon training. Rachael the current overall leader was 5th over the line. Quickest on the night was Chloe followed by Graham who is clearly making progress on his comeback. It's really tight at the top of the overall leaderboard with the four best results to count for each runner. There will also be a prize however for the runner with the highest overall points total over the 5 races.
As most of you probably know the golf course is to be built on at some time in the future (real shame that). This may mean another search for a new route as it's likely there will be new roads built. We'll have to see.
Many thanks on the night to Chris who at the very last minute was prepared to curtail his training to help again with the timing.
Results are here
See you March 26.
[divider]
January 31.1.13
At least the wind dropped by the time of the start and the last of the ice had gone too. Yet back at Maiden Castle the lake has returned. Quite a winter. The race was led home by Stuart who led all the way round, could it be his chance to win again in a couple of months time? Remember that it's the best of four races. Great to see some new starters giving it a go,with both David and James posting quick times. Rachel still heads the leaderboard but it's quite tight at the top. Many thanks to Rob for turning out to help.
Results are here
[divider]
December Handicap 20.12.12
What a night. Maiden Castle almost underwater again and the lake makes its return so getting to the Graham Sports Centre was decidedly dodgy. Stepping stones would be a good idea alongside the path as this is getting to be quite a common event. Anyway far away on higher ground 9 tough runners made it to the start for the last run of 2012. Numbers rather depleted –  most were at home decorating the Christmas tree presumably. A worried start – no Stuart who hasn't missed a single handicap winter or summer. Then through the pouring rain along the cycle track was spotted someone running with an easy rhythmic motion-surely he wasn't late. But he just made it. The start was delayed though he only got a thirty second turnaround before he was off again. The first runners back on the night were Frances on her first outing doing great to get back before Dave and then Mark. Massive numbers of points were available and Rachel goes top with 22 followed by Alan 17 and Andy 15. Can Rachel hold everyone off over the next three runs? Will Andy's marathon training take its toll?
Many thanks on the night to Paul who did great work on the finish. It's brilliant to have such willing help. Also well done to all runners who seemed to enjoy themselves……….. and happy xmas and new year.
Results are here.
Apologies for the handicap mix up for a couple of runners at the start but everything has been sorted. See you 29th January.
[divider]
November Handicap 27.11.12
It was really great to see 14 Harriers turn out to run the first scoring month of the Winter Handicap. It certainly wasn't a pleasant afternoon and Maiden Castle was in a rather sorry state with the return of the 'lake' – but thankfully by the evening the worst of the weather was past and the course wasn't too bad with just the odd big puddle. Now that the huge sign has been removed there was another slight alteration to the course at the Cock of the North which made it about 40 metres shorter. Almost exactly two and a half miles now.  Apologies to Tony who missed the briefing and ran a bit too far… On the plus sign the extra lighting installed by the Council or whoever is certainly helping at the start and if we can have the inside lane blocked off on the dual carriageway once a month from now till March that'll be fine. Thanks to whoever got that sorted.
In terms of the race it was pretty tight at the sharp end with Rachel getting home just before Rob and John Mac. Handicaps could be changing for next time I reckon. Really nice to see Paul back from injury – also a great run by Alan to scoop 10 points. Could this be his year? Also worth mentioning Stuart-he hasn't missed a winter handicap yet if I'm not mistaken. Could he be on a Ron Hill like streak?
Thanks to Kirstin for doing the timekeeping on the evening.
Christmas is coming and not so many sessions available in December. So provisionally we'll run the December Handicap on Thursday 20th  –  maybe we should have mulled wine and plum pud at the end? Hope to see you then.
Results are here
[divider]
Time trial 30.10.12
On a lovely late October evening 15 runners set the Winter Series going with another fine display of enthusiasm and hard running. First to cross the line was Fern running in her first Winter Handicap, storming through 20seconds before Mark with seasoned campaigner Elwyn crossing the line in third position. Quickest on the night was Chloe who ran the course in just over 15minutes, despite having a really hard cross country run at the weekend. She was followed home by Ted, Mark and Aiveen with John Mc being fourth fastest. Well done to all who raced and also to Jon for help with the timing and results.The November Handicap will be on Tuesday 27th. For those of you who didn't make it tonight remember it's the best of four runs so all is not lost. See you next time hopefully.
Full results are here
[divider]
Summer Handicap 2012
September Handicap
You could feel the autumnal chill in the air as the runners set out for the final run in the Summer Series. Who would be crowned champion? It was really a two horse race with Nigel starting in pole position ahead of Paul. As it turned out the lead was too much for Paul to overhaul, but Paul went away pretty happy after receiving the bottle of wine which had been kindly donated by Catherine, last year's Aussie winner. Congratulations to Nigel who had a great run on the night. To him goes the trophy and Harriers Mug. First across the line in another great run was Kevin one of our most recent members. Thoughts now are turning to the Winter Series which will start with a time trial at the back end of October. How we miss the cycle track to the Cock of the North. Let's hope the council don't dig up the path again.
Thanks to Rob for masterminding the whole event and designing the Harriers Mug. Well done to all who competed and made the event such a success.
Results
Kev Lott 12
Geoff Watson 11
Nigel Nimmo 10
Paul Delaney 9
Dave Coxon 8
Ted Tait 7
Elwyn Baldwin 6
Tony McNeil 5
Chris Callan 4
Aveen Fox 3
Alison Walker 2
Rob Hand 1
The final places for the Summer Handicap 2012 are
1st Nigel Nimmo
2nd Paul Delaney
3rd Ted Tait
Competitors in the final run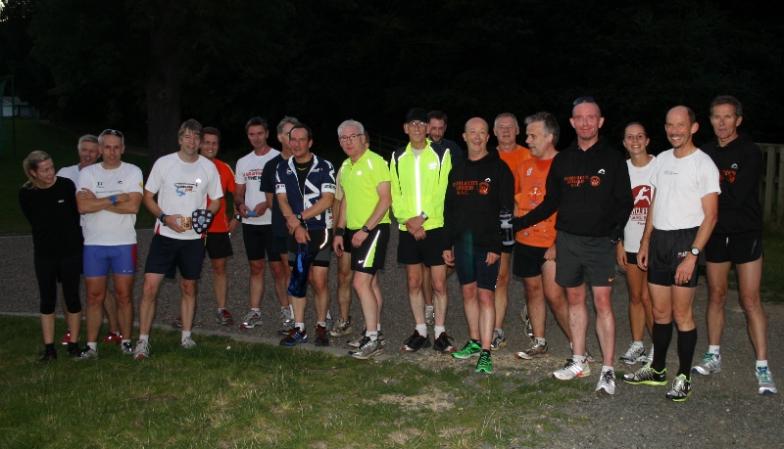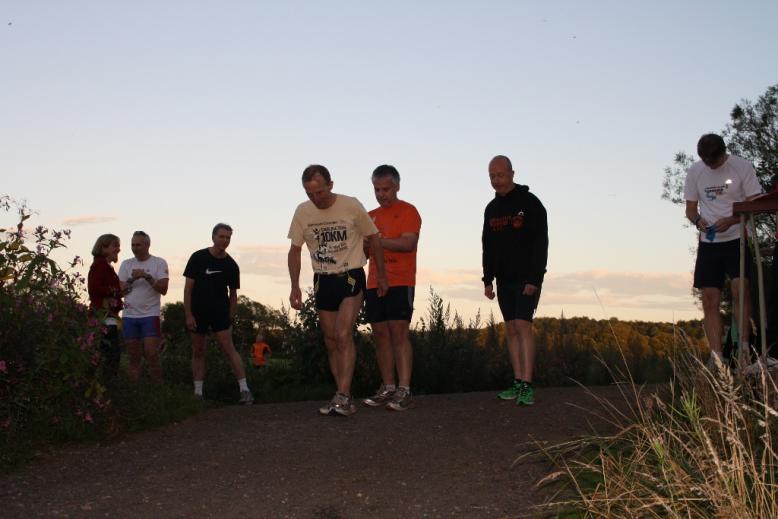 [divider]
August Handicap
Looking like a 3 horse race presuming the top 3 can all run in the final event, should be a close run thing. Presentation will be made straight after the last handicap which will be towards the middle of September as we will struggle with fading light after that. Thanks to all who took part. Well done everyone.
Results are here
[divider]
July Handicap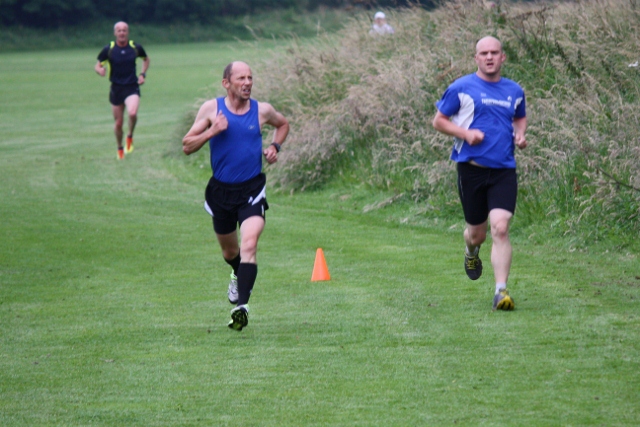 Fourteen runners forsook the Olympic fest for an hour or so to put themselves to the test over the tough summer course. Not sure that the photoshoot at the start was the ideal warmup but it maybe helped to calm nerves and to take the mind off the delights of the trod hill. Once again the summer sun failed to materialise but it did shine on Rachael who ran a great race to take top points on the night and at the same time seize the overall lead in the points competition. Slightly further down the field there was a great battle between Rob, Paul, Tony and Mac which gave the timekeepers quite a job sorting out the sprint finish. Well done to the rest of the field and to Stuart for helping on the night, filling in for sunseeking Chris and Rob who should be back for August. Thanks also to Paul for some photos – which I will upload when I get the chance.
Results are here (any probs please email)
[divider]
June Handicap
For once the sun failed to shine on the Monthly Handicap. What a summer. Anyway with two runs in it's tight at the top with seven runners separated by only 5 points. Ian making a strong comeback leads but close behind are Nigel, Stuart, Ted, Dave, Rachel and Paul. On the night Dave and Paul led the way home (Ed-must be that warmup!) with Dave looking pretty nonchalant. Paul made it easier for himself by getting the correct route home this time and they both managed to hold off Jon who was powering himself home on the final straight. Well done to all finishers.
Results are here
The whole event on the night was most capably handled by Chris.
[divider]
May Handicap
Congratulations to Paul Delaney who came in first in this first counting event of the summer series, despite having to navigate back to the start from the Rose Tree bridge. Ted, Nigel, Rachel and Bob took the first four points positions but it's early days yet. A lovely running evening again.
Full results are here
[divider]
Winter Handicap 2011-12
March Handicap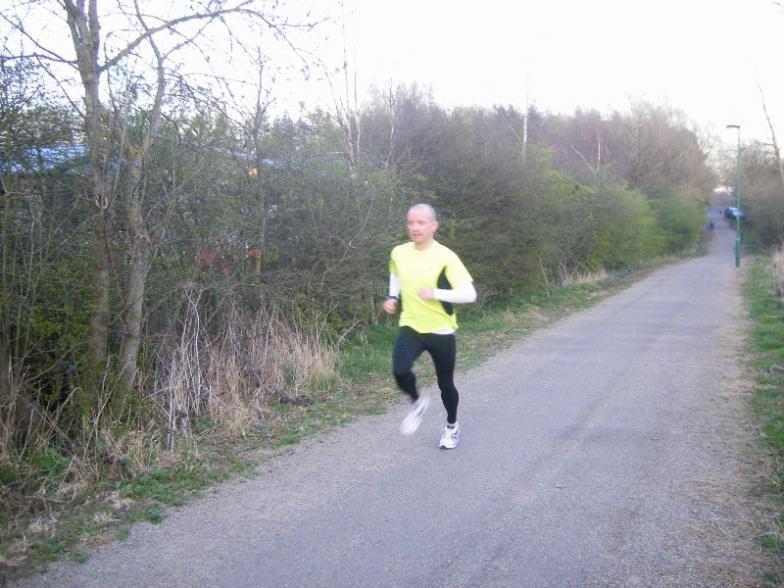 John on his way to victory
In a very tense end to the Winter Series John McElroy managed to finish just behind Rob Hand and so clinch the title of Winter Handicap Champion for 2011 by the smallest of margins. Well done to John in his first year with the club and also well done to Rob who is making a great comeback. It was certainly a lovely night for running with no wind as well as being nice and warm for the time of year. On the evening Mike fresh from his Rome Marathon was first in followed by Kirstin and Rob.
Congratulations to all those who took part, I think there were some 32 participants in all. Stuart managed to not miss a single handicap which is pretty good going. Looking at the times run there certainly has been a big improvement since October in the approximate mile times with a couple of people knocking off more than 20 seconds which is pretty impressive.
Thanks also to those people who have stood at the Cock of the North or have helped with the timing. The event couldn't take place without you. Thoughts now turn to the Summer Series with heat and daylight taking the place of the darkness and chill of winter.
Results are here
[divider]
February Handicap
Is this winter? Well it certainly didn't feel like it tonight. Spring definitely on its way. Some people certainly had a spring in their step with a lot of runners doing really class times. But tonight belonged to Rob who showed the rest of the field how it's done by storming back in an excellent time to gain 12 points and to make himself a real contender for the big prize. However it's pretty tight at the top of the leaderboard and who is to say what the outcome will be in a month's time (27th March). Well done to all – remember that there are prizes for the first three over the line in March as well as crowning the winter champ.
Many thanks to Kirstin who was the night's timekeeper and Nigel who looked after people at the turn.
Click here for the Gross times on the night  (results have been slightly adjusted for a few people who set off a bit late!)
Click here for the net times on the night
Click here for the overall points totals so far.
[divider]
January Handicap
Well the weather was pretty good for the last evening in January, no serious wind and no ice or snow. Well done to the hardy lot who turned out again and ran so hard, and especially well done to Rob H, Stuart, Bob and Kirstin who have made every handicap since October. Because the December run was short the handicaps weren't altered and once again John powered his way to a great victory on the night. I don't think he started to decelerate till he reached Van Mildert college he was going that hard at the finish. Congrats also to Rachel who finished second on the night with Nikki and Bob not too far back. In terms of the leader board it's John and Rob H neck and neck but for February there will be some handicap changes…. Don't forget that runners will be judged on the best four race positions so it's pretty difficult to know how things will work out. Next date is February 28th. See you there. Thanks to Rob G for the accurate timekeeping. Am afraid we didn't have a marshal at the top of the course – let's hope the sign stays there. Also maybe the council will give us our bollard back!
Results by posiition on night are here
Results by net time are here
Overall event position is here
[divider]
December Handicap
Well that's it for 2011 – no more pounding up to the Cock of the North until the end of January. Well done to the many that turned out tonight it was really great to have so many around to say goodbye to Catherine. Much better than Christmas shopping. As if the cold and ice weren't bad enough the council had decided to turn the start into a steeplechase which meant an alteration to the course length which caused a few issues with the handicaps. Come January we'll use the handicaps before tonight's run – times were a lot quicker this evening. Comparing with past runs isn't really possible. However maybe everyone's just getting faster and training better…… Some storming running from John who led everyone in a great time. Results are below, provisional at the moment incase any major problems spotted.
All the best to Catherine for the future. It'll be warmer in Australia when she gets there via Wrexham. If anyone knows of a good Wrexham running club she'd like to know!
Thanks to the helpers-Alan and Gemma on the results, Chris who was tonight's bollard, Mac for mobile support and also Rob and Nikki on the celebrations. A real team effort.
Gross times are here
Net times are here
Overall event positions are here
Some pics
Timekeepers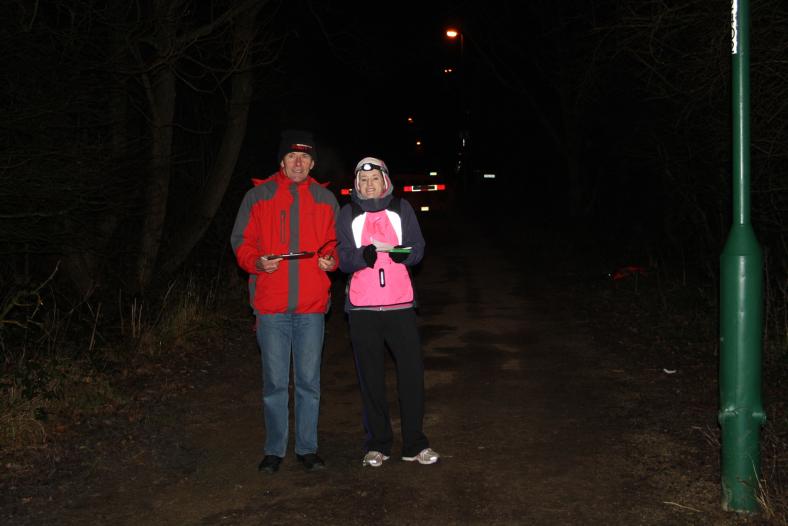 Stuart and Catherine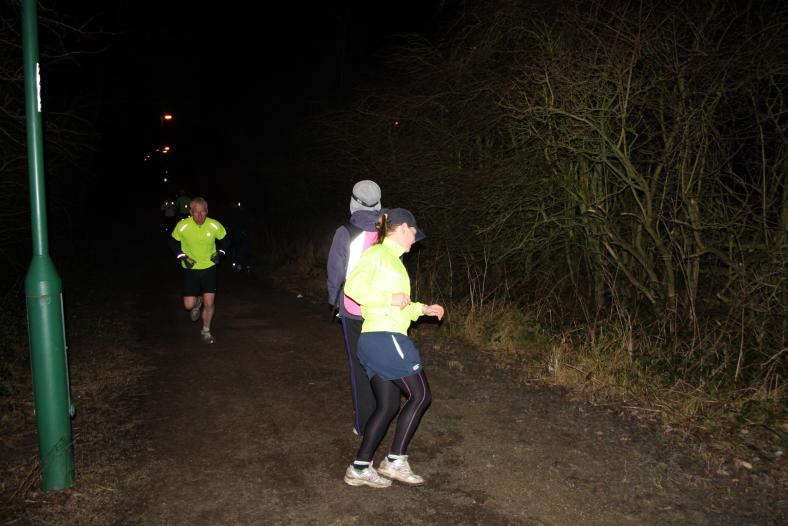 Bob approaching the turn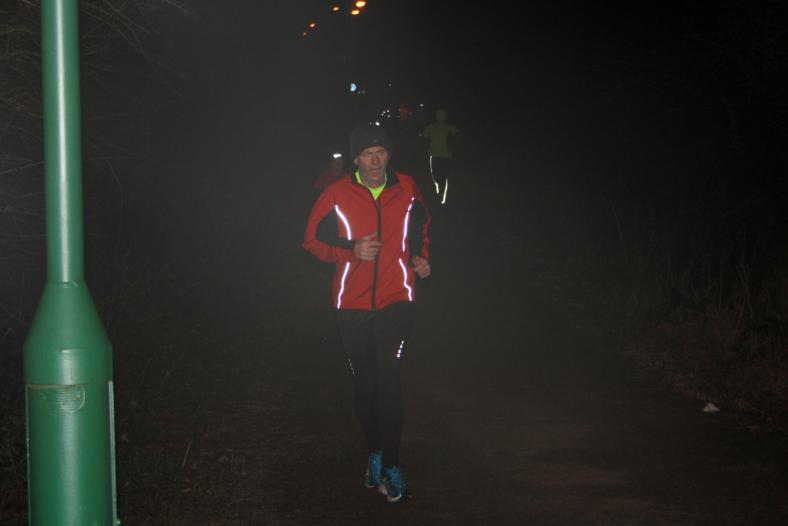 Atmospheric disturbance caused by John's blistering run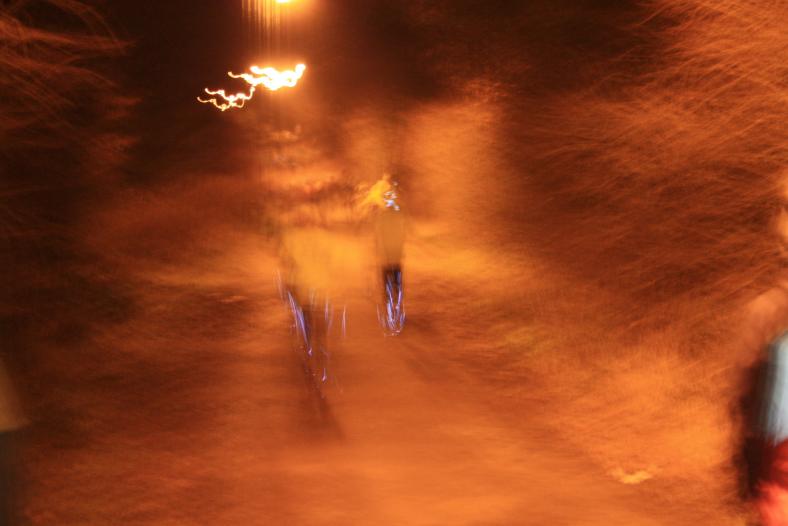 [divider]
November Handicap
Another great turn out tonight with some 24 runners which is a record for the winter handicap. First home by a mile was Nikki who really was going something when she reached the finish! What was really good about the run was the number of relative newcomers who gave it a go and apologies to a few for not knowing names. Just to remind people that you can do the time trial if you are not a fully paid up member of the club (for example you may only recently have come along) – but points will only be awarded to actual club members. So if you want to make the most of tonight get the fees in asap!! Because of Christmas the December Handicap has had to be brought forward to Thursday 15th December and apologies if it upsets your schedule. May there be no snow………
Many thanks to the helpers on the night Anth and Dave for doing such good work. Also to Mac for appearing on his bike and providing support. Similarly to Catherine for all the news of her travels. If anyone wants to volunteer for the December shifts let me know, remember you only have to do four out of a possible five handicaps……….
Results by positions on night are here
Results by real run times are here
Points positions are here
[divider]
Time Trial October
A very good turn out for the start of the Winter Season with 21 runners on the start line. Welcome to the newer members and great to see some of the old timers making a return. Great conditions with almost no wind and pretty mild. Many thanks to helpers Mac who supervised the turn at one mile and Jon for doing the timing. Don't forget that it's over the best of four races so if you missed tonight you can turn up for a time trial in November.  Handicaps will be posted before the November run but you can probably work them out from the results. Approximate pace times over the 2.6 mile course are given.