Successful return to action for Jacqui Hodgson
After spending most of the summer having to nurse a troublesome achilles tendon niggle, Jacqui Hodgson's training programme started to bear fruit when she was able to retain her British Masters 400m title in the W45 category at Birmingham on July 26th. This performance hinted that her injury worries were behind her and that she could travel to Lyon for the World Masters Championships (August 10-16) with increased confidence.
Her optimism was justified when, in her first round heat she was over the moon to set a lifetime best (electric timing) of 61.33 which qualified her for a semi-final place. In view of this excellent performance she was gobsmacked when she set another all time PB with second place in her semi-final with 61.22 (electric timing) – therefore exceeding all her expectations by earning a place in the final; where she was an excellent fourth behind competitors from Australia, USA and Spain. her time in the final of 61.50 (electric timing) rounded off a superb championships where she ran faster that her previous lifetime PB three times.
Congratulations to Jacqui for a fine set of performances!
T&F League season draws to an end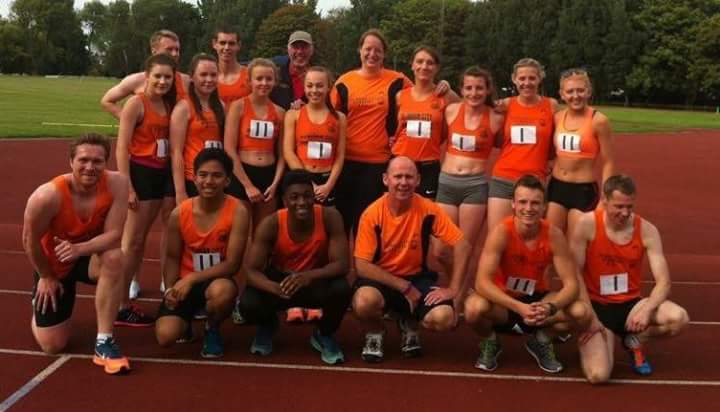 It was the final T&F League fixture on Saturday with another strong performance securing 3rd place overall for the season. Well done to all our athletes who have contributed this season, you've been fantastic! Thank you also to all the parents and coaches who have supported and helped out. A final thanks to Captains Paul and Emma for all your hard work organising the teams.
New Club 800m record for Samantha   3.1.2015
"Saturday 3rd January saw a good start to the year in terms of club records when Samantha Coleby set a new 800 time of 2:12.61 at the Comsport Open meeting at the EIS, Sheffield.
This replaced the previous record of 2:12.78 which was set by Seonaid Murray at Bedford in the British Universities Championship of 2006.
It is worth noting that both of the above performances were electronic timings – which UKA rules require for record purposes.
However, it is worth noting that Chloe Price has a hand timed performance of 2:12.4 (Jarrow, North East Track League, 2013). Chloe's fastest electronic timed 800m performance is 2:14.92 (Bedford, English U/20 Championships, 2013)."
[divider]
NE Counties Indoor Track and Field Championships Feb 2014
Durham City Harriers success at N E Counties Indoor Track and Field Championship 2014
Medals won: 3 gold, 3 silver, 1 bronze
In the U15 girls 60 metres Jazmine Moss won in a personal best time of 8.33. (8.35 in heat)
In the U17 women 60 metres Rosie Findley won in a time of 8.08 (8.05 in heat)
In the Senior women 60 metres hurdles Samantha Coleby won in a Championship Best Performance time of 8.96 (also PB) and was second in the 60 metres in a personal best time of 7.93
Andrea Jesudason in the Senior Women's Long Jump recorded a Personal Best of 5.13 metres to take second place, and also was third in the Triple Jump (10.21 metres)
In the Veteran Men's M45 60 metres Paul Donaghy was Second in a season's best time of 7.99
Other excellent performances were:-
In the U17 men's 60 metres     Pranav Anand reached the final, finishing 5th in his first year as an Under 17  in 7.59,  and Stefan Renstrom recorded a pb of 7.93 in the heats.
In the Senior Men's 60 metres David Wilkinson, on his first year returning to athletics since school days, reached the final, finishing 6th in a time of 7.56.
[divider]
[divider]
[divider]
[divider]