Summer Handicap 2019
Handicaps for July event

Result of May Event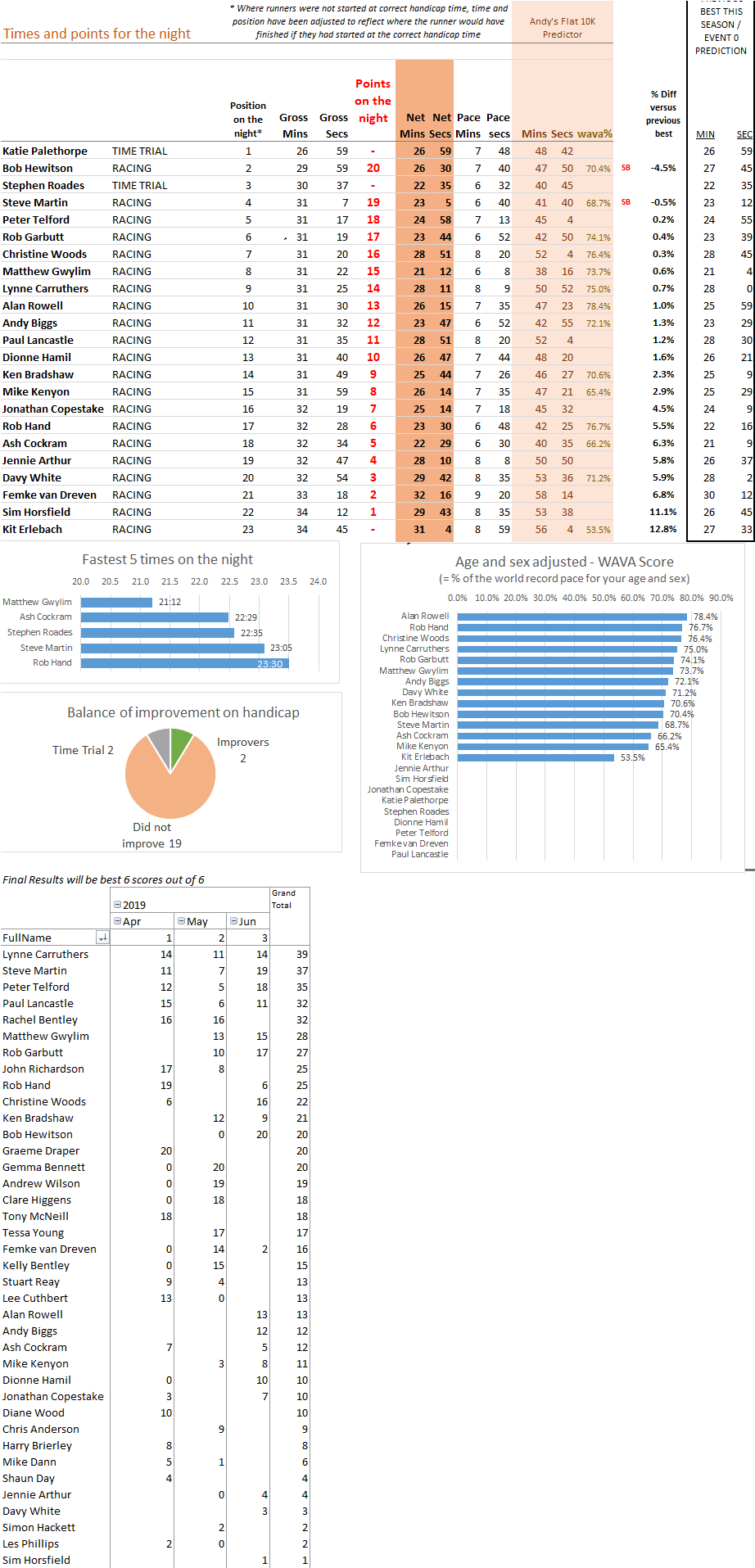 Results of May event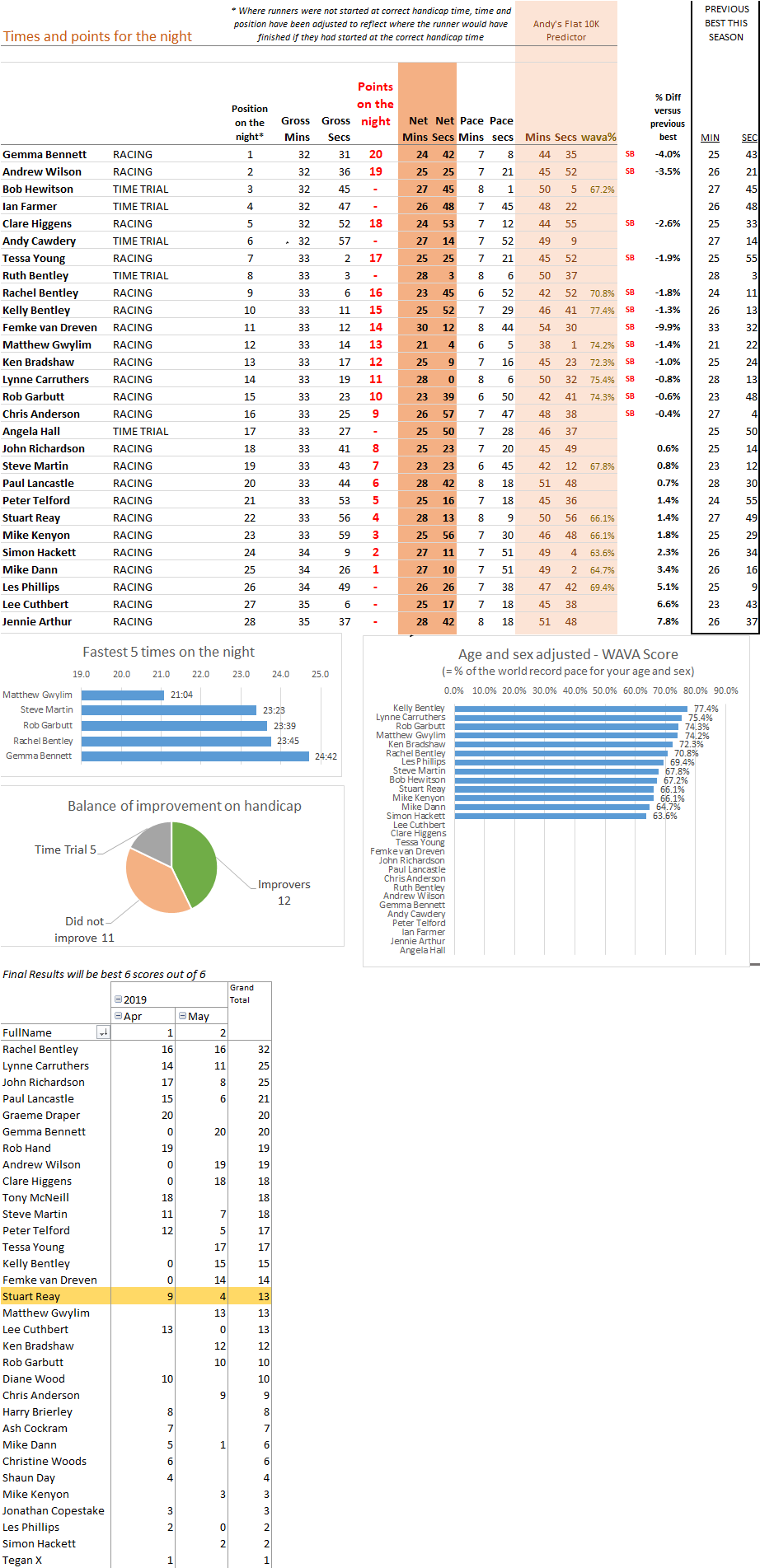 Results of April Event (wow – so many runners!)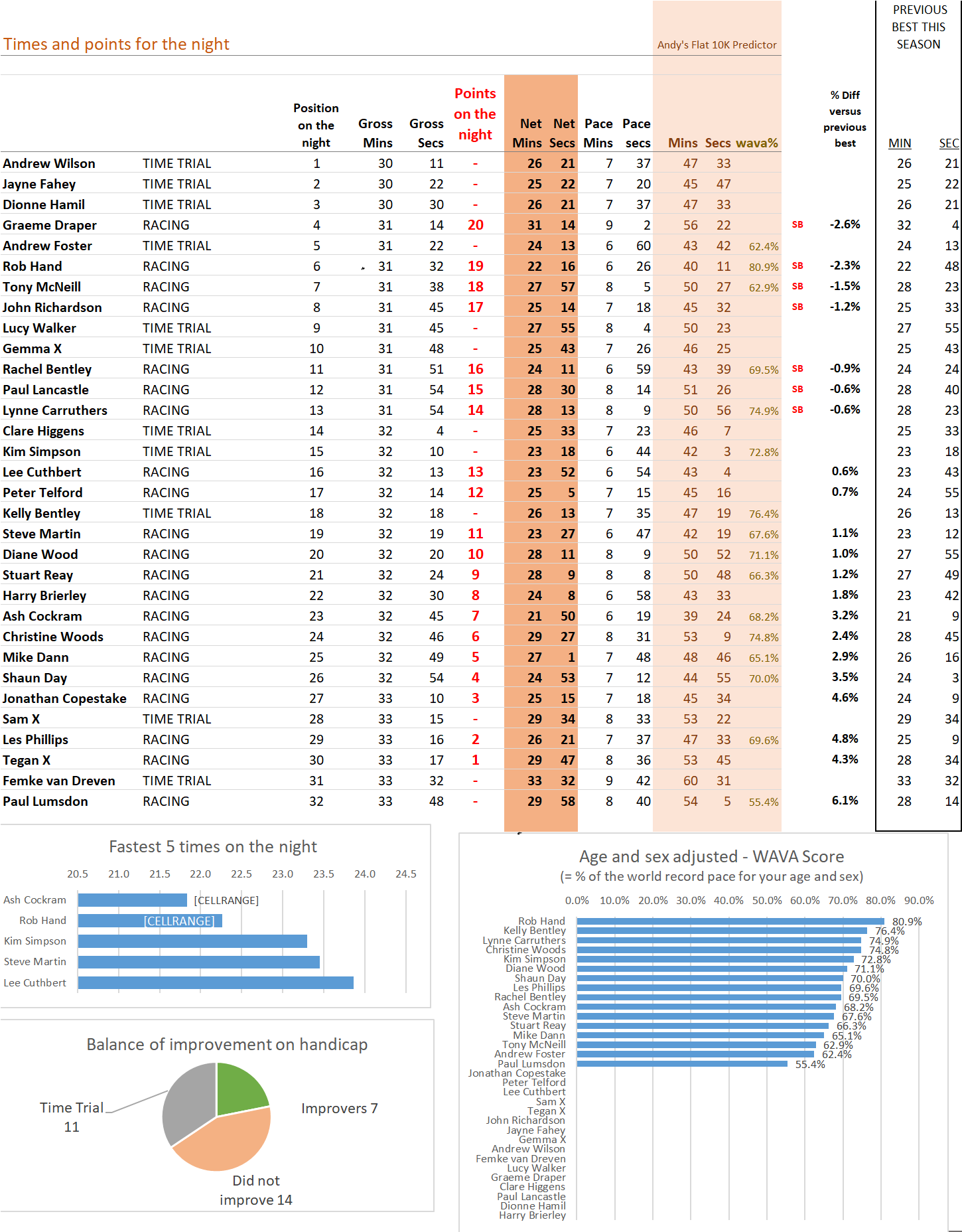 Winter Handicap 2018/19
March 2019 Results (Held 2 April) and Final Series Leaderboard:
Congratulations to Stuart Reay, who wins by one point from Steve Martin, on the pre-published "Best 5 scores from 6 events" rule.  In the end, the entire series was decided by a few seconds in the final event. Joining them on the virtual podium are Lynne Carruthers and Christine Woods, who tied for third place. Well done to everyone who ran and volunteered!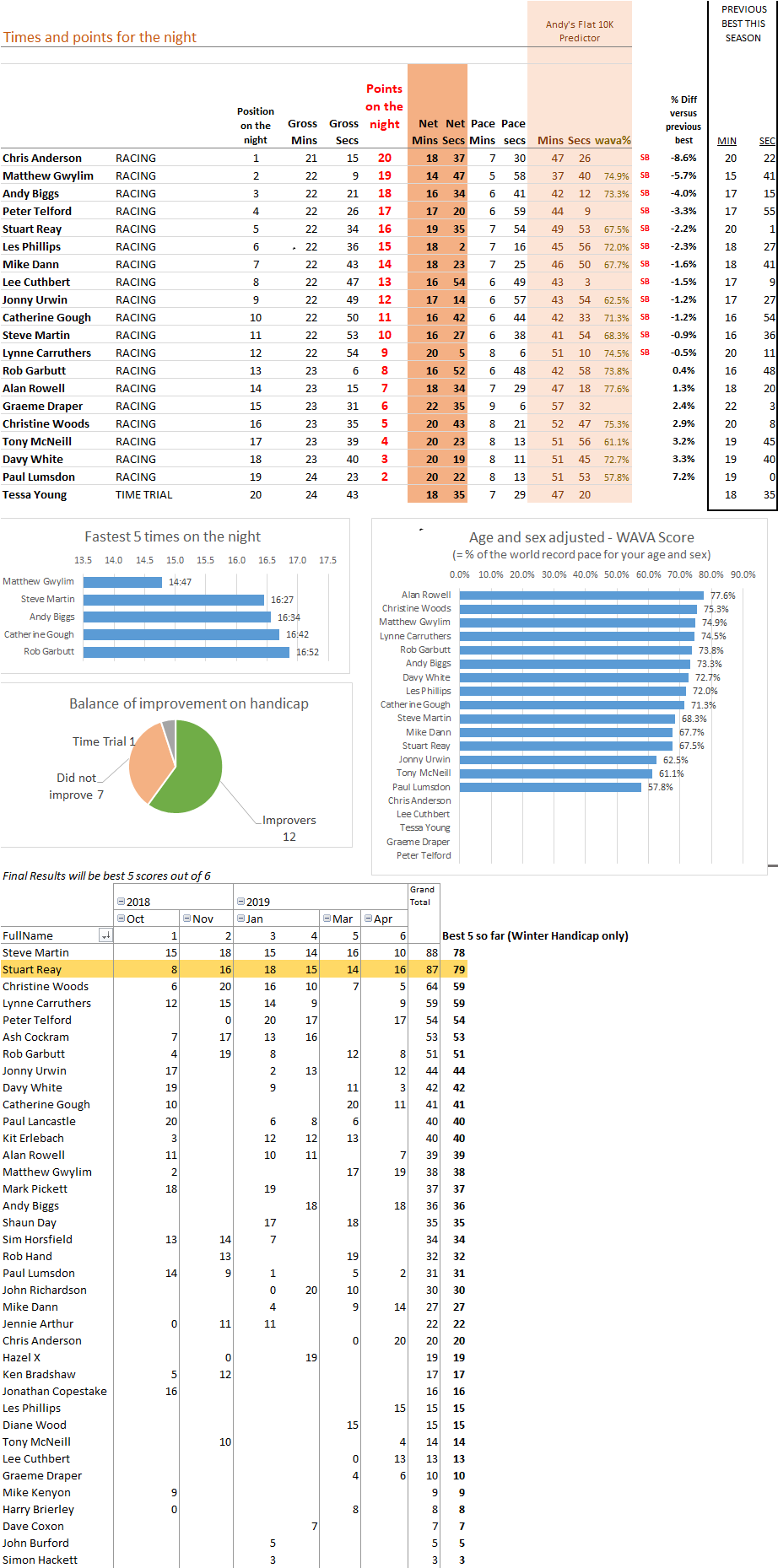 February 2019 (held 5 March)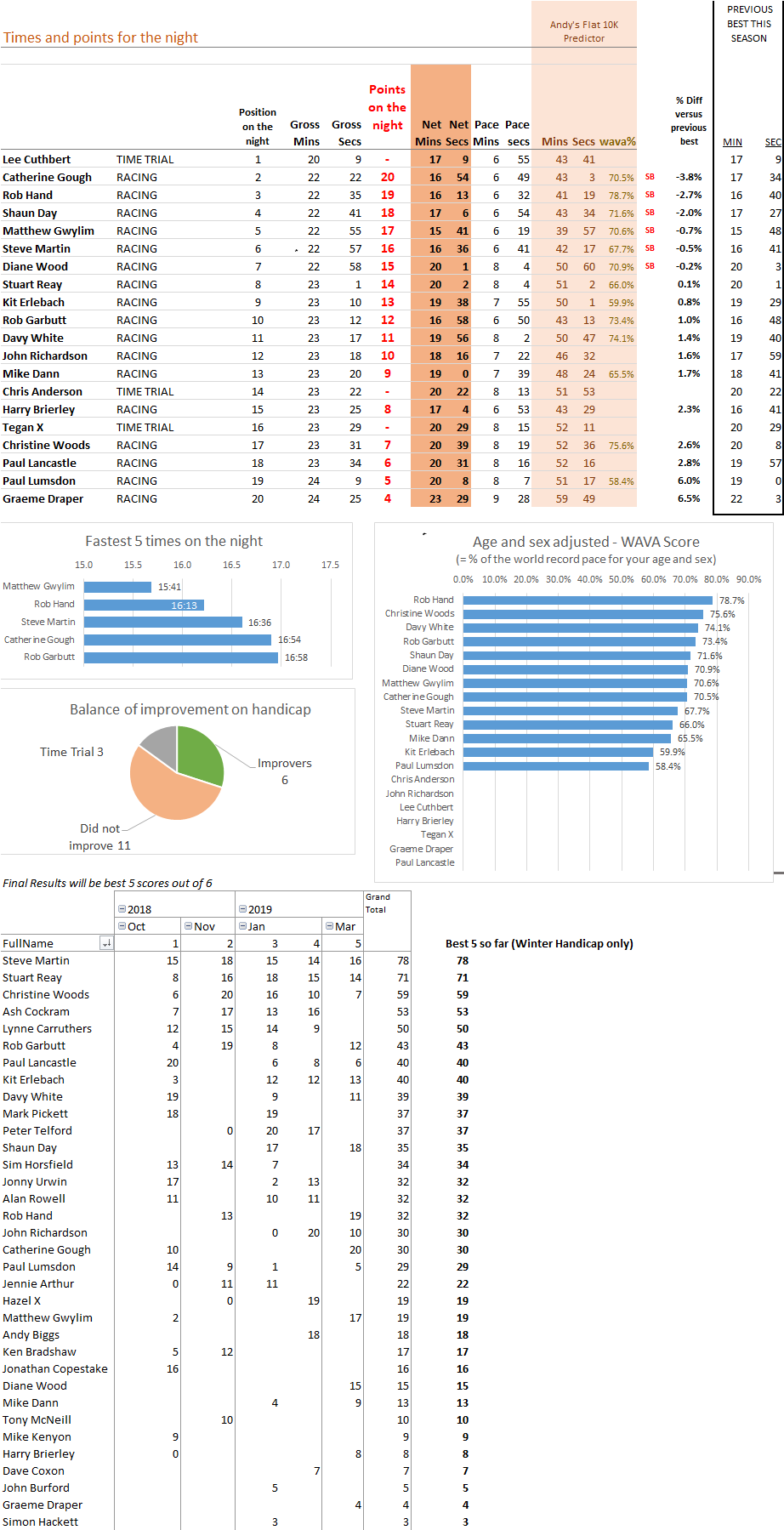 January 2019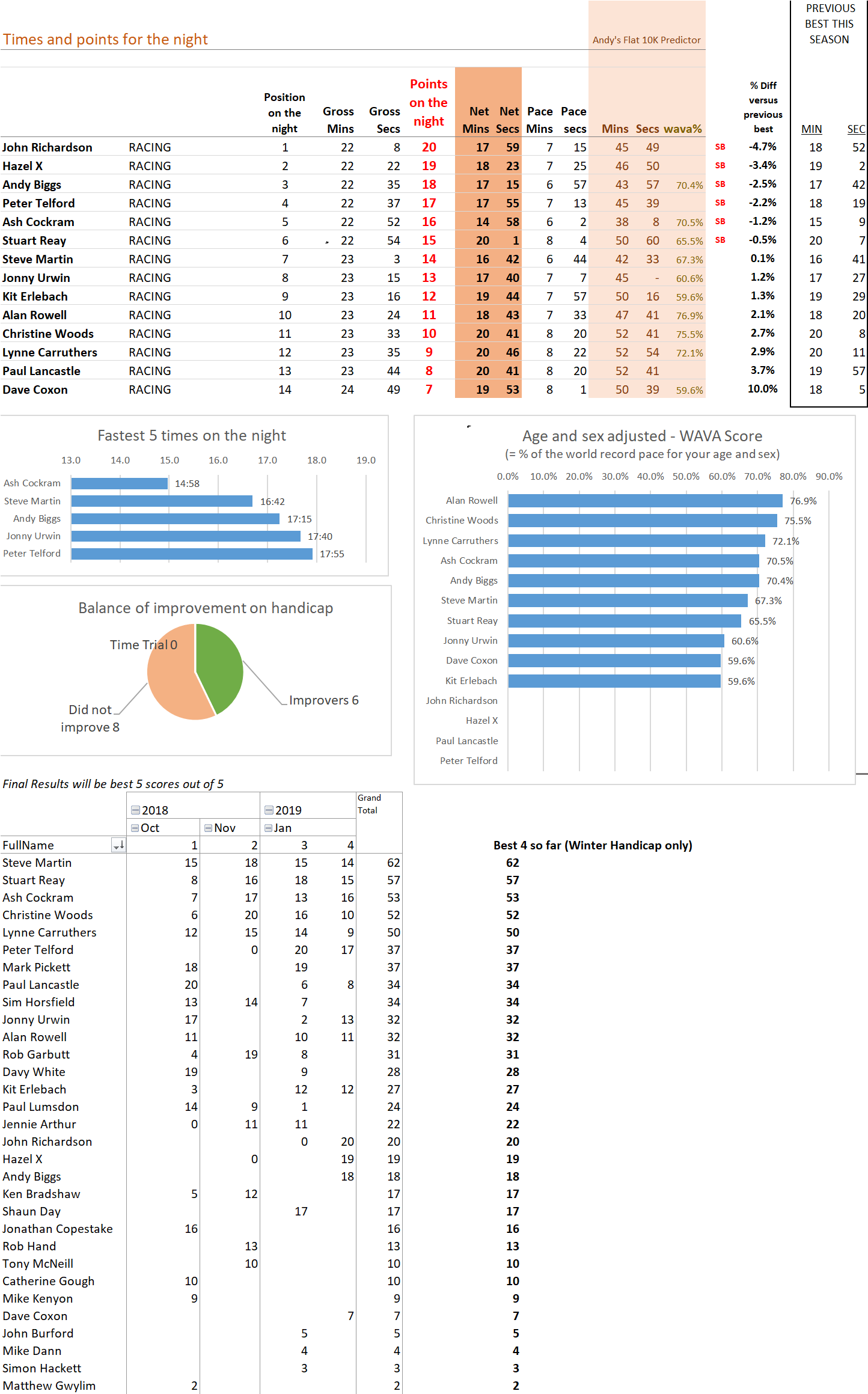 December 2018 (held 8 January 2019)
I've had to correct a couple of athletes' finishing positions (Chris Woods / John Burford) because they were started at the incorrect handicap – i.e. I've reinstated where they would have finished if they had started at the correct handicap time and ran the net time they ran.
November 2018
Results from November event are below.  Alas a couple of athletes (Rob H and Tony McN) who would have been eligible to have a handicap (because they ran in the Summer series) did not have handicaps on the sheet I published (mea culpa – Andy), so they were started at 3 mins alongside other time trial athletes.  I have therefore made them eligible for points, but restated their gross time / position as if they had run from the correct but unpublished) handicap.  The above handicaps therefore include all athletes who ran in the summer series, based upon my 'calculated' winter handicap time for them.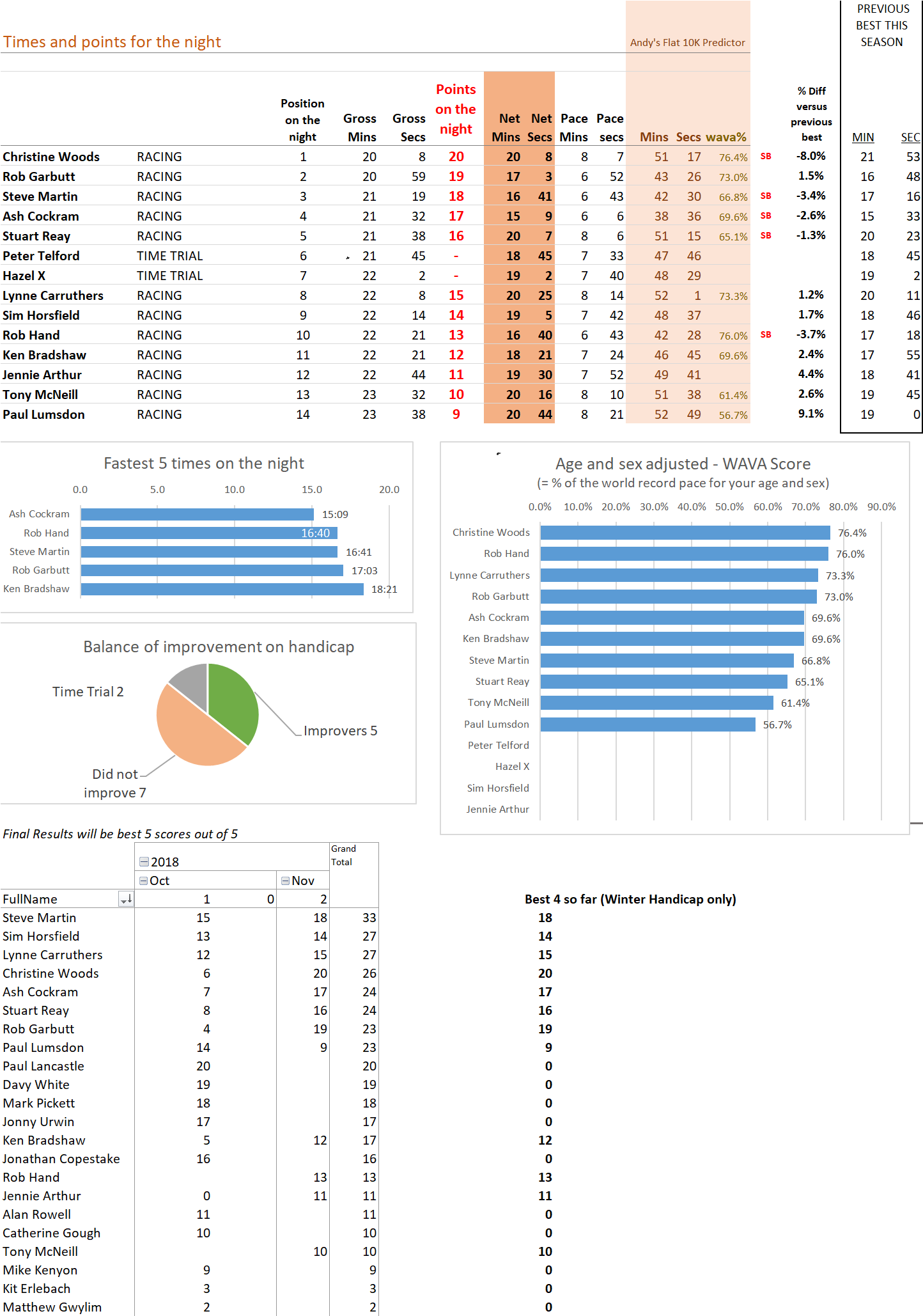 And results from the first October event are below.  Note that because we now have increased participants we have increased to points to a max of 20 for first place, 19 for second etc.
Summer Handicap 2018
We have noted that the route on the events page is out of date.  Until this is fixed, please have a look at the visualisation on this link
Results for the final event, held on Tuesday 4th Sept are below.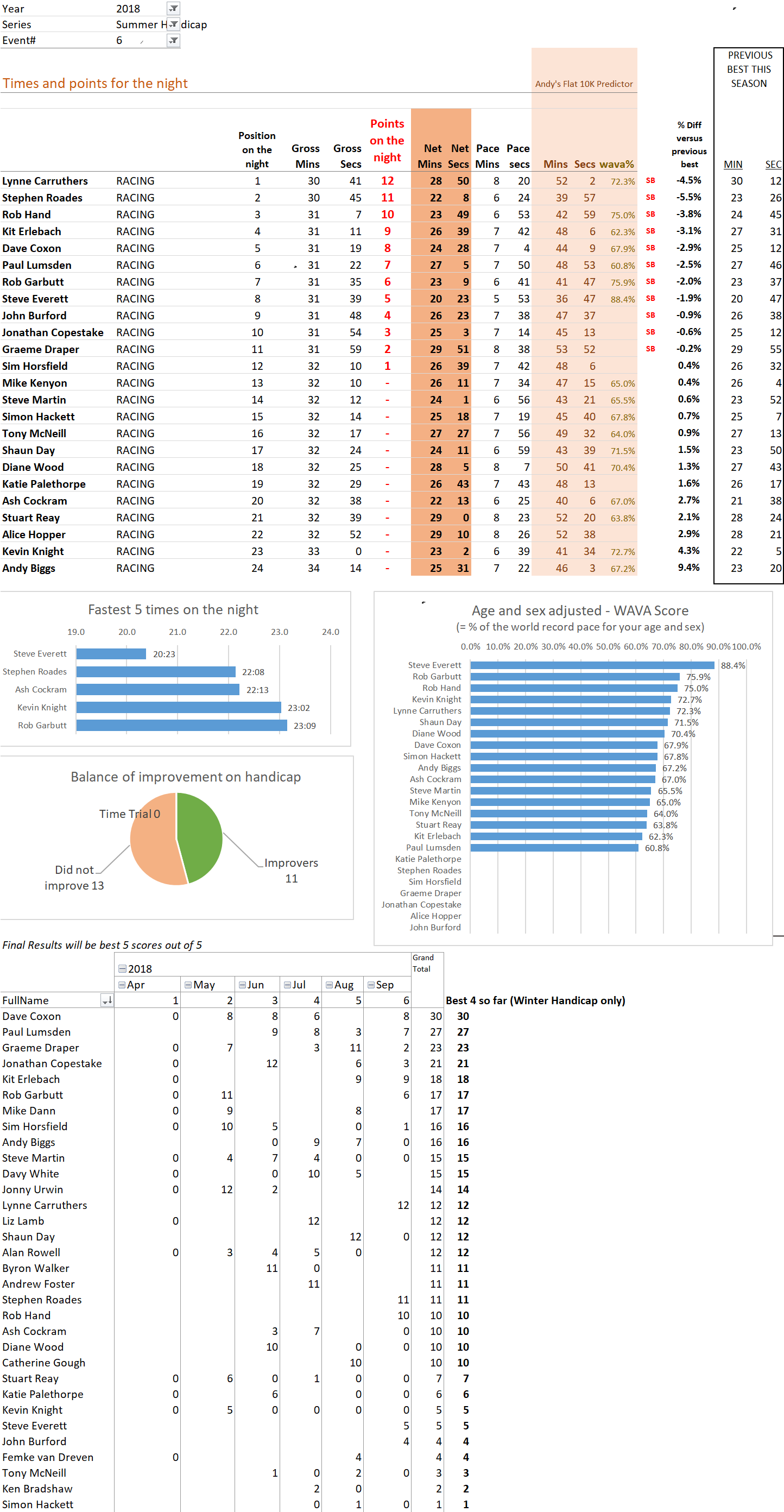 August 2018
Results for August, including series Leaderboard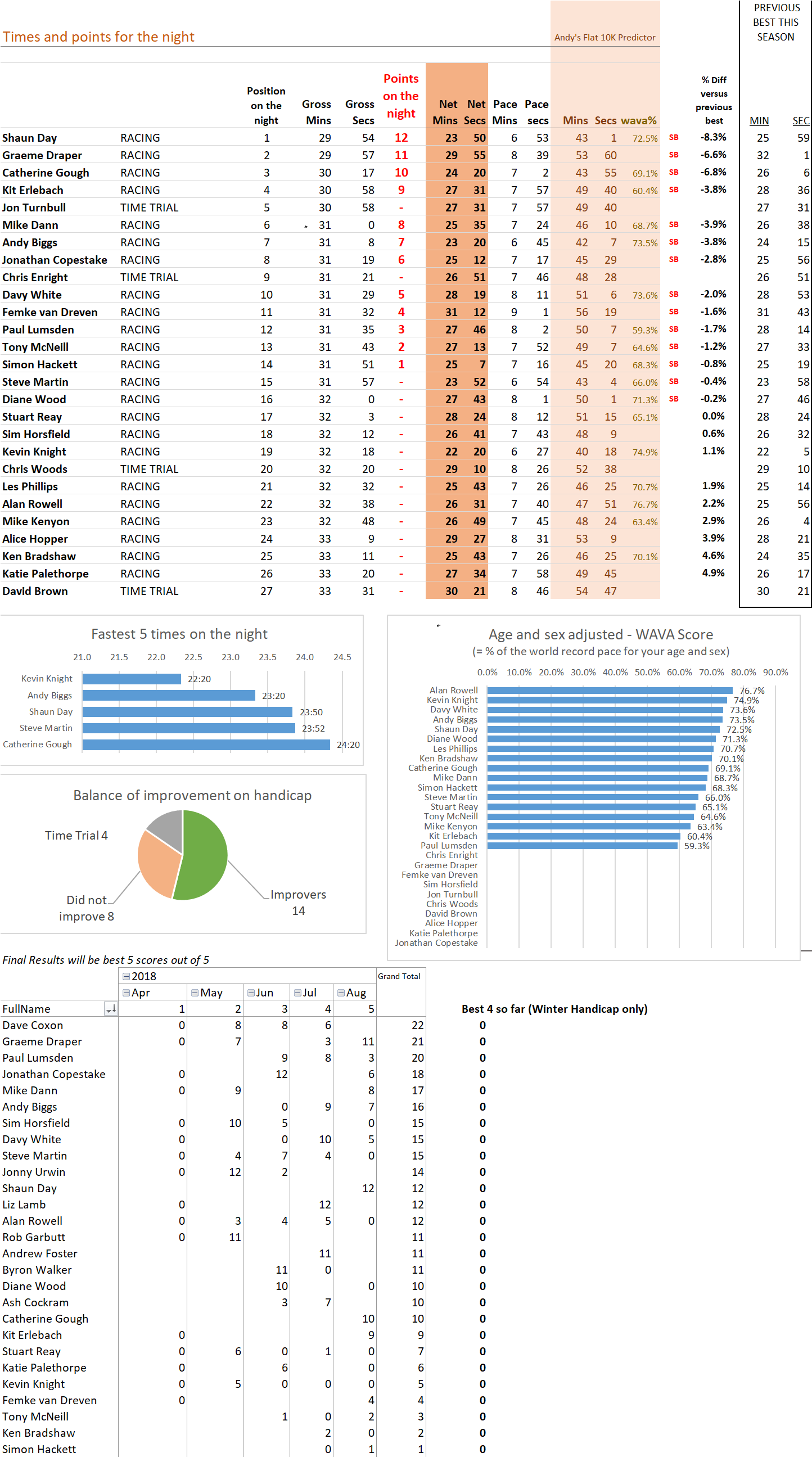 July 2018
The handicaps for the August event and the July results are below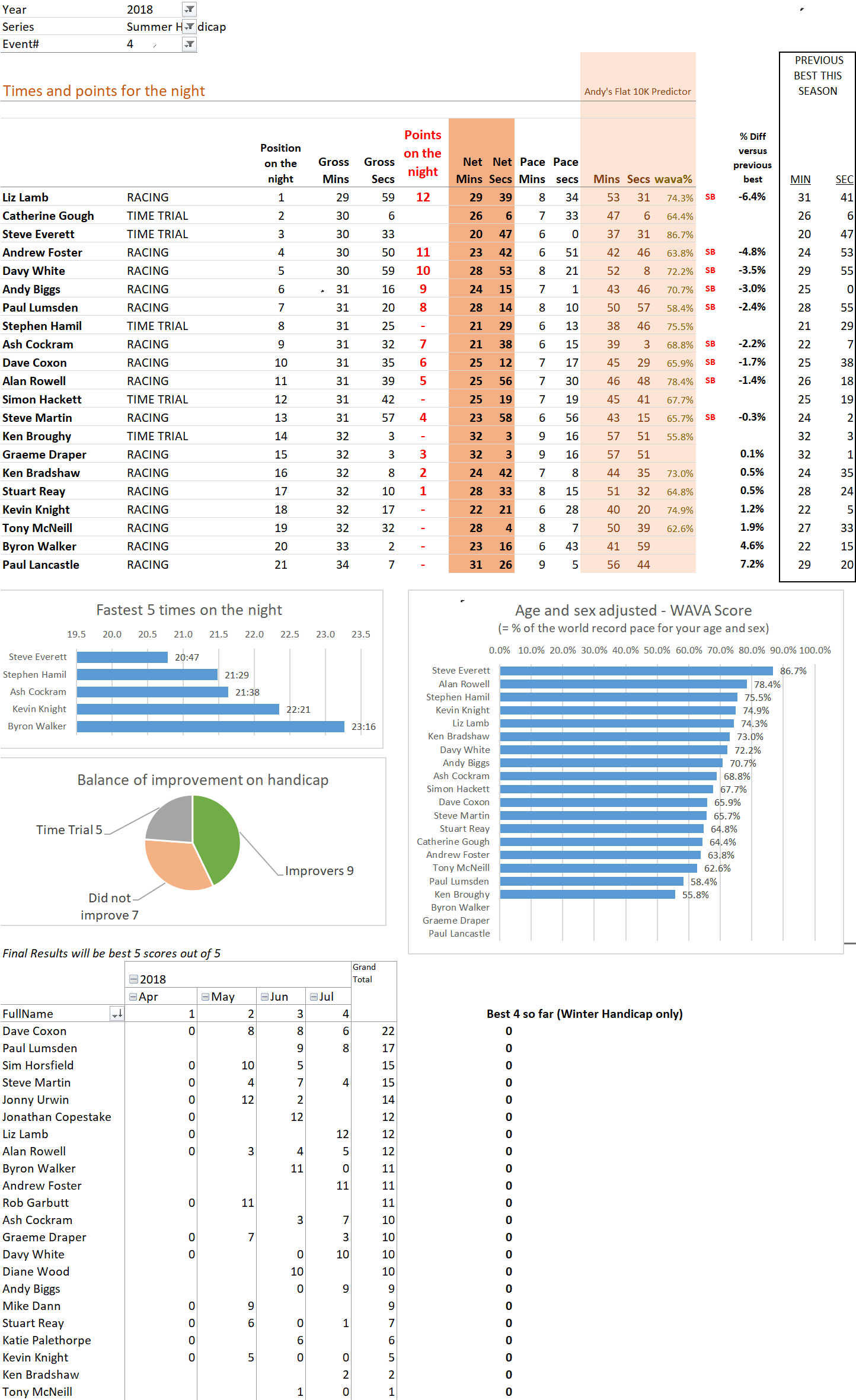 June 2018
The results for June are below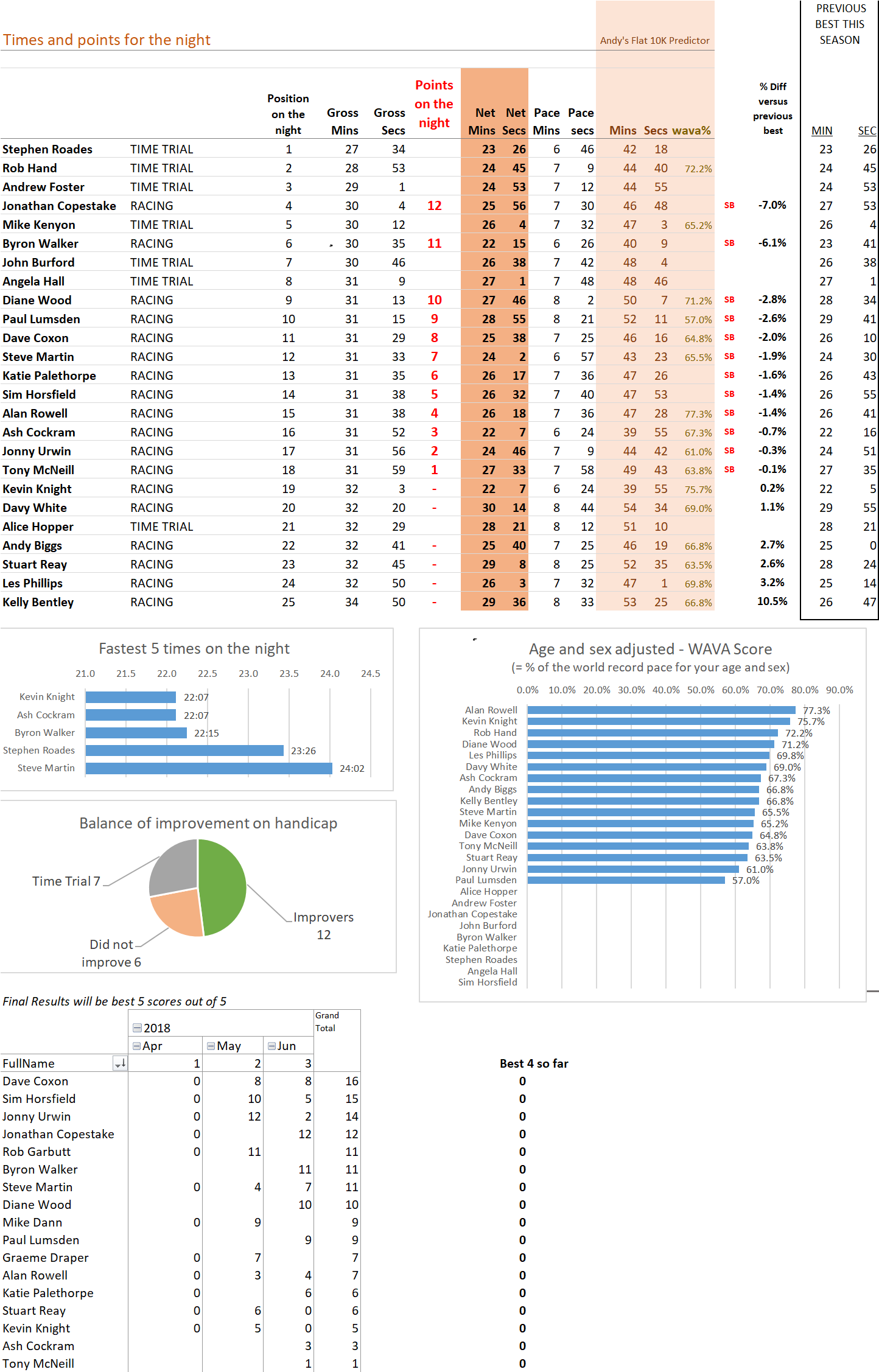 May 2018
The results for May are below – A Great turnout!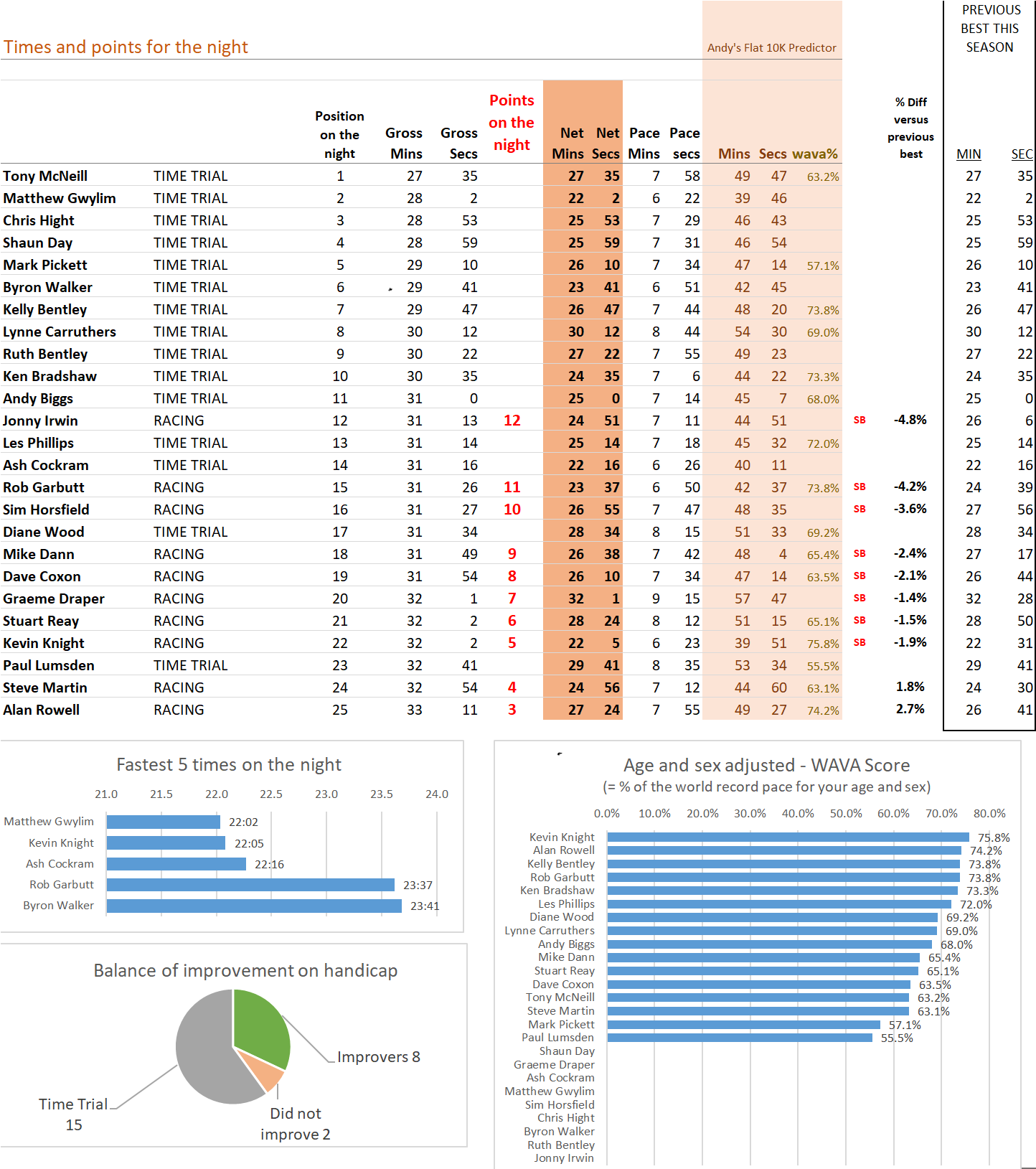 April 2018
the results of the April Time trial are as follows: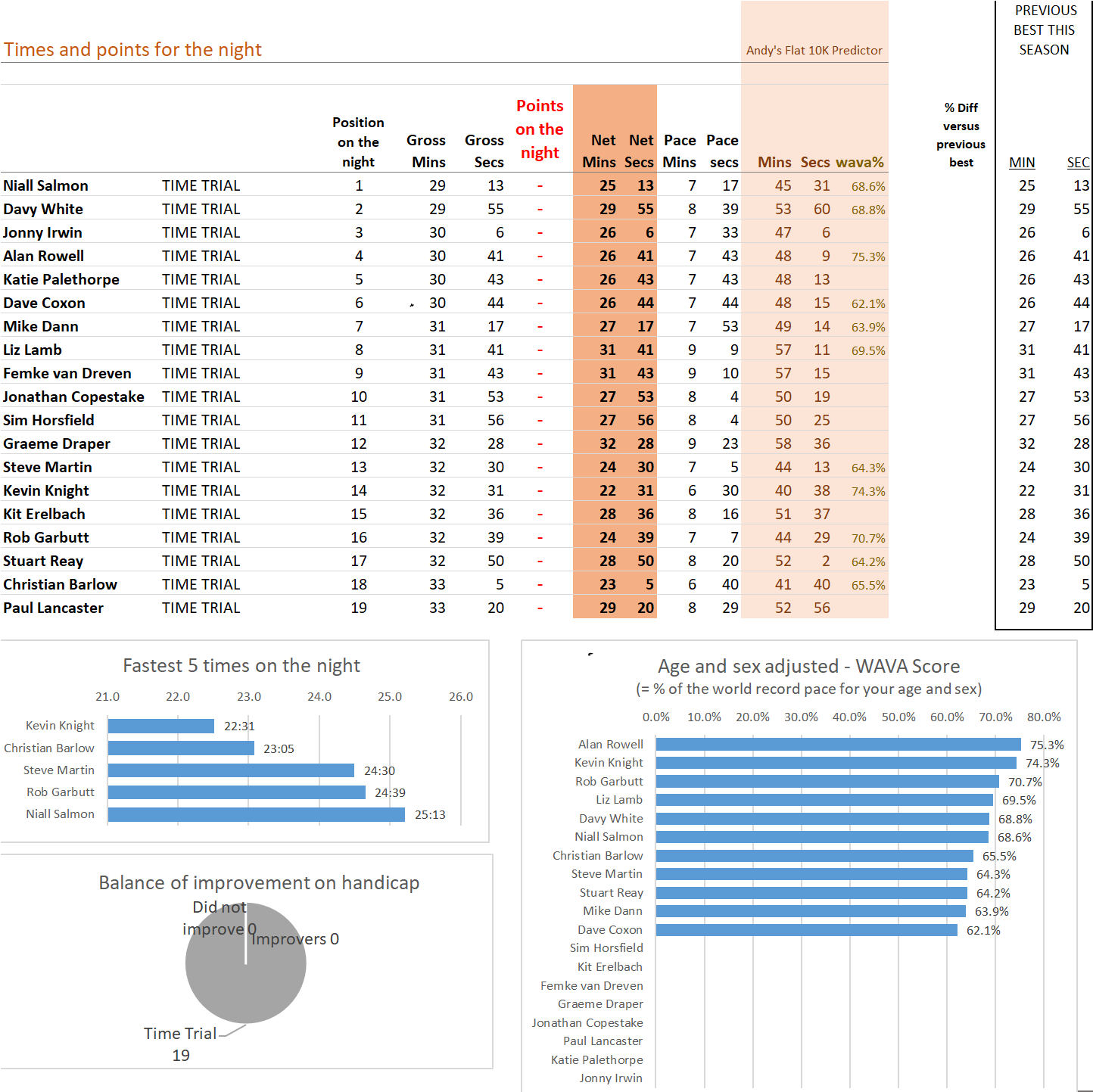 Please note – if you want to have a WAVA score, please supply your date of birth to Andy Biggs, who will hold it confidentially for the sole purpose of calculating your WAVA score for handicap events.  He will not use it for any other purpose, in accordance with GDPR.  Don't therefore expect birthday cards or presents, or any other congratulatory messages from him on the anniversary of your birth! 🙂
Winter Handicap 2017-18
Final results for the series are as follows – Congratulations to Sim on a consistently improving set of results which wins him the prestigious accolade of Winter Handicap Champion 2017-18!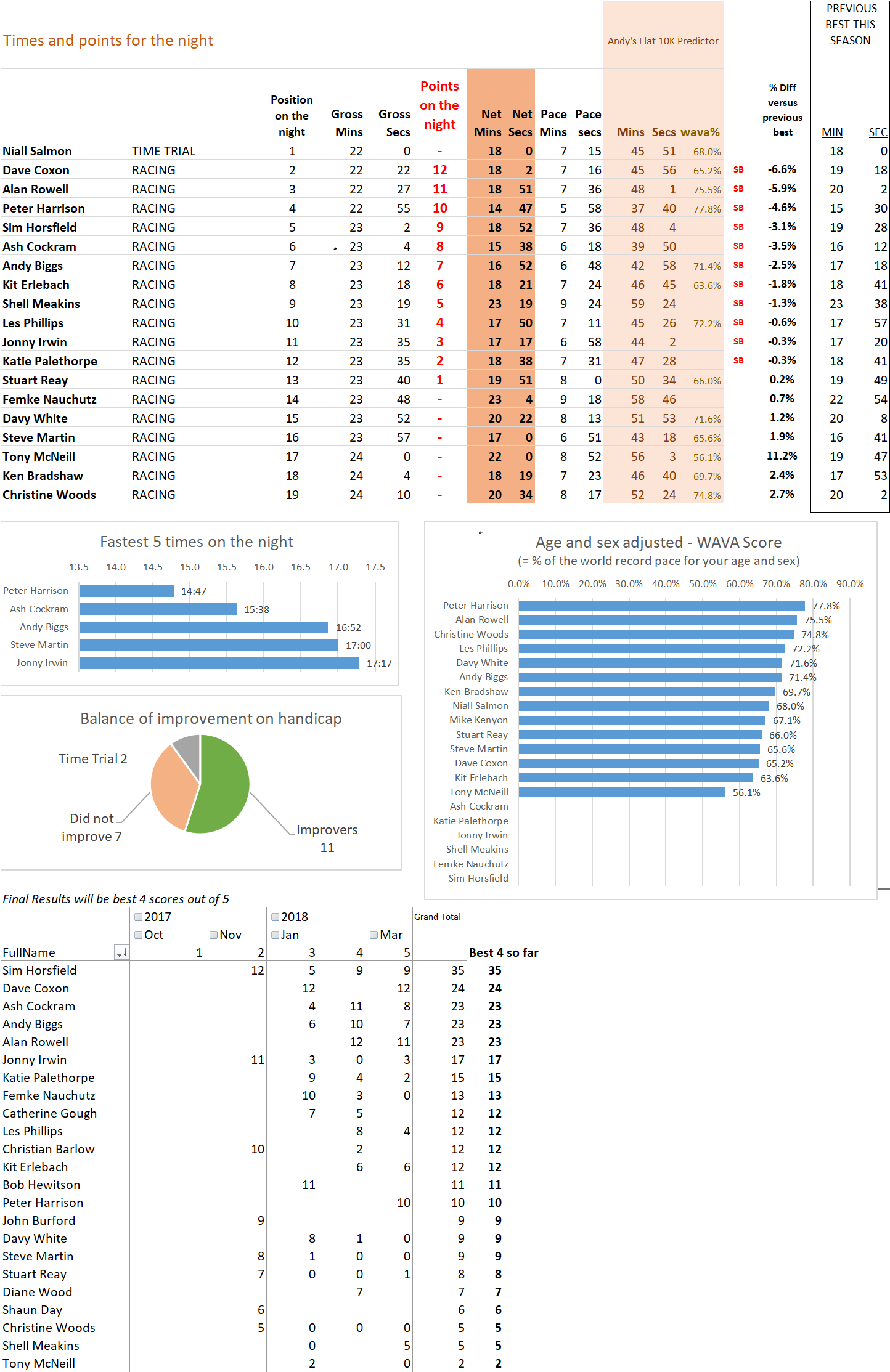 The final results for November are below.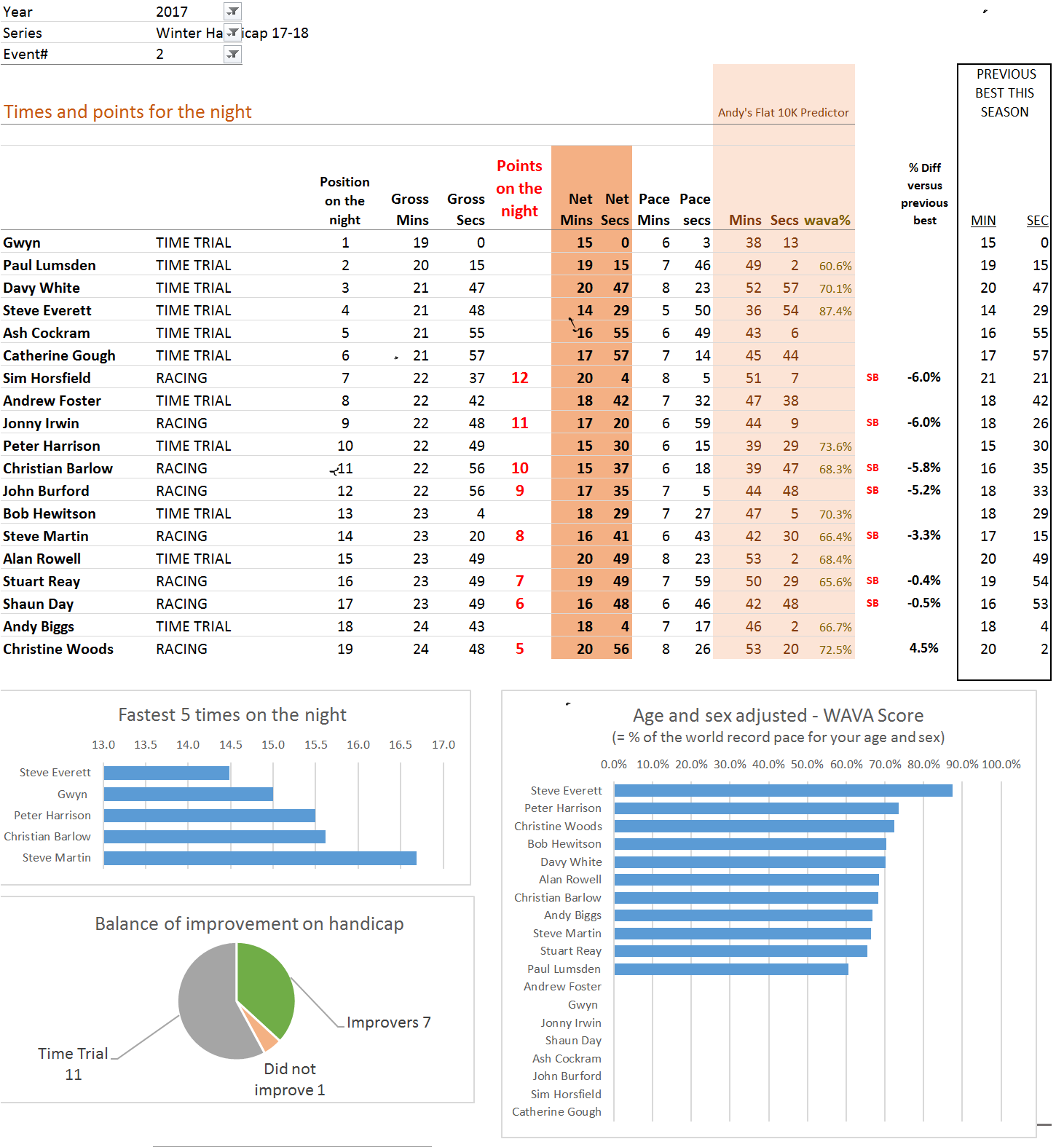 Summer Handicap 2017
Results for the September event are below.  Congratulations to Mark Pickett for winning the series overall!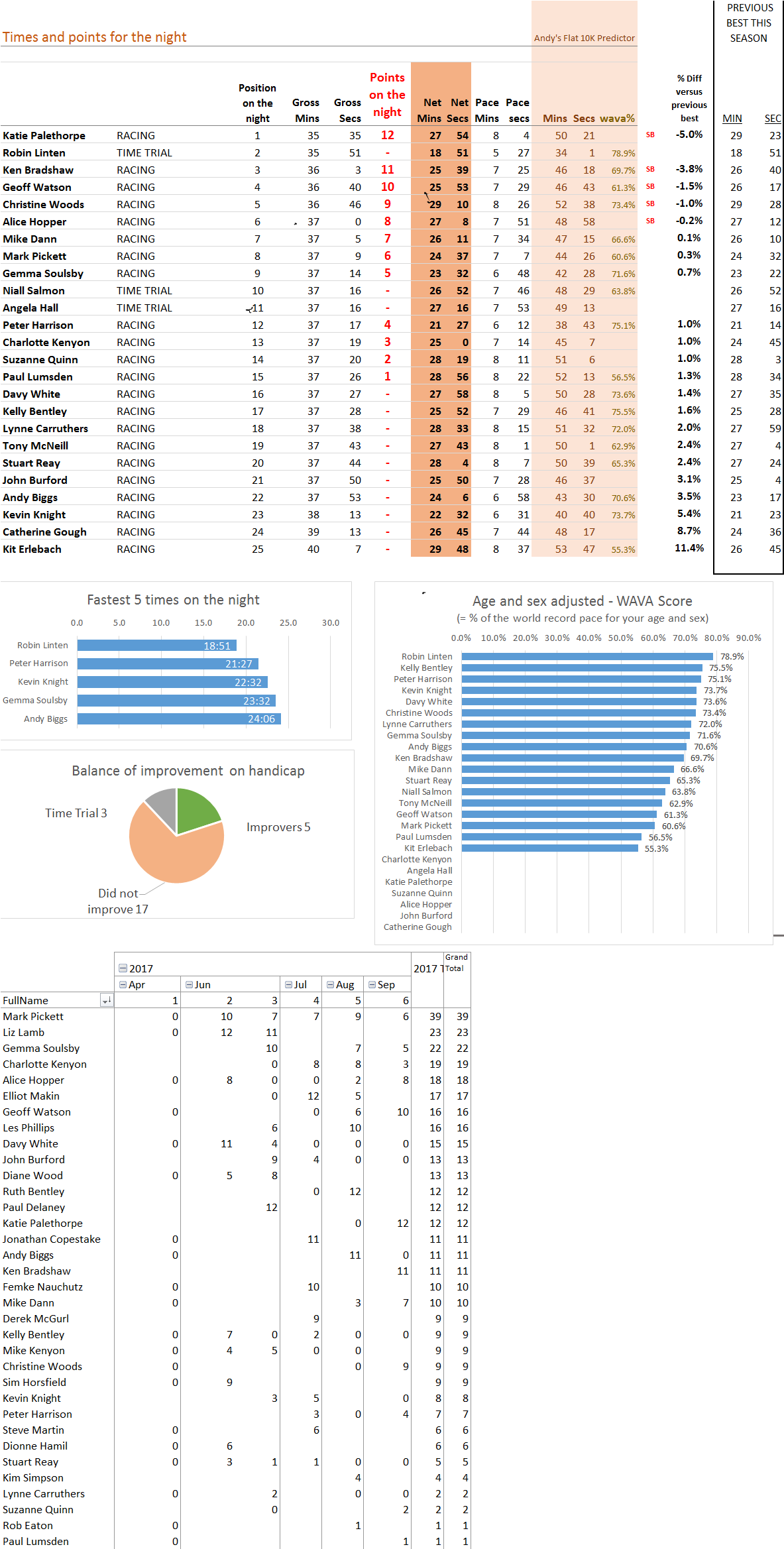 August 2017
Results are below – series leader board going into the final event next week is at the bottom.  Note, that after scrutinising, I realise that I had one athlete on 27 June down as time trialling, when in fact he was racing.  Therefore, I've had to insert him into points allocation and have adjusted others accordingly.  Nevertheless, Mark Pickett is out front with a comfortable margin – can anyone catch him next week?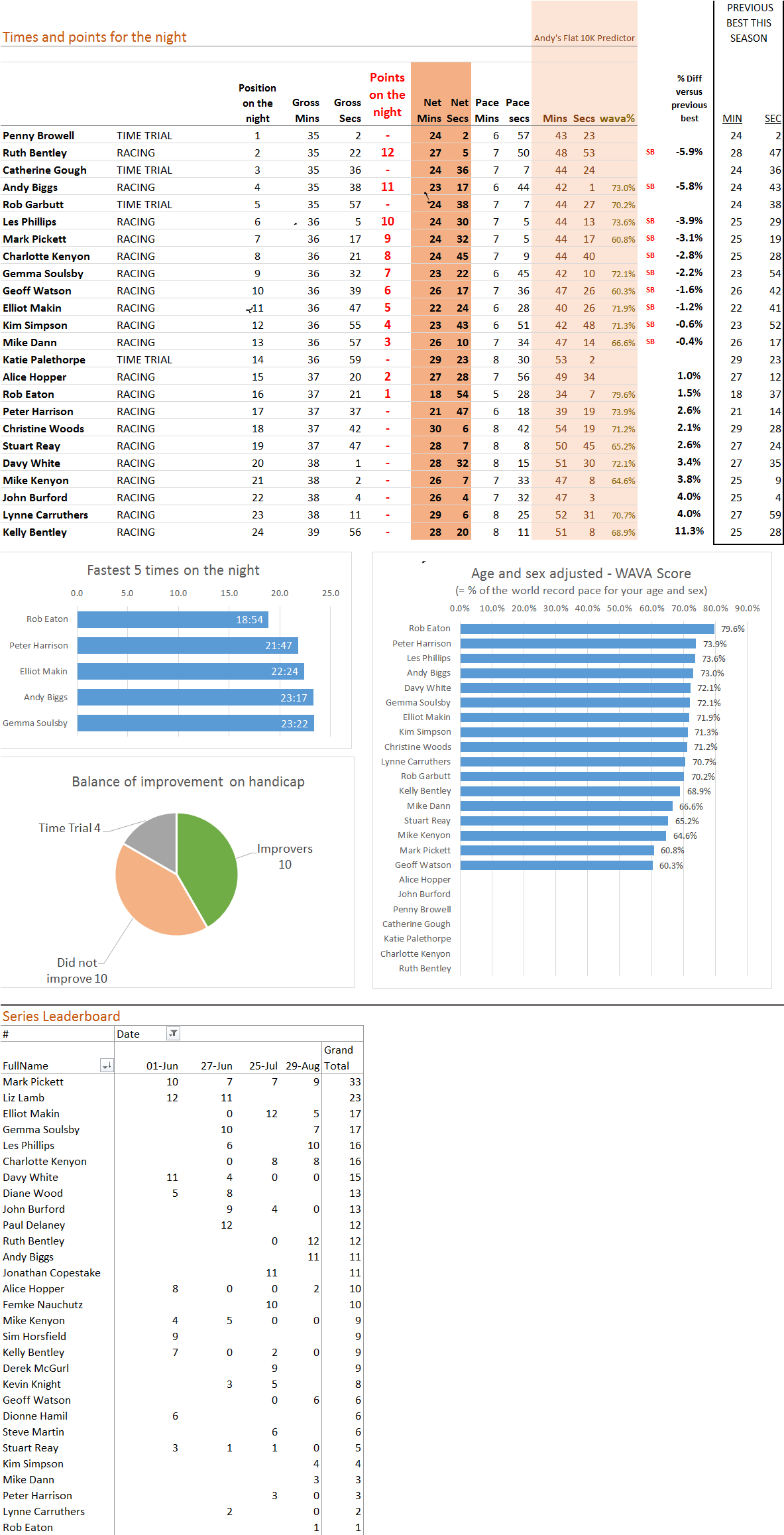 July 2017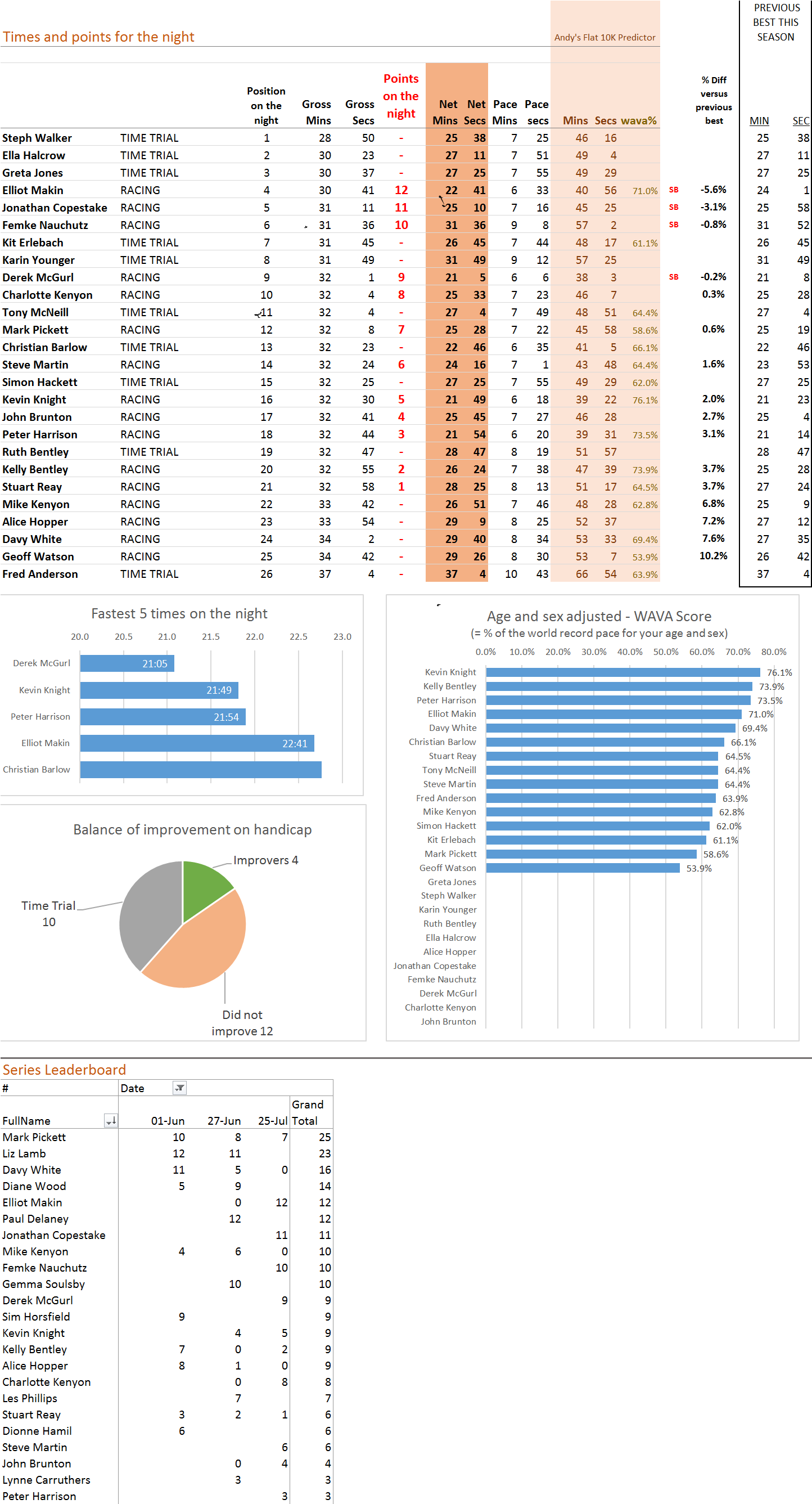 June 2017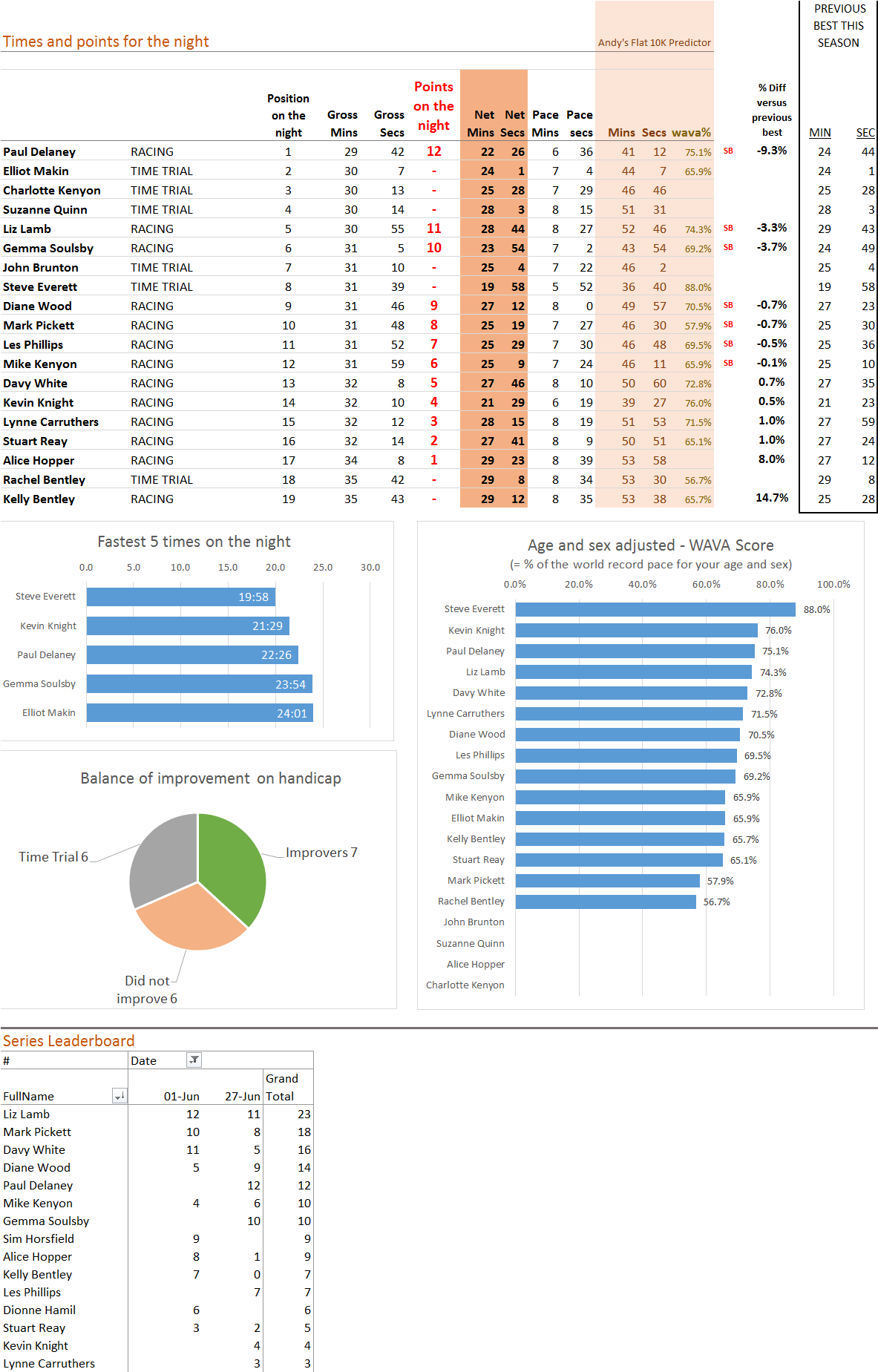 May 2017
The May event was held on 1 June, with a tremendous turnout, including several new people – welcome!  New people are always welcome., but please note that the WAVA scores are calculated from date of birth from our membership records, and eligibility for prizes will only apply once a person joins the club (hint, hint!).  If you have joined the club and we've missed your date of birth, please remind us / make sure the timekeepers have it next time.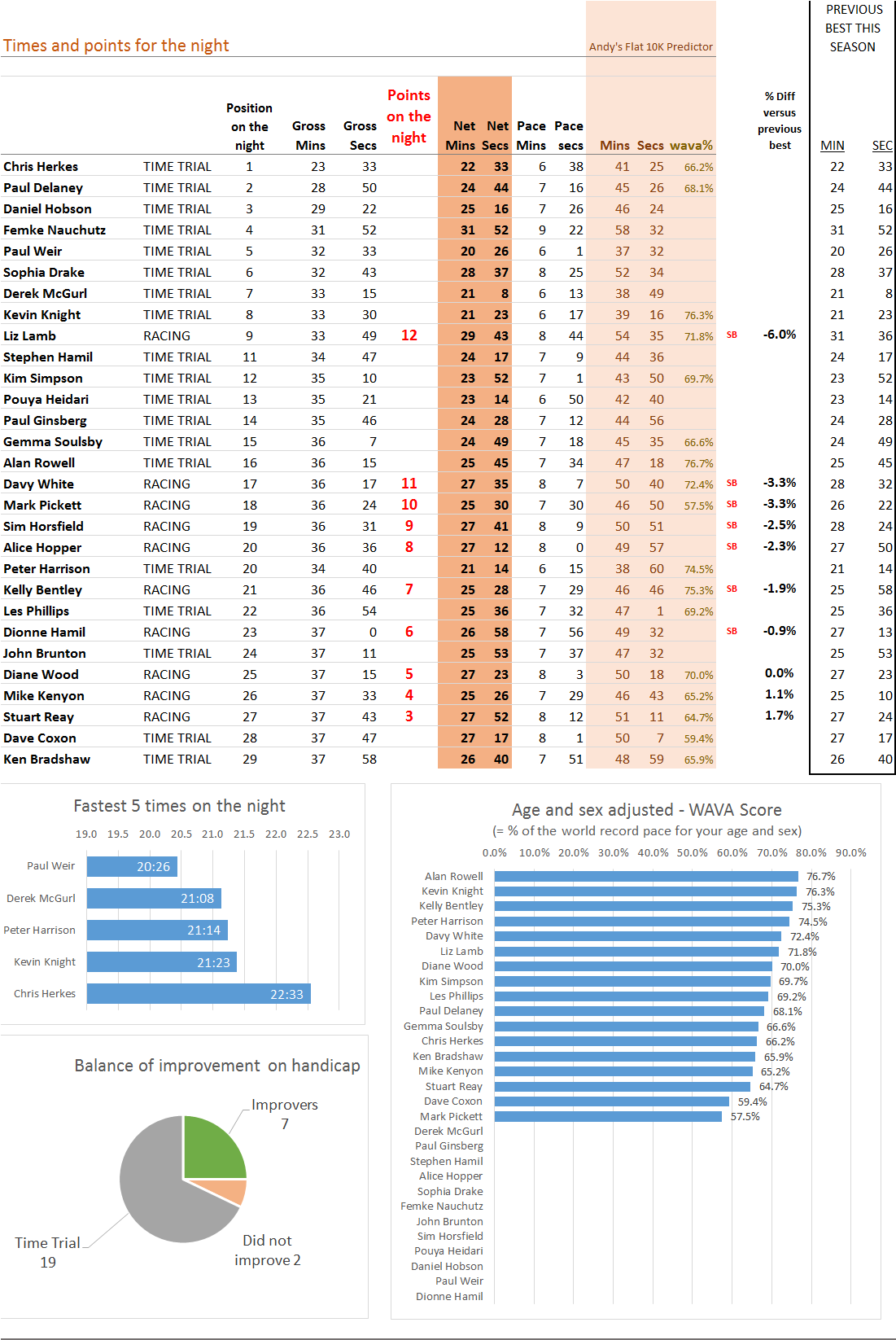 April 2017
It was hardly summer weather, but the time trial for the 2017 series was held on 25th April.  A full results list for the time trial is below: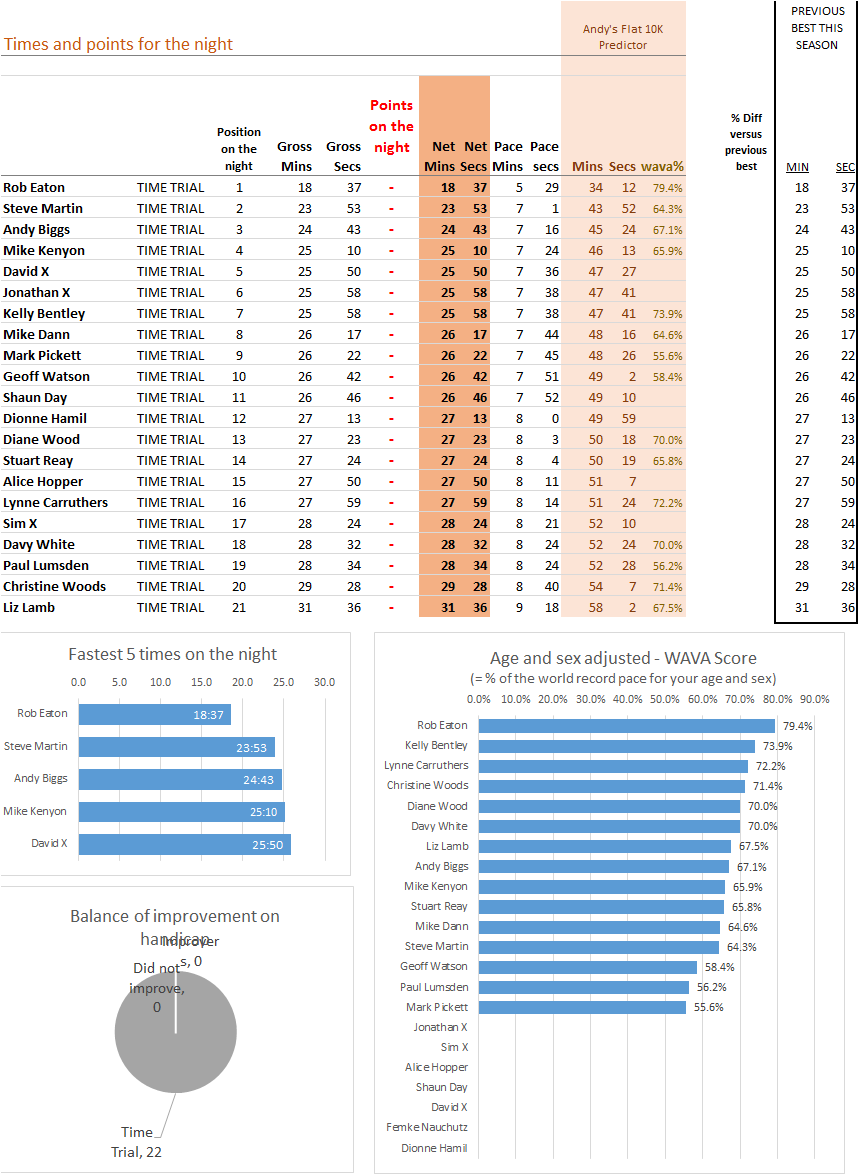 Summer Handicap 2016
The final event of the summer – results below, but PAUL DELANEY has been crowned as king of the summer handicap. Although he failed to score tonight, he had built a lead that no-one managed to overcome.  Well done to Alan Rowell for coming up on the rails and sneaking onto the (non-existent) podium!
August 2016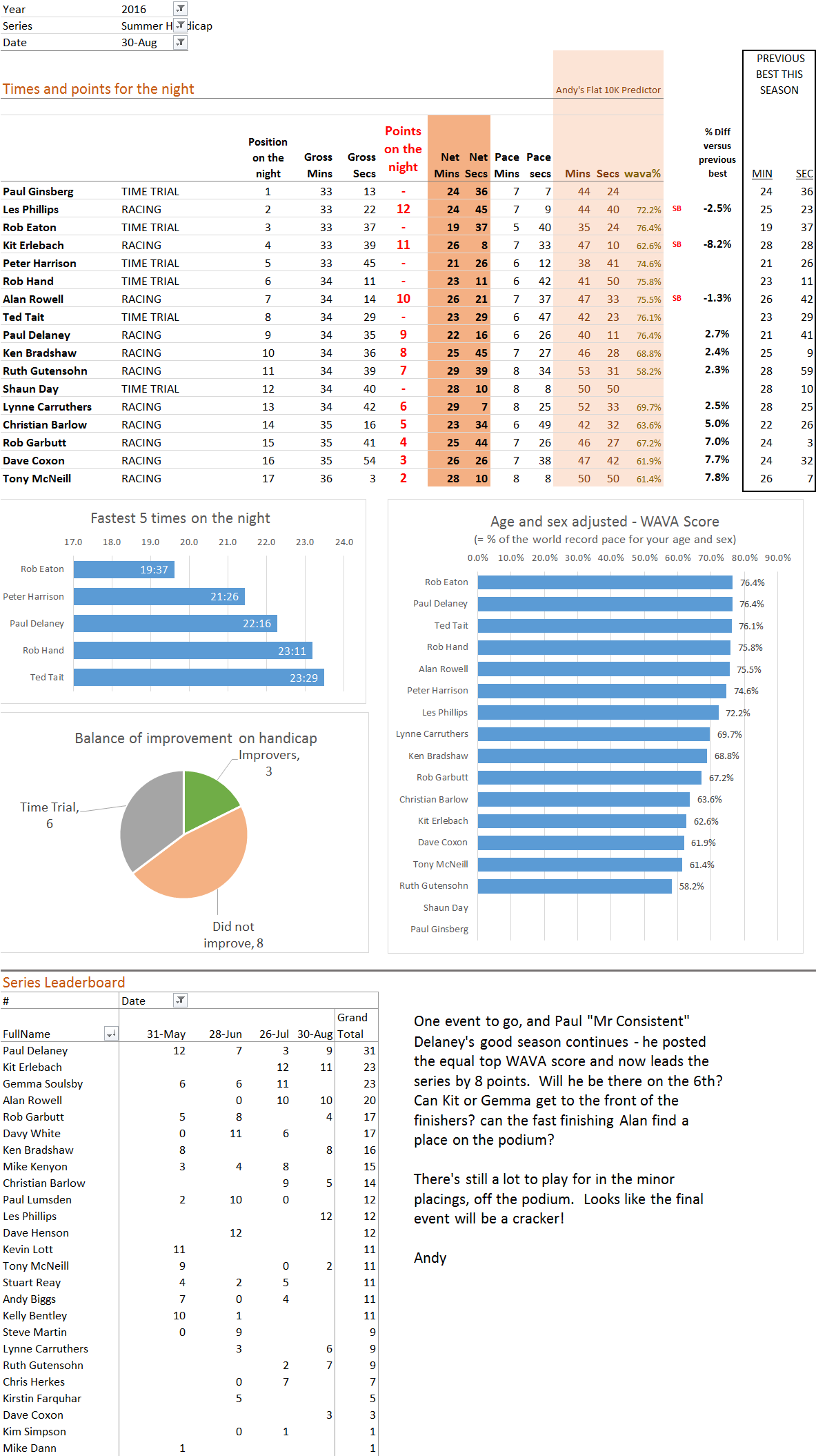 July 2016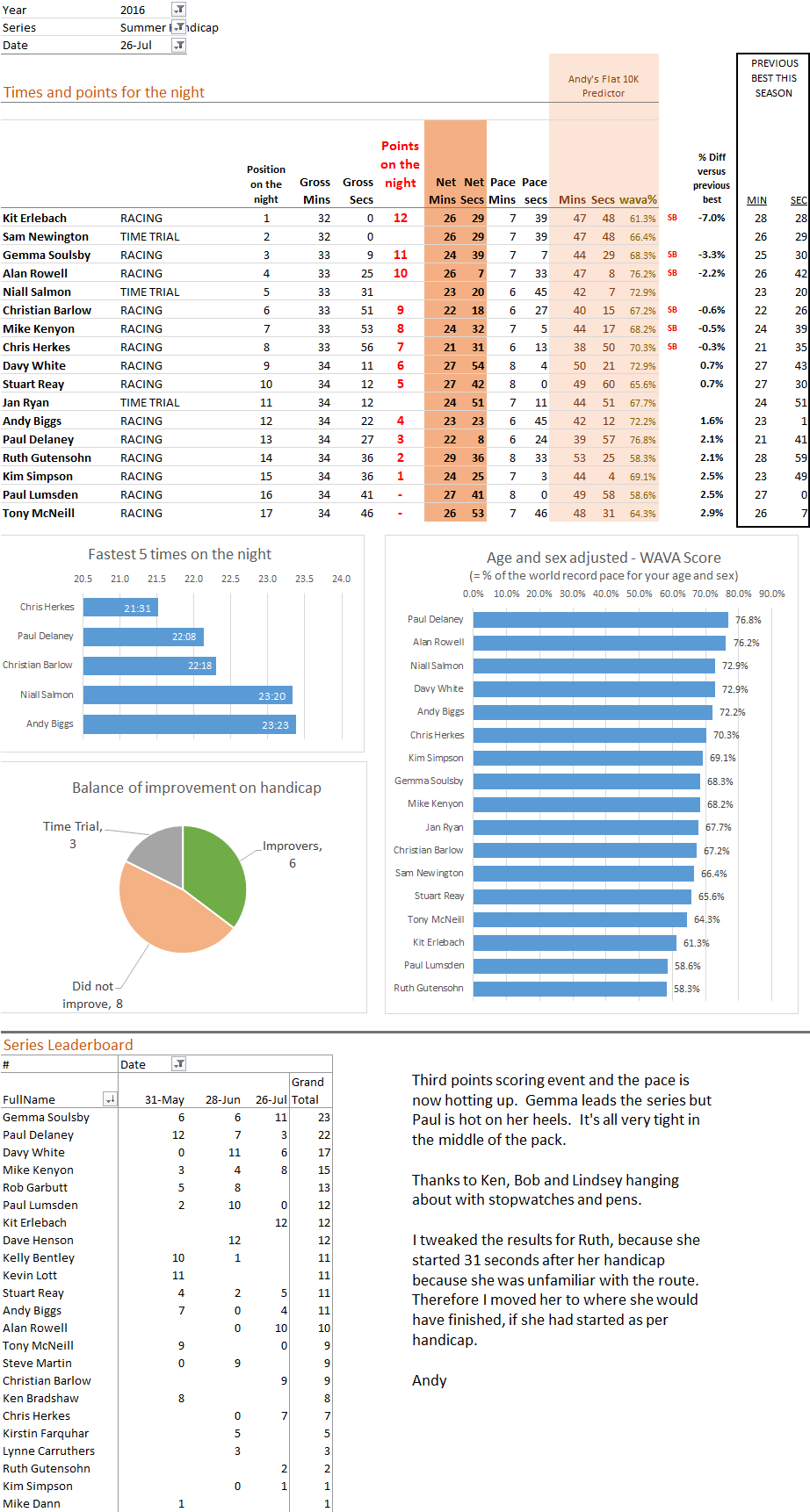 June 2016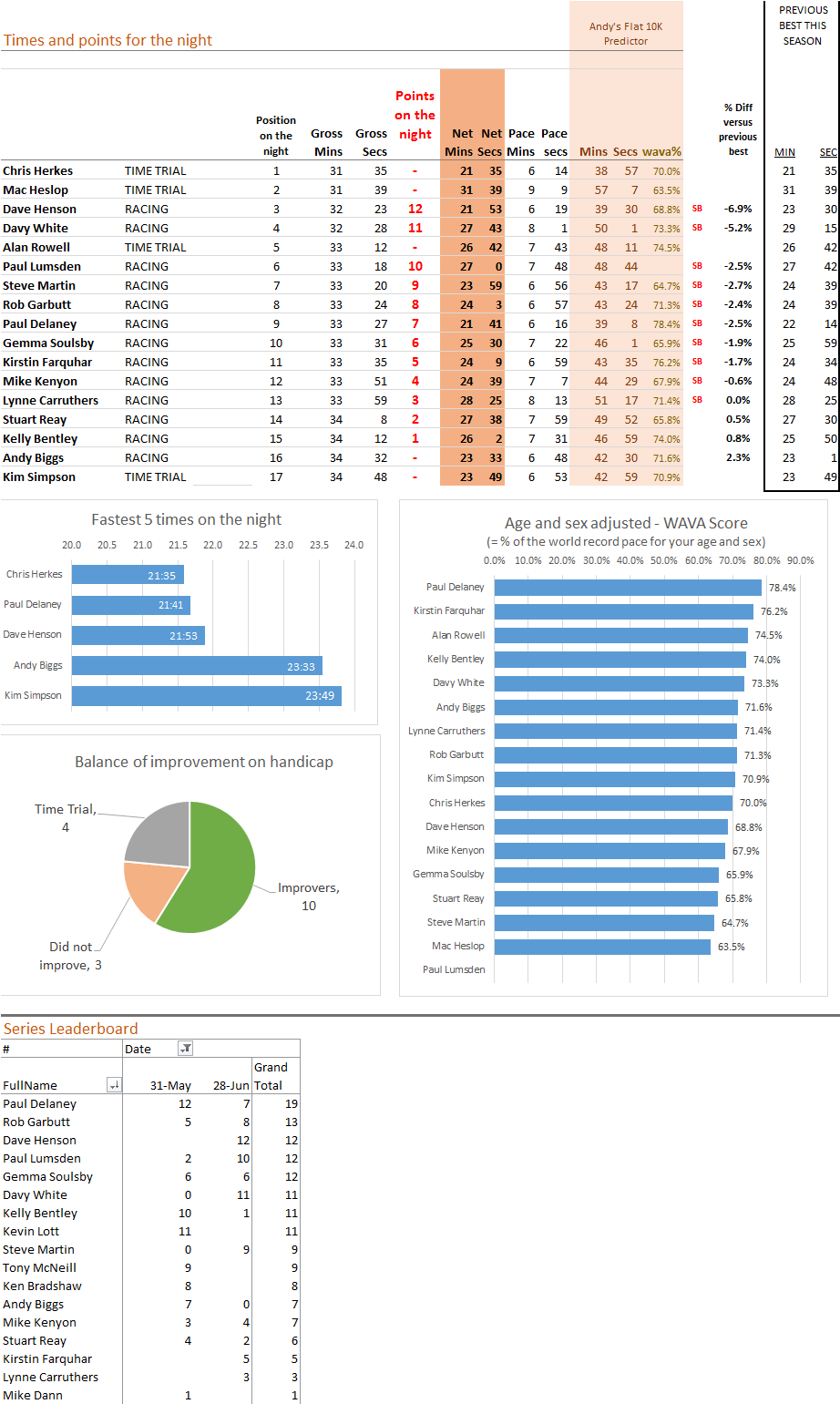 May 2016
More unseasonal weather and a good turnout, considering that a few people were absent watching the cycling.  Results are below.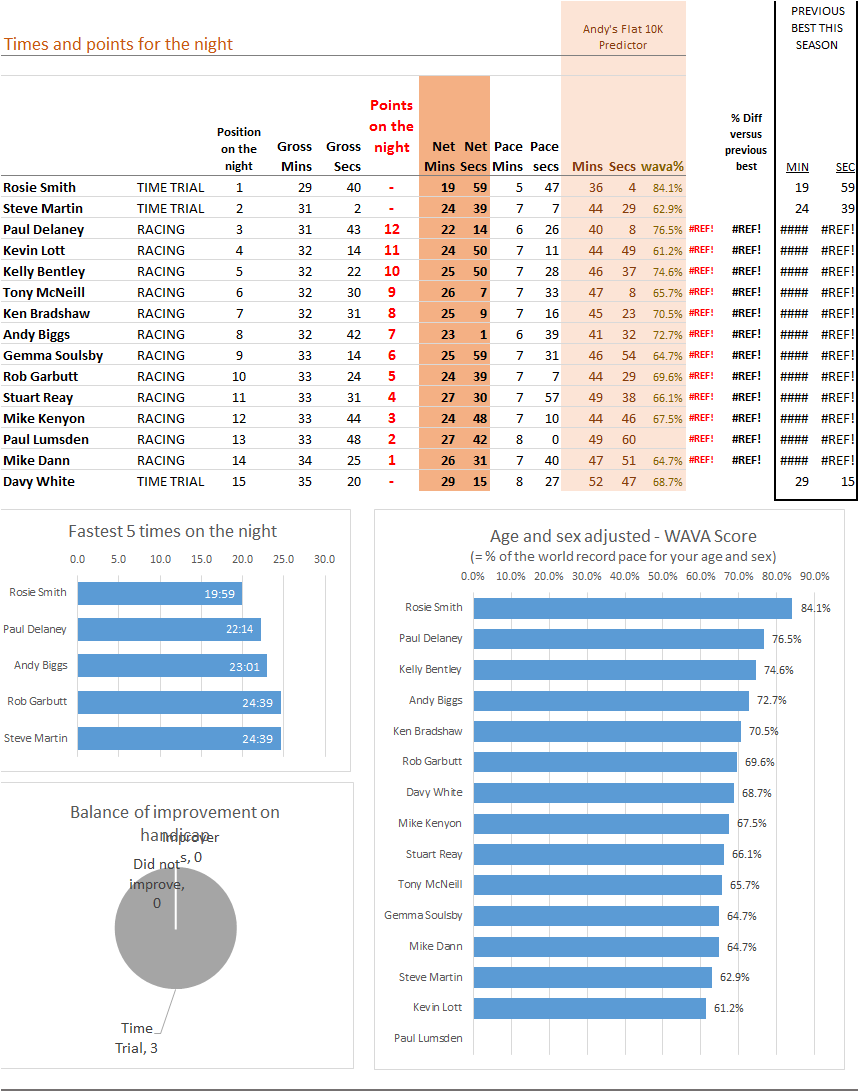 April 2016
Amazing turnout on such an awful night at the end. More like the winter handicap! Well done to all runners. Course was about 3.26 miles. Thanks to Peter and Alan for the support and great to see so many old and new faces turning out.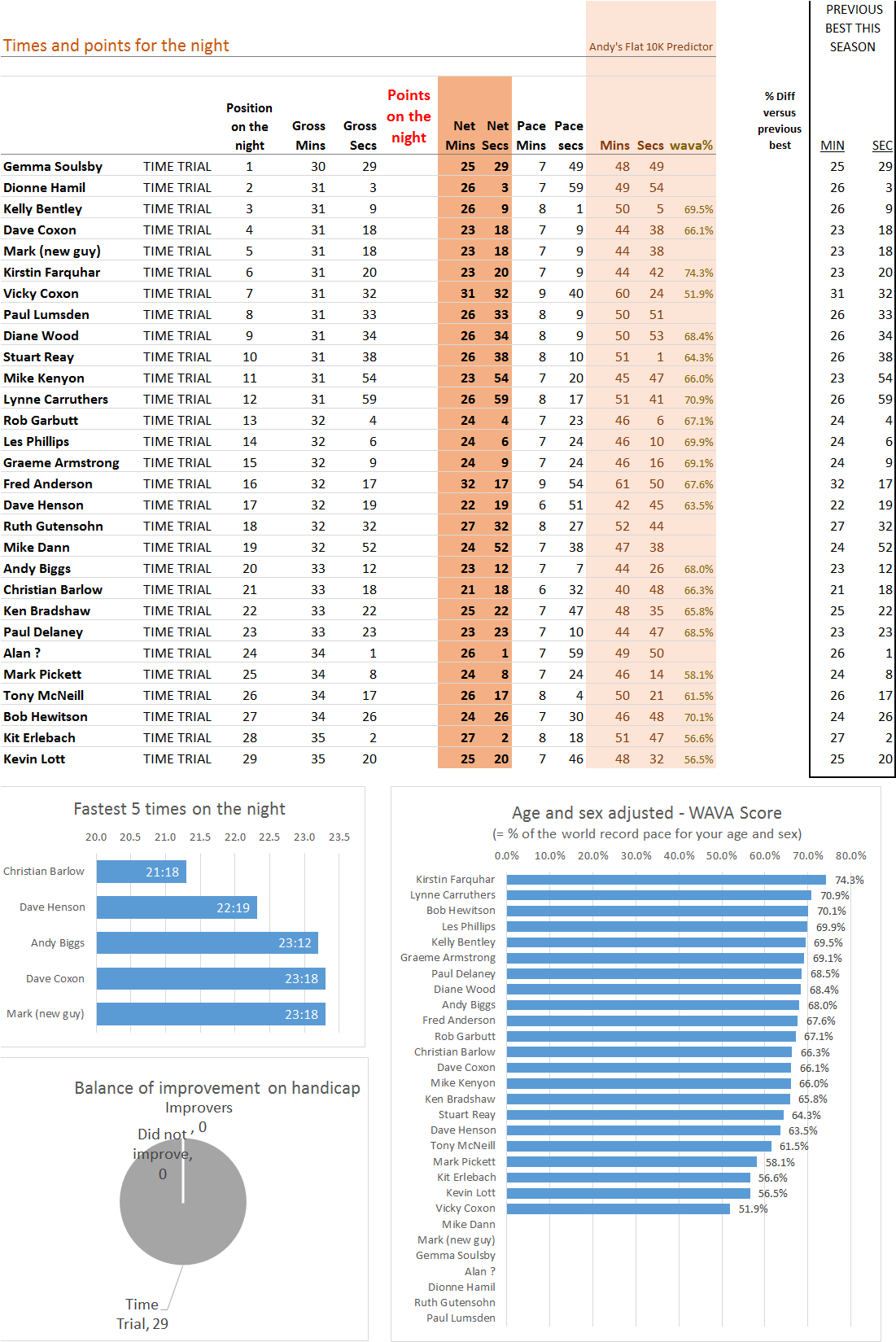 Winter Handicap 2015/16
March 2016 and series results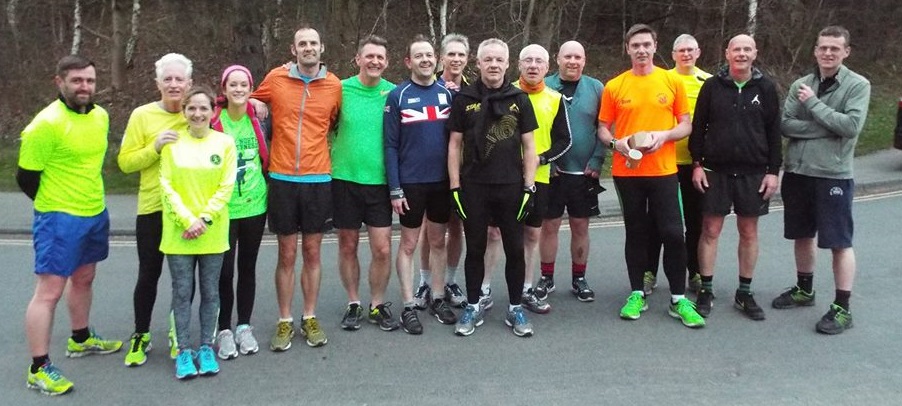 Firstly congratulations to Dave Coxon on winning the Winter Handicap 2015/16 this evening. A special mention to Kirstin who pushed him close the whole series and ran all the events. A big thanks to Stuart who also ran all five and thanks to the 38 different runners who have turned out over the winter. Thank you to Rob, Gary and Paul Bentley for their help over the winter with the timing. Last but not least thanks to Andy Biggs for the numbers which always makes interesting reading for us couch handicap setters.
Bring on the Summer Handicap!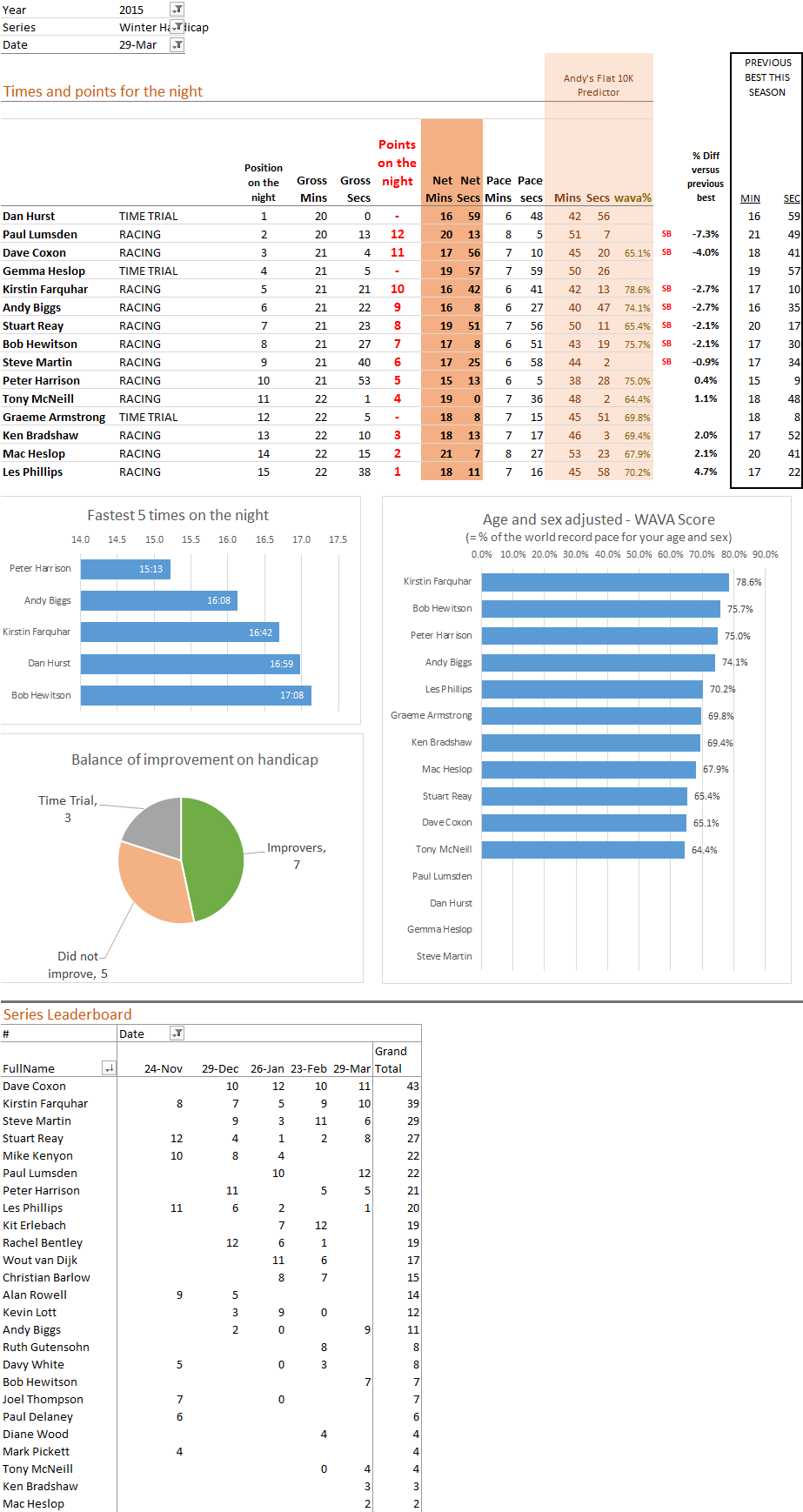 February 2016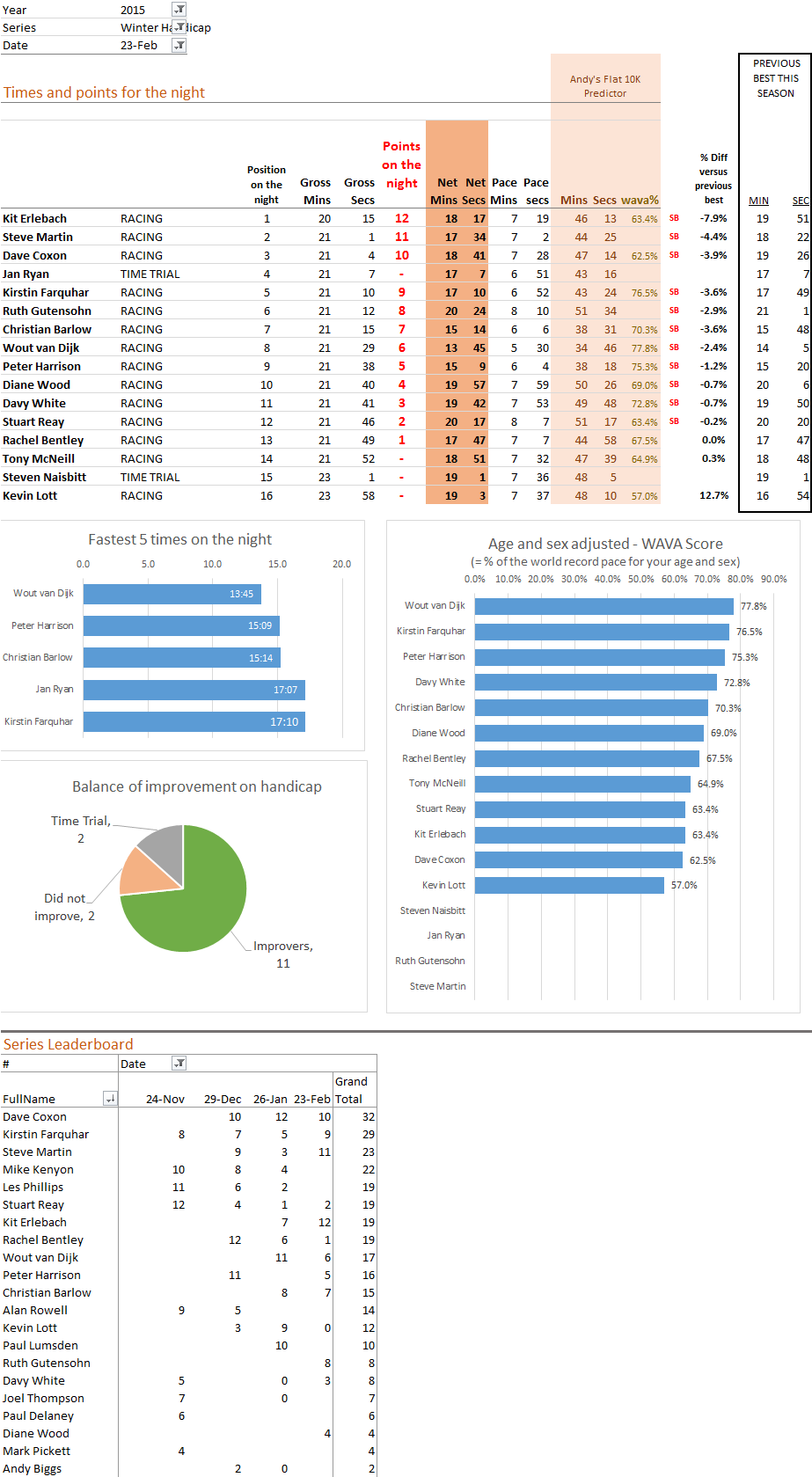 January 2016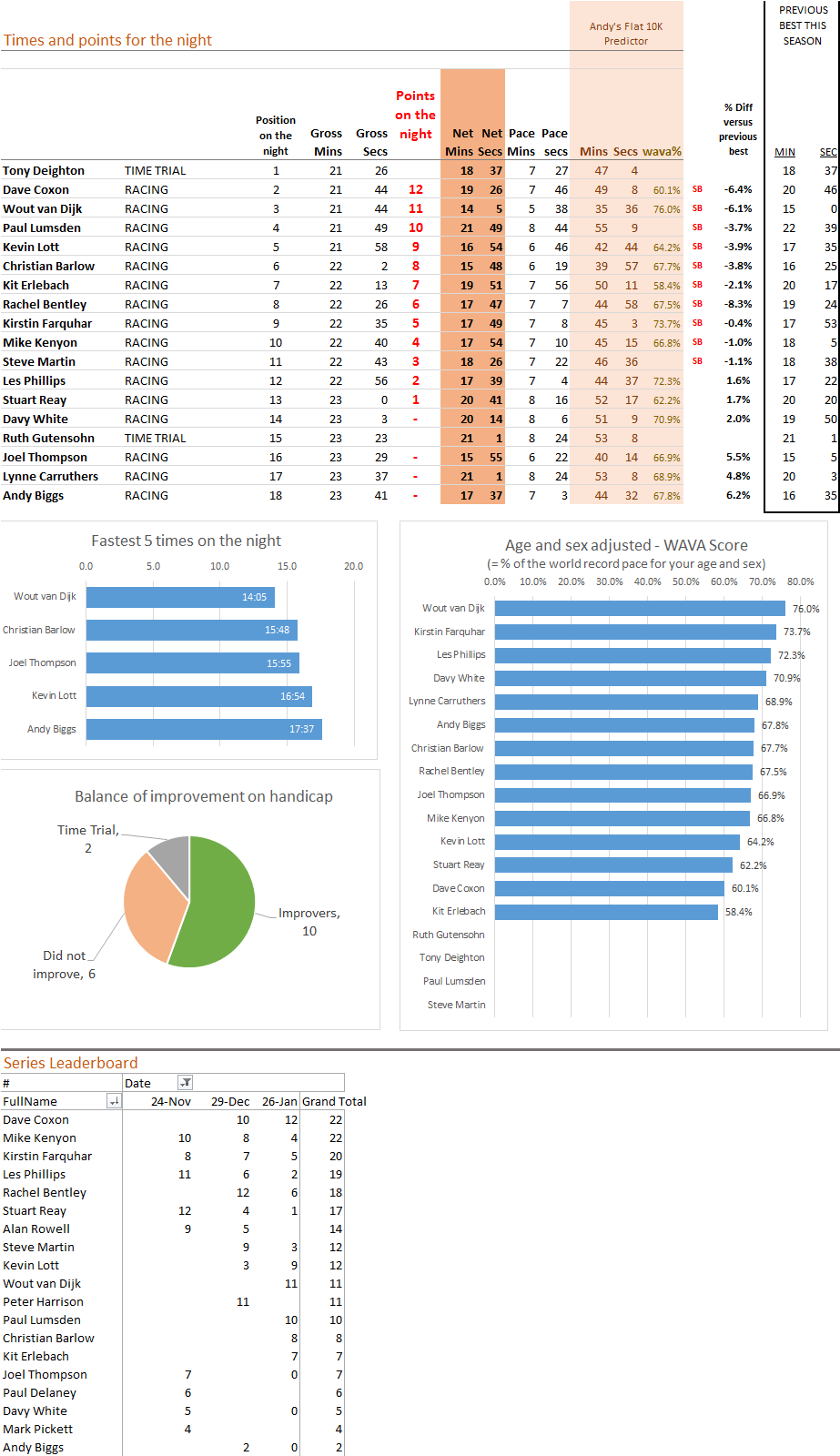 December 2015
It was a warm night (for December) and shorts were in evidence,  as was a general attitude that atonement for turkey and mince pies was in order. Rachel did her usual winter handicap trick of improving and came in first. Peter Harrison clearly had no mince pies at all over the festive period and stormed to new personal best over the winter course, nearly overtaking the whole field.  I did the reverse –  just to make sure I didn't get close enough to give anyone my cold…
If anyone is interested, I have WAVA score histories across the past two years.  Contrast Peter's (improving) and my (decreasing) fortunes against Mr Consistent – Alan Rowell, who not only outscored everyone on WAVA% in the December event, he has kept his % within a narrow band: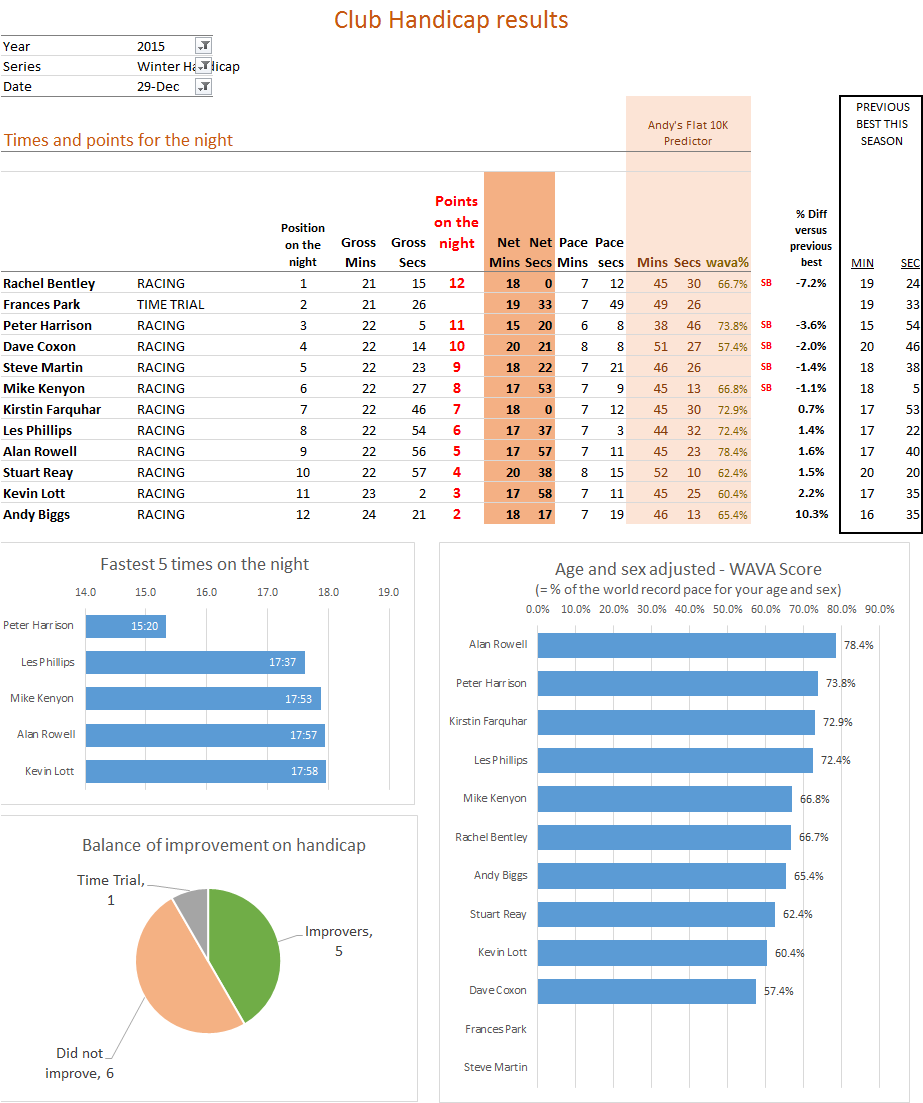 November 2015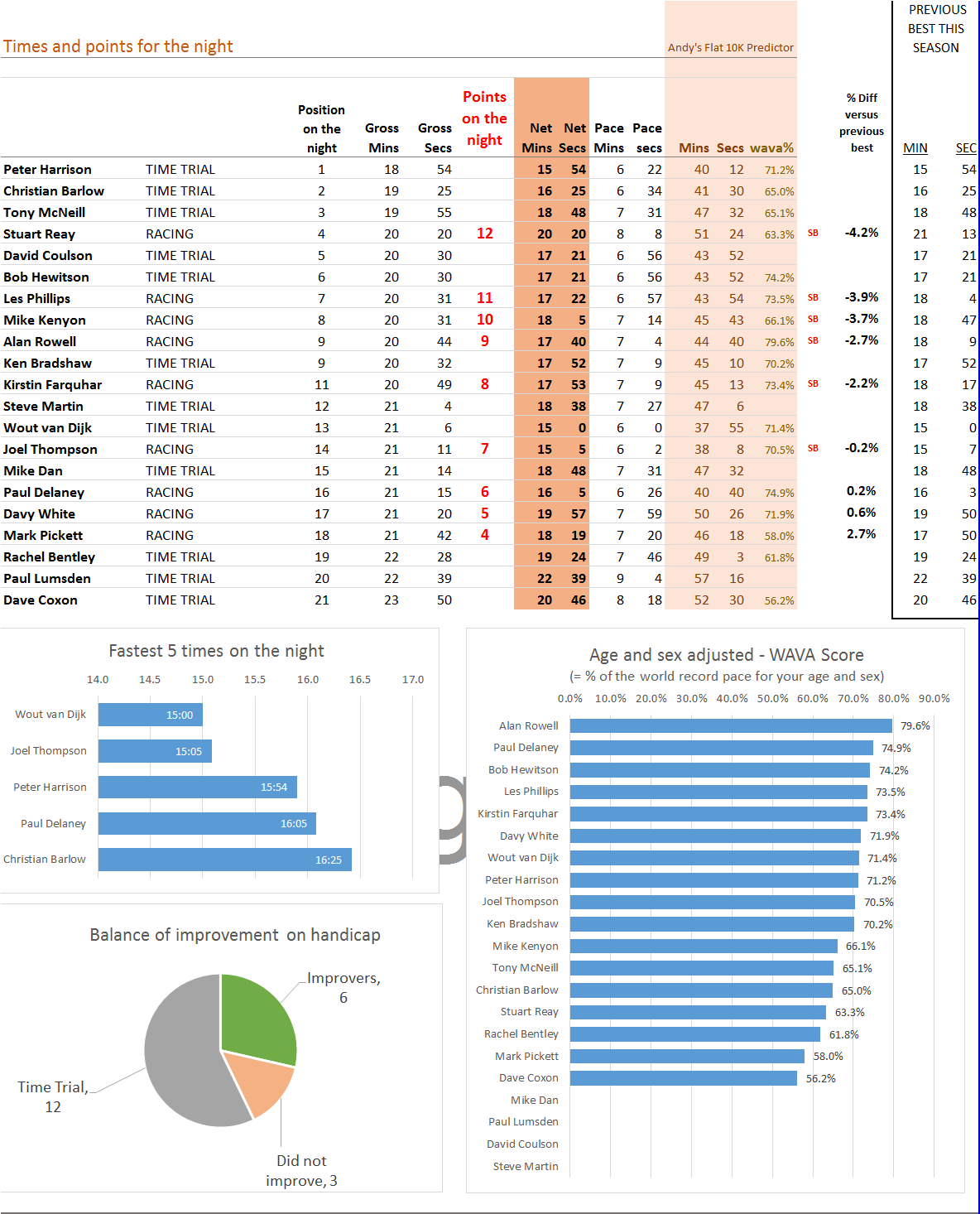 October 2015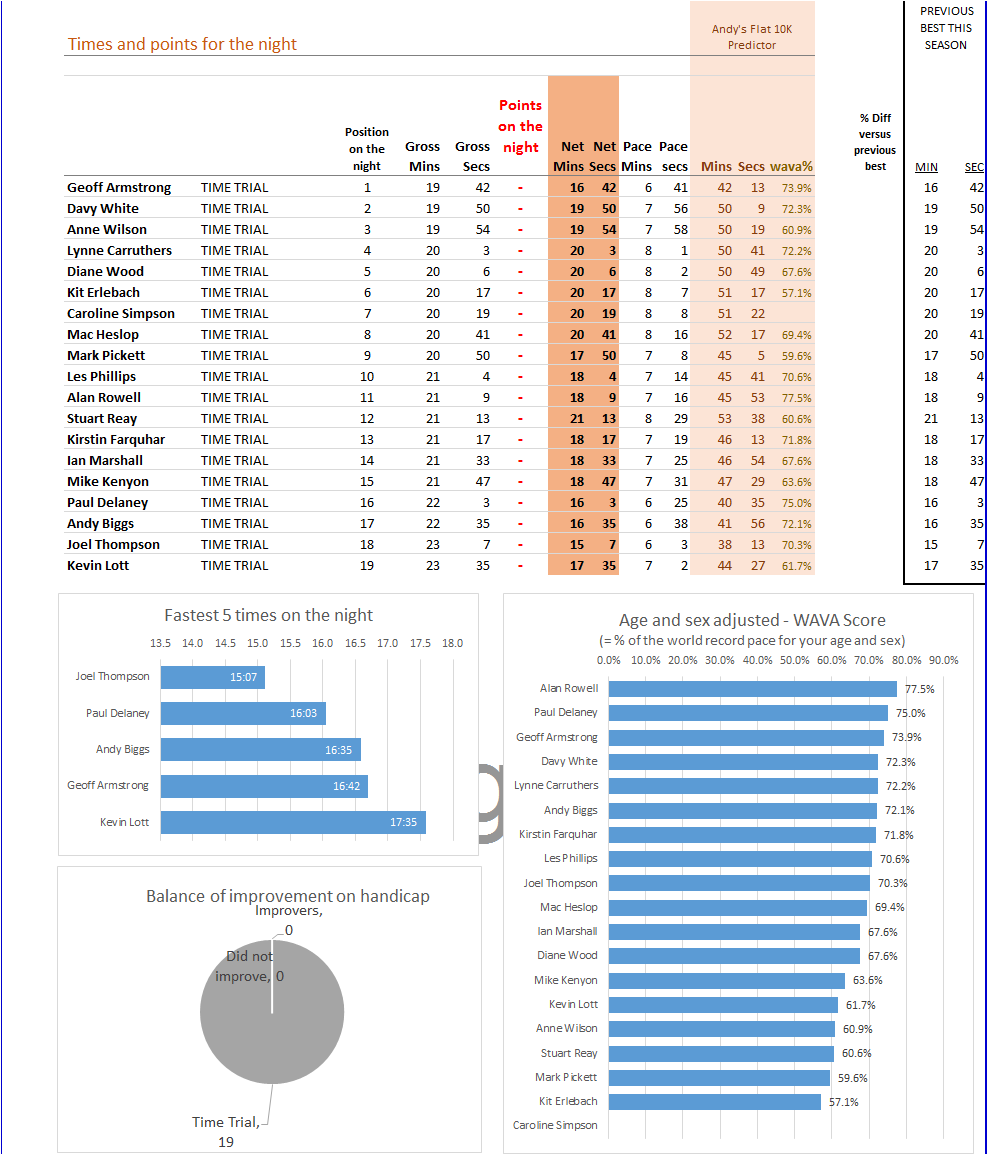 Summer Handicap 2015
September and Final series results
Congratulations to Joel Thompson on being the overall series winner by a clear margin have run all the events!   Kevin Lott was 2nd and Fred Anderson 3rd.  An honourable mention also to Kelly Bentley who also ran all the events.  Full details are below: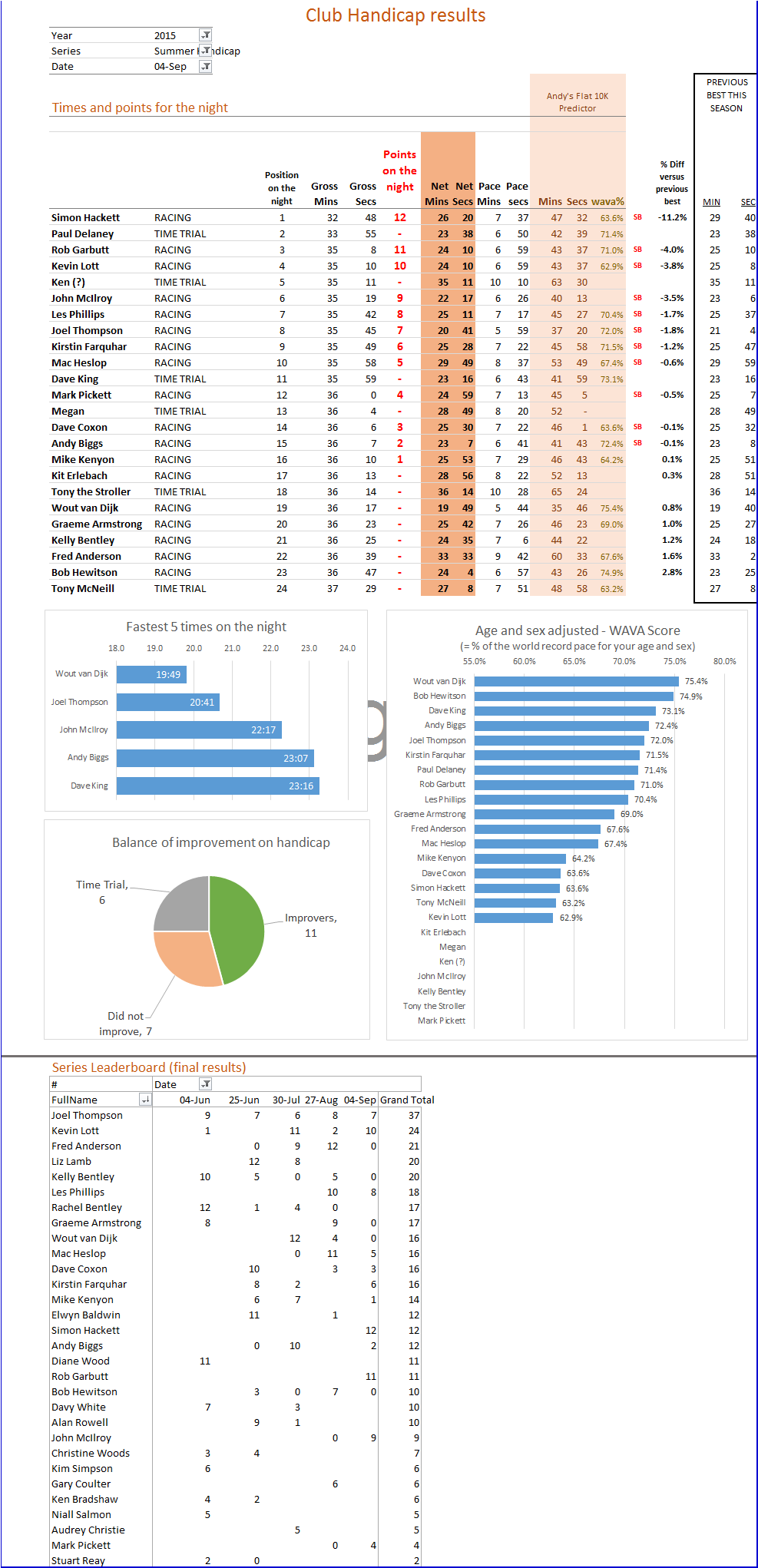 August Event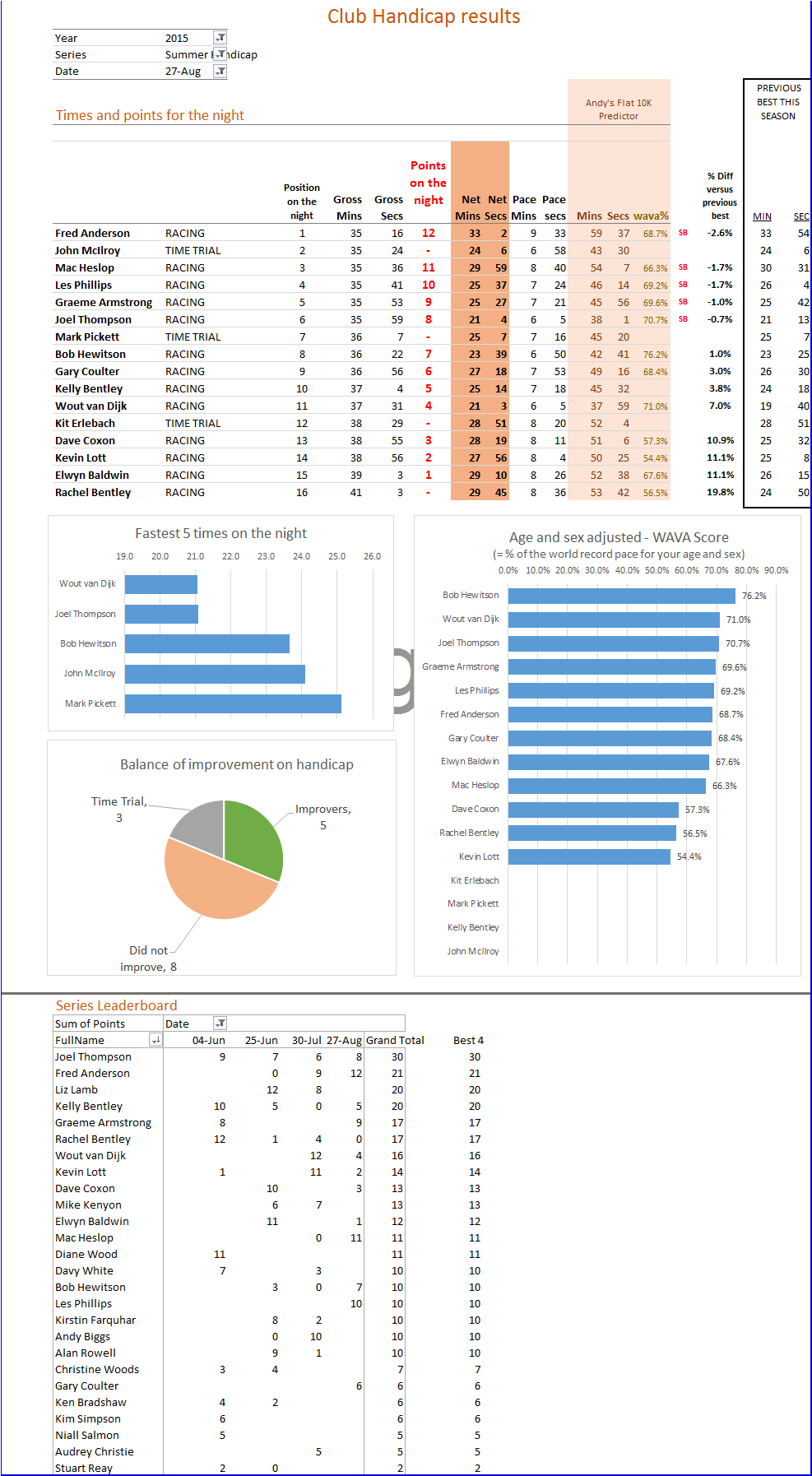 July Event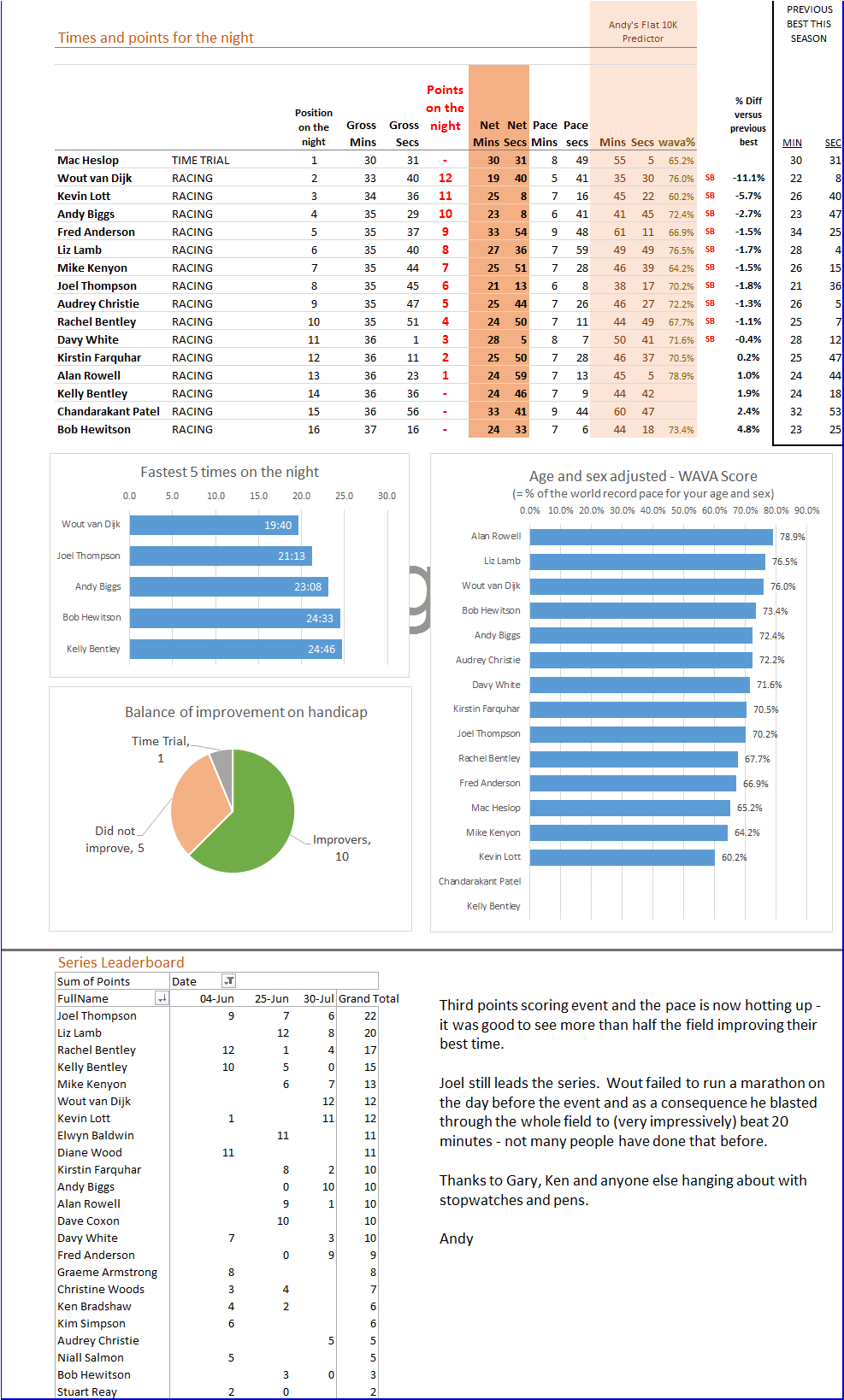 June 25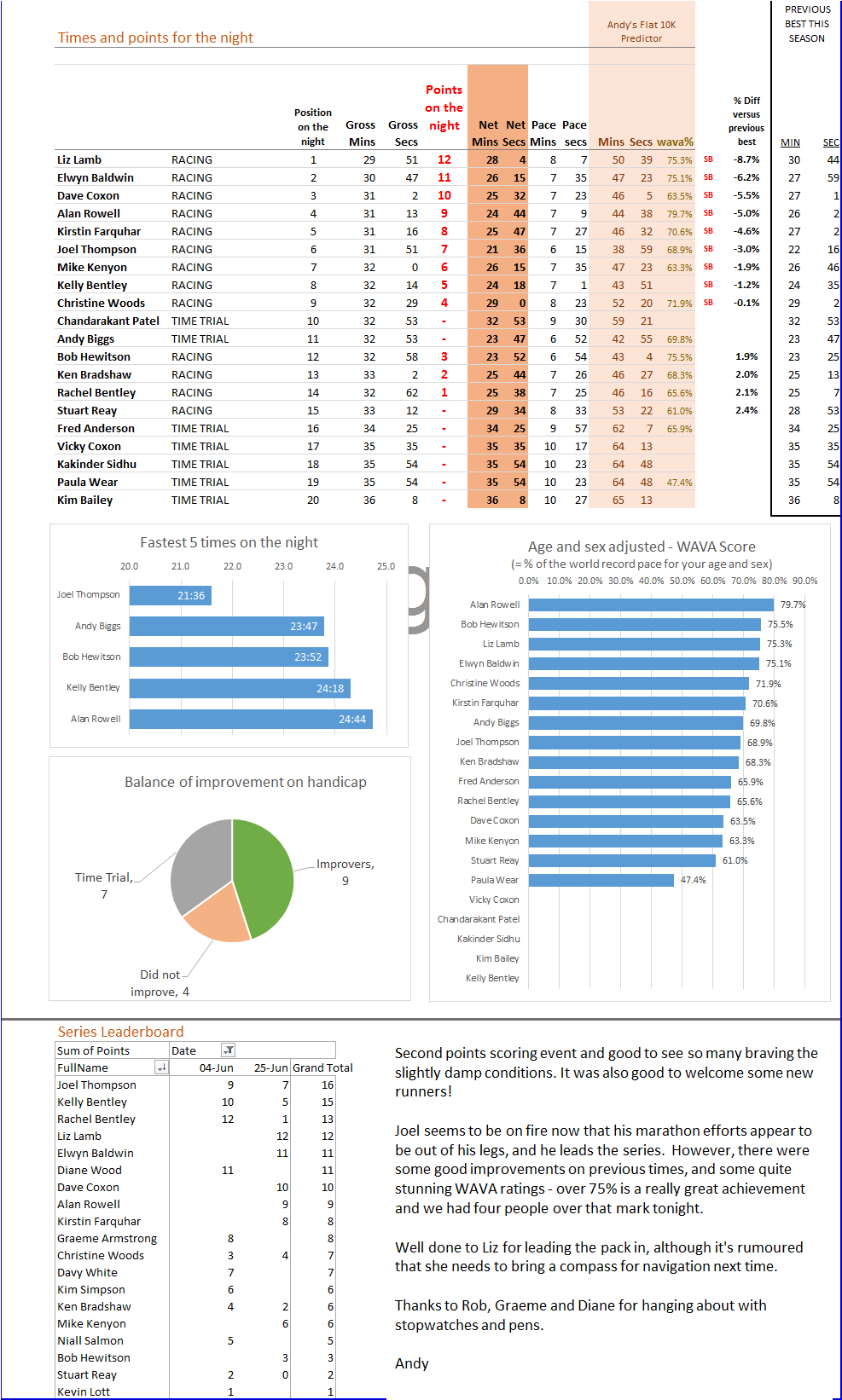 June 4 (delayed May event)
A good turnout again, and some pretty consistent running so far as WAVA score go.  First points go on the board and Rachel gets the max 12!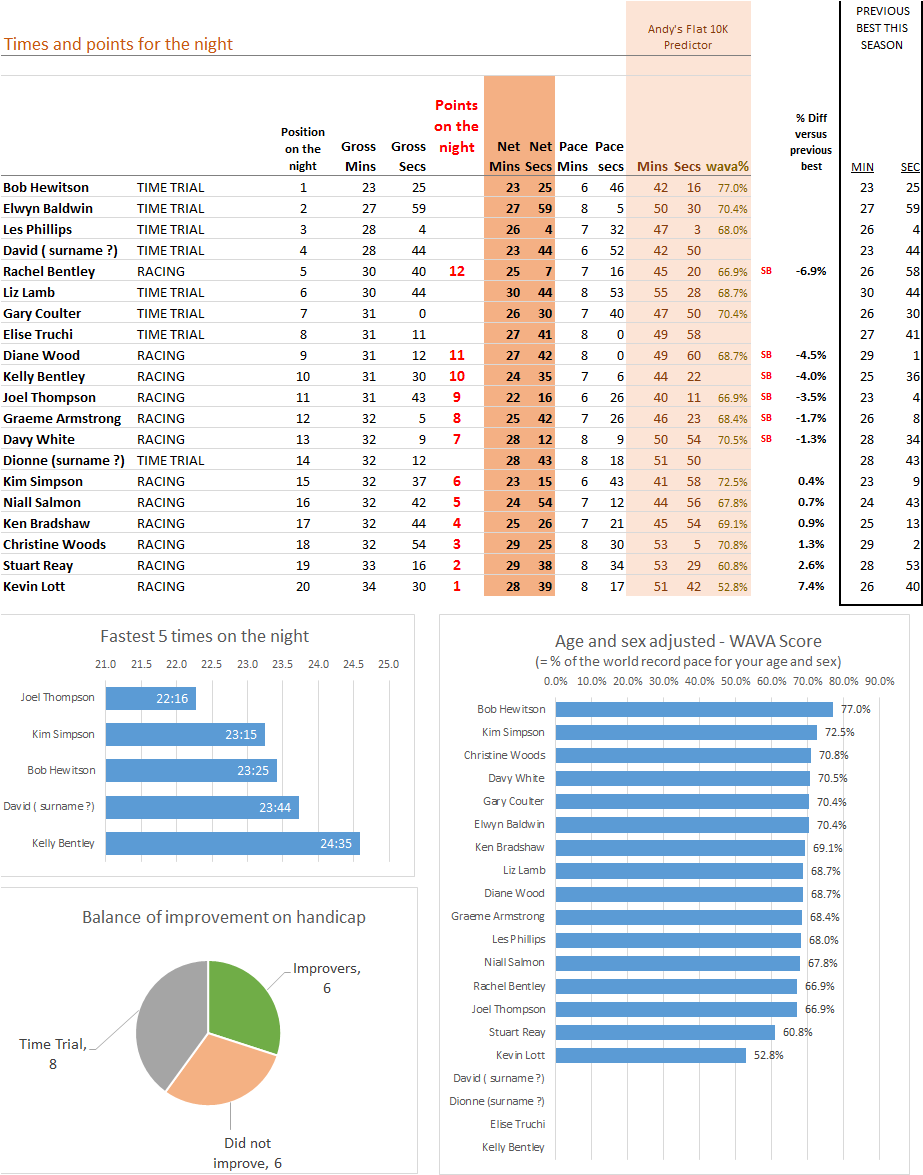 April
Kicking off with a well attended time trial.  There's no detailed commentary on these results- but we can expect a hot series this summer – with so many runners  Results and handicaps for the next event are below: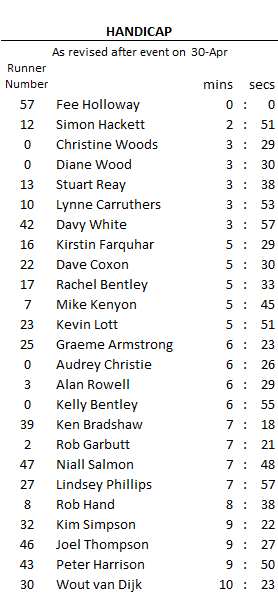 [Older results (back t0 2011) are now archived
here
]