Gateshead's Tartan Games 2013

As her competitive season at her favoured events had effectively finished at the beginning of August Samantha Coleby decided to have a bit of fun at events she had last run six years ago. Having looked at some of the club records she decided some were overdue for revision. Therefore, at Gateshead's Tartan Games she ran the 100m and the 100m hurdles.
In the former she reduced her 2007 PB of 12.71 to 12.41 – in the process setting a new club record. In the 100mh she reduced her previous PB, also from 2007, of 15.90 to 14.73. This also set a new club record; beating the previous record of 15.80 which was set in 2005!
Unfortunately, both efforts were virtual solo runs – so she might run a few more of each event in 2014! 
[divider]
Northern Athletics Championships 22/23 June 2013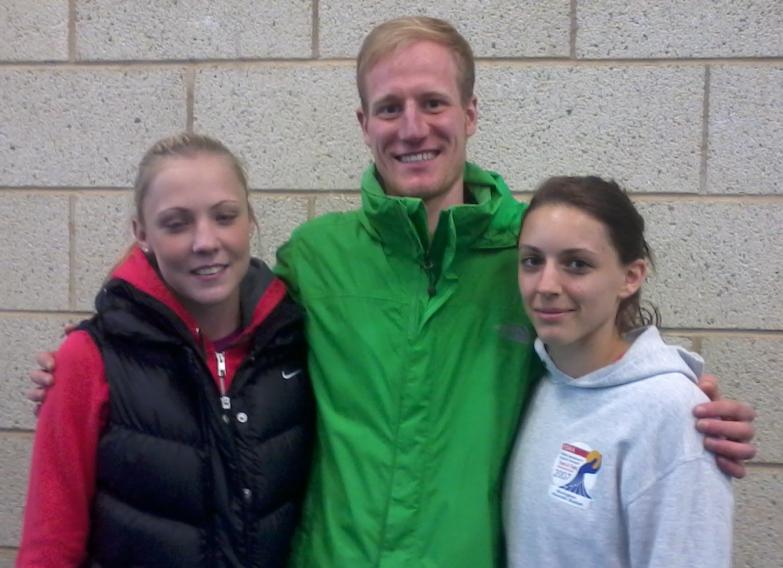 Only four Durham City Harriers competed in the Northern Athletics Championships at Sports City, Manchester over the weekend of 22nd/23rd June. However all performed with credit.
On the Saturday Gareth Phillips ran a seasons best for 400m of 51.91 in his heat and just missed out on the final. This was an excellent performance given that his training has been disrupted all summer due to his new job as an auditor which requires him to work on short assignments at varied locations around the north of England – which is very disruptive to his training aspirations.
The photo shows (left to right) Sophie Wood, Dan Garbutt and Samantha Coleby
celebrating at the Northern Championships.
Sophie has already had a very solid season at long jump with 6th place at the British Universities Championships and 8th in the England U/23 Championships – which saw her equaling the club record of 5.69. At the Northern Championships she produced an excellent 5.62 in less than perfect conditions to win a bronze medal.
Dan took the gold medal at the Northern Championships in a slow, tactical 1500m race which saw any one of about five athletes still in contention with 50m left to run. Dan's time of 3:58 saw him squeeze home by 9/100th's of a second!
Samantha managed an even smaller margin of 6/100th's when coming from behind to take gold in the 400m hurdles in her first appearance as a senior at the Northern Championships – in doing so she finished ahead of Nisha Desai who was a fellow finalist in last years Olympic Trials – and who had won the Northern 400m title for the previous six years!
[divider]
NE Track and Field Championships Gateshead 24/26 May 2013
Samantha Coleby produced two new club records when achieving a double of wins at the North Eastern CountiesTrack and Field Championships at Gateshead International Stadium over the weekend of 25th/26th may.
On the Saturday Samantha enjoyed a comfortable win over 200m and, in doing so, improved her PB and club record of 25.26 which she set at Leeds on April 20th this year – taking it down to 25.08. Whilst reasonably happy with her run she was very frustrated that a bad stumble out of the blocks probably cost her a 24.90+ time. As it is unlikely that she will run any more 200m races this year she may have to wait until next season to make further improvement to the club standard.
Her frustrations were eased somewhat the following day when she reduced her 400m PB, and club record, from 55.28 to 54.80 in winning the county title.
The 400m time particularly is a reasonable performance on the national stage – but it is very encouraging in terms of her prospects for significant improvement over her 400mh main event. Although she is already top ten ranked in the UK for 2013 at 400mh, her 58.92 set in finishing second in her race at the Loughborough International meeting on 19th May is clearly due for revision.
[divider]
Leeds Met Meeting April 20 2013
A number of university and club members competed at the Inter University match at Leeds Metropolitan University on Saturday, April 20th – including members of the long sprint training group who produced some pleasing performances.
Tom Kearns from the university who is also a member of the harriers. reduced his 400m personal best from 52.90 to 52.57 in just losing out on 3rd place in his race.
Another member of the long sprint group who showed she has wintered well was the universities' Elana Dimmer who finished 4th in the 400m in a new PB of 61.11 – improving her previous PB of 62.10 set the previous weekend.
Samantha Coleby won the 400m by over 40 metres with a PB and club record equaling performance of 55.28. As second place was over 60secs it is probable that Samantha will improve further when she has the chance to be in a race.
Despite this fine performance Samantha had a frustrating day as she traveled to Leeds expecting to race over 400m hurdles – only for the race to be cancelled due to the lack of competitors. So, after warming up for her hurdles race she had to then sit around for a couple of hours and decide what to do instead. So, prior to her 400m
win she ran in the 200m B race which she won comfortably in a lifetime best and new club record of 25.26 – despite a strong breeze into the face all sprinters on the bend and in the finishing straight. Samantha's 200m time was faster than the winner of the A race.
Leeds based harrier Sophie Wood was second in the 200m A race in 26.13 which followed another fine win in the long jump with 5.62 – only two centimetres short of her PB set two weeks earlier when winning at Wakefield.
Dan Holden, who has had his training curtailed due to a niggling injury, threw 48.99m for third place in the javelin. With no adverse reaction post event, it is hoped Dan can now resume full training and make further progress this summer
[divider]
Wakefield Open Meeting 6/7 April 2013
4 Durham City Harriers opened their track season last weekend at the Wakefield Open Meeting and produced performances that suggest that they are on course to make improvements on their personal bests.
Sophie Wood won the senior womens long jump with a personal best of 5.64 metres, was 3rd in the 100 metres in 12.84 and 5th in the 200 metres.
Samantha Coleby won the senior womens 400 metres hurdles in 59.35, a time that currently ranks her 2nd in this years UK rankings. She followed this with a win in the 400 metres in 55.80 – both times are just half a second outside her best.
Gareth Phillips was 2nd in the senior mens 400 metres in 52.10 and shortly afterwards ran a time of 23.78 for 7th in the 200 metres.
Carlo Hill ran his first ever track race after starting athletics 6 months ago and finished 5th in the senior mens 400 metres in 54.07
[divider]
Northern Indoor Championships February 2013
Two athletes from Durham City Harriers turned out for the Northern Counties Indoor Championships and both athletes were very successful. Joseph Downing, competing in the under 13 boys age group, won 2 silver medals finishing 2nd the high jump and shot putt. He also picked up bronze medals in the long jump and 60 metres. Samantha Coleby won the senior womens 60 metres hurdles, just missing the championship best performance by 6/100ths of a second.
[divider]
Northern Indoor Championships  12/13 January 2013
Disappointingly there were only 3 Durham City Harriers entered for the Northern Indoor championships at Sheffield last weekend. However, those that did compete showed that their winter training is getting them into good shape for the coming summer track season.
There were 2 senior women 800 metre runners – Emma Toogood, just getting back into racing after injury, was 3rd in her heat in 2.23.60 but just missed the final by one place. Samantha Coleby, more used to 400 metre hurdles, was running this distance for the first time in over 6 years and improved her personal best by 9 seconds recording 2.14.05 to qualify for the final where she finished 6th.
Gareth Phillips just missed qualifying for the semi final of the senior mens 400 metres by one place recording a time of 52.26.