Leeds Abbey Dash 17.11.13
Congratulations to all who ran in this fast race. Some great times and personal bests. Particularly happy will be David – check the results below! Also to Paul who got a pb despite having missed a lot of training due to injury. Also a pb for John who is running well after all that marathon training.
| | |
| --- | --- |
| Dan Jenkin | 31.45 |
| Jonny Wilkinson | 33.59 |
| John McElroy | 35.54 |
| Chris Wilkinson | 39.05 |
| David Henson | 39.59 |
| Paul Delaney | 41.42 |
Apologies to any missing from list. Hard to check on results on their Webpage.
Full results are here.
[divider]
Town Moor 10K 10.11.13
A great entry to this year's Town Moor 10k with some 14 Club members making their way to Newcastle for this popular race. In the event there was tremendous success for the club with many coming away with prizes. Chloe was second in the Senior Women's race in the great time of 36.43.  Lizzie was second in the Women's V55, Alan was second in the Men's V65 and Fantastic Fred was first in the Men's V75. Well done to all and to all the others who raced and achieved some excellent times and pbs. This was the second race in the Winter Grand Prix Series. Positions can be found here.
Club Results are here
[divider]
Derwentwater 10 3.11.2013 (report by Alan Rowell)

Strange how these things keep happening! We were going for a two night stay at a 'posh' hotel in Windermere ( a present from daughters) and I happened to notice this race. Well, one can't miss an opportunity like that, so I entered. It started at a very sensible time, noon, in Keswick Main Street, with changing in the local school. Lots of very fit looking bods running around before the start and another DCH, Rachel Bentley, who is working in the area. The route is all road, around the lake, finishing at the school. It is undulating, with one very long mile uphill drag at 5 miles, but very picturesque with great views of the lake. Well organised, they have had plenty of practice as it's in its 54th year. One to do again, especially if the weather is good, so you can appreciate the scenery.
Alan 73 min 2nd 0/65 Rachel 78 mins
PS there were no Elvet Striders running, the first race I have run without seeing the purple vest. Where were you Jon Ayres?
[divider]
Gibside Fruit Bowl 
This year saw a large increase in the number of Harriers attempting this very tough local trail race round the Gibside Estate. In total 10 runners from the club turned up to do battle with the not very flat course. First home for the club was Dave King in a good time of 47.41 in 40th position, a couple of minutes ahead of Dave Henson who was followed in by Dave Coxon and Paul Delaney in just over 53minutes. Then came Bob in 54.32, Mike in 57.05 and Mark in 57.19. Congrats to Liz who has been running really well recently, coming in in 59.14 (second F O55?). Also to Lynne 65.12 and stalwart racer Fred – 69.35 – impressive in the O75 class.
This race was the first in the Winter Grand Prix Series and Dave took the top slot of
8 points. Check the points table
 here
 and the club results.
Click
 here
 for full results
[divider]
Richmond Castle 10k 13.10.13
5 Harriers completed this testing course last Sunday and there were great performances all around. Another impressive win for James Askew in a good time on this not flat course. Dave was 41st to be the second club member home followed by Matthew, Fred and Joe.
[divider]
Great North Run 15.9.13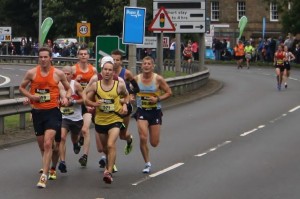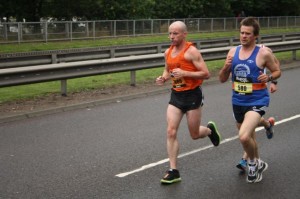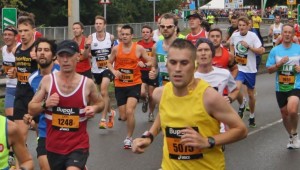 This was a day that orange was a good colour – spotting club vests wasn't as hard as it might have been while standing near Heworth roundabout. Good turnout and great effort on what was hardly the easiest day for running with the weather being pretty squally and at times pretty wet. The wind also seemed to be swirling around
great effort on what was hardly the easiest day for running with the weather being pretty squally and at times pretty wet. The wind also seemed to be swirling around
[divider]
Tynedale 10 mile 1.9.13
Excellent turn out from the Harriers with some 13 runners completing this not too flat point to point race from Hexham to Ovingham. Continuing his excellent performances to date Dan Jenkin was fourth over the line in a really good time of 52.38. There were many good runs on the day with Alan and Elwyn picking up category prizes in the O65 group- 1st and 2nd respectively and Kirstin winning a VAANE medal. Peter Harrison sealed off a good summer by collecting enough points to win the Summer Grand Prix.
Check out the Harriers results 
here
[divider]
Ray Harris Memorial 10K 18.8.13 report by Anth
A bright and breezy day for this decent local race.Three Durham City Harriers ran with good performances especially by Rosie who finished 1st female, 7th overall and Jonathan Baines finishing also in the top ten at 9th position.Name Category Club Time Pace/KM Position
SMITH, Rosie
 Female Open Durham City Harriers 
0:34:52
 00:03:29 
7th (1st Female)
BAINES, Jonathan
 Male Open Durham City Harriers 
0:35:31
 00:03:33 
9th
HUNT, Anthony
 Male 40+ Durham City Harriers 
0:37:56
 00:03:48 
24th
It's my second time running this, with both attempts being one week after the Darlington 10k. Last time I followed a 10k PB at Darlington in 2011 with a slower time and today was the same finishing around 30 seconds behind last week. A quick glance at
other runners finishing above me who also ran Darlington indicated a similar trend with variations between 30 seconds and 60 seconds slower generally. So, I am pleased with my time. The breeze was quite strong into our faces as we turned for the last 2-3 km home which definetly slowed me a little but not by 30 seconds. I think it is just a slower course than Darlington.
[divider]
Darlington 10k 11.8.13 report by Anth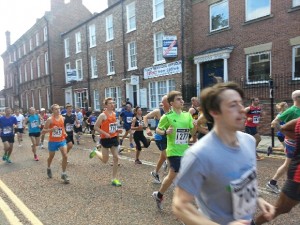 Great weather, sun, not too warm, slight breeze. I started close to front hoping to get a good start and try to best my recent 10k PB. Had a quick chat with Daniel Jenkin, Andy Biggs and Jonathan Wilkinson prior to the start. All in good spirits.The race went to plan for me as I held my target pace pretty well and finished strong to improve on my PB by a good amount. Many other good performances were had with top of the bunch being Daniel who finished 4th overall and grabbing a PB for himself. Also, Elwyn finished 2nd in the V65, Kirstin was 5th in the V40, Elizabeth was 3rd in the V55 and Fred was 3rd in the V70+. Good show for Durham. Shame Rosie wasn't around to defend her recent success of 3 consecutive wins with Alyson Dixon winning yet another local race.This is a really good race I think which always generates good support spread throughout the route. There were a few cheers for Durham coming from the crowds, including Paul Adams and Bryan among others.
[divider]
Sunderland 5k 17.7.13
There was a great turn out for this fast local race with the numbers from the club being well up on last year. Great running both at the sharp end and further down the field on what was a pretty warm night. First home in 4th place was James in 15.08 followed pretty quickly by Dan and Ben. Great run by Les who was the first vet from the club home. Many pbs were set. This was the fifth race in the Summer Grand Prix with it getting tighter at the top of the leader board.
| | | | |
| --- | --- | --- | --- |
| 4 | James Askew | 15.08 | 85.28% |
| 9 | Dan Jenkin | 15.15 | 84.59 |
| 11 | Ben Douglas | 15.34 | 82.27 |
| 36 | Jonny Wilkinson | 16.49 | 79.56 |
| 76 | Chris Wilkinson | 17.54 | 74.53 |
| 99 | Chris Herkes | 18.32 | 69.94 |
| 117 | Les Philips | 19.03 | 79.33 |
| 118 | Joel Atkin | 19.05 | 71.77 |
| 128 | David Henson | 19.31 | 66.26 |
| 144 | Peter Harrison | 20.02 | 67.63 |
| 183 | Bob Hewitson | 21.0 | 73.17 |
| 209 | Kirstin Farquhar | 22.11 | 71.32 |
| 248 | Brian Brown | 23.47 | 71.18 |
| 255 | Liz Lamb | 24.04 | 75.59 |
| 257 | Stuart Reay | 24.06 | 63.76 |
| 260 | David White | 24.10 | 70.70 |
| | | | |
Summer Grand Prix results 
here
Dan Jenkin coming home in 9th place shows his usual aggressive running …………………..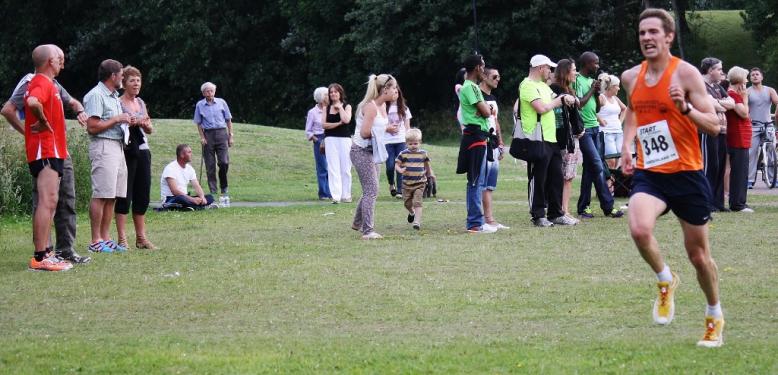 [divider]
Five Bridges 5miles 10.7.13
Well done to the three Harriers who turned out for this hot race in Newcastle. Well done to Dan for finishing third.
3rd   Dan Jenkin 26.05
72    David Henson 33.21
184   Kirstin Farquhar 37.20
[divider]
Pitstop 10k 3/7/13
Congratulations to the four Harriers who made it to Croft. Some great results with James and Rosie both winning their respective events. Nice to see Graham back again.
1st    James Askew   32.36
6th    Rosie Smith      35.22 (first female)
14th   Graham Hunt  37.03
61      David Henson    42.32
[divider]
Tynedale 10k 10.7.13
Great turn out at the Tynedale 10k this year with 9 club members making the trip North, lots more than entered for last year. A race famous for it's first mile – if you haven't run this one then worth a look at the profile 
here
.
First home was Ben coming 6th in 32.12 with Anth also getting well under 40minutes and posting a much faster time than last year. Well done to the newer
members who ran well and contribute so much to the Senior Endurance group with their tremendous enthusiasm. This was the fourth event in the Summer Grand Prix and Lynne still leads the way but there are three more races left and it's not over yet! Check out the current standings in the Summer Grand Prix 
here
.
Thanks to Rob for all the support.
DCH Results
6th       Ben Douglas 32.12 (83.39% age graded)
64th       Anth Hunt 38.04 (76.93%)
113     Les Philips 40.11 (78.28%)
168th    Peter Harrison 42.45 (65.97%)
206th   Dave Coxon 44.10 (65.3%)
210th   Bob Hewitson 44.22 (72.09%)
383rd   Liz Lamb 50.30 (74.22%)
399th   Catherine Garbutt 51.02 (59.46%)
458     Lynne Carruthers 54.05 (66.61%)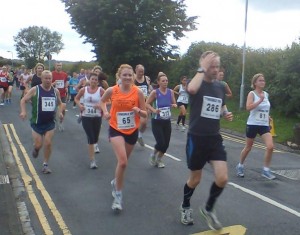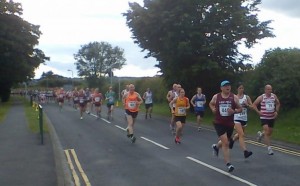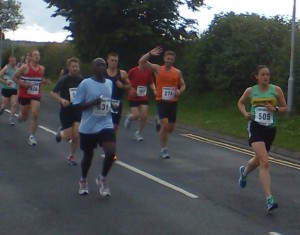 [divider]
Newton Aycliffe 10k 16.6.13
Congratulations to the six runners from the club who went down the road to Aycliffe for this local 10k. Well done to James for coming third in 33.10, another great time. Also to Amy one of our newer members. Great to see Bob out again. This was the third race in the Summer Grand Prix and points totals can be seen 
here
 with four more races to go.
Results were
3rd James Askew 33.10 (80.99% age graded)
34 Chris Herkes 39.23 (68.5)
93 Amy Etherington 44.11 (70.14)
115 Bob Hewitson 45.35 (70.16)
186 Stuart Reay 51.56 (61.59)
217 Lynne Carruthers (65.74)
[divider]
Penshaw Hill race 5.6.13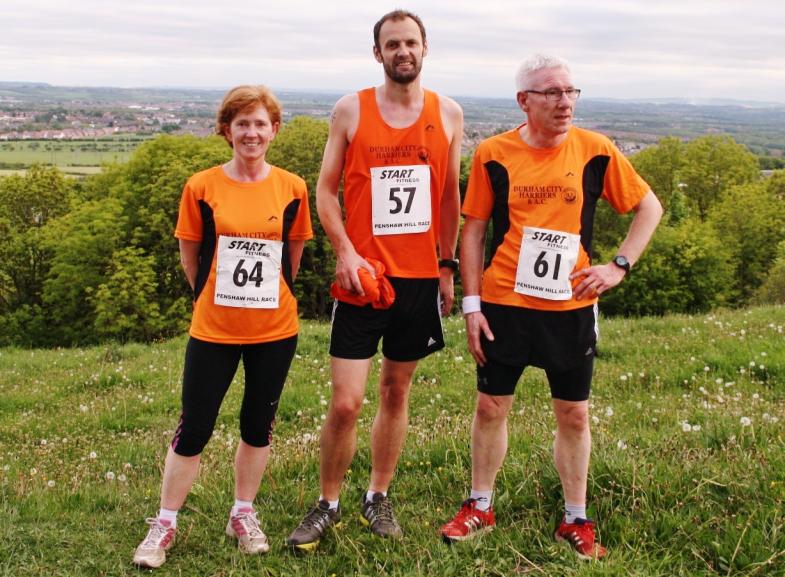 Congratulations to Peter, Stuart and Lynne who turned out for this tough little run of about 5k. A great evening with plenty of support on the hill to the finish. Tremendous view over the surrounding area too.
Results:
47 Peter Harrison 22.12 (61.03% age graded)
88 Stuart Reay 25.46 (59.64%)
100 Lynne Carruthers (62.12%)
Lynne moves into the lead in the Grand Prix. Check out 
here
[divider]
Allendale 8 1.6.13
Congratulations to the two hardy Harriers who ran in the tough Allendale 8. First home for the club in 8th position was John McElroy who ran a really strong race to finish in 48:36. In 62nd position was Bob Hewitson who finished in 59:56. Great to see Bob racing again.
[divider]
Clive Cookson 10k 22.5.13
Results
111 Dave Henson 41.36 (64.71)
117 Rob Garbutt 41.41 (73,06)
155 Peter Harrison 43.06 (65.43)
156 Paul Delaney 43.12 (69.38)
170 Dave Coxon 43.50 (65.79)
281 Stuart Reay 49.44 (64.31)
300 Lynne Carruthers 51.15 (69.39)
[divider]
Neptune Relays 1.5.13 

report by Geoff Watson
Durham City successfully defended their female title at the Neptune relays on
Wednesday in what was the largest field so far in the event. Around ninety teams competed over the 1.6 mile circuit around the Serpentine lake at Hardwick Park. What makes the win more astonishing is that it wasn't a senior all stars team, but mainly an all star U15 team that led the 40 plus teams of female runners home. Rebecca Mott took the 'A' leg finishing 38th (10:19) followed by Courtney Price, 47th (11:44), Aysha Hall, 43rd (11:02) and Chloe Price 36th (9:03) on the anchor leg. The team recorded a time of 42:08, 15 seconds ahead of 2nd place Tynebridge.Crook AC took 3rd. They finished 36th overall.
In the men's race stiffer competition lined up at the start than in previous years.
Durham's 'A' team had their work cut out. Jonna Baines led the 'A' team away whilst Dave Scullion led off for the 'B' team. At the end of the 1st leg the Jonna finished 6th (8:13) with Dave in 48th (10:42). Chris Wilkinson took on the 2nd leg and finished in 9th (9:09). Geoff Watson took the 2nd leg for the B team coming back in 41st (10:37). Third leg on the A was Jonathan Wilkisnon who held the team place at 9th (8:42) whilst on the B team Cliff Featherstone (V60) made his Harriers comeback moving the team up to 33rd (10:21). Michael Grimes took the final leg on the A team finishing 5th overall (8:16) with the Jonna Baines doubling up to lead the B team home in 27th (8:27). A good evening overall with some fine performances especially from the girls.
[divider]
Congratulations to Chloe Price who came 16th and first woman.
[divider]
Longtown 10  6.4.2013 
report by Alan Rowell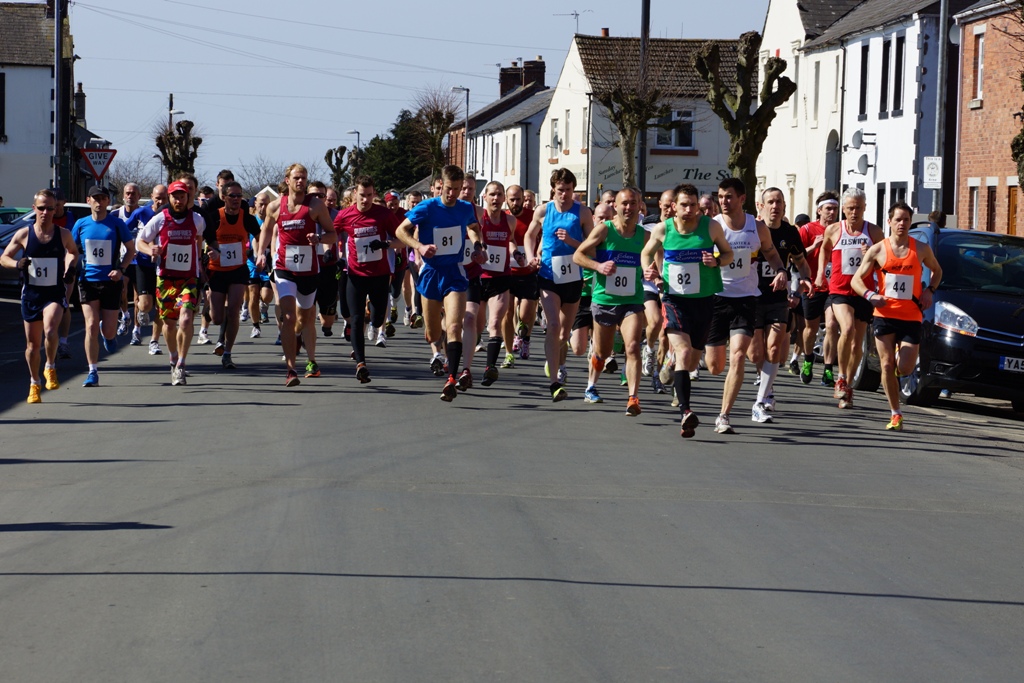 Me fourth from left.
It was a bit of a journey to Longtown (near Gretna on the Scottish border), but it was the only ten mile race I could find three weeks before Sunderland Half Marathon Of The North.
I set off in glorious sunshine, although it was still cold, 3C at 9a.m. The journey over was uneventful, but as I approached Brampton I could see the Lake District fells covered in snow and sparkling in the sunshine.Magnificent!
The Longtown 10 is a brand new race organised by Sport In Action, who run events in and around the Lake District. The run blurb promised a fast but testing course:-A traditional 10mile looped course that has it all, stunning views, great road surfaces and virtually no traffic, this event promises to be an instant favourite. This is certainly a course that will test athletes, but also has the potential to be a fast course.Initially heading East towards Penton, the route gradually climbs withonly one major hill to speak of. The route then heads back towards Longtown and includes a fantastic 4mile descent into the finish.Number collection was easy and there were several VERY fit looking runners and triathletes jogging around outside Longtown Primary, race Headquarters.
Start time was noon, but there were only 90 entrants. Did everyone know something I didn't? The first mile was table flat, so a nice 6.30 pace. However, from miles 2 to 6 it was a gradual uphill pull with a steep hill from 4 to 5 miles. My pace became 7 or even 7.30 and half way was reached in 37 minutes.
As promised the last 4 miles are mostly downhill, but unfortunately there was a stiff westerly wind blowing straight in our faces all the way to the finish. Still I was pretty pleased with my time of 72.29 considering the nature of the course and my target
time of 70 mins.
It cost a mere £8 and for that you get excellent organisation, marshalls on every turn, quiet roads( 8 cars only passed me) and free food and drink at the end. VERY good value. Why are so many other races so expensive?
Would I do it again? OH,YES! I'd make a week-end of it next time though..
[divider]
Blackpool Half Marathon 7.4.2013 

report by Andy Biggs
On Sunday 7th April 2013 I pootled across to Blackpool to combine a final test ahead of London Marathon with visiting friends. In reality I've had my eye on this half marathon race as much as London over the last few months – I'm still motivated by Alan Rowell's encouragement to push for 10K and half marathons and not to bother with the marathon, where frankly I've not yet put in any credible performance after 10 attempts ( no DNFs though!).
As I point out in reply to Alan – training for a marathon is what gives me the discipline to push the training envelope which I also need for 10 and the half-marathon. Perhaps this comment should spark some debate! I turned up in Blackpool having already started to taper therefore.Conditions on the day were near-perfect: no wind, around 2-3 degrees with a promise to rise to 9 or 10 during the morning. The course is almost totally flat on closed roads / wide
footpaths, and has both marathon (two laps) and half marathon (1 lap) competitors starting together. There was unlikely ever to be a better chance to drop my PB by some distance, so I huddled in near the front of the starters at Blackpool football ground. It even occurred to me that away from Durham, there's probably no better place to be wearing orange! This is not a big city marathon, but was well organised and marshalled. It had the feeling of a large 10K, with around 1,000 finishing the half marathon and just over 600 in the full distance.After a few sage words from the legendary Ron Hill, off we went. I had decided not to be a slave to any planned schedule and just run on feel, nevertheless making sure that I was aware of what my Garmin was telling me for heart rate and pace.Without wishing to bore you to death, while it's fresh in memory I've recorded at the bottom of this post what I was thinking all the way through,together with my splits, in the hope that it may help
someone in race mentality (you may be just as crazy as me). I must emphasise that although I have written my splits and HR averages down there, I was not looking at them constantly during the race. However, what I find fascinating is that there is a very close correlation with how I was feeling and what was happening with my HR – with only small is variations in feel around what appears to be my threshold at around 161 BPM. If nothing else, writing it down will help me on my next race!I did 10K last weekend in 39:05, running hard on feel. The Runners World race pace calculator extrapolates this to a 1:26:06 half. That seemed a bit fast (against a PB of 1:30 ish) so I was hoping for around 1:28. I had not dared to check my cumulative time since ten miles and was ecstatic to see my Garmin reading 1:26:13 (official chip time 1:26:14), a full four minutes inside my PB, set last month. 29th place overall and 2nd v45.In total, I averaged 6:36 per mile and ran very consistently. On the day I think I got everything right and, given the perfect conditions, I know in my heart
think I got everything right and, given the perfect conditions, I know in my heart that this may be the fastest half marathon I ever run. However, we'll see…. at the very least I can beat my WAVA score I'm sure as the years move on.The RW calculator also extrapolates a 1:26:14 half marathon to be 2:59:46 full marathon. Dare I dream? This still seems too fast and I'm really anxious not to go off too fast. I have now made my pace decision and time goals for London – but I love to know what you think I should aim for!Mile by mile…
Mile 1: (6:37 HR 152) Looks like this was was either measured short or my Garmin has mis-measured – mile marker came 0.05 miles before my Garmin lapped. Got ahead of traffic early and settled.
Mile 2: (6:27 HR 174??) Feels steady, but Garmin is less warmed up than I am. The mile marker confirms the first mile error, but there's no way I'm at HR 180 as my screen says. It settles down near the end of the mile and so does my rhythm. Ooh –
Blackpool Pleasure beach! I don't want a roller-coaster ride today!
Mile 3: (6:35 HR 164) At the first turn point I can see all the runners ahead of me as they go round and come back in the other lane. I am in 40th place, including some full marathon runners. Pace feels a little sharp if I am trying to clock around 1:28 and my heart rate is creeping up. I slow slightly for a few hundred metres and half a dozen edge past me. I let them go – I am running my own race and there's still a long way to go.
Mile 4: (6:29 HR 161) A slightly downhill section onto the promenade brings a short-term injection of pace and no-one is going away from me ahead. I'm getting a really good rhythm going. Focus on fast leg turnover – save the strength and cardio system for the last 5 miles!
Mile 5: (6:37 HR 160) I want to make sure I don't accelerate away, but I'm steady on HR
Mile 6: (6:33 HR 160) Feeling good – half way! Find that I'm picking off runners who appear to be slowing (but looking at splits retrospectively I was speeding up slightly!)
Mile 7: (6:30 HR 161) Same as mile 6 – several more places regained. I can't believe I'm close to 40 minute 10K pace
Mile 8: (6:35 HR 161) Holding it steady to mile 8 – a little more discomfort in the legs but breathing still good. Mentally steel myself to push hard for the last five miles.
Mile 9: (6:48 HR 160) after 6 miles in one direction along the seafront, we turn just after the 8 mile marker and head straight up a hill. I say a hill – it's the first bit that hasn't been flat and it's like running up South Road from the New Inn to Mary's college entrance. Nevertheless, this is enough to upset my rhythm and I can feel myself slowing. I comfort myself by noting that I'm not losing ground on those
around me and my HR is still the right side of the threshold.
Mile 10: (6:52 HR 159) Whilst I could hear "Focus and Relax" in my head, what normally happens at this sort of moment is that I run out of breathing capability so I was careful not to push my HR over the edge. However, instead the legs just started hurting as we had some more undulations on the path. This is therefore the first time I can remember (aside from Marathon) when the major obstacle in getting the time I want is pain. I tell myself that 'pain is temporary' and that the glory is forever (unless you're on drugs and get found out). I overtake another of the runners that went past me at three miles and note that my Garmin split for ten miles (slightly long on the real ten mile marker) is inside my standalone ten mile PB.
Mile 11: (6:35 HR 162) I have lost count of the number of times over the years that I have visualised getting to ten miles on a half marathon and putting the accelerator pedal down for one last 5k push. Before this year is has always been a dream, but
today there was plenty in the tank (thank you – marathon training and track intervals!). It got harder, but I just told myself that it's one hard parkrun and then I'm finished. I started to catch a guy from Manchester Tri who I have seen in the distance since the start. He's taller than me, but if I stride out I can match his rhythm and squeeze past him… – done! Now what? I don't want to push to early for the finish and I can feeling my breathing getting more laboured (In retrospect it looks like HR 161 to 162 is the turning point!)
Mile 12: (6:46 HR 162) I felt a bit more fatigue setting into my legs. More (temporary) pain. Don't let your concentration drop Andy! There's another guy about 50 yards ahead – close that gap – he's beatable!
Mile 13: (6:35 HR 165) Last full mile – just 4 laps on the track – I can allow myself to
go slightly anaerobic now and just concentrate on leg speed and running form. Come on, catch the guy who is now only 30 yards ahead – you've got the finishing speed to take him! B****r – the guy ahead is doing the full marathon and I have to turn off before I catch him. No target now, just stride out and go to a happy place in my mind – thinking about PB glory to keep me going on the final two laps of the track.
The run in: (5:11 HR 168) I enter the stadium with no-one ahead. The commentator is the only person all day to notice that I am running in Blackpool FC colours. He calls out my name and club and then says "but it looks like he is going to get caught". I put in an injection of pace, born on those cold nights of track intervals (thanks Gary), before he calls out "only joking' just as I get within yards of the line. No hard feelings – that's proved that I've still got speed and must have been worth a couple of
seconds.
Garmin reads 13,05 miles – looks like all the mile markers were good and I only had a mile one problem when we ran through streets with tall buildings.Relax, pick up medal, stretch and consume recovery drink, get changed before the masses come through and then go and sit in the stand and EAT!!!
[divider]
Mermaid 10k 29.3.13  
Report by Chris Herkes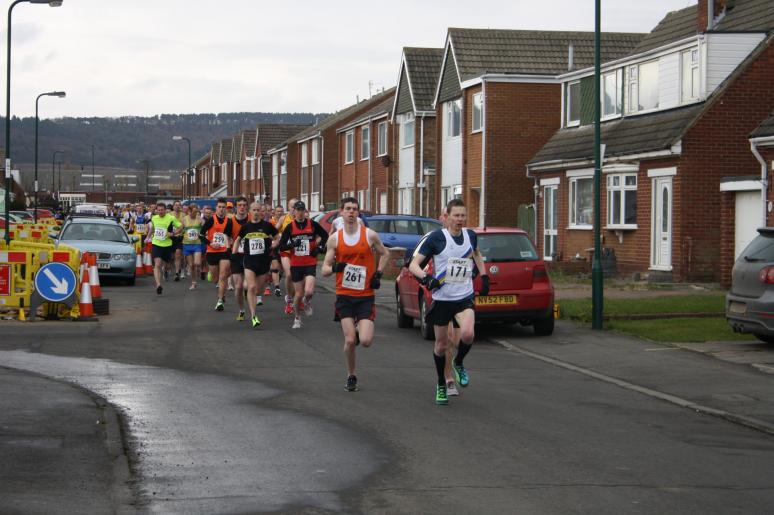 Good Friday was a good day out at Marske-by-the-sea. A plethora of Durham City Harriers gathered in the Mermaid pub buoyed by the slight improvements in the winter weather.I had entered the race with a PB and possibly a sub-40 in mind, the two almost went hand in hand as my current 10k PB was 40.06, but given the recent weeks upon weeks of snow and strong winds I had a feeling that the weather may hi-jack my plans.    However, leaving Durham on the Friday morning the temperature had slightly improved and when Rob Garbutt and I warmed-up and looked out to the Marske coast road the wind turbines were completely still. We wondered if they may be turned off!
As anticipated, the race got off to a very sharp start with a loop around the housing estate behind the pub before heading off on to the coast road. From what I can remember there wasn't an incline of any kind on the whole course and the wind (if you can call it that) was a head-wind on the way out along the coast but it was hardly noticeable and just gave us a mental boost that when we turned to head back
to the finish it would be behind us.
James Askew wasn't just first harrier back but also took the race win with an 8 second gap to his nearest rival and the other 9 harriers in attendance also had good runs with encouragement from Gary and Peter –
231 Finishers
On the whole most of us came away with a productive race under our belts. Andy had an excellent run as part of his London Marathon prep and had predicted his finishing time to within 5 seconds before we had even started, David Henson got a good comeback run in and Rob and Nigel both ran PBs to prove that the training is paying off. I finally got the 40 minute monkey off my back which just made me think what's my next target now that I am carrying one less monkey.
Time for an Easter egg and a beer while I consider it.
| | | | | |
| --- | --- | --- | --- | --- |
| 1 | James Askew | 33:05 | Open Men | 81.53% Age grade |
| 18 | Chris Walker | 36:52 | Open Men | 73.16% |
| 24 | David Cross | 38:06 | Open Men | 70.8% |
| 34 | Chris Herkes | 38:58 | Open Men | 69.22% |
| 36 | Andy Biggs | 39.05 | M45 | 73.95% |
| 49 | Rob Garbutt | 40:15 | M45 | 73.47% |
| 60 | George Reid | 41:15 | M55 | 76.57% |
| 70 | David Henson | 42.20 | Open Men | 63.72% |
| 106 | Nigel Nimmo | 45.33 | M45 | 64.42% |
| 141 | Julia Quinonez | 47.36 | W45 | 68.38% |
| 191 | Lynne Carruthers | 52.56 | W50 | 65.5% |