Budapest Marathon 7.10.12 
Congratulations to Mike on completing the Budapest Marathon in 3:58.03, despite suffering from a pretty bad IT problem. This is one guy who likes those continental marathons-seem to remember something about Rome not so long ago.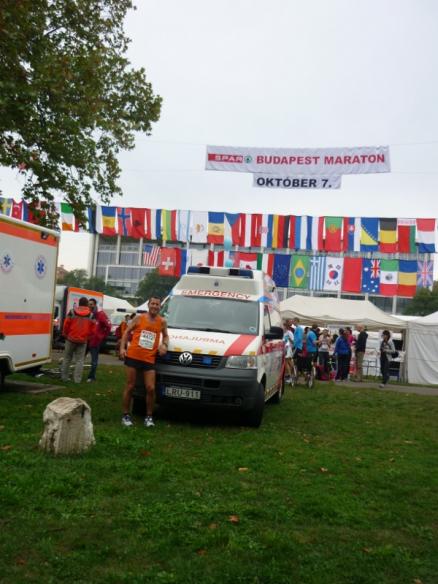 [divider]
Redcar Half Marathon 30.9.12
Congratulations to Aiveen who was first home in the women's race in a time of 1:26.06. A great run. On a windy day there were some good pb's with Anth knocking four minutes off and Dave over three!
Club results
| | | | | | | | | | |
| --- | --- | --- | --- | --- | --- | --- | --- | --- | --- |
| 55 | 387 | 1:26:06 | Aiveen | Fox | F | | DURHAM CITY HARRIERS & AC | 55 | 1:26:04 |
| 112 | 651 | 1:30:40 | Anthony | Hunt | M | 40 | DURHAM CITY HARRIERS & AC | 117 | 1:30:36 |
| 173 | 433 | 1:33:59 | Kim | Simpson | F | | DURHAM CITY HARRIERS & AC | 175 | 1:33:57 |
| 282 | 662 | 1:39:46 | David | Coxon | M | 40 | DURHAM CITY HARRIERS & AC | 286 | 1:39:32 |
| 369 | 373 | 1:43:21 | Kirstin | Farquhar | F | 40 | DURHAM CITY HARRIERS & AC | 374 | 1:43:17 |
| 613 | 434 | 1:52:40 | Wayne | Pullen | M | | DURHAM CITY HARRIERS & AC | 618 | 1:52:23 |
[divider]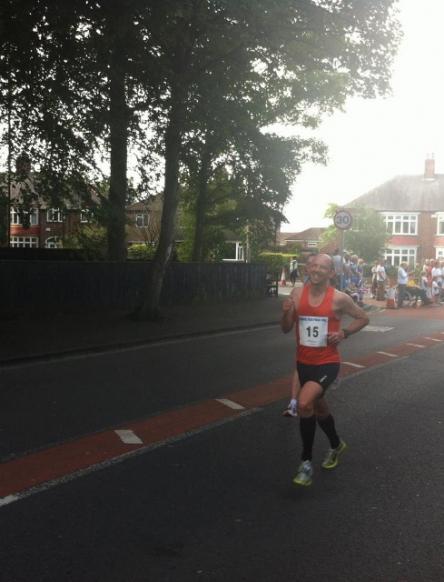 [divider]
Tynedale 10 mile (Club Championship) 2.9.12
Congratulations go to Michael Crawley who finished second in a time of 52.57. Michael was followed in by Ian Crampton who was 8th in 56.52, second V50. Others to finish were Alan Rowell who was 163rd in 1:15.26 and Kirstin Farquhar
who finished in 240th place in 1:21.43.
[divider]
The Cross Bay Challenge ( Flukeburgh to Hest Bank) 12.8.2012 (Report by Alan Rowell)
I travelled over to Morecambe not quite knowing what to expect. When I told Jon Ayres I had entered his reply was a knowing smile and, 'It's different.' He declined to define the meaning of 'different.
The idea of running across a picturesque tidal bay did seem appealing,but don't be fooled. This is one hard, hard race. Good for the challenge but not for a pb…my time
 was 20 mins above my WORST ever time!
The sand is not flat, it is ridged, soft and wobbly making an uncompromising running surface. Add to this several river crossings, water underfoot, a constant strong biting headwind and it's tougher than even the hilliest race.
The scenery is very pretty for the first mile or so. However the nature of the course means you are looking at the same thing for the duration…… SAND Trust me you soon stop caring. Saying that there is the Chariots of Fire sensation as the runners
snake across the sands, Indeed I am sure I was passed by Mr Bean, or perhaps I was just me hallucinating.  Also the distance run is difficult to gauge… many mile markers were way out. You are warned beforehand, however, that given the dangerous nature of the sands the distance can vary. My Garmin measured 13,55 miles and it certainly felt it. The finish itself is tortuous, as you can see the finishing tent from 10 miles, but continue to run away from it in a large loop around the sands, Very disconcerting.
This race is called the Cross Bay Challenge for a reason. If you treat it as such you will not be disappointed. It is unlike other half marathons, in many ways more difficult than many marathons. As such there is great satisfaction in
completing/conquering the bay.
I am glad I did it. Will I try it again ………….you never know
[divider]
Darlington 10k 12.8.12     (report by Jon Ayres)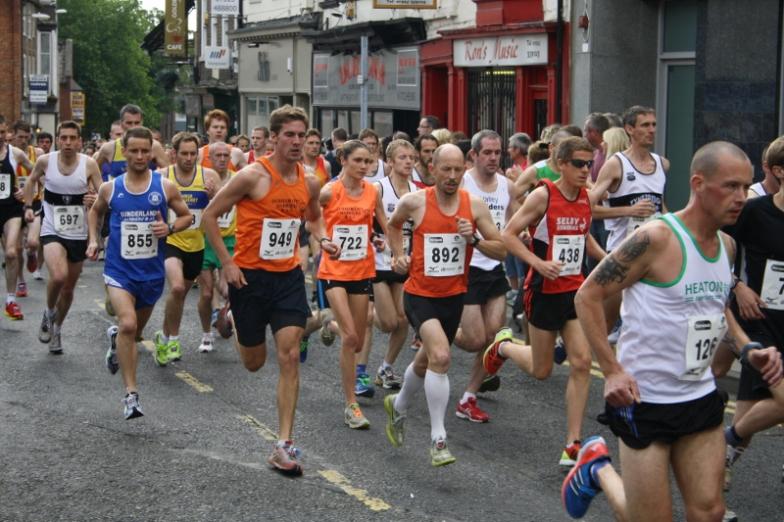 After the master class in middle distance running given by Mo over the last week a few of us were driven down the A1 ,thanks to Paul Delaney,for the chance to pound the streets of Darlington(out of interest anyone know the collective noun for a group
of Harriers,I'm going for a hamstring) A Hare…Editor
On the bus the obvious stand out runner was Rob Hand though Kirstin was there as a defending vet champion to add to the class.
After the usual queue for toilets,though thankfully this was mercifully short in comparison to most races I took the opportunity for a jog round the buzzing metropolis that is Darlo-Vegas,where it was great to constantly bump into Orange vests.
With about ten minutes to go a quad of Harriers made up of Dave Henson,Paul Adams ,Paul Delaney and myself followed the pack and joined at the start line,after a collective applause in celebration of Mo Farah led by the mayor the gun went.From the start it became apparent that Paul Adams and myself where pretty evely matched and other than seeing the heads of John Nash and Steve Marshall slowly going
away I wasn't aware of any other DCH runners,though at the finish it became apparent that a few of us where pretty tightly packed together.
I've only run Darlo once before and haven't run a 10 k for a couple of years and within a mile or so remembered why,it just hurts at least with the longer stuff the onset of pain is gradual.I went through this point in 6.12 and,foolishly,wondered if a sub 40 was on despite a lack of speed work,proper training and ability.These foolish ideas were soon corrected as the breathing became heavier and the sight of Paul A ( and his road runner tattoo ) streaked past.I also started to recall that despite others info the course is not flat, not overly hilly but not flat.
First lap done I heard the shouts of Brian,Peter and Gary C from the side and started to concentrate on reeling in the vision of road runner that was starting to put a few yards on me,though the wailing of a Fire engine travelling down the opposite side of the road did provide small relief from the oil drum band playing on the side of the course I thought it best to distance myself from a caribeen version of Ski Sunday and tried to get into wiggle on mode.
As a water station came into view a glimpse at my watch confirmed I'd gone through 4.25 miles in the same time as Mo had claimed his Gold in London and with the thoughts that I was only 2 miles away from being world class I grabbed a bottle resisted the urge to drown myself in it in a fug of
despair and noticed that the tattoo was getting a touch closer and with thoughts of upwards and onwards spent the next mile chasing the ' runner.With half a mile or so to go I drew level with Paul realised that I couldn't summon the energy for a comical "meep meep" a la road runner and tried to quell the fear that I'd pushed on to soon.
It was with no little relief that the finish line came into view and gulping in the air I stooped my watch at 41.28,later officially chipped two seconds slower,and witnessed a panopoly of orange shirts hitting the line too.in the end the starting group
mentioned at the beginning were within 30 seconds of each other,this in mind hints that training may become a little tasty on Tuesday and Thursday nights!
Congrats to James Askew and Rosie Smith who were highly placed and first Harriers home and well done to all those who got times they wanted.
Click 
here
 for a few more pics
Results are here
[divider]
Congratulations go to the four Harriers who ran the 14miles appx from Beadnall to Alnmouth. First home for the club was Paul Foster who came 17th overall and was first o50, a tremendous result. Also well done to Jon Ayres, Simon Hackett and Mike Kenyon. Full results and a further report can be found here
Club Results
17 Paul Foster             01:27:11                 Vet 50  (First over 50)
105 Jon Ayres             01:39:40                 Vet 40
240 Simon Hackett     01:50:03                 Vet 40
470 Michael Kenyon    02:04:58                 Vet 40
[divider]
Tynedale 10k 4.7.12 
report by Anth
Three DCH runners, Andy Biggs, Paul Adams and myself. Good evening to run. Low wind, light rain (avoided the heavy rain that preceded and followed the race) and not cold. I managed to knock 50 seconds off last years time, but not a 10k PB and I think Paul might have achieved a PB. I couldn't find Andy's time in the results, perhaps racing as someone else?
The time for me is always a little disappointing as you'd expect a PB type course with the really fast first mile. I think the following gentle undulations find me out and it's a little harder than you think it's going to be. At least for me. I tried really hard to break my 10k PB of 40:44 but couldn't maintain the fast pace I set myself in the first 4 km or so and came in at 40:58 (official time reflecting the 8 seconds it took to cross the start). Nevermind mind, keep working and hopefully next time.
[divider]
Lambton 10k 24.6.12
 (report by Rachel)
Given that it'd been over two years now since I'd entered my last 10K, I figured it'd probably be best to try to get into the swing of things again…
It was evident from all the quizzical looks I've been receiving from the Harriers over the past few weeks – not to mention the several bright orange specks spectators would have seen, swamped in a sea of blue and black at the beginning of the race – that the Lambton 10K wasn't one of the better known races amongst members of the Club (either that or the fear of being chased around by lions may've put a few people off). Understandably, though, given that the morning of Sunday 24th June was greeted by the gun beginning the second year Lambton Park Estate had hosted th
eir 10K run.
The morning was grey with very little wind and the odd speak of rain could be felt just before the race started. Although the heavens never really opened, the air, nevertheless, was still humid and infused with the smell of wet soil. Organisation was better this year as registration and number collection was done at the same. Runners began congregating behind the start line just before 10am where I was accompanied by Chris Herkes and a number of other familiar faces from Sunderland and the Elvet Striders.
The majority of this multi-terrain race was routed through the forest of Lambton's Estate, which the Willow Burn website described as 'undulating'. They can certainly say that again. The setup of the course kept you wondering what was going to be thrown up at every turn – and, trust me there were a lot of them. Even those who had run last year's race found themselves running a different (and apparently longer)
route which they seemed to have mixed opinions about at the end. Gravel paths were riddled with potholes filled with the previous week's rain; pavements were slippy from a combination of water and leaf-litter; the short bursts of grass were soft and muddy; and, of course, what are roads without a few cattle grids thrown in here and there? (Don't worry, we were diverted around them!) This report would not do the race justice without the mention of the hills which varied in length, gradient and sinuosity. It was only until after 7K (following a particularly note-worthy hill…) did the course open up for everyone to gauge where everyone else was in the race. (I'd personally been feeling quite isolated up until this point and is clearly evident in the results…)
Upon finishing, the WI were there providing much needed cups of tea, coffee, bacon butties, cakes, etc. to those who had finished. There was no need to hang around for
prizes afterwards as they were posted out to those who had won. Results were uploaded relatively quickly two day later.
If you, like me, revel in the thought of a challenge then this race is definitely one to try out next year. Likewise it'd a shame to miss out on this scenic race making an exciting change from your average flat-as-a-pancake road race and is definitely worth a go.
[divider]
Skye Half Marathon 9.6.12  
(report by Gary)
Just to recommend the Skye Half Marathon to anyone who fancies travelling a bit to a race. This year the 9th of June saw the Western Islands bathed in glorious sunshine and warmth to make this a run to remember. In fact I'd be hard put to think of a better organised and more enjoyable race. Besides the weather there was the beautiful scenery with the Cullins in the distance after halfway – and the last few miles were also pleasantly downhill. The start in the middle of Portree was in a new school where all competitors were given a free swim after the race – magic. Then there were  lots of free sandwiches, cakes and drinks at the end plus a tee shirt and a bottle of whisky (miniature I'm afraid) and glass as well as some chocolate.  Piped bands to lead the runners to the start at the beginning and also at the finish. A great community event which raised cash for getting defibrillators to the Islands.
Having suffered from shin splints for over six months now and this being my first race since the New Year Morpeth 11k I was happy to finish with no leg problems in 1:44. The winner came back in 1:12:29. I think I'd describe the route as 'undulating'!
The Start – uphill….. (number 4 was the winner-the guy at the front sure has a heel strike)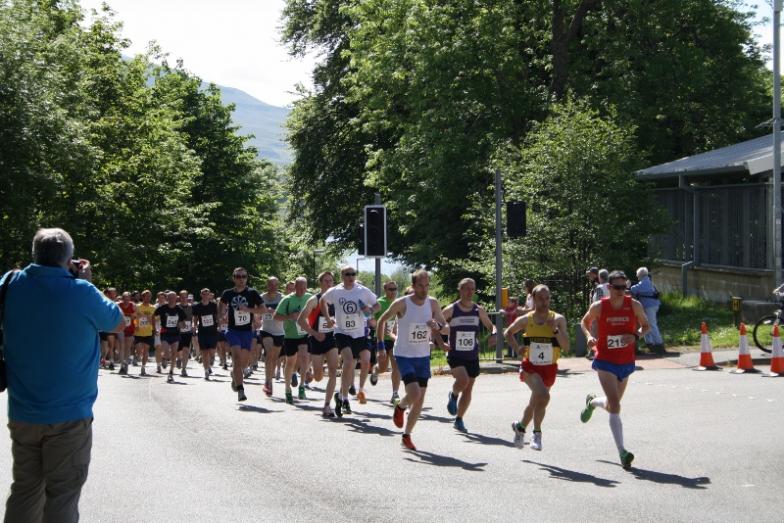 Great scenery-the view half way round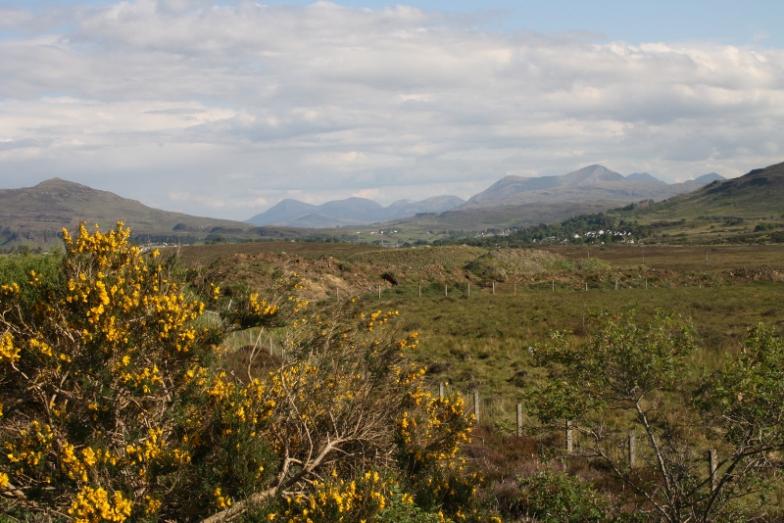 [divider]
Blaydon Race  9.6.2012 Reported by Jon Ayres (The Mad Hatter)
Twas on the 9th of June-that several orange vests made their way to the start of the Blaydon race.Myself and John MC travelled over together ,me as a seasoned vet (!) 7th time and John as the fresh faced newbie. The journey over was uneventful and getting parked at the finish was nothing like the usual bun fight.We arrived at the start of the race a good 80 mins prior to the ringing of the bells and made our way to the nearest cafe,though not this time for butties and cakes as is my usualpractice,having downed a couple of double espressos a piece we ventured on to the streets where the afternoons blue sky's were turning an ominous shade of VERY dark grey.I bumped into Anth Hunt in the bigg market and parted company with John as I suspected,rightly,that my pace would be better suited toward the endurance runners as opposed to the speedsters.Having warmed up with Anth and Kevin Knight and managed to not get interviewed by the TV cameras the battle to gain a place within the front pen took place and Anth and I found ourselves around 20 yards or so off the front.The race commenced a little after 6 and all hell broke loose as runners took to the roads and pavements trying to gain places and time through the twisting streets prior to hitting the Scotswood Road.At this point I'd not really registered just how heavy the rain fall had been but this was soon put right as the dual carriageway took on the look of a draining bay ,it was incredible ,at times the sheer amount of water seemed to be forming fast moving streams ,I took what seemed to be the prudent move and ran on the central aisle of the road to avoid the rapidly deepening pools until I realised that the spray caused by traffic on the other side of the road was likely to drown me.The race itself seemed to be going OK with a couple of miles at 6.20 ish pace and the runners thinning out to allow progress.As we hit the turn for the marina switchback,having crossed the Tyne,I caught sight of a fellow Harrier and spent the next mile aiming for his vest,this proved a great spur and having caught him by mile four the fear of then being caught proved a great motivator all the way to the new finish point.From this point on my only worry was either losing my place or being run down by stray speed boats ,though I would like to mention the two runners
 in front of me who slowed down to avoid a puddle and let me through only 50 metres or so from the finish(obviously they hadn't noticed the biblical rainfall and didn't realise they were wet through)
Having finished I had a brief chat with a number of harriers all of whom seemed happy with their times and to have not drowned on the course.John mc ran a great race to nip under 36 mins and I was pleasantly surprised to get under 37 with my Garmin giving me an average that would have just sneaked under 40 mins for 10k,the race itself though advertised at 5.9 miles measured out on my GPS at 5.77,I wasn't aware of taking any shortcuts though the tide may have carried me along at some point.
So a good day all in all with a small group of us gathering at the Red lion at
plawsworth in a bid to dry out,special mention to Team Knight who despite appalling conditions(did I mention it rained a bit) cheered us all along.
[divider]
Raby 10k 20.5.12
Congratulations to all who ran especially Aiveen who was first woman home. Results are 
here
[divider]
Clive Cookson 10 k    23.5.12   report by Les
Clive Cookson 10K hosted by North Shields Poly Club 23rd May. A lovely sunny night (a bit warm for running), I turned up at Monkseaton High School the location of the race at around 6pm in plenty of time to enter on the night. Lots of marshals and helpers around even then and registering was very quick. Someone even took me through the course using a map on the wall next to registration. Had lots of time to prepare and warm up as race started at 7-15. Noticed large groups of runners from several clubs including North Shields and Wallsend warming up together.
Race started outside someone's house in the street just outside the school gates and as there was a car parked on the starting line (I guess belonging to the person whose house we were outside) the start was a bit congested. Set off at a fast pace as usualand kept this up as we wound our way through a housing estate for the first 1K. Settled down a bit as we hit a cinder track taking us away from the houses through the fields onto a country lane (the only road closed for the race). From the lane the route went full circle back to the school and 5k marker then same route for a second lap. I went through 5k in 19.12 according to someone shouting times out as we passed and was feeling O/K. That was about to change and between 6 and 7k my pace dropped dramatically and I began to tire. Did not panic as this is familiar territory to me and I settled down and started to plan a comeback starting at 8k. Somehow this worked and I managed to kick at 8k quickly passing a couple of lads who had passed me between 6 and 7k. The recovery lasted and I managed to maintain a decent pace to the finish line with a time of 39.33 (58th out of field of 317). As I am usually hanging on at the end of a race I am putting this improveme
nt down to the extra Saturday night sessions I have been doing with Gary and Rob so thanks lads for that. Overall my first experience of this race was a good one, very well organised and a fast flat course, a long sleeved More Mile shirt in the goody bag and a bottle of water. Cost £11 for club runners entered in advance or £13 if entering on the night.
Great Manchester Run 20.5.12 report by Emma
This is another of the Great Run series – even more overpriced than the GNR but a friend was running and I could combine it with a weekend to visit my parents, providing very willing baby sitters while I ran. It was a busy weekend as little Katie and I headed down on the train after work/nursery on Friday evening and spent a busy saturday catching up with family.Sunday dawned cool but not too cold, overcast
but dry – perfect for running. The run is set off in 5 waves over 2 hrs to reduce congestion on the course. We were setting off in the in the first wave, following the elite men. There was a few minutes delay crossing the start despite us being pretty near the front but this was due to a funnel 20 metres or so before the start line which meant that there really was no congestion at all.Training had been very limited. Most of the time I'm lucky if I find time/opportunity for one run a week, but I'd managed a little more in the 3-4 weeks before the race, mainly to make sure I had the distance in my legs. The course is fairly flat, just some slight but longish inclines (with more training I probably wouldn't have noticed them so much!). The course heads out from the city centre towards salford and past Old Trafford before looping back to finish on Deansgate. My mini mascot and my parents gave me an early boost
after just a kilometer or so and my friend's wife and their 2 kiddies gave me a well needed cheer at 9km. Stuck at 4:30/km pace until about 6k, but then started to feel the enthuiastic pace and slowed down from there to finish in 47:18. This was what I'd hoped for really. Sadly slower than my first run at Manchester which was 44ish and was what prompted me to join the Harriers (? 4rys ago) but still a good day and pleased with my time, all considered.It is well supported along the way but not in the league of the GNR. Enjoyable day out though. As a run it's overpriced, but the location works well for me.
[divider]
Pier to Pier 20.5.12