Sunderland 5k – 15.07.15
Here are the results from the Sunderland 5k held at at Silksworth. The race also incorporated the Northern and North-Eastern 5k Championships.
Senior Women/V50 Men Results [Race 1]
Senior Men Results [Race 2]
Senior Women/V50 Men Team Results [Race 1]
Senior Men Team Results [Race 2]
Pier-2-Pier 2015 (approx. 7 mile)
Report: Brian Brown
Arriving at Roker I was directed into a FREE carpark by a marshal. The bus-stop for the mini-bus to South Shields was a shot walk on the promenade. The weather did not look toopromising as dark clouds came in from the sea with a cold wind. After a short cold shower of rain the sun came out. The mini-bus ride to South Shields lasts only then minutes. Assembly and baggage van are situated at the arrival point with toilets and warm-up on the way to the beach.
Walking across the soft sand towards the start there was colourful crowd of approximately 1,000 runners standing near the pier. I spoke to Simon Hackett near the front of the crowd just before the off. I'm pleased I chose trail shoes as the water below the firm sand was seeping back up as the tide had not long gone out.
We ran along the sand to Waters Edge pub, up some steps, and then took the path towards the sea, whilst others chose the links grass. Once up the hill we met a headwind but also a full sun. The course then consists of rugged paths until reaching the promenade of 'Little Italy'. Down some steps, onto the beach. Wet sand under foot and a concrete outlet pipe to jump over. Up another set of steps onto the promenade, down a slight ramp and onto the final stretch of firm sand and pools of sea water to the finish near Roker Park.
At the finish there was a goody bag waiting – water, crisps snack bar, sunglasses, and other bits and bobs.
Results:
Simon Hackett (M40) 55.55 (325th)
Brian Brown (M60) 58.54 (429th)
Wendy Hughes (W40) 1.07.41 (687th)
Joe Harker (M70) 1.19.50 (905th)
930 finishers in total
[divider]
Hartlepool Marina '5' – 29.3.15
Report: Brian Brown
Arrived about 9.30am for 10.30 start. Plentiful parking close to start as the new course starts and ends at Wingfield Castle Ship. Numbers and registration were onboard the ship. The race numbers now have chips on the bac so no fiddling about with straps on ankles or wires on shoe laces. Simple.
Warm-up for me was round the Maritime Museum buildings and Jacksons Landing close by, followed by a chat with fellow Harriers Rebecca, Kirsty, and Kim.
The start is now on a closed road which leads to the promenade. The course is straight for 2 miles with few undulations along the seawall side to Seaton Carew. Around the marshall point and then return along the road side of the promenade back to the finish.
Water and t-shirts were waiting by the Wingfield Ship at the end. A slight delay with the chip results meant a wait for the presentations. Conditions not too bad for the time of year, with a slight sidewind, but cool – ideal for running.
Results:
Rebecca Mott (SW) 35.53 (161th)
Brian Brown (VM) 38.51 (224th) (4th VM 65-69, NEMAA Championships)
Kirsty Walker (SW) 41.00 (278th)
[divider]
Raby Castle 10k – 17th May 2015
Report: Mike Kenyon
I've driven past Raby castle many times and I always think it looks fantastic, but by far the best view of it is on a sunny day, lying on the grass as your breathing calms down to a normal level at the end of the Raby Castle 10K. There are other high points; Inside the last two miles, on a slight downhill, with the wind on your back and sun on your face, you can really enjoy the views of the Durham Dales heading back towards the castle. However there are downsides too, lots of uphills and wind-in-your-face stretches, but it is definitely one to add to your race calendar.
Running mainly on estate roads with one section of well maintained forest track, the course is great but certainly not PB material. It consists of two loops which roll their way around the estate, starting with a long drag of increasing steepness up to about the first mile, a fairly steep drop down, a similarly steep, but much shorter, climb up before that nice flat to downhill section, the penultimate section undulates through the woods before the final twist, a steep hill up and round before then giving you the view of the castle beyond the lake, the lake down which Eric Cantona (as the French ambassador) was rowed for an unsuccessful meeting with Elizabeth in the eponymously titled film. There was no-one on the lake today, but the castle was still there. Then you get to do it all again but with a bit more running around the castle before a nice finishing straight (it felt good to me anyway).
There were just six Harriers in the 10K, surprising for the first leg of the Summer Grand Prix, Emma running in first and Alison picking up an age category prize, Dave Coxon and I ran in a category of our own, "Middle aged men with Hamstring related excuses", Dave won this one, pulling away comfortably in the second lap. Vicky enjoyed her first 10K races in Orange, and, running with Paula, hardly even noticed the hills.
It felt like a very hard race, but it was my first in several months and in those months I have had, unusually for me, an injury and a house move, as well as the much more usual illnesses and competing priorities.I should be ale to avoid any more house moves and the injury is getting better, so just work and family life to balance with running so when is the next Grand Prix event?
72 Emma Thompson Durham City Harriers 2    35-39 44:22
118 David Coxon Durham City Harriers 24  40-44 47:28
150 Mike Kenyon Durham City Harriers 23  45-49 49:31
296 Paula Wear Durham City Harriers 19  35-39 65:21
297 Vicky Coxon Durham City Harriers 20  35-39 65:21
[divider]
Schneider Electric Marathon de Paris 2015 – 12/04/2015
Report: Peter Harrison
Paris was to be my third marathon, and during my training this time around I had upped the miles, and incorporated more long runs with marathon pace intervals.  Training had gone quite well and I had achieved 10 mile and 10k pbs in the few weeks leading up to the marathon.  The 10k was only a week out from Paris and I was a little worried that I might have pushed myself too far near the big race!
Anyway, after a bit of travel stress due to a french air traffic control strike, I managed to get to Paris a couple of days before event day.  I visited the expo on the Friday and was pleasantly surprised how good it was, lots of different stands from all the big sports wear/technology manufacturers, and lots of info. on other events.
So after a day or two of relaxed sightseeing and carb loading, it was on to race day. getting to the start line on the Champs-Elysees was easy by metro, although I did end up following the crowds down into the finish baggage area rather than to the start by accident.  Very easily done as theres not a lot of signage!  Got into my 3:15 start pen with plenty of time and before it filled up.  We were the second mass wave to start and its a very fast slight downhill down the famous boulevard.  It is a busy race (over 40,000 runners turn up on the day), so there was some dodging and weaving going on.  Managed to keep my pace mostly in check, aiming for a 3:08 finish allowing for a slowdown to come in under 3:10.
10k into the race my legs felt a bit tired which was worrying me, and I wondered if my 10k race the previous Sunday was going to be an issue.  However as the race went on my tiredness subsided and I comfortably went through a few uphill sections.  It was good to see a lot of support out on the course, and once we went around Bois de Vincennes we were heading back towards the city centre.  There was then a few downhill sections leading up to half marathon point, which i passed in 1:33:46, well on schedule.  Then we went along the Seine, and at one point through quite a long road tunnel which was quite strange and didnt do the garmin any favours!  The uphills out of the tunnels were catching a few runners out and I started to pass quite a few people at this point.  Going into the last 10k I still felt strong, and when I got into the last 5k I was happy to up the pace a bit, as I didnt seem to be slowing down or feeling the miles.  So surprisingly in the end the last 5k was my fastest segment in the race, and I crossed the line in 3:07:20, with a slight negative split on the second half. 9 minutes off previous pb so chuffed with that.
Overall a great event in a fantastic city which I thoroughly enjoyed.  Its not that flat but its certainly scenic, with plenty of entertainment and support around the course.  A pretty decent goodybag and finishers t-shirt too!
[divider]
North Tyneside 10k   5.4.2015
Report: Anthony Hunt
| | | | | |
| --- | --- | --- | --- | --- |
| Pos. | Bib | Sex | Name | Chip time |
| 6 | 692 | Male | Andy Graham | 00:34:05 |
| 43 | 1742 | Male | Anthony Hunt | 00:36:57 |
| 60 | 1847 | Male | Peter Harrison | 00:37:53 |
| 99 | 1846 | Male | David King | 00:39:35 |
| 111 | 1388 | Female | Kim Simpson | 00:40:13 |
| | | | | |
| 450 | 971 | Male | Tony Mcneill | 00:47:26 |
| 499 | 1845 | Male | Matthew King | 00:48:10 |
| 909 | 117 | Female | Gemma Soulsby | 00:52:56 |
After a dreadful start to week with high winds and snow on the hills, the end of the week ended really nice. 10k race day, was low winds, sun and very spring like. Perfect.
There were some notable results, with Andy Graham coming 6th overall in great 34:05 time (only 10 seconds off his PB), and Peter Harrison getting a big PB of 37:53, a huge improvement of over one and a half minutes, showing his fitness near end of marathon training.
I went for a 'hammer it' tactic and had the mindset of 3:45 and hang on, and hope to learn something along the way. I was pleased to finish with a new 10k PB of 36:57, knocking 28 seconds off my 2013 PB (and setting a 5 km PB in the last half of the race in the process).
[divider]
Mermaid 10k
Report: Bob Hewitson
I set off down to Marske by the sea early good Friday morning feeling relaxed. The weather was drizzly and a bit breezy. I was thinking that this was the last of 7 races in the winter Grand Prix. Having accumulated 42 points I had won the trophy at Thirsk. I had no pressure to do well and did not even look at my watch, just concentrated on pace. lf you have ever done the Mermaid you have to watch your pace as you can get dragged along too quickly round the 2 laps of the housing estate. Runners were passing me but I thought my pace was correct before we hit the coast road towards Redcar . Quickly got to 5k in another pb 20.26. At the bottom of the coast road you do 2 loops of the pink path. This is where I lost time as the earlier pace had caught up with me. I passed Joe Harker on his first lap who had run the Thirsk 10 mile previously. On the long long stretch to the finish about 3k to go my legs were very tired so could not speed up but maintained a decent pace to the finish ttiming matts, which were very welcome. Job done 41.59 chip time. Place 66th and third over 55 place. As the winter Grand Prix has progressed  I have become quicker. And my age grade has gone up from 74 to 77 percent. Next year I would encourage you to enter these races and let's have some competition amongst ladies and men at the club.
[divider]
Thirsk 10 Mile 2015
Report: Bob Hewitson
Peter Harrison and I set off to Thirsk on a sunny Sunday morning. There was a cold breeze blowing when we reached the racecourse where the venue was to start and finish. Looking at last year's results the course lends itself to some fast times although you still have to be on the pace for the full ten miles. Other Durham City Harriers to join us were Dave Coxon, Kirstin, Lynne and Anne. We set off on a slight downhill section along a narrow country lane with some 1000 runners! The first 5k was very fast and hard and I covered it in a pb of 20.37.  Peter was about 50yds in front of me by then. We quickly got to the 5 mile mark, having to dig in to keep on pace. We passed through a typical Yorkshire village at 6 miles and down a lane where we could see the leaders turning back for the finish. Passed Kirstin.. Not chatting by now with only 5k left. Did not look at the time on my watch as I just concentrated on pace. Peter was well on to the finish. The last 2 mile seemed to go on forever as I could see the entrance to the racecourse. But working very hard and tiring by now. Picked it up for the final push across the timing mats – looked at the clock and saw 69.09 – my third fastest 10 mile race ever. Peter had smashed his pb for 10 mile by 2 minutes. Kirstin equalled her pb and  Lynne and Anne had good runs also. Unfortunately Dave had hamstring problems and struggled round. I hope more runners enter the winter grand prix races next year. As you can see a great day out and great competition!
[divider]
North East Road Relay Championships (Signal Relays)
Sat. 14th February 2015 Hetton Lyons Country Park
A small group of Durham City Harriers represented the club in the recent event.
WOMENS 4 STAGE
Kim Simpson, fresh from night shift, led off the team and ran strongly to put the club in 11th place. Kirsty Walker disappointed with her run, despite this being her first road race in over six months due to injury, kept the team in the top half of the field.
Next up, Chloe Price moved through strongly to record the clubs fastest split and put us back to 11th place. Amy Etherington's first race in over two months lifted the team one more position to finish in 10th place (9th when guests Richmond and Zetland were removed from the results).
MENS 6 STAGE
A pack of 8 runners went through halfway on leg 1 of the two-lap course before Dan Jenkin helped split the group up before ending the stage in 3rd place (4th fastest time overall).Chris Herkes ran strongly to keep the club in the top fifteen before handing on to Jonna Baines who stormed round the course gaining five places.
A typically gritty run from Andy Graham kept the club in 9th position at the end of stage 4. Unable to field a Veterans team because of lack of numbers, Bob Hewitson and Peter Harrison both ran hard on the final 2 legs for the senior team to bring us home in 16th place.
TIMES (all 3.6Km)
Women (9th place)
Kim Simpson                           14.11
Kirsty Walker                          17.26
Chloe Price                              12.55
Amy Etherington                     14.20
Men (16th place)
Dan Jenkin                              10.39
Chris Herkes                           13.19
Jonna Baines                           11.27
Andy Graham                         11.41
Bob Hewitson                         14.43
Peter Harrison                         13.26
Full results on www.necaa.info
Thank you and well done to all who took part in what was my swansong as Road Running Captain.
Good luck to you all this spring/summer.
Steve Walker
[divider]
Robert Hewitson 5 January 18:01 
Old monks 5.5 race report 2015.
I arrived early to get my on the day race number. It turned out to be sell out .and race limit had been reached quickly. The conditions were very cold and icy in places. This year it was the full course starting on the hill leading into hart village. There were 4 hardy d c h harriers turned out for the race. Bob.dave.lynne and chris Wilkinson. Who was the youngest of the quartet. And whom I knew would be the quickest. The start of the race is very quick along a tarmac lane. But then it turns very tough as the lane turns to a narrow trail leading to the Dean . A steep descent on a stone laden track leading to a stream at the bottom. Of course if you come down you have to come back up again up the other side. My heartrate had hit max 168 at the bottom of the hill so as I came up of the hill onto the old railway line that was flat I could not speed up but just hold a pace until the lactate in my legs had cleared. A bit respite was another tarmac lane and I was back in my rhythm. But had to keep it going as a knew dave would catch me if I slowed. Back into the Dean and up a muddy hill again. Then up to a rough farm track dodging icy puddles. By this time chris was probably well on to the finish. A long run in. tarmac lane down to the finish felt my hamstring tighten up 500 mtrs from the line. Happy with the run I waited for dave a couple of minutes only behind me. I waited for lynne coming in who really enjoyed the race as she had started with us guy's at the front of the race. This race is only 25 minutes from durham so disappointed only 4 dch harriers turned out. But the coffee and cake at the end in the warm village hall rounded off a great morning!
[divider]
Loftus Poultry Run 21.12.14
report by Mike Kenyon
The brass band played "in the Bleak Midwinter", as we lined up for the start of this year's Poultry Run and as the dark grey clouds zipped along overhead, projected by a fierce wind, it seemed like less of a Christmas Carol and more a weather forecast.
Still no one goes to this race to set a record, 8 miles of which 5 miles are uphill and include about 1 mile of crossing (not too muddy) fields. Add to that, a fair proportion of the runners wearing fancy dress including our own David Coxon.
I was certainly not expecting much having been struggling with a cold all week and spending much of Friday and Saturday coughing, I came along to enjoy the run and get round. However all sensible thoughts go out of the window as soon as the race starts. A reasonable pace through the edge of Loftus (not the most scenic part of the North York Moors) and then into open country side, with the wind broadly helping. The first three miles are uphill then you turn off the road and follow a track through to the village of Easington (slightly downhill), then more uphill (road, field, road) to the highest point by the mast at the top of Upton Hill, just short of five miles. By this point I was really struggling, maybe the cold, more likely just running five miles uphill.
Then it's literally all downhill from there which should be great, but by that time you've turned round to be running back into the wind. At this stage I thought I might catch up to the Holy man (one of two), surely those robes would slow him down running into the wind. However by this time I think my lack of running for the last 10 days was catching up with me, my legs just couldn't pick up the pace and I was just pleased to finish in a reasonable time (1:20 down on last year)
Only four of us made it there this year, I would recommend it to others, its a hard run, but it is a nice way to finish the year and meet up with a couple of old Harriers.
| | | | |
| --- | --- | --- | --- |
| 61 | 54.40 | Peter Harrison | Vet 40M |
| 108 | 58.55 | Bob Hewitson | Vet 50M |
| 185 | 63.28 | Mike Kenyon | Vet 40M |
| 198 | 64.02 | Dave Coxon | Vet 40M |
| 81 | 56.26 | Jon Ayres | Vet 40M |
| 193 | 63.46 | Mike Warren | Vet 50M |
[divider]
Yorkshire Marathon 12.10.14
report by Anth Hunt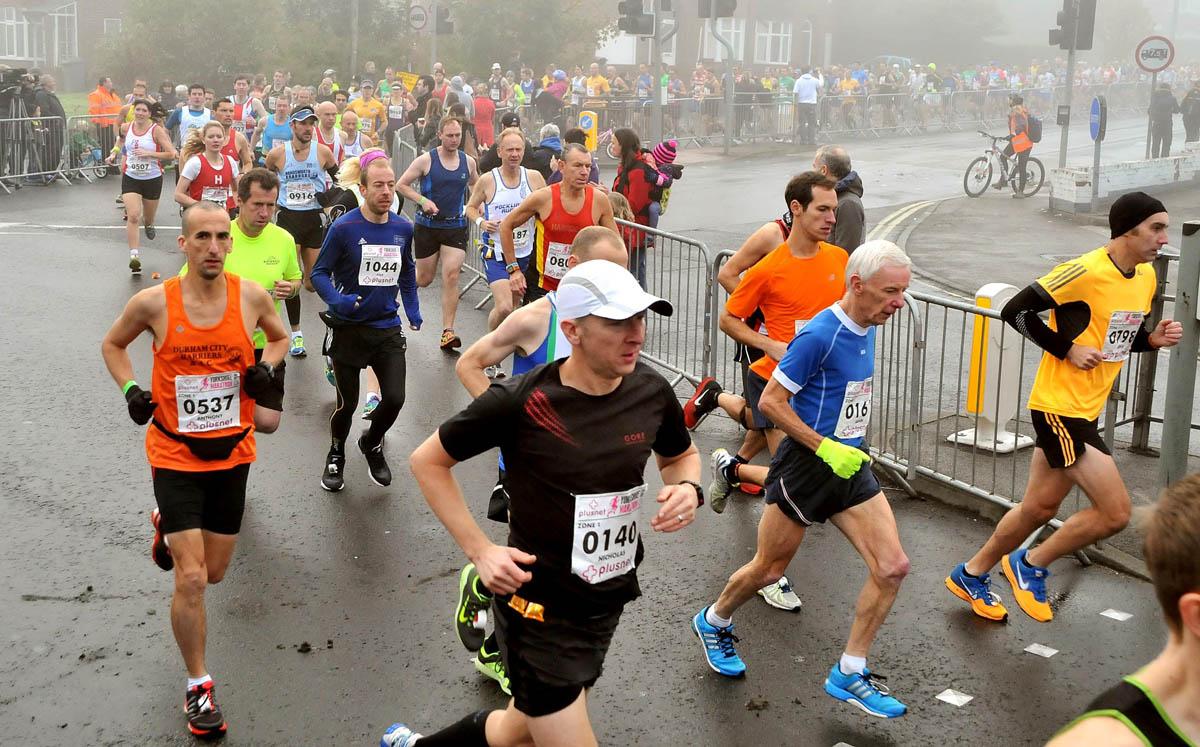 This was my 6th marathon with previous ones going 3:45, 3:43, 3:26, 3:21, 3:04. Only in the last 2 years have I thought that sub 3 hours was a remote possibility, and this year I was really going to go for it. I learned a lot last year aiming to go between 2:59 and 3:10, running 3:04, but knowing that with more mileage I could do it. So this year I have trained super hard, more miles and more miles, and oh, more miles. Lots of structure as well mind, with some solid endurance speed sessions that helped a lot.
After failing to make the start line of the Rotterdam Marathon in the Spring due to a last minute family crisis I was glad I also had this Autumn marathon booked.
The weather was perfect. Between 5 and 10 degrees, virtually no wind and with a fog that turned to light mist, meaning there was no sun to overheat us, so just perfect. Can't imagine this being the case in October very often.
I'd run the Redcar half marathon as a tempo run 2 weeks prior, coming in at 1:26:39 feeling quite fresh, so that was a nice confidence boost. I aimed to go between 1:27 and 1:28 for half way knowing I'd have some minutes in the bank if things slowed down, which they always have for me in marathons, and that pace hopefully would keep me fresh for the tougher second half.
However, there was a big group of runners running with a 2:59 pacer and I felt more comfortable slipping into that group rather than pushing on. This got me to half way in 1:29:14, so a bit slower than I hoped, but I felt good having run relaxed at the back of the 2:59 group.
After half way I decided to ease ahead of the group at a drinks station to push a bit as I felt good. I kept in front of these for around 10 km, but they caught me at around 30 km, though the group had dwindled from around 20 runners to less than 10. I think they had picked the pace up as well rather than me slowing much. Being alongside or back in this group actually helped as I concentrated on staying with them, and if I dropped a bit I'd pick it up again to re-join and occasionally take the lead (of the group). I felt surprisingly confident even with 6 miles to go that I was in with a shout of sub-3 as I was running smoothly (at least it felt smooth to me) and feeling strong.
The last 3 km were tough though with some sharp cramp twinges in my calf, but nothing that truly slowed me down. The pacer slowed a bit and said that everyone was on for around 2:58 if they held or pushed on. He slowed so as not to lose people just hoping to sneak under 3. I then pushed on as much as I could with a tough climb at around 1.5 to 1 km to go and then a rewarding downhill final 500 m.
I was amazed to see the clock closing towards 2:58 as I approached the line and sprinted to dip under, though actually had a few seconds to spare due to the chip time being less than gun time. 2:57:47 (though my watch said 2:57:46 I'll happily concede that one second to the chip time!). Very chuffed and proud of myself for a making sub 3 a reality. Still can't quite believe it.
It was also my first ever negative split for me. For anyone interested here are my 5 km splits; 21:01, 21:09, 21:21, 21:06, 20:47, 21:01, 20:57, 21:08, (4:23 pace last 2), and here are my 10 km splits; 42:10, 42:28, 41:48, 42:05
The event itself was very well organised with great support. Even along the small rural roads that formed the majority of the course there was quite a few locals out in support, plus spectators could get buses to a couple of points to support runners and get the bus back to the finish. It was quite odd running along quietly and then hearing massive cheering growing louder and louder only to fade to quietness again in a few minutes once we were past them.
My wife Karen was also amazing as she ran to 4 points on the course to cheer me on at 500 m, 3 miles, 18 miles and the finish covering around 15 km herself in the process.
I was the only Durham Harrier running, so came first in some respects!
I was 75th overall and 27th V45 (3,688 finishers).
Results are here – http://www.runbritainrankings.com/results/results.aspx?meetingid=97084&event=Mar&venue=York&date=12-Oct-14
and here – http://www.resultsbase.net/Results/IndividualResults.aspx?Id=2304
[divider]
Northern Road Relay Championships – Warrington 20.11.14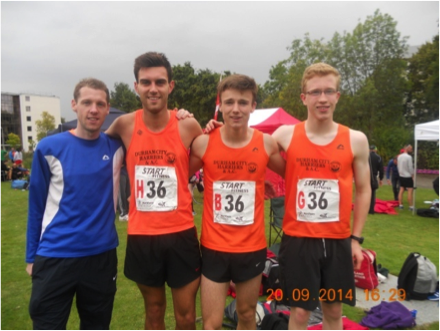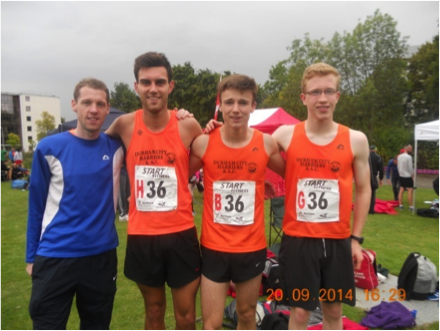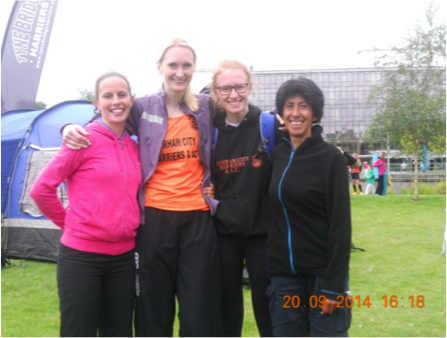 This year championships were held on a tight, twisting 3K ish lap round a business park in Warrington.
The day started with 6 age-group relays (food for thought for our junior sections coaches?) to enthusiastic support from runners, coaches and parents.
The Senior events started from 2 p.m. with two laps of the course (variously measured as between 6.2 and 6.4 Kms) attracting strong fields in both the men's and women's races.
Amongst the spectators was a galaxy of previous Northern international greats from the past 50 years including Morpeth's Jimmy Alder and, until recently the last British winner of the Great North Run, Bolton's Steve Kenyon. (What price Mo Farah turning up at one of these events in 20 years time?)
Dan Garbutt led off the men's team with a solid run against many of the races elite runners bringing Durham home in 11th place. Next up, Adam Walker delaying his departure to university in order to compete, held on well as some of the bigger clubs started to move through. Andy Graham moved us up a few places as the field started to be stretched.
Dan Whittle, despite limited training due to starting a new job, kept us in the top half of the race with only two laps to go.
Late replacement Isaac Allen gave a typically gritty performance in his first outing at such a high-standard event, despite still feeling the effects of a recent half-marathon. Finally Chris Walker ran a consistently paced leg to anchor the team home in 56th place in what I believe was the best standard race in the last 10 years or so.
First leg for the women's team was Aiveen Smith, in training for an early October marathon, who ran strongly to finish in 12th place. Catherine Garbutt, replacing the injured Fern Freeman, put up a good fight to keep the team in the top 30. Kim Simpson, fresh from her exertions in the Great North run, ran well to move the club up a few places. Anchor leg was run by Julia Quinonez, who despite feeling nervous in the top class field, ran determedly to finish off a good display by the Women.
Durham Timings
Men
Dan Garbutt                     19.05
Adam Walker                   22.32
Andy Graham                   21.20
Dan Whittle                     23.09
Isaac Allen                       24.21
Chris Walker                     22.12
56th out of 116 teams (6th North East club)
Women
Aiveen Smith                   23.19
Catherine Garbutt             28.23
Kim Simpson                     25.11
Julia Quinonez                   28.44
38th out of 68 teams (4th North East club)
Thanks to all runners for their efforts, and support for each other. Thanks also to our two resident photographers, Kirsty and Lynda Walker and to super-supporter young Bryan Mackay.
Hopefully more club runners will be tempted to participate in the next Road Relays which come towards the end of the 2014/15 Cross-Country Season, namely:
North Eastern Road Relays – mid Feb 2015 (possibly 14th Feb)
Northern Road Relays – late March 2015 (28th March?)
Good luck to you all in the forthcoming Cross-Country season.
Steve Walker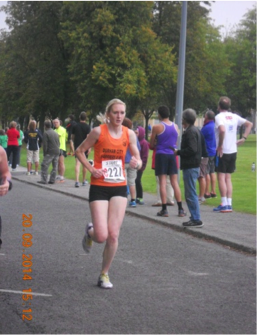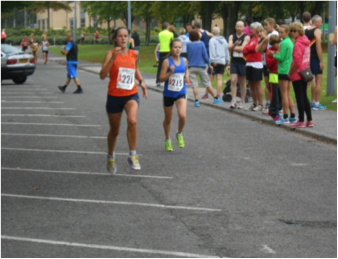 [divider]
Loch Ness Marathon 28.9.14
report by Bob Hewitson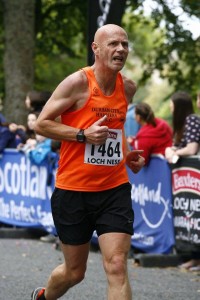 It was an early start on sunday morning up at 6 am to walk to bught park Inverness. This was the pickup point to get bus to marathon start. I got chatting to a fellow runner who was from Birmingham area. This passed the time away nicely with no thoughts of the marathon ahead. The buses parked up about 3 miles further than the loch end in the middle of nowhere on the B road which was going to be my companion for the next 26 miles. The start was on a hill . And there were all nationallaties lined up for the race. We set off bang on 10 am. The weather was perfect but I was to find out a downhill start to a marathon can give you a false sense of how you are. I quickly got to 10k in 45 minutes taking in the sights of the country side. Watching the kilted runners pass by. Then by the 9 mile mark it levelled off and became very undulating by this time we were running along by lochness and pine forests either side. Got to mile 10 my gps watch went haywire and lost all sense of pace. Hit mile 12 thought to myself this is getting really tough another 14 mile to go . Do I drop out at halfway?. No no never quit a race apart from the cookson. I finally reached halfway in 1.40.30 had hit my target for half way. But did not feel right my chest had become tight and could not breath right. By now the road had become a series of undulations and endless pine trees. I went into the get round mode of running and stopping every mile to get my breath. Got to mile 15 and I started to get stomach cramps and felt that pain you feel when your running on empty. By this time I said only 11 miles to go. Hit mile 18 to 19 two long hills to negotiate went into the could not care less mode and forgot about what I was doing and looked at the lovely countryside. Luckily once I hit the 20 mile mark the last 6 miles we're a gentle downhill run into inverness. Got to 24th mile mark very tired but my breathing had improved but still had cramps. An elderly lady said to me if you pick it up a bit you might finish under 4 hours . She said if I was wearing a bright orange vest I would! I picked it up trying to do what the lady had said running along the ness crowds applauding, me on my last legs feeling sick and woosie just the bridge to cross and a mile up the other side to the finish back in the park the hardest mile of my life but just did not have anything left to get under that four hours. Conclusion the breathing problem subsided after the pine trees also sneezing. I have had problems with slight asthma and stomach cramps probably from the gels that were handed out and not a very good breakfast. Even though I had issues running this marathon I am proud I have ran the length of lochness and more and to be the first and only dch harrier to finish in 2014, a thoroughly rewarding run giving me greater insight of what I can achieve.
[divider]
Den Haag "Peace Day" Half Marathon – 21.9.14
report by Peter Harrison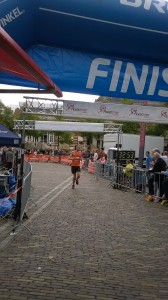 As part of my training for the Amsterdam Marathon I was looking for a half marathon to try out a month before the big race.  As it turned out I was going on a trip to Holland and The Hague "Peace Day" Marathon/Half Marathon/Ultra Marathon was on when I was going to be over there.. so I signed up.  I think the price was about 30 euros if I remember correctly.
I spent the night before in a nice hotel central in den Haag.  It seems that there are a lot of business type hotels around and you can get a good room quite cheap on a weekend.  So the morning of the race was a short walk to the start to pick up my bib and technical t-shirt.. a very nice green and yellow diagonal split design.  The start was nice and relaxed with all three distances starting at the same time.  I found myself moving towards the front of the field fairly early, even though I was deliberately taking the first quarter of the race at an easier pace.  There was plenty of room for overtaking others though so no problems there.  The course meandered around the city and at one point the different distances split (which was well signposted), before ending up at the coast.  We were then hit by a fairly strong headwind which really slowed things down, causing me to re evaluate my race plan as I had already speeded up by this point.  However I made the best of it and took turns with a group of runners in shielding each other from the wind.  We then got another surprise which was a run across some very soft sand towards the sea.  The sand didnt get any firmer at this point either, meaning my pre race target of sub 1:30 was definitely out the window.
Once back onto terra firma I was slightly surprised to see a group of runners who had missed out the whole beach section, and came along the promenade instead!  I think the marshals were a bit thin on the ground at this bit and I can see how they could have gone wrong.  Anyway, I picked up the pace again and I pulled in a few positions from those who had over exerted themselves running through the sand.  The rest of the race was a scenic route back through town towards the main square.. most of this was spent running by myself.
Post race I was surprised to find out that with my chip time of 1:32:40 I had finished in 14th position out of 569.. this was also less than 5 minutes behind the winner who was from Ireland.  Results were chip timed and up on the website quickly.  In summary this was a friendly race only in its second year, which has some good support around the course, and could have done with a few more marshalls in key points.  Overall though I would definitely do it again, and although its flat its definitely not a PB course!
Website: http://www.denhaagmarathon.nl/
Results: http://www.racetimereurope.nl/uitslagen.php?menu=uitslagen-nl&v=%25252Fnl%25252Frace%25252Fshow%25252F1947%25253Flayout%25253Dracetimer_eu
[divider]
Flanders Field Half Marathon and 7k – 14.9.14
report by Joe Harker
Had a good trip last weekend which I'd like to share with fellow Harriers who may be looking for alternative venues for their exploits!
On Friday, 12 September, at 5.30am, myself and 46 members of Quakers Running Club (led by Mike Horan) left Darlington headed for  Ostende to compete in the Flanders Field Marathon, 1/2 Marathon and 7K.  Ostende being our base for 3 nights, where we arrived about 6pm Friday evening.   I never envisaged Ostends as a holiday venue but it is just that.
Saturday morning  our first stop was Nieuport to complete race registration, collect running numbers and chips for marathon entrants.  Nieuport being the venue of the 1/2 marathon, 7K and starting point of  the marathon, which was a point to point,  Nieuport to Ypres.
On completion of race formalities we visited the Trench of Death at Izjerdyke Dixmuide, then on to lunch near Ypres,followed by a visit to Essex Farm Cemetery at Ypres.
Sunday morning we all headed back to Nieuport where the marathon started at 10am, 1/2 marathon and 7k at 10.45.  The 1/2 marathon being 3 laps of a completely flat, riverside course, for the 7K.
Durham Harriers featured in the results in that ex-Harrier Louise Traynor finished first lady in the
7K, in the time of 31.00:00, (Louise sends her regards to all at the Harriers who knew her) with myself being first male senior vet in the 1/2 marathon in the time of 2.15:37.  Presentations were a bit lengthy but good.
Our journey home was again about 12 hours.
Overall these were 3 good events, we'll managed, where we were welcomed wherever we went and which were extremely flat, so anyone looking for a PB……..!!!
Regards
Joe
[divider]
Wynyard 10k Trail Race – 14.9.14
report by Peter Harrison
I made my way down the A1 to the final race of the Summer Grand Prix series, not really knowing how many others from the Harriers would be in attendance.  It was my first time in Wynyard Woodlands Park, with the race HQ being located in an old railway carriage next to the old Thorpe Thewles railway station, which also contains a nice little cafe.  Picking up the race number pre event was very easy, and the number of runners was not huge (55).. probably due to other local events and one week post GNR.  A quick chat with Andy Graham and Sarah Lynch on the start line and we were off!
The start of the race is along the old railway track and is flat and straight.  A New Marske Harriers runner (who would be the eventual winner) disappeared quickly off into the distance pursued by Andy and a Marsh House Harrier.  I started fast (for me) and stuck with a group behind the leading runners.  About 2.5k along the track we turned off to the left and into the woodland.  At this point I was running well and suddenly a gigantic (Im not exaggerating!) brown bird of prey flew across the track in front of me.  If I was a believer in ancient native american folklore I might have taken this as a warning from my ancestors that I was about to get caught, and funnily enough thats exactly what happened!  About four runners came past me in quick succession and I started to struggle with the terrain, but tried to keep them in sight.  We then returned to the main track back towards the start, before heading off into the fields on the other side.  This was then followed by a steep decline into the woods, with the inevitable steep incline to come out the other side.  The name of the Strava segment "The Steps of Hell" gives some idea of this section, where I finally lost any chance of catching the pack in front.  Finally, there was a quick finish on the flat to finish back in front of the old station.  A small goodie bag containing some chocolate and medal depicted runners with various levels of hirsuteness was a nice touch.  After the race there was a prize giving where I realised I had just missed out by one position on a vet mens prize, but Andy did well getting second mens finisher.  Plenty of spot prizes for lucky runners too!
Overall a well organised and friendly local race.  Its also worth mentioning that the organisers hold a series of Winter 5k races which are pretty good value at £3 a go for affiliated runners.
[divider]
Darlington 10K – 10.8.14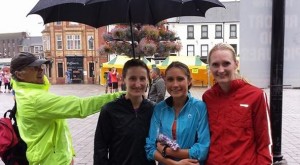 Fern, Rosie and Kim at the finish (and Peter!)
Super turn out for DCH saw some 19 runners turn out for this Club Championship event. What a great race it is too. Pretty flat and with plenty of crowd support all around the course. Even the forecast 'hurricane' didn't materialise. Success both personal and for the Club all through the results table. Leading the way home were the vets Ian (2nd overall o50) and Rob, closely followed by Rosie who was second lady overall behind the on form Kate Avery. Plenty of personal and seasons bests for lots of runners showing the hard training that has been taking place. Thanks to Peter and Rachel for the support on the way round and also Rachel for supplying pieces of birthday cake at the end.
Club Results were
| | | | | |
| --- | --- | --- | --- | --- |
| | Position | Time | Age grade | Category |
| Ian Crampton | 15 | 34.24 | 88.72 | v50 |
| Rob Hand | 19 | 34.40 | 88.03 | v50 |
| Rosie Smith | 21 | 34.47 | 85.96 | sw |
| Jon Nash | 63 | 37.28 | 76.99 | v45 |
| Anthony Hunt | 71 | 37.55 | 76.08 | v45 |
| Peter Harrison | 113 | 39.24 | 70.58 | sm |
| Christian Barlow | 116 | 39.31 | 68.14 | sm |
| Andy Biggs | 117 | 39.32 | 74.10 | v45 |
| Isaac Allen | 124 | 39.42 | 67.83 | 15/17 |
| Kim Simpson | 132 | 39.59 | 74.70 | sw |
| Joel Thompson | 165 | 40.40 | 65.76 | sm |
| Dave Henson | 180 | 41.19 | 65.18 | sm |
| Gary Coulter | 449 | 46.28 | 69.61 | v60 |
| Elwyn Baldwin | 463 | 47.01 | 73.58 | v65 |
| Tony McNeill | 519 | 47.38 | 62.29 | v45 |
| Fern Freeman | 556 | 48.25 | 61.38 | sw |
| Rob Whitle | 569 | 48.39 | 55.06 | sm |
| Chris Hedley | 708 | 50.44 | 61.51 | v55 |
| Lynne Carruthers | 825 | 52.12 | 65.52 | v50 |
| Joe Harker | 1451 | 66.25 | 56.54 | v70 |
[divider]
Coastal Run – 20.07.14
report by Mike Kenyon
Yesterday was the day to go to the Northumberland coast, I have never known it to be quite so sunny and warm, There was no haze, no sea fret, no cooling on-shore breeze just sunshine. People on the beach were enjoying the sea not just enduring it, in fact the only distraction was the 900 runners making their way from Beadnell to Alnmouth in this year's Coastal Run.
I do have a bad habit of complaining about not getting enough miles in my training but this week I felt sure that I had overdone the under training and my result probably was a reflection of both the weather and two weeks of work based travel and entertainment. With that in mind I decided to set off at a steady pace and maintain it through to the end (target 8:30 pace), what I managed was steady up to the halfway point and slow from then on.
I like the first half of the run, the two long beaches are wonderful and although the run around Dunstanburgh on the rocky path is a bit of a challenge, the route into Craster is really nice, I even pulled out a bit of a lead on Dave and Simon, enough to stop at the water station, refill bottles and take on a gel before Dave caught me up. Nice plan but starting again was a challenge.
The second half of the run is difficult, maybe just because it is the second half, but also because there are a few hills, a bit less scenery and the prospect of the last two miles back on the beach at Alnmouth. I was hanging on to get to the penultimate water station just after ten miles and even that didn't bring much relief. Little steps, and running slower than feels possible still gets you there much quicker than walking so that was it for the last few miles, concentrate on finishing (there really is no option, with this race being a point to point, you have to get to the end one way or another).
I dropped down on to the beach at Alnmouth and started to feel better, not faster but better. The rescue helicopter flew over us leaving me with mixed thoughts, call him down for a lift or push on and show them that I am fine – I chose the latter, but thankfully it doesn't take long for a helicopter to fly past. As the finishing flags appeared like a mirage in the distance I tried to speed up for rousing sprint to the line encouraged by all the orange shirts now lining the route. However the shirts were for all finishers not an influx of Harriers' supporters. I trudged across the line and then shuffled across the beach to get water. Simon came in just after me but could only use the word Brutal. Bob was there already looking unreasonably good but also using the B word.
On the way back to the bag bus someone else mentioned about how hard it was today, but that we would all be back again next year, he's probably right. This was hard today, but it is still a great run and enought to keep you coming back.
Results below, Kim was obviously unaffected by the conditions, I think this was the first time Lynne has done this kind of distance and certainly first time doing this race so particular congratulations are due to her. For me (and Simon) a bit more training and a bit less travelling.
| | | | | | |
| --- | --- | --- | --- | --- | --- |
| | Finish time | Participant | Category | Speed | Pace |
| 85 | 01:39:18 | Kim Simpson | Senior F | 8.46 mph | 7:05 min/mile |
| 225 | 01:51:36 | Hewitson Robert | (M) Veteran50 | 7.53 mph | 7:58 min/mile |
| 326 | 01:58:24 | David Coxon | (M) Veteran40 | 7.09 mph | 8:27 min/mile |
| 386 | 02:02:23 | Mike Kenyon | (M) Veteran40 | 6.86 mph | 8:44 min/mile |
| 409 | 02:03:56 | Simon Hackett | (M) Veteran40 | 6.78 mph | 8:51 min/mile |
| 712 | 02:27:39 | Lynne Carruthers | (F) Veteran50 | 5.69 mph | 10:32 min/mile |
| 713 | 02:27:39 | Wendy Hughes | (F) Veteran40 | 5.69 mph | 10:32 min/mile |
[divider]
Sunderland 5K – 16.07.14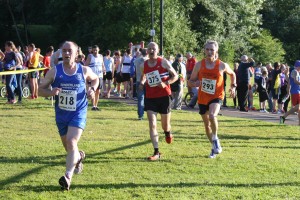 (Tony McNeill in the finishing straight)
17 runners from the Club attacked this fast and flat 5K which is  the Club 5K Championship as well as being on the Grand Prix circuit. Luckily  the heavy rain managed to hold off and the evening was pretty good for running. First home for DCH in 6th position was Dan Jenkin in a quick 15.23, followed by James Askew in 15.57 and then Andy Graham in 16.34. Andy was running one of his first races in the orange vest. Some great times from many of the DCH runners with some personal bests on the night. Great to see Paula from Tammy's training group recording a fine time in her first go at this race.
Club 5K Award winners were
Senior Men – Dan Jenkin
Senior Women – Kim Simpson
Vet Men Andy –  Biggs
Vet Women –  Kirstin Farquhar
Tynedale 10k – 02.07.14
report by Wout van Dijk
This is a race I've been looking for after setting a new PB during Clive Cookson at the end of May. In that race I was able to smash my PB with 1m36s after a year of training for doing two marathons. Now, I was fully recovered from the last marathon and ready to set another smashing time on a 10 K, before I fully commit myself to the marathon again. The course looks very promising as you start at 63 m (206 feet) and finish at 11 m (36 feet) elevation.
The weather was nice this day, dry and a bit of wind coming from the West. So, everything looks great to do a nice summer evening run. David H. picked me up at my apartment and together with Christian we went off to Ovington.
We arrived more than 1 hour before the race, and we picked our starting numbers and chip. At the school we met with the other Durham City Harriers (Bob, Alison, Peter, Lynne, Kirsty and David C.). For getting at the start line, we had to walk 1 mile uphill. This mile was the same mile as we had to run at the beginning of the race, which means that the first mile would be a quick one.
After a short warming up, we went to the start line and tried to get a good position. Although we had a chip, the time was only measured at the finish line. At 7:30pm the race started and off we go, down the hill. I noticed that other runners really took a fast start, however, I tried to run a bit conservative as after the hill the course was undulated.
For the first 8 K (about 5 miles), I used my heart rate as an indicator of my pace. During Clive Cookson I had an average of 182 (max 190 that day) and was really tired at the end of the race. Because of the undulated course I tried to stay under the 180, so my heart rate could go up for the ascended parts of the course. In the last 2 K (1.2 miles), I stopped looking at the watch and just tried to finish strong.
I reached the finish line in a respectable time of 37:20, which was a new PB. However, I was not satisfied as I somehow hoped to go a bit faster on this course. My average heart rate was 177 in the end, so I should have put more effort in the run to finish sub 37. The other Durham City Harriers did well and several PBs were smashed. There were 447 participants and the best time was 33:48. At the end, I think this course is a good course to set a PB. The race is well organised and I really like running to these picturesque places. The course is covered by trees, so when we went back against the wind you couldn't even notice. However, I think a really flat course might be a bit faster as you would run a steadier race.
This might be the last 10 k for this year; my next target is the Berlin Marathon at the end of September.
| | | | | |
| --- | --- | --- | --- | --- |
| | Time | Name | Category | Pace |
| 39 | 37:20 | Wout van Dijk | Sen M | 16.07 km/h |
| 65 | 38:45 | David Henson | Sen M | 15.48 km/h |
| 108 | 41:11 | Chrisitan Barlow | Sen M | 14.57 km/h |
| 117 | 41:35 | Peter Harrison | (M) V40-44 | 14.43 km/h |
| 151 | 43:13 | Hewitson Robert | (M) V55-59 | 13.88 km/h |
| | | | | |
| 221 | 46:27 | David Coxon | (M) V40-44 | 12.92 km/h |
| 311 | 50:16 | Kirsty Walker | Sen F | 11.94 km/h |
| 365 | 54:41 | Lynne Carruthers | (F) V50-54 | 10.97 km/h |
 [divider]
Dig Deep 50K Trail Race Peak District – 21.06.14
report by Rob Eaton
Last Saturday I was somewhere near Sheffield for a 50k jaunt around the Peak District. The race was part of the 'Dig Deep' series – a weekend of trail running events 
that also included 100k, 20k, and 10k races.
The route took in some stunning scenery, with a great mix of technical trails, long fast downhills, and gruelling uphill climbs. Marcus Scotney, international ultrarunner for Team Montane, took the lead from the start to win in a time of 4.05hrs, and a new course record. Finding myself in 3rd pl
ace after about 5 miles I was delighted to maintain position for the rest of the race,  finishing in 4.38 (45mins inside the previous CR).
A really nice event to be part of, with a great atmosphere, and an interesting programme of talks and films around the running. And that 100k route looks tasty…
[divider]
Hawkeshead 10K – 18.06.14
report by Gary

Having encouraged people to post race reports guess I'll have to put pen to paper to mention this lovely 10k in the Lakes village of Hawkeshead. Lovely weather and the route around Esthwaite Water was beautiful, especially the last couple of miles when the Langdale Pikes were stunning against the sun. In other circumstances you'd want to stop and just soak in the view. Undulating course with just under 200 runners. Great set up and organisation, and followed up with a free barbecue in the centre of the village. Managed to crack the 50mins barrier by appx 30 seconds for the second time this year but started right at the back and had the fun of overtaking lots on the way. Winner was back in 34.24 minutes. This race was part of a four race series on Wednesday nights – one to do if you're over this way.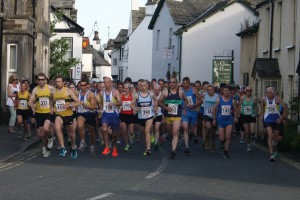 [divider]
Penshaw Hill Race – 04.06.14
report by Alison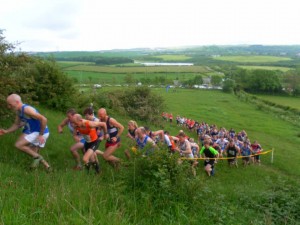 A very challenging Penshaw Hill Race after a day of rain! Tremendous support for Durham from the hosts and spectators and our loyal cheerleader

 
Kirstin Farquhar
 

who travelled up once again to support and photograph us. Sedgefield said thanks for taking theirs too! Relieved

 
Gary Coulter
 

was unable to witness the way he definitely did not teach me to crawl up a hill unlike

 
Dave Coxon
 

who goes uphill faster than in the flat!! Well done

 
Peter Harrison
,
Chris Herkes
,
Lynne Carruthers
 

and Rob Hand (Rob was first V50).

[divider]
Ann Johnson Absent Friends 5m – 16.2.14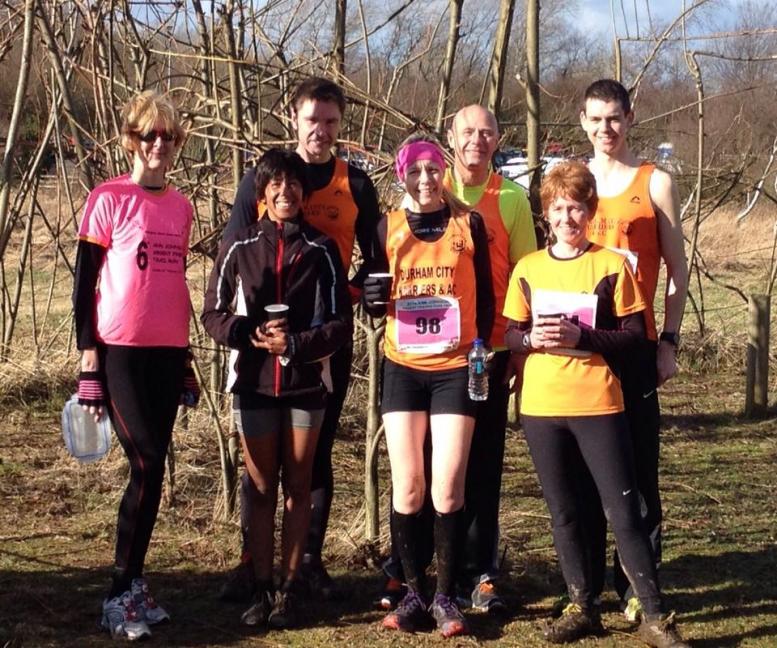 Great results with James Askew winning for the second year in a row.  Julia, Liz and of course James all coming away with prizes. Also running well were Dave Coxon and Lynne and Bob.This was the fifth event in the Winter Grand Prix and Bob still is hanging on in there in the lead. Two races left.
Old Monks 6m – 5.1.14
Ice caused the course to be shortened to 5miles but there was plenty of mud apparently for the six runners from the club. Chloe did brilliantly to win the Senior Ladies and Joe did likewise winning the O70. Well done to all the runners. According to Alison it was 'brutal!'
This was the fourth event in the Winter Grand Prix. Current positions can be found here.
Chloe Price 15th 33.10
Bob Hewitson 59th 37.53
Dave Coxon 78th 39.00
Lynne Carruthers 190th 50.19
Joe Harker 223rd 55.59
Full results are here
[divider]
Morpeth 11k – 1.1.2014
First race of the New Year saw impressive running from club members. Alison came away with a prize for O45 and long term club stalwart Joe who always likes this race was first VO70.
Dan Jenkin 6th in 34.52
Tony McNeill 104th in 51.13 V45
Joe Harker 164th in 68.51 first V70
[divider]