Resurgent cross country competition
The resurgent competition was set up some years ago by former cross country Captain Alan Rowell. It was as a means of encouraging the senior men to support the club in competing in the Harrier league with some friendly competition between DCH members. The competition name came from a news report at the time where Bill Mcguirk described the cross country team as the 'resurgent Tangerines'. The competition was later extended to the senior women and the juniors and the ethos remains that it is friendly competition between club members with points rewarded for turning out for the club. It is not necessarily about being the best runner, but being the runner who turns out regularly to support the club at the Harrier League.
Results for previous seasons:
DCH Resurgent 2015-16
Race Reports
More up to date reports can be found under the Bryan's Northern Echo reports.
Durham City Cathedral Relays 10.1.15
The 2015 Durham Cathedral relays were again a huge success for the club. More teams entered this year with a remarkable Forty five teams from North Shields Poly. Dave Coxon took the helm of the organising this year and did a great job with his team making the event as successful as ever. Way back in its history this event ran around the river banks and through the market place, it would be impossible to do that now with the amout of runners.
The club had a number of teams out this year. We were a bit short on the veteran side but Alan Rowell (13:42), Ian Graham (14:56) and Brian Brown (14:55) flew the flag with a V55 team finishing 86th overall. Rod Wilkinson covered the 1st leg for an incomplete B team (14:59)
In the Senior and Veteran Womens race Emma Toogood took first leg for the seniors and Emma Bain for the veterans. Both had excellent runs returning in 5th(11:39) and 11th 12:10). Amy Etherington followed on 2nd leg for the seniors pulling them up to 4th (12:14) whilst Emma Thompson took 2nd leg for the veterans to 18th (13:35). Kat O'Mahoney was the final leg for the seniors finishing 8th (13:28) whilst Julia Quinonez closed for the veterans finishing 24th (14:20). Gemma Soulsby was our only incomplete team runner covering the 1st leg of the senior 'B' team in 14:47. Somehow we managed to lose Elise who was on the 2nd leg.
In the senior races we had 3 teams with a mix of seniors and vets. The A Team led by Dan Jenkin (9:26) finished 6th overall with Peter Bray (10:18) on 2nd leg and Alex Mirley (9:57) on 3rd leg. The B team finished 25th led by Andy Graham (10:02), with Adam Walker (11:08) and Dave Henson (11:43). The C team finished 49th led by Paul Delaney (12:07) with David Hemming (12:27) and Geoff Watson (13:07).
Thanks to everyone who came and ran and supported then club event.
[divider]
NE Counties Championships,
Town Moor – 13-12-2014
Durham City showed their strength at the town Moor in the Counties championship on the 13th of December with good team performaces in the senior events. It was disappointing to see so few junior team results having had full teams entered beforehand.
In the U13 boys Chris Milburn, Izaak Taylor and James Garraghan finished 10th with Chris leading the team home. In the U13 Girls Lucy Walker and Rina Sebastiao-Yatsu were our only runners. Lucy finished in 29th and Rina 37th. The u15 boys had a good effort to finish 4th with Michael Wade a strong 12th place. Cameron Allen was 23rd,Will Morgan Rippon 29th, Luke Pickering 31st, Jacob Stephenson 43rd and Mohamed Dugay 58th.
In the u15 girls Bridget Bradshaw (31st) and Imogen Coxon (41st) were our only representatives.
In the u17/20 Women we had only one representative in Lydia Sharpe who had a fantastic run to win the race. The U17 men had both Joseph Grehan-Bradley and Stefan Renstrom. Joe had a good run to place 9th and Stefan was 33rd. In the U20 Men Oliver Watson had a strong run for 7th place with Michael Cameron 13th.
In the senior women Rosie Smith led the team home to secure another NE counties title for herself. She was supported by counters in Aiveen Fox (12th) and Emma Bain (14th). The team took 2nd place.Kim had a strong run to 25th followed by Rachel 46th, Kat 53rd, Alison 60th, Fiona 159th. Well done ladies!
In the senior mens race Durham again performed very well for 2nd team place. Dan Garbutt led the men home in 4th with Dan Jenkin 6th. Alex Mirley 18th, Matt Hornsby 20th, Rob Eaton 30th, Chris Walker 45th, Graham Hunt 52nd, John Nash 84th, David Hemming 191st, Rob Garbutt 288th, Dave Coxon 304th, Brian Brown 341st
Many thanks to everyone who ran and supported another good day for Durham City.
[divider]
Wallington Harrier League 29-11-14
A good bus load of Harriers headed up to Northumberland for the 3rd harrier league of the season at the picturesque venue of Wallington Hall. The 2nd year of the event hosted by Morpeth Harriers saw another tough cross country following the Akley Heads mudbath a week earlier. The Course at Wallington is another true cross country with plenty of rough , muddy terrain with testing descents and climbs.
We again struggled to field or complete a number of junior teams but there were some great individual performances. The U13 girls finished 6th and the u17/20 women finished a good 3rd.
The senior men struggled on the day with a good number of key runners missing or at the Liverpool selection races which left us with 8th place on the day. The senior women maintained their good performance to finish 4th consolidating more their 3rd place overall. Rachel Bentley led the team home with a medium pack promotion followed by Emma Bain, Kim Simpson and Kirstin Farqhuar.
Results:
http://harrierleague.com/results/2014-15/wallington/
[divider]
British Athletics Cross Challenge (inc. European Trials) – Sefton Park, Liverpool – 29th November 2014
Report by Chris Walker
Photo credit: Adrian Royle
The course at Liverpool is predominantly flat with a few little rises through wooded sections, and this year's course was even more favourable due to the firm underfoot conditions. Furthermore, a spectator friendly course design made for a great atmosphere for both watching earlier races and then participating myself in the last race of the day.
With the race doubling up as a trial race for the forthcoming European XC Championships in Bulgaria, it was of little surprise to see the cream of British cross country talent dotted around the park. There are very few races in the season that enable you to test yourself against the very best, and Liverpool was an opportunity I certainly relished.
Senior Women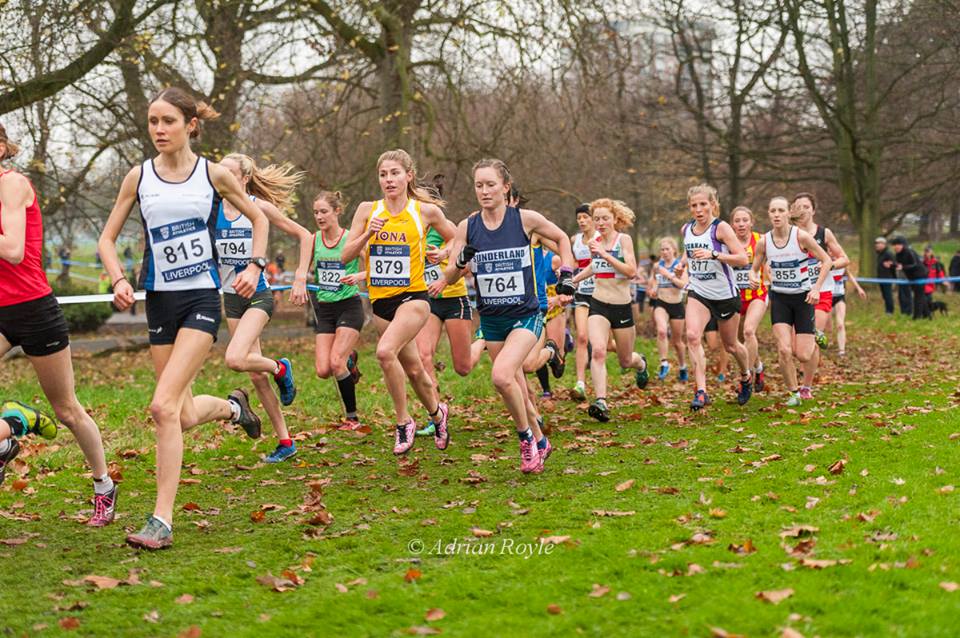 Rosie Smith was the sole Durham Harriers representative in the senior women's (including the Under23 race) race of 8.1km and battled hard to a great 14th place (11th senior) in 28:16. Finishing so high up against the very best in the country and only 12seconds behind Commonwealth Games medallist Laura Weightman is a fantastic achievement. Saturday proved she is able to back up a tremendous PB at Leeds Abbey Dash 10k (33:28; 9th woman) with a good performance on the country. This surely bodes well for her North East Championships title defence at Temple Park in just less than two weeks.

Senior Men
The final race of the days programme saw the senior and Under23 men battle it out over a 3-lap 9.8km distance. As expected, the pace was relentless from the off (a friend of mine clocking 4:46 for his first mile and still being outside the top 50) and the finishing times would suggest this pace did not ease much.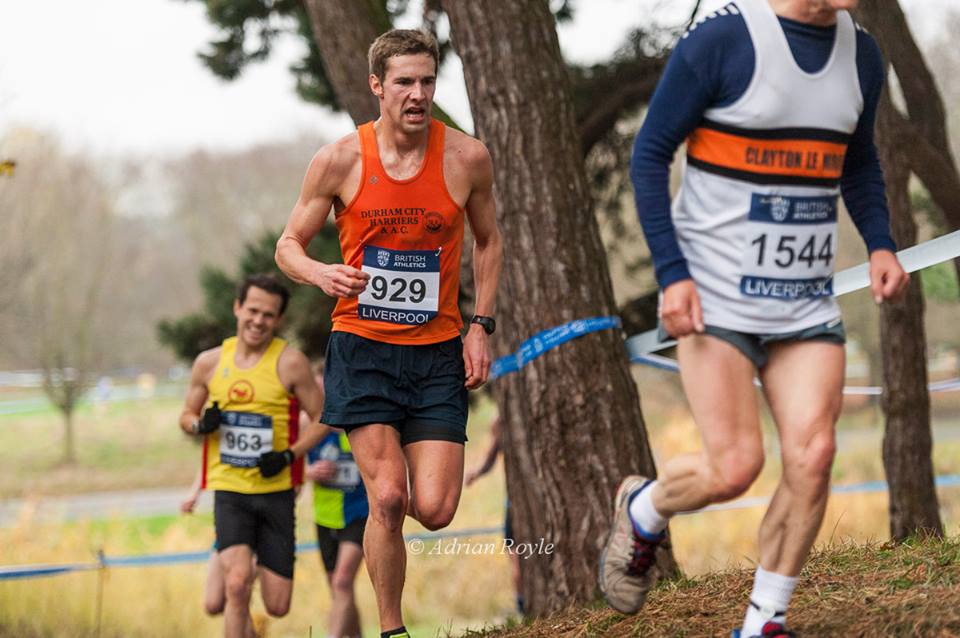 There were three Durham Harriers present in this race and Dan Jenkin led them home with a storming performance to finish 50th (36th senior) in 31:05. Dan continued his great start to the winter season, having recently run a PB at Leeds Abbey Dash (30:37) and also dominating the recent Aykley Heads Harrier League fixture. Hopefully Dan can seriously be considering a top-10 at the upcoming North Eastern Championships, which will no doubt aid the Senior Men's team on their quest to build on last year's 3rd place team finish.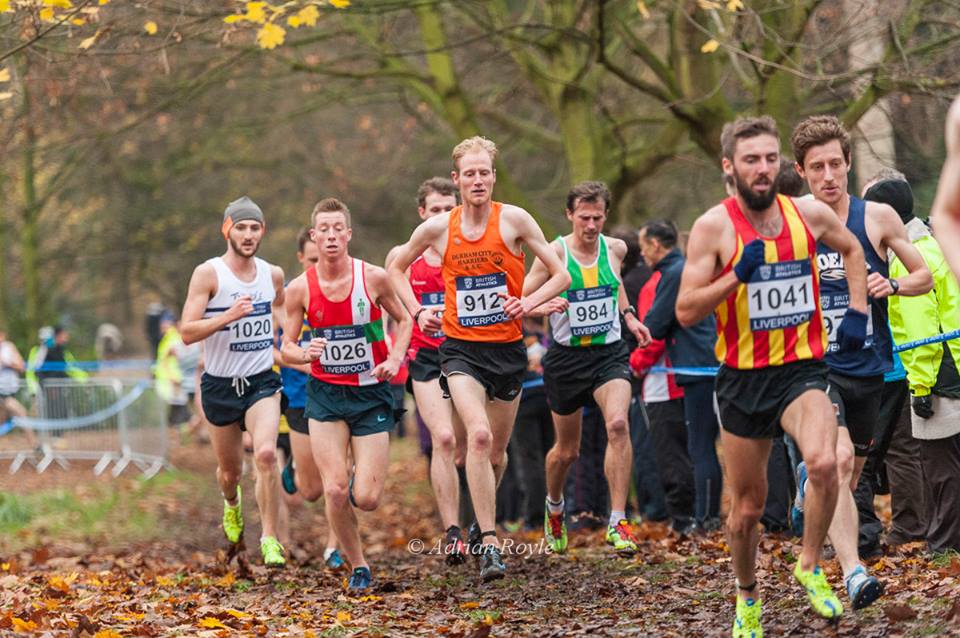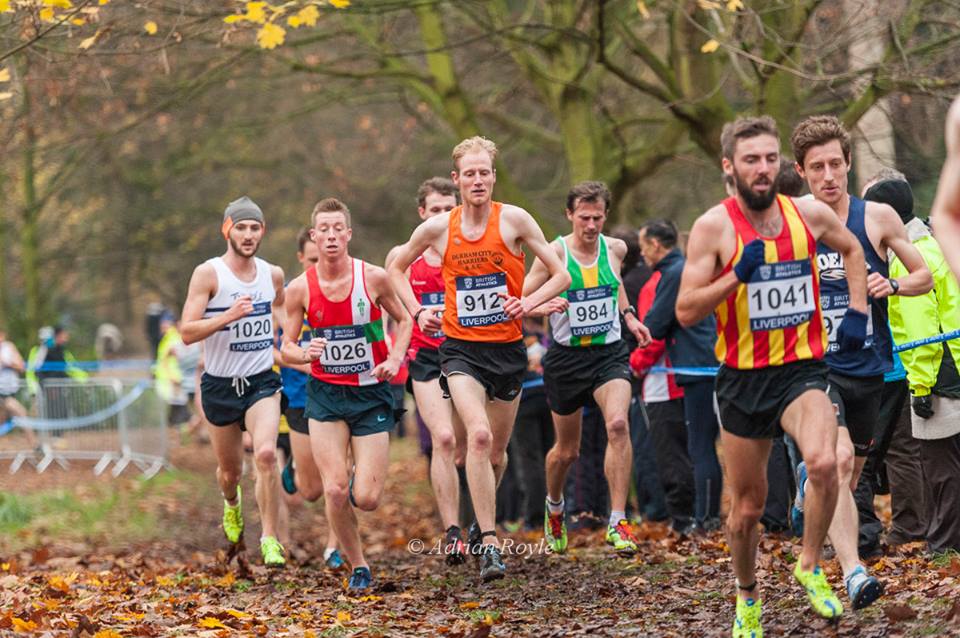 Following Dan, just 19 seconds back, was Dan Garbutt in 65th place (45th senior) in 31:24 who also ran a PB, and first sub-30 of his career, at the recent Leeds Abbey Dash. I know Dan excels in the tough muddy conditions, exemplified by his North East and Northern XC titles last winter, so maybe the firm underfoot conditions did not play to his strengths. Nonetheless, a very solid performance, and like Rosie will be aiming to defend his North Eastern title in a couple of weeks. Let's hope for a mud-bath for you mate.
The final runner in orange was Chris Walker, finishing in 200th (73rd U23) in 36:12. I've got to say that I was very happy with my performance, which consolidated a good run at last week's Aykley Heads fixture and further banished my poor performance at Leeds Abbey Dash from my thoughts. The day was a great experience to compare myself to the best runners in the country and learn more about coping with competing in such a high-quality field. Hopefully I can build on this and be in the 'ballpark' to be a counter in the senior men's team at the North East Championships.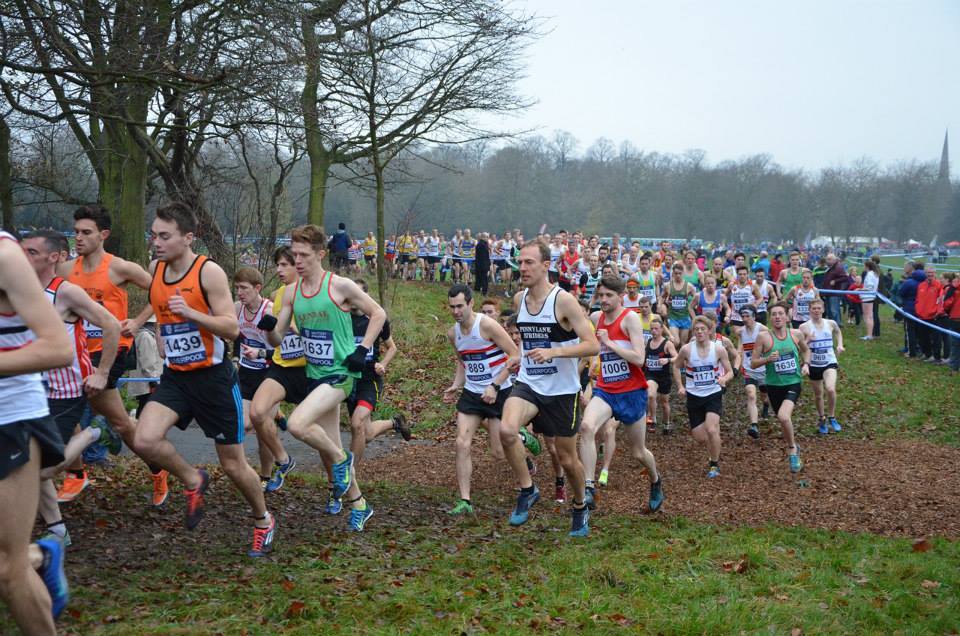 [divider]
Akley Heads Harrier League 22-11-14
All credit for the new league race must go to Mark Davison of Derwentside for coming up with the idea. As well as Mark and his Colleagues at Derwentside we must Thank 'Mudman' Geoff Davis and his team at Elvet for their hard work too in getting the Akley Heads mudbath off the ground. It was a great result for all 3 clubs involved in the event.
'Brutal', 'cruel', 'vicious', 'wicked', and 'never-again,' were some comments alleged to have been said, but I think everyone who ran must have enjoyed it!
The Tangerines turned out in force for this and it was lovely to have such a successful day on home ground. Notably the senior men won overall and went into
the league lead (albeit short-lived).
The u13 boys finished well on a tough course in 4th with the u15's an excellent 2nd. The U13 girls were 8th and the u15 5th over the tough and challenging course.
Peter Bray and Ollie Watson led the senior men home packing our 6 well up the field
for an excellent win.
Durham ladies had an excellent result too finishing 2nd in Div 1 on the day with the
inform Jo Ritson winning. It was great to see a a former member back and running so
well. Jo was backed up by Rachael Steel, Emma Bain and Rachel Bentley to make up the
4 counters.
It was a great day of racing and an excellent event; surely to be repeated next year?
Thankyou to everyone who came and ran and especially those who gave up time to help
build the course and marshall.It was a great day of cross club collaboration that
produced a great event!
Evening chronicle article
http://www.chroniclelive.co.uk/sport/athletics/inside-track-aykley-heads-tough-8178219
Durham Top of harrier league
http://www.thenorthernecho.co.uk/sport/11621186.Durham_top_of_Harrier_league/
resuts
http://harrierleague.com/results/2014-15/aykley/
[divider]
National Cross Country relays success – 1-11-14
Durham City men finished in their highest ever position at the National relays on 1st november in Mansfield. A strong squad of runners took on the 2 lap 5km course at Berry Hill Park, home of Mansfield Harriers whcih has seem many a relay championship.
Dan Garbutt led Durham's A team out brining the team back in 9th place. Dan Jenkin took
on 2nd leg producing an excellent 4th place pulling the team up the order. Matt Hornsby
ran an excellent leg to 14th and anchor man Rob Eaton hung on to keep the team in the
top 20 finishing 16th. An excellent result for Durham. Our incomplete team of Chris Walker
and Geoff Watson ran the first 2 legs but it was pit we didn't have 2 more to complete a
team.
chronicle report
http://www.chroniclelive.co.uk/sport/athletics/morpeth-harriers-come-second-england-8042091
results
http://www.englishcrosscountry.co.uk/news/2014-xc-relays-results-all-age-groups/
[divider]
Sherman Cup & Davison Shield- 25-10-14
This year the Sherman Cup & Davison Shield went to Temple Park once more. The South Shields site has been a popular Harrier league and championship venue for many years.We had so excellent results across the day with the culmination of the day in the Junior boys
and Senior/vet men taking 2nd place over all in the Sherman cup.
The U13 boys had an excellent race to Win with the U15 boys 3rd. We had no full U17 boys teamwhere we struggle for numbers.Our Senior mens 3 counters took 2nd place on the day and with the vet men 9th we secured 2nd place overall behind Morpeth.
In the junior girls and Senior / vet women we failed to field any full junior teams which was
a dissapointment after last years overall bronze medal. The senior women and vets both finished 5th in their categories flying the flag for the ladies. The overall result was 13th.
Many thanks to all who came and ran and supported.
results : http://harrierleague.com/results/2014-15/cup-shield/
[divider]
Harrier League – Cramlington – 13th October 2014
Unseasonal weather saw the first fixture of the 1415 season start in bright, hot conditions at Cramlington. No luck for those looking for a muddy course for the start of the season! Dehydration was more of a concern and what to wear on the feet in the dry conditions. There was a good turnout of Tangerines across the age groups, though we were short for a few teams.
In the U11's Emily Salmon was the only entrant and ran another great race finishing 17th. The U13 girls finished 6th team with Lucy Walker leading them home in 19th. The U13 Boys had a fantastic win led home by new member Izaak Taylor winning in his first league match. Chris Milburn was 3rd with Sam Gibson 3rd counter in 6th.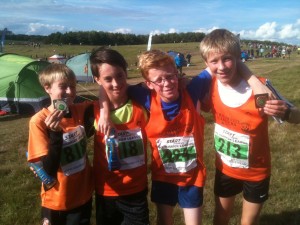 In the senior races there was a great turnout from the women with 13 taking to the field. Rosie Smith led the team home to win in 26.02 from the medium pack. Kirstin Farquhar had a great run for second counter with Catherine Garbutt 3rd and Kim Simpson 4th from the fast pack. The team finished 6th on the day. There were great performances from many others too trying cross country for the first time!The U15 boys were 4th team on the day led home by Jacob Stephenson in 13th. We had no full team in the U17 boys but Cameron Bain and Joe Grehan-Bradley to fly the club colours.Rebecca Mott led the U17/2O women home in 11th place and the team finished a good 3rd place.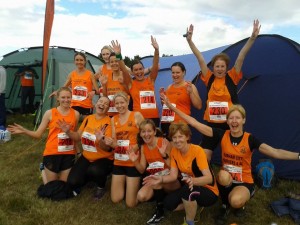 The senior men's race saw 20 men take part. Alex Mirley made a welcome return to the City Harriers and came home 4th leading the senior men to 2nd place on the day. Dan Jenkin was 2nd home from the fast pack with Matt Hornsby, Andy Graham, Rob Hand and Dave King making up the counters.
A great day at Cramlington, well done to all that ran!
U11'S
17
110
Emily Salmon
05:44
1
818
Izaak Taylor
12:45
12:45
3
213
Chris Milburn
13:06
13:06
6
224
Samuel Gibson
13:37
13:37
19
225
Will Lindsey
14:24
14:24
40
218
James Garraghan
15:23
13:43
U13 girls
os
Num.
Name
Race Time
Actual Time
19
204
Lucy Walker
15:45
15:45
32
194
Emily Barker
16:24
16:24
34
202
Jessica Wright
16:40
16:40
58
184
Alyssa Findlay
20:00
20:00
U13 boys
s
Num.
Name
Race Time
Actual Time
13
217
Jacob Stephenson
13:02
13:02
32
223
Michael Wade
13:56
12:16
38
210
Cameron Allen
14:18
12:38
40
227
William Morgan-Rippon
14:23
12:43
U17 boys
Pos
Num.
Name
Race Time
Actual Time
4
220
Joseph Grehan-Bradley
24:24:00
24:24:00
20
211
Cameron Bain
29:47:00
27:07:00
u17/20 Women
11
206
Rebecca Mott
22:33
22:33
13
185
Amy Etherington
22:50
20:20
25
183
Alice Campbell
25:25:00
22:55
Senior women
os
Num.
Name
Race Time
Actual Time
1
233
Rosie Smith
26:02:00
24:02:00
57
223
Kirstin Farquhar
31:40:00
31:40:00
84
208
Catherine Garbutt
32:15:00
32:15:00
89
222
Kim Simpson
32:26:00
28:26:00
96
219
Julia Quinonez
32:36:00
32:36:00
190
206
Alison Walker
34:53:00
32:53:00
192
226
Liz Lamb
34:56:00
34:56:00
237
209
Elise Truchi
36:34:00
36:34:00
254
229
Lynne Carruthers
37:37:00
37:37:00
256
230
Paula Wear
37:40:00
37:40:00
295
214
Fiona Holloway
40:39:00
40:39:00
319
220
Julie Barker
44:21:00
44:21:00
333
234
Tammy Cook
48:29:00
48:29:00
Senior men
Pos
Num.
Name
Race Time
Actual Time
4
382
Alex Mirley
35:37:00
35:37:00
28
389
Dan Jenkin
38:08:00
33:08:00
29
410
Matt Hornsby
38:09:00
35:39:00
33
384
Andy Graham
38:14:00
35:44:00
40
419
Rob Hand
38:39:00
38:39:00
104
393
Dave King
40:39:00
40:39:00
125
390
Dan Whittle
41:09:00
41:09:00
138
420
Robert Eaton
41:25:00
36:25:00
235
424
Sam Campbell
42:54:00
42:54:00
285
398
George Reid
43:55:00
43:55:00
364
394
David Hemming
45:54:00
45:54:00
379
418
Rob Garbutt
46:24:00
46:24:00
401
428
Tony Mcneil
46:50:00
46:50:00
403
411
Matthew King
46:56:00
46:56:00
418
421
Robert Hewitson
47:23:00
47:23:00
452
391
Dave Coxon
48:34:00
48:34:00
461
396
Gary Coulter
48:50:00
48:50:00
478
397
Geoff Watson
49:23:00
49:23:00
527
422
Robert Whittle
51:27:00
51:27:00
572
385
Brian Brown
58:07:00
58:07:00
[divider]
Farringdon Open XC Races – 13th September 2014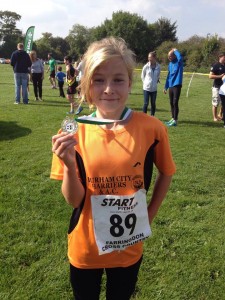 There was a good turnout of Harriers at the Farringdon open races on Saturday 13th September.  The event is seen as the the opener to the cross country season which gets underway properly at Cramlington next month. The first event was the U11 race and success for the club straight away with Emily Salmon finishing 3rd in the girls race covering the 1000m course in 4.15. In the u13 race Lucy Walker finished a good 14th in 12:51 despite having been misinformed of of the distance! Elyssen Findlay finished 33rd in her first race I believe for the club! In the boys Izaak Taylor also ran his first cross country finishing in an excellent 4th place. Well done to the U13′s!
In the u15 events we on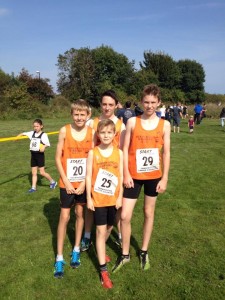 ly had a boys team with some season campaigners in the field. Cameron Allen finished in 8th with Jacob Stevenson in 11th, William Morgan-Rippon 12th and Luke Pickering 17th. At a glance if there were a team result the boys would probably have finished 2nd to Morpeth. The performances and close packing of runners looks good for the Harrier league this season. The U17 category had a lone Durham runner in Alice Campbell who ran a good race finishing 7th in 12.29.
In the senior races Durham mens 'A' team finished a creditable 8th overall. Alex Mirley made a welcome return to the Durham squad after an absence of a few years. Leading off on the first leg of the 4 stage relay he came home 7th in 9.19. Adam Walker too the 2nd leg and ran a strong race in 10.21 but dropping to 14th overall. Graeme Hunt took 3rd leg marking his return to the country after some time running an excellent 10.14 bring the team up to 13th. Andy Graham took the anchor leg an ran a swift leg pulling the team to 8th place in 9.29. The 'B' team was incomplete with 3 runners. Rob Whittle took first leg with a time of 12.31 followed by Niall Salmon (12.57) in his first cross country for the club. Geoff Watson was 3rd leg (12.55)
In the senior women's race Both Amy Etherington and Kim Simpson showed good form to take the 1.8 mile course in their stride. Amy finished an excellent 3rd (10.51) with Kim Just behind in 5th (11.21). The race was won by Lydia Tunrer of Birtley AC in 9.27
Full results and pictures are on the start fitness website