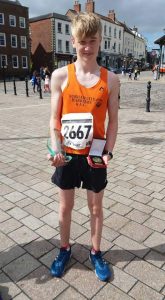 In the Annual Darlington 10k & 3k Road Races, City runners were once again among the prizes. Firstly Adam Ord (u/13), a fine young prospect over 800m, had a great run in the Junior 3k Run winning convincingly in a very good time of 10.22, whilst Erin Keeler-Clarke another fine young athlete finished high up in 6th place overall and was 1st (u/13) girl also in a very good time of 11.13.
The 10k Race went off at a very fast pace and into very windy conditions around the course and the Harriers' leading runner Dan Jenkin was lying 4th at the 5k point and finished in that position at the end, but he led the Durham Team to victory, with Veteran Matt Hornsby just back from holiday running a personal best in 11th and Michael Grimes having a great run after a series of injuries, finishing 17th and who were the 3 scorers, beating Sunderland by 5 points and Tynebridge by 7 points. In the Women's Race, GB XC International Rosie Smith a 3 times winner of this Race in 2010, 2011, and 2012, was beaten on this occasion by GB's 2014 European XC Champion Gemma Steel from Charnwood, Leicestershire, a surprise entry, but a clear winner on this occasion, 78 secs ahead and 16 places ahead of Rosie, finishing in 14th place overall. However, Rosie was backed up by veterans Kirstin Farquhar and Kelly Bentley who finished 17th and 33rd respectively to clinch an unexpected Women's 3rd Team spot with 52 points. Full results of the City runners were as follows:
4th Dan Jenkin 32.05, 11th Matt Hornsby (v/35) 33.23 (pb), 17th Michael Grimes 33.50, 30th Rosie Smith 35.03 (2nd Women), 57th Anthony Hunt (v/45) 37.05, 84th Peter Harrison (v/40) 38.09, 227th Kirstin Farquhar (v45) 42.50 (pb), 288th Kelly Bentley(v/50) 44.33, 421st Greta Jones (v/50) 47.01, 468th Bob Hewitson (v/55) 47.43, 509th Ian Graham (v/60) 48.21, 556th Karen Jones (v/45) 49.02, 602nd Diane Wood (v/50)  50.00, 777th David White (v/70) 52.32, 952nd Christine Woods (v/55) 56.29, 1150th Fred Anderson (v/75) 58.26, 1575th Joe Harker (v/75) 74.12.(1626 finishers).
[divider]
In Track & Field, Samantha Coleby made the long trip to Hendon to run in the UK Women's League Premier Division over 800m finishing 3rd and setting a new personal best time of 2.07.84.
[divider]
At the NE Masters T & F League at Jarrow Mens (800m), Jason Catterall was 1st (v/40) 2.17.5, Francis Turner 4th (v/40) 2.41.4, Brian Brown 3rd (v/65) 3.24.7, and Kirstin Farquhar 2nd (v/45) 2.57.6 (pb), whilst Paul Donaghy was 1st (v/40) in the 100m 12.7. In the (v/40) Relays the Durham team of Paul Donaghy, Jason Catterall, Francis Turner, and Conrad Kennedy won both the 4x100m in 56.3 and 4x400m in 4.23.6, both records. Paul Donaghy was also the Masters (v/45) League overall individual winner in the Sprints for the 2016 Season.
Podium finishers by City runners