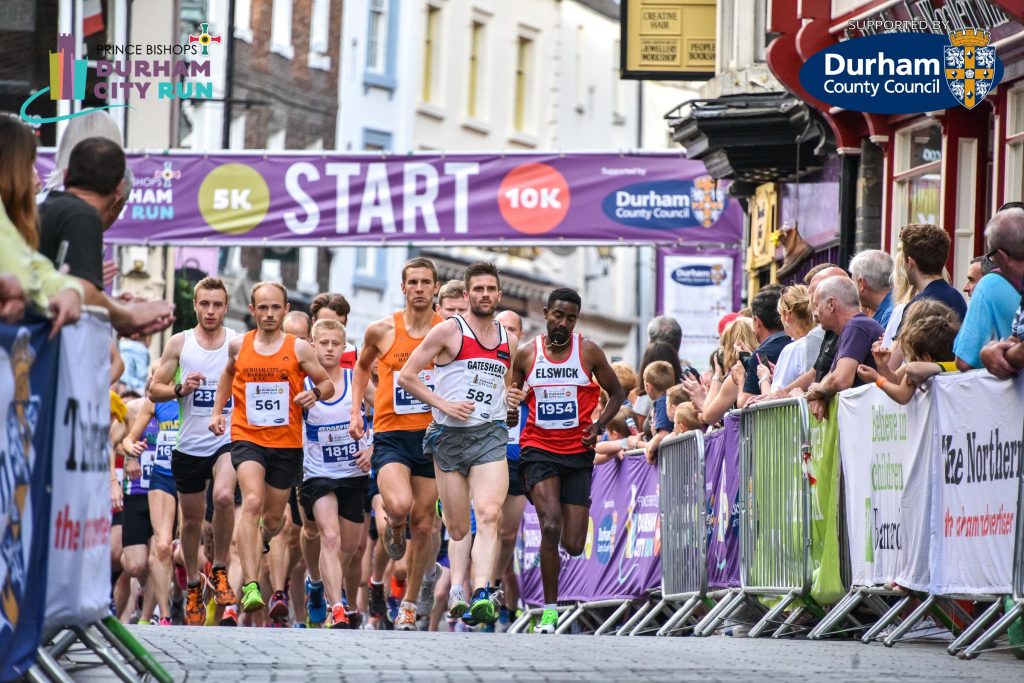 The inaugural Durham City Run over 5 & 10k is a Durham County Council initiative and was launched by Steve Cram, with both events starting simultaneously in Saddler Street looping around the picturesque City and finishing on Palace Green in front of the magnificent and iconic Cathedral. The 5k runners did 1 lap of the Course with the 10k runners completing 2 laps. The City Harriers turned out in force to support the event and were amongst the prize winners as it turned out. Rob Eaton (Senior) had a great run in the 5k Run finishing 2nd, whilst Joshua Erleback (u/15) was 1st Junior for the Club and Sam Gibson (u/13) 2nd Junior. In the 10k Race, Dan Jenkin produced yet another outstanding run finishing 3rd Senior (Male), whilst the ever consistent Rosie Smith finished 9th overall and 1st Senior (Female). Full results of the City runners were as follows:
(5k Race) – Chip Timing
2nd Rob Eaton 16.41, 11th Joshua Erlebach (u/15) 19.44, 13th Sam Gibson (u/13)19.55
26th Les Phillips (2nd v/55) 22.04, 37th Emily Salmon (u/13) 22.42, 43rd Niall Salmon
(v/50) 23.08, 49th Bridget Bradshaw (u/15) 24.16, 67th Naomi Erlebach (u/13) 25.10,
80th Olivia Fawcett (u/13) 27.50, 124th Callum Wilkinson (u/13) 28.10.
149th Jacqui Toase (v/40) 31.10, 216th Helen Kent (v/50) 33.51.
(10k Race)-Chip Timing
3rd Dan Jenkin 33.38, 9th Rosie Smith 37.06 (1st Female) 15th Liam Stubbington.
38.25. 19th Anthony Hunt(v/45) 3rd Vet (o/40) 39.2. 20th Chris Wilkinson (u/23) 39.32.
26th Peter Harrison (v/40) 40.00. 27th Cameron Allan  40.13 (1st u/17).
31st David Henson 40.23. 64th Helena Herrman (u/23) 43.57.
68th Christian Barlow 44.06. 98th Emma Thompson (v/35) 45.14.
147th Steven Martin 47.34. 151st David Coxon (v/45) 47.38.
196th Gemma Soulsby 48.43. 199th Ken Bradshaw (v/55) 48.36.
261st Ian Graham (v/60) 51.56. Tony McNeil (v/50) 51.54.
300th Claire Readey (v/40) 52.37. 314th Dionne Hamil (v/40) 53.03.
327th Kit Erlebach (v/40) 52.37. 351st Lynne Carruthers (v/55) 53.57.
387th Paul Lumsdon (v/40) 54.47. 435th Rod Wilkinson (v/50) 55.34.
692nd Kenneth Boughey (v/50) 61.37. 727th Wendy Hughes (v/45) 62.34.
799th Fee Holloway (v/40) 64.35. 830th Deborah Gibson (v/45) 65.16.
992nd Victoria Coxon (v/40) 70.25. 1063rd Jacquie Robson (v/35) 71.46.
1137th Mac Heslop (v/65) 75.02.
[divider]
At the British Milers Club Regional Series (800m) at Chester-le-St, results of the Clubs runners were as follows:
Samantha Coleby (Snr) 2.09.1, Ryan Watson (u/17) 2.09.6, Sam Gibson (u/15) 2.21.9.
[divider]
In the NE Grand Prix T&F Meeting at Gateshead, results of Club athletes were as follows:
Zac Renwick (u/17) 100m (1st) 12.06.pb, High Jump (2nd) 1.50m, Triple Jump 11.14m. Charlotte Boyle (u/17) 100m 13.57. Greg Venyo (u/20) 200m 23.30. Jennifer Taylor (u/15) 200m 26.46.pb. 800m 2.42.62. Sadie Hibbert (u/15) 31.47.pb.High Jump 1.20m. Erin Keeler-Clarke (u/13) 2.33.45.pb.High Jump 1.05m, Long Jump 3.38m.pb. Chris Milburn (u/15) Long Jump (2nd) 5.51m, Triple Jump 11.39m pb. Josh Peel (u/23) Javelin (1st) 40.33m. James Thornton (u/15) Javelin (2nd) 27.01m. Isabell Thornton (u/17) Triple Jump 9.09m. Tammy Cook (v/35) Shot 5.51m.pb.
Harriers amongst the prizes in the Durham City Run