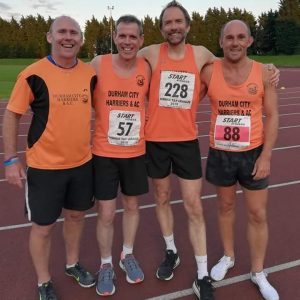 First the headline good news, DCH can resume access to the track at Maiden Castle with effect from Tuesday March 30th. Even better, the clocks change on the previous weekend British Summer Time …..we therefore train in the daylight for most of the weekday sessions.
There has been a number of exchanges between Team Durham and DCH in order to ensure that we (DCH) understand our obligations regarding use of the university's facilities. Team Durham have taken note of the governments current advice regarding how mixing in an outdoor environment should be conducted, as well as the advice on the England Athletics web site. It is important to note that England Athletics do stress that athletes/clubs using a third party's facilities (i.e. not owned by athletics authorities or the athletic club itself) must follow any requirements the facility owners, in our case Durham University.
In fact, the requirements have not changed much from those in place before we went into the current lock down. But we suspect that the university may expect DCH to ensure that they are enforced a little more strictly. The main requirements which we must adhere to are:-
1. Face coverings must be worn at all times from arriving on the Maiden Castle site until leaving the site with few exceptions (see below).
2. Face coverings can be removed AFTER warm up for the duration of the session itself but must be replaced after the session.
3. Coaches and officials of DCH must wear face coverings at all times. Wearing a face covering is not a restriction to effective communication by a coach to athletes. Coaches may remove a face covering momentarily, in order to blow a whistle for example.
4. Coaches and officials of DCH must enforce social distancing as much as possible whilst briefing athletes and when athletes are recovering between efforts in a session.
5. Parents, carers, or any person not qualified at any level to meaningfully assist with delivering a coaching session are NOT allowed to remain on site for the duration of the sessions.
6. Track and trace records MUST be maintained on a session by session basis. The record must be taken before the session commences and must be available for examination by any officer of the club or staff of the university, if so requested, before leaving the site.
7. Team Durham have stressed that the limit of no more than 30 people (DUAXC & DCH) can be on the track at any one time remains in place. This means that the rota for access to the track on Tuesdays and Thursdays will be reintroduced. A schedule for all of April will be sent to all coaches before we resume on the track on 30th March. However, on 30th Marchthe sprint group and middle distance group will be on the track, with the junior groups and the Long Sprint Group working on the track on Thursday 1st April.
8. Usual requirements regarding hand sanitising when using any equipment (including cones) and before and after entering the buildings to use toilet facilities must be adhered to.
9. All users of the track must understand that they must not compromise any sanitised areas around the track used by Durham Ladies WSL soccer team
10. Training times are 7.00pm – 8.00pm on Tuesday and Thursday. 10.30am to 12.00 noon on Saturday and 10.30am to 12.00 noon on Sunday. The usual fields are available for use subject to prevailing weather/ground conditions. However, please take note of note 11 below.
11. The track is NOT available because of a home fixture of Durham Ladies WSL team on Sunday May 2nd. Also, on Saturday April 3rd and Saturday May 8th we will have track access from 9.00am to 10.15am to accommodate home fixtures of Durham Sharks Ladies Rugby team. We will send reminders out to all coaches as these dates approach.
Any additional information will be sent to all coaches when required.
Shaun Day (DCH chairman)
Max Coleby (DCH Covid 19 and DU/DCH liaison)

________________________________________________________________________

________________________________________________________________________
Return to training march 30th